I always like to point out that aesthetics for me is not just about new fashion trends, but a visual tool for finding your identity and living aligned with your moods and true values. In the dark academia aesthetic is not different. You probably stumbled on this gorgeous, vintage aesthetic and its timeless brown tones on Instagram.
In this post, we will take you into a deep dive into the vintage and moody mood and lifestyle that is visually represented by the fascinating Dark Academia aesthetic.
🎻 Dark Academia Playlist: Get in the mood to read this post:
What is the Dark Academia Aesthetic
---
Dark Academia is a post-modern subculture, lifestyle, and fashion trend (or mood), that revolves around the gothic aesthetic, academic knowledge, and passion for reading and discovering new truths.
It mainly symbolizes romantic erudite literature, vintage looks, and, on a deeper level, is a visual expression of people who cultivate and express a desire for learning.
---
Academia: the part of society, especially universities, that is connected with studying and thinking, or the activity or job of studying –

Cambridge dictionary
---
---
🕰 The aesthetic: The dark academia aesthetic is visually represented by:
---
beautiful old, vintage books with fine bindings and rich in pattern and texture
poetry, art, classic literature
vintage and classic things like typewriters
Hogwarts, Edinburgh, victorian gothic buildings aesthetic, greek and gothic architecture
dark romanticism
coffee shops, rainy days
owls
old libraries
classic piano music, violin
autumn
mysterious yet cozy and inviting moods.
brown, wine red, dark off-green colors
Oxbridge (Oxford and Cambridge) preppy style, scholar, grandpa inspired outfits in sober colors
🗝 The Dark Academia aesthetic girl personality:
---
This girl has little or no need to control or change the world; they just want to understand it.
Loves moments of solitude
introvert most of the time
bookish
values knowledge and wisdom
old school romantic
always carries a notebook around
wants to discover more and more about themselves and the universe
understands that there is no absolute truth and is always willing to learn more
loves studying for enlightenment
skeptical, nonattached
sophisticated
loves extensive vocabulary and words in general
encourages freedom of thought
---
See Also:
---
♟️ The Dark Academia Girl activities and hobbies:
---
read books indoors with the window open while listening to the rain
play chess and other games related to solving riddles
go to museums
visit cities historic center
shelter in a cozy cafe on a cold and magical day
handwrite letters and poems
going to libraries and bookshops on a regular basis
loves mystery books to decode the clues
practice new calligraphy with fountain pens
📺 Tv Characters:
---
Beth (The Queens Gambit)
Elizabeth Bennet (Pride & Prejudice)
Sherlock Holmes
Lexie (Euphoria),
Spencer (Pretty Little Liars)
It takes a strong woman to stay by herself, in a world where people will settle for anything just to say they have something

Queens Gambit
🎞 TV shows and Movies with dark academia aesthetic:
---
The Queens Gambit,
A Discovery of Witches,
The Deads poet society,
Dorian Gray
The Dreamers
Peaky Blinders
Enola Holmes
The Strongest person is the person who isnt scared to be alone

The Queens Gambit
📓 Dark Academia Aesthetic Famous Libraries & Bookshops
---
Waterstone Bookshop Bradford,
John Rylands Library: manchester.
Chestams library: Manchester (the oldest free public library in the United Kingdom.)
---
Biblichor (n.) the comforting smell of old books
---
☕ Dark Academia Bucket List:
---
Visit 221B Baker Street, London.
the Louvre, Paris.
Visit National Museum, Stockholm.
Have a date night in a museum
Join a Book Club
✒ Books & Novels with dark academia aesthetic ambiance:
---
The Dark from Dark academia comes from Gothic fiction horror such as:
Dracula,
The Strange Case of Dr. Jekyll and Mr.Hyde,
Edgar Allan Poe novels,
Frankenstein.
Dorian Grey
remember my friend, that knowledge is stronger than memory

Dracula
Also classics like stories set in the Regency period during winter with a bookish characters:
Jane Austen novels,
Jane Eyre
Curiosity is one of the permanet and certain caracteristics of a vigorous mind,

Samuel Johnson, The Rambler
Books set in London from the past with a big mystery or riddle to keep you thinking and attempting to resolve the riddle that usually involves a murder. This type of literature, like the horror gothic, is also a reference to the Dark feature of this aesthetic.
Sherlock Holmes
The Secret History by Donna Tartt (considered the dark academia Bible)
Agatha Christie novels
---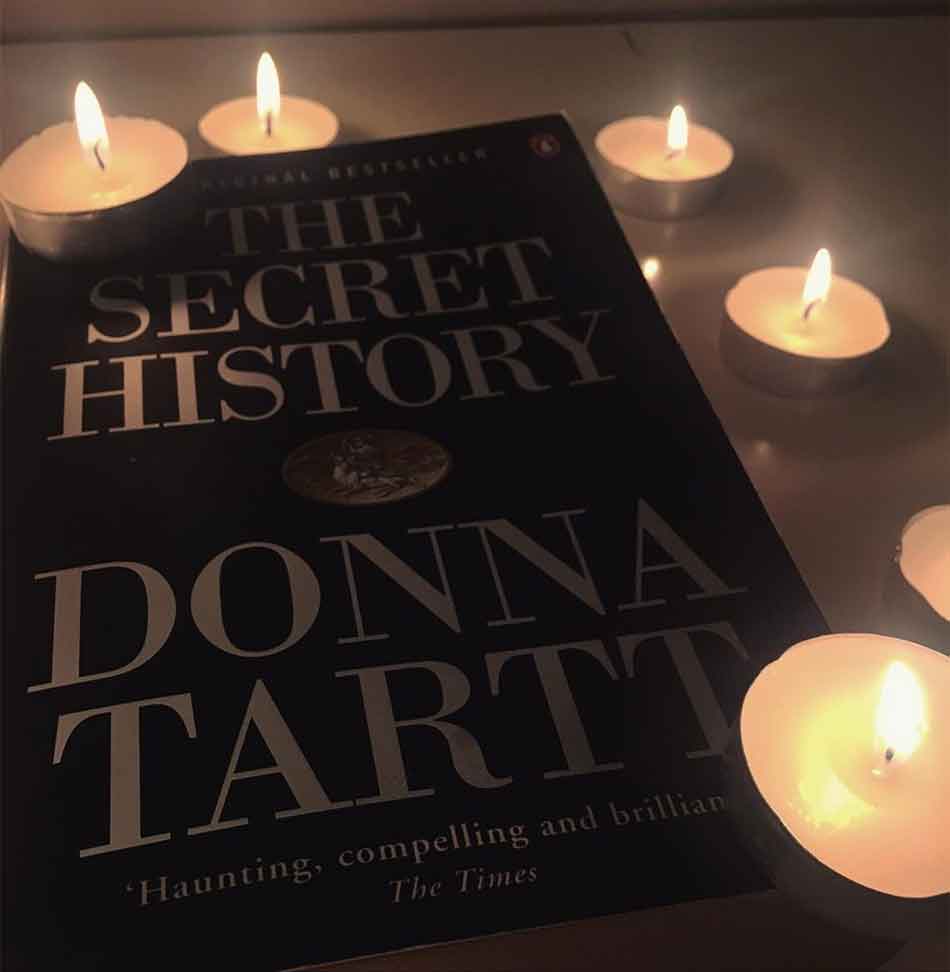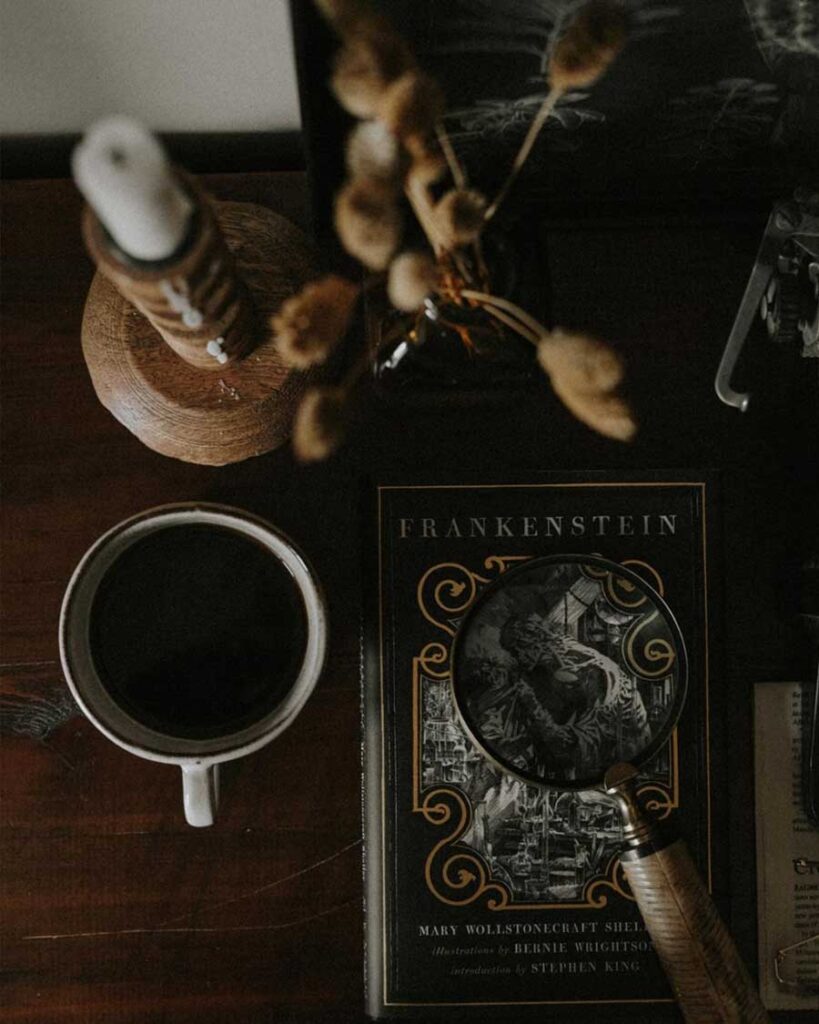 The Most Famous Dark Academia Books:
---
Dark Academia Style and Outfits starter kit
---
Oxford and Cambridge's preppy style aesthetic from the elite Western European students from the 40s has a big influence on this aesthetics.
Mix Bill Gates with Clueless clothing and accessorize with Sherlock Holmes-inspired stuff and you will visualize the dark academia starter outfit: Bennets, brown and orange tones twinning, layered grandfather-inspired old cardigans, woolen plaid skirts, Blazers, turtlenecks, cozy sweaters, tweed jackets, and blouses in every shade of brown, black and neutrals you can think of mixed with old gothic darker colors.
For the shoes, oxfords loafers, vintage boots, and Chelsea boots are mandatory.
👞 Related:
👞 Related:
Incorporating the Dark Academia Aesthetic:
---
If all the stuff and images above speak to your heart but you do not quite know how to start getting in the dark academia aesthetic mood and embracing this lifestyle, you may want to start by taking the steps below:
---
🍷 Enjoy your solitude, like a character in a movie.
🎻 Listen to classical music while having a coffee and reading Jane Austen on a rainy day.
⏳ Read as much as you can. Allow yourself to turn off from the real world and immerse yourself in the story.
👞 Buy brown clothing
🕯 eat by candlelight
🏛️ Look for a museum in your town and visit it.
📜 Read more poetry and notice deeper meaning in them
🦉 Study interesting and out-of-the-mainstream things like mythology, plants species, astronomy, animal behavior, a new instrument, music, read existentialist and philosophical stuff
✒ handwrite letters for yourself or for others
---
---
Remember to do it all for yourself, not for the image you think other people must have of you when you register a dark academia personal moment and post it on Instagram.
The images are a visual tool to help you give a chance to things that catch your eye and allow you to express yourself in moments when you feel – or want, or need to feel – wiser and engaged in learning.
carpe diem Seize the day, boys. make your lives extraordinary

Dead Poets Society
🖤 Dark Academia Aesthetic things to buy with deep meaning
---
Another way to incorporate the dark academia vibes is by owning and interacting with the right stuff.
Some old and antique goods are so aesthetically pleasing that hold the power of awakening some kind of magic in our senses.
The mechanical sound of typewriters, the weight of a rare and heavy old book, the texture of quill and ink writing on antique vintage envelopes, the wanderlust of antique globes… Possessing these objects may make us feel like a preppy, smart poet traveling back in time.
Final note: This website is called The Mood Guide because we truly believe that we have everything within us. Of course, you can be a 100% dark academia person, but you can also be soft and tough, bold and dreamer, a traditionalist and a rebel, a romantic and a hero, vain and simple, classy and adventurous, witchy and scientist. It depends on your moment in life, what qualities and strengths the situations of your day require from you to channel, and, of course, your mood. Therefore, our main goal in creating these aesthetic guides is to help you connect with your current mood in life and make choices that feel truly authentic.