Sunflowers and Summer are a match made in heaven. I find sunflowers to be poetic because just like them, I'm always chasing the sunlight and have zero charisma in the darkness. Naturally, yellow is the man of the hour, but you're not limited to keeping things monochromatic. So, in this post, you'll find the most inspiring sunflower nail designs for every style and nail shape. There are magical sunflower gardens, combos with pink flowers, purple, blue, and green combinations, and even nude, brown, and black backgrounds for a moody sunflower vibe. Also, these talented artists create stunning sunflower designs that go from simple french tips to elaborate Van Gogh's inspiration. After all, sunflower nails are all about fun and art.
Sunflower Nails Designs & Ideas
---
1. Singles
2. Spring Meadow
3. Bright Yellow
4. Minimal Geometry
5. Cute
6. Van Gogh Inspo
7. Delicate
8. 3D Sunflowers
9. Silver Dots
10. Glamorous Sunflowers
11. Pink Match
12. French Tips
13. Magic Spring
14. Lilac & Polkadots
15. Wildflowers Field
16. Animal Print
17. Dots & Stripes
18. Black Matte
19. Lovely
20. Butterfly & Sunflowers
21. Half and Half
22. Handpainted
23. Sage Green Mix
24. Light Purple
25. Red & Pink
26. Pink Flowers
27. Pastel Blue
28. Green Vibe
29. Pure Art
30. Chic Nude
31. Winter Mood
32. Red Art
33. Frame
34. Brown & Texture
35. Yellow & Green
36. Fall Sunflowers
37. Pure Art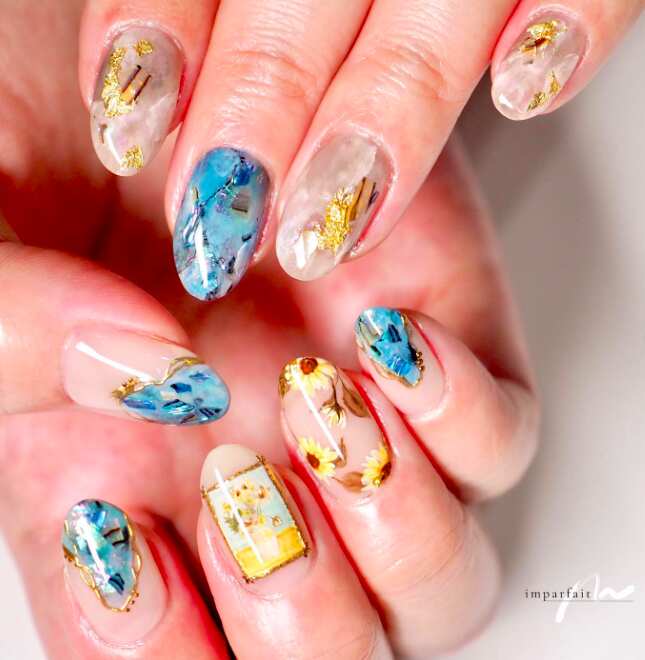 38. Simply White
39. Minimalist
40. Orange Burst
41. 3D Glam
42. Sunflowers For Ukraine
43. Art Decal
44. French Tips
45. Modern
46. Handmade
47. Dainty
48. Blue Tips
49. Pink Romance
50. Sunflower Baskets
51. Easter Egg
☾ Affiliate Disclosure: The Mood Guide celebrates women's moods and versatility. Even though we may earn a commission from some of your purchases, we encourage you to shop with the right intention. Focusing your energy on what you feel confident and comfortable in is empowering! ♥︎
---
Are you into sunflower nails only for Summer or you're saving some ideas for Fall and Winter?