Finally, the fall mood is here, and is time for a gorgeous list of fall wallpapers with super cozy, orange, and brown aesthetics to make your phone screen all beautiful and inspiring for fall.
As much as I love the powerful energy of summer, there is something truly magical and soothing in the atmosphere when autumn comes. I love not having the obligation to feel happy outside, you know what I mean? hahaha. Just chill and cozy up, admiring the warm flame of a candle and the rain outside while watching a comfort movie, or traveling through the pages of mystery books, and drinking hot cocoa in bed.
---
🍂 Saving your fall background:
For iPhone: just save the image on the phone gallery and save it as a background.
For iPad and desktop: all these wallpapers are HD, so you just crop and save them to the desired size.
---
Fall wallpapers for iPhone & Android
---
I have already made a post only with aesthetic autumn wallpapers. For this one, I will go beyond aesthetic images – images that evoke a lifestyle mood – and also bring some fall artworks and not-aesthetic photographs.
Aesthetic fall wallpapers
---
As I said, aesthetic images make us almost feel a lifestyle and story through that image. The coziness and image of fall can be almost sensed when you look at a fall aesthetic wallpaper. Check out our fall aesthetic guide to embrace the wonderful fall moods and possibilities to feel the beauty of this season in your life.
The aesthetic of autumn is absolutely cozy, so almost every aesthetic image of fall makes us feel cozy and genuinely happy, almost like a hug.
Each of the themed fall aesthetic wallpapers below tells a story. Which one serves your current mood best?
1- the aesthetic fall leaves on your phone will make you remember the beauty and brightness of letting the old go to give room to the new.
2- the pretty pumpkins will remind you of the beauty of traditions and the nature colors. If you love pumpkins take a look at these Pumpkin Wallpapers for iPhone.
3- moody rain pouring phone screens will remind you to look through the window and enjoy the sound of the rain.
4- beautiful cozy moments wallpapers will remind you to take a break and appreciate some ¨me time¨. Check out Comfy Aesthetic: The Ultimate Guide for a Cozy Lifestyle.
Fall candlelight is also essential to set the cozy mood of fall. See also Fall Candles: Scented, Pillar, Taper & The Most Aesthetic Picks To Put Your Home In The Mood For Autumn.
5- Harry Potter aesthetic and fall are also gorgeous matches. See also: These Harry Potter Wallpapers for iPhone will Remind you Every day of your Own Magic.
Fall Landscape Wallpapers
---
Cute and simple fall wallpapers
---
Cute artworks that illustrate fall are also a nice option. If you love all things cute, take a look at our 30 Cute Aesthetic Wallpapers For Lovely iPhone Screens.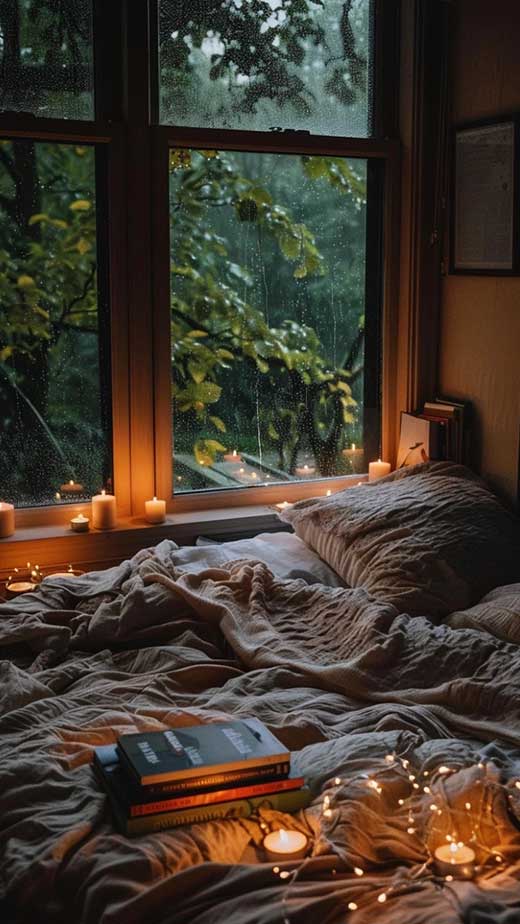 Cute pumpkin patterns.
Pretty and cute fall leaves backgrounds.
Cute woodland fall elements and animals are stunning.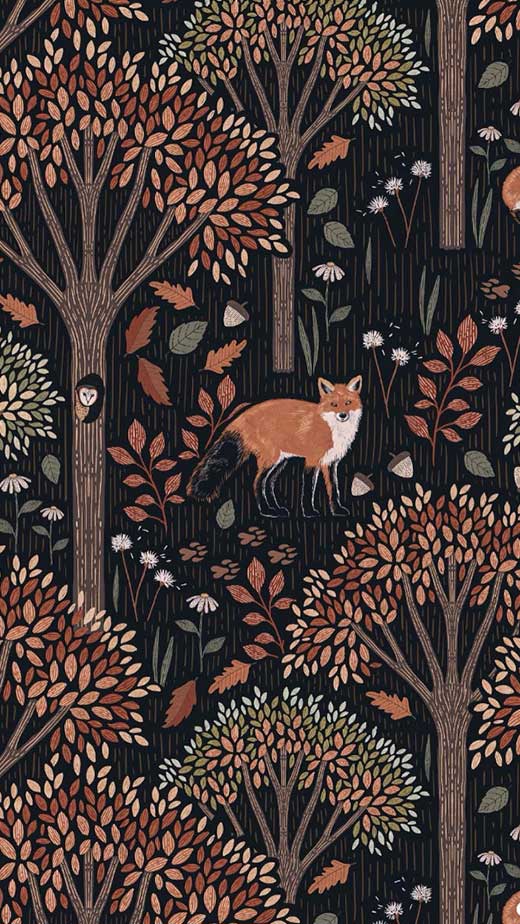 This vintage woodland is just the cutest fall pattern.
And there is also a super sweet version for Disney lovers.
Halloween fall wallpapers
---
Cute hallowen fall wallpapers are just adorable versions of Halloween and fall elements together. Check out Aesthetic Halloween Wallpaper Ideas for iPhone and Halloween Decoration Ideas For Your Haunted Home.
Here is a spooky Halloween wallpaper.
Witchy vibes and fall are such a gorgeous combination. See also: Witchcore: Channeling your Inner Power With the Witch Aesthetic.