☾ Affiliate Disclosure: The Mood Guide celebrates women's moods and versatility. Even though we may earn a commission from some of your purchases, we encourage you to shop with the right intention. Focusing your energy on what you feel confident and comfortable in is empowering! ♥︎
---
Comfy aesthetic is a visual representation of calm, peaceful & cozy moments. It is about simple things made beautifully and it is very much about fall and winter feels.
Fall and winter: no one can deny these are the coziest and comfiest seasons of the year. Nature has its ways to tell us to leave the old behind and slow down to rest to focus on self-care and feeding our heart and soul with activities and stuff that are fulfilled with love.
Chicken or pumpkin soup, warm blankets, crisp air, binge-watching all tv shows under the blankets, staying in bed all day and not feeling guilty, comfy evenings by the fire. The Comfy aesthetic is a visual representation of all those cozy, guilty-free, no rush, lazy feelings, and this post is a guide for you to allow yourself to dive into this mood.
---
---
In this story, we will list and illustrate all the elements that you need to get your cozy vibes on and create a comfy aesthetic home and routine in real life.
Comfy/cozy aesthetic color palette:
---
Colors can trigger some moods. This is a basic design principle and a reason why we wanted to create an aesthetic buying guide. So, to invoke comforting, relaxing feelings you should go for colors that trigger relaxation, calm, clarity, purity, peace, warmth, wholesomeness, safety, and positivity. White, beige, orange, brown, and some grey and green will help you achieve these moods.
Comfy Aesthetic Elements:
---
Just like colors can trigger some moods, the same happens to textures, food, weather, scents, and everything our 5 senses can reach. Below is a list of elements you need to invoke and the soothing and relaxing feels.
Chilli days: Of course you can feel cozy and comfy during summer too. But let's face it, when we think about the word comfy, cozying up on a chili day is the first thing that comes to our minds.
Comfy drinks to warm the heart and soul: Comfy cozy aesthetic hot drinks are one of the most comforting and simple things we can give to ourselves. Below, some heartwarming recipes for all fall and winter long:
A go-to fall coffee: Mocha, caramel, classic pumpkin spice latte, or french vanilla.
Winter creamy hot chocolate: Whether is sweet milk chocolate, white chocolate, or rich dark chocolate; A cozy mug of homemade hot cocoa is the best way to spend the chili weekends. A few amazing recipes are available on the internet and here are some comfy flavors for you to explore:
Cozy comfort food: All the classic fall recipes are a good idea to live in a comfy mood: pumpkin spice pie, apple pie spice, pumpkin soup, milk and cookies, cinnamon roll, and pancakes are classic comfort food.
Comfy spices: Cinamon sticks, cloves, ginger, cinnamon powder, nutmeg, black pepper, star anise.
Books and candles: cozy weather is a great opportunity to hang out with a book and let your mind travel to a new world and story. Light a scented candle that smells like the location described in the book, and if possible, enjoy the sound of rain by the window.
Cute Comfy Outfits & Clothing Aesthetic
---
Soft and cozy fabrics that make you feel hugged and provide comfort all day long. Go for wools, chunky knitted sweaters, cashmere, merino, natural linen, and organic cotton.
Cozy knits, Sweaters & Sweatshirts
The basics of any comfy outfit: comfy cozy knits! After all, autumn is sweater season. I particularly love H&M knitted sweaters and cardigans because they are comfy, cozy, aesthetically pleasing, and affordable.
Comfy slippers:
During fall and winter, we can find amazing slippers all over the internet. It wasn't easy to pick just a few to illustrate this post, but the ones from Anthropologie were my favorites. Check all their pretty comfy options here.
Comfy socks:
Bathrobes:
After a warm, renewing shower, there is nothing like the relaxing feels and ultimate coziness of wearing a clean, soft, and comfy robe.
Cashmere:
Cashmere is basically a mood. An expensive one. But we can't talk about cozy and not mention this ultimate symbol of luxury & comfort.
Loungewear Everywhere
Loungewear indoors or outdoors: comfy aesthetic outfits is about feeling like lounging around in your pajamas or hugged by little lambs everywhere.
@alligadjovich and @bbdieuanh wearing soft Happy-Lazy Lounge Set from Nap Loungewear
Skirts and sweaters
Mix chic, loungewear, slippers, sweaters, and skirt.
Jeans & Sweater
Mom jeans and comfy sweaters or cardigans just can't go wrong.
---
---
Favorite Comfy Aesthetic Brands:
---
Hight quality comfort stuff is expensive and usually durable. I chose the brands below based on aesthetics and comfort.
---
Literally a dream brand. All kinds of comfy pj's and clothes in wool, silk, cashmere, and more.
Amazing Ethical comfy luxury bedding for the perfect comfortable sleep.
Everything from this brand is comfy, cozy, and gorgeous.
Chic, simple, comfy and versatile. A Birkenstock looks nice with so many different outfits and they look and feel comfortable.
I have no words to describe how much I love Food52. Even their Halloween decor, laundry bags, and Christmas ornaments feel cozy. The best thing is that you can find amazing and affordable stuff there too.
Cozy and simple aesthetic is everywhere here, but what I love about Maiden Home is that everything is curated and personalized for your own definition of comfort. You choose the fabric, the leather, the color and the finishes. Perfect for those who love a modern meets cozy mood.
Another brand that is 100% comfy. Parachute is a cozy paradise to buy from the comfiest bed frames to table linen.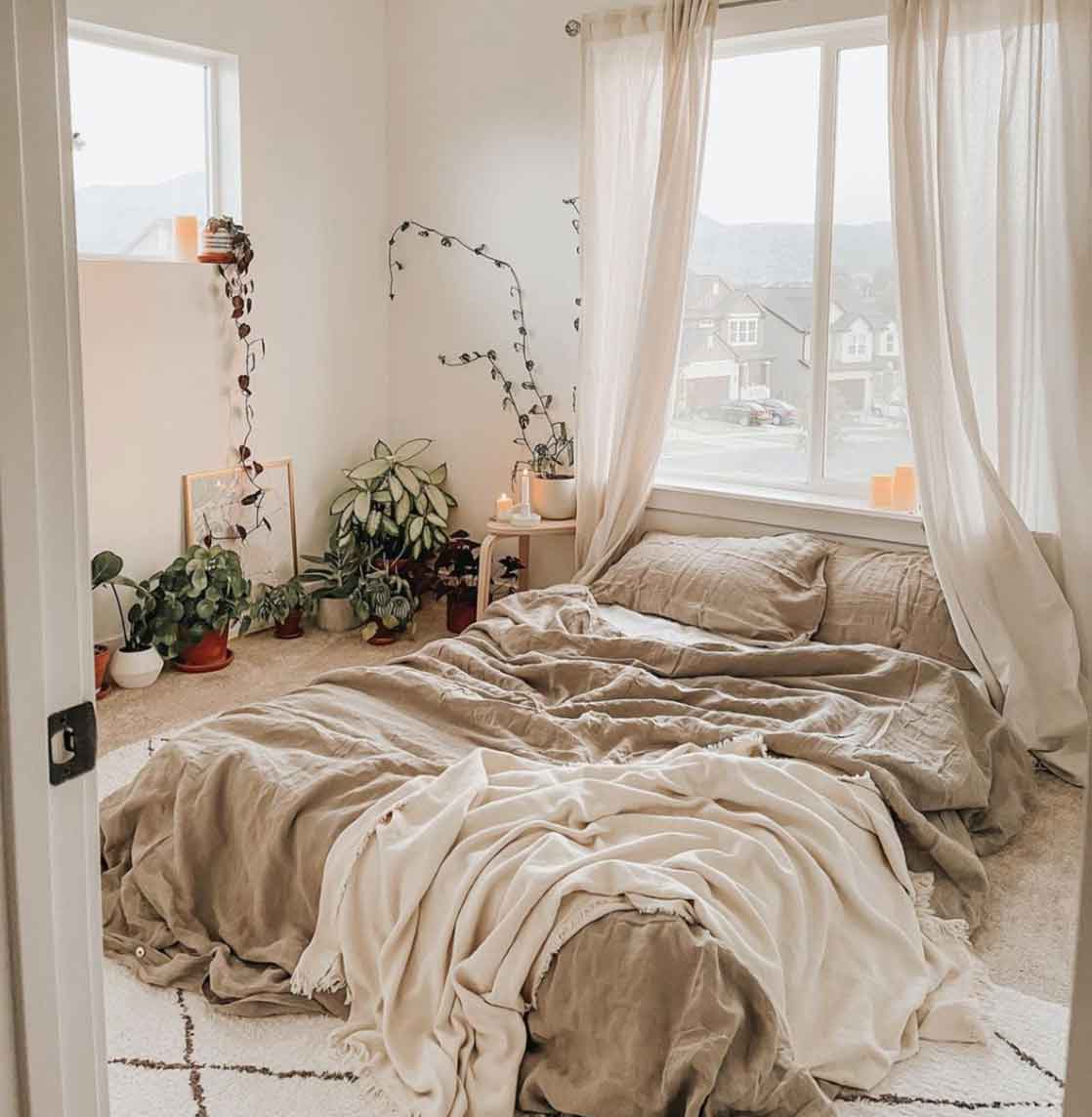 Cozy aesthetic home:
---
Kitchen & Dining Room: Wood and ceramic utensils, wood shelves, and wood tables are the central elements to invoke a comfy aesthetic kitchen.
---
---
Bedroom and living room: candles, white and beige aesthetic in every detail, big comfy couch, warm blankets, comfy fabrics and the right mix of textures. A comfy aesthetic living room and bedroom is the ultimate combination of beauty, coziness, and comfort. Organic cotton bedding for a soft feel on the skin will enhance comfort and your sleep quality.
---
Related posts: Comfy Cozy Bedding To Snuggle Your Body & Soul l Organic Throw Blankets: The Best Picks To Feel Good & Cozy l Sensorial Housewarming Gifts that will Invoke a Cozy Mood in any New Home
---
Comfy aesthetic Routine Ideas
---
homemake an aesthetically pleasing coffee
homebake an apple pie
go blackberry picking
go pumpking picking
watch the whole harry potter series (or any comfort series)
make a wreath of autumn leaves
go autumn walk among autumn leaves and winter walk feeling and observing the snowflakes
write down your intentions in a journal every morning
just watch the rain and breathe deeply.
---
---
I hope that after this post, you spend your cold days just like this buddy.