Oh, how I love the fall season and everything that comes with it, but especially, Halloween! I decided to create a post with aesthetic Halloween wallpapers because every year I change my iPhone wallpaper to get in the mood for Halloween. So, I thought other people might also do it and might find this useful.
I don't change my phone background during other celebrations or seasons. But there is something magical about Halloween that makes me wanna embrace everything I can from it while it lasts. It is comfy, magical, and mysterious, it makes me feel like there are more revelations, possibilities, and truths to this world than what we experience in our ordinary daily lives.
According to the legend, on Halloween night the veil between the real and spiritual worlds gets thinner. I kind of believe in it, because I think it is the only explanation for the happiness and intense moods that I feel on October 31st!
Spooky ghosts, powerful witches, creepy skeletons and pumpkins, and the wonderful orange black, and purple palette just make me happy. If you identify with those moods as well, just enjoy!
---
🎃 Related:
---
Cute Halloween Aesthetic Wallpapers
---
Most of the time, Halloween is associated with scary, but it may as well have a super cute aesthetic, it will depend on the facial expression you will give to your Halloween pumpkins for example, and the colors and moods you choose to represent it. The Halloween wallpapers below are for lovers of cute spooky aesthetics.
Landscapes and Scenarios
---
Old big houses surrounded by trees are the ultimate representation of the Halloween scene and a creative option for Halloween wallpaper.
Creepy/spooky
---
The charm of Halloween lies in its creepy and scary aesthetic. Dark, weird, and gloomy, this is one of the possible moods for this magical month and certainly a favorite among many Halloween enthusiasts. The wallpapers below are for those who want a creepy and dark aesthetic displaying their lock screen.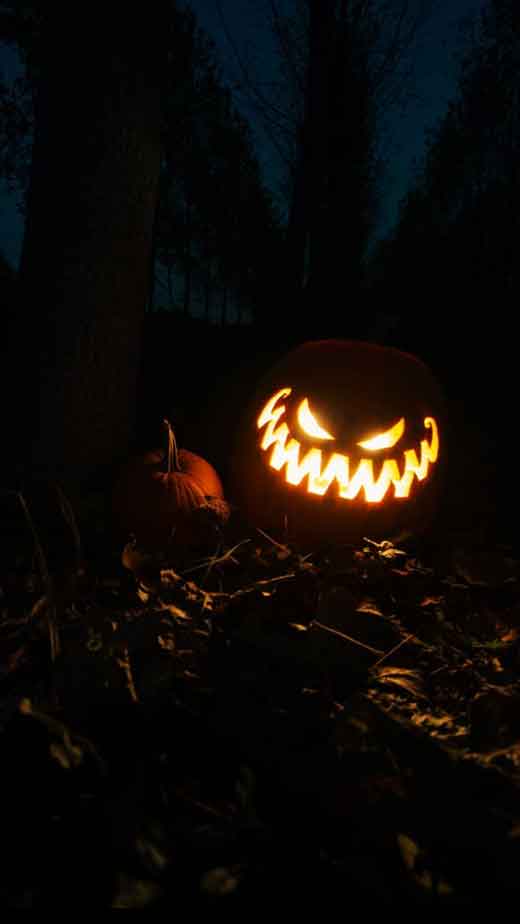 Comfy Fall & Autumn Halloween Wallpapers
---
I think the comfy Halloween aesthetic is the most popular mood of all. After all, it matches perfectly with everything that fall represents: Cozy chill days contrasted by beautiful hot colors that keep our hearts warm. The fall aesthetic Halloween wallpapers below will
---
---
As a fan of everything witchy and coffee myself, I just changed my iPhone lock screen to this one!
---
---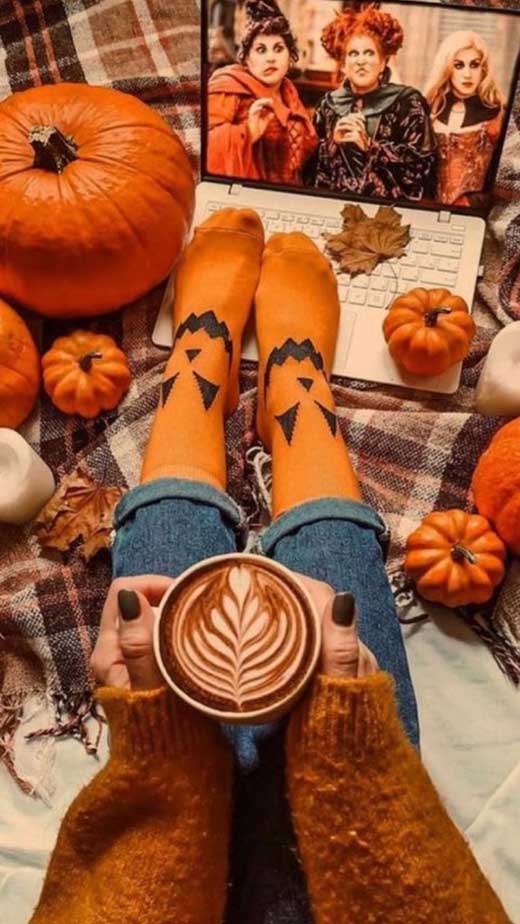 ---
Skull/Skeleton/Ghosts Halloween Wallpapers
---
These are the popular little creatures that make all the difference when we set the Spooky mood.
Hope you found the perfect aesthetic Halloween wallpaper for your phone! And yes, as you can see by this post, Halloween can be both lovely and scary! And don't we all? 🎃