☾ Affiliate Disclosure: The Mood Guide celebrates women's moods and versatility. Even though we may earn a commission from some of your purchases, we encourage you to shop with the right intention. Focusing your energy on what you feel confident and comfortable in is empowering! ♥︎
---
When we search for witchy kitchen ideas and decor, we usually stumble on Halloween-inspired witch kitchens. Of course, those are super cool as well, and the type of inspiration we all look after near Halloween – we have written a bunch of Halloween decor posts here.
But, if you are a real witch, you certainly want that energy of power and transformation in your adult woman kitchen decoration without looking too scenic.
Therefore, in this post, I will help you create a kitchen that will evoke enchanting and powerful moods and that looks like an everyday kitchen, not a ¨decorative¨ seasonal kitchen.
A kitchen is a place for magic and transformation, after all, witchcraft is about the power of transformation, and also the place where most of the magic happens. Think of the movie Practical Magic or the TV show The Good Witch, a lot of scenes are set in the kitchen.
This is because in the kitchen we can explore and experiment with the transformative and multisensorial combinations of nature 4 main elements (the water and fire to boil, the earth from a natural and ethically sourced pan, earth foods, and spices, and the smell of the transformation being made that we feel in the air).
How magical is the fire and water working together and liberating that wondrous spice scent and properties in the air, while the power of earth from an iron pan, when combined with the energy of fire transforms food into a delicious experience filled with flavor and nutrients to our bodies? The witchy kitchen is a laboratory of magical, delectable & healing wonders.
---
---
The Color Shame of a Witchy Kitchen
---
We have already created a full guide with witch aesthetics, and if you read it you know that there are some different types of witches, and the way you plan your kitchen aesthetic will depend if you are more into a Green witch, modern witch, or dark with mood, for example.
But regardless of your choice, there is a main color palette that is basic when it comes to witchcraft: black for its deep mystery, purple for its elegance and mysticism, gold (also silver and copper) for its power and the Nature colors, greens and browns.
---
---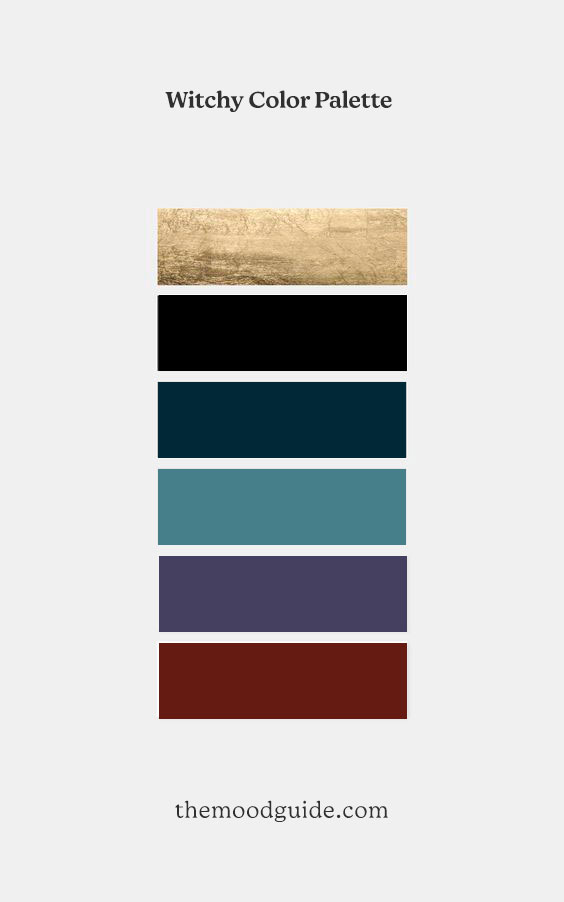 Witchy kitchen decor Ideas
---
A witchy kitchen aesthetic evokes a natural, fascinating, intriguing, and antique mood. When it comes to visual reference, the Witch kitchen and dining room are basically composed of a combination of bohemian, rustic, and cottageore aesthetics.
Greens and woods are almost mandatory in every witchy kitchen, but the amount of greens and natural elements on it is your choice.
For example, a modern witch's kitchen will have fewer wooden and vintage elements, meanwhile a cottage, or forest witch will prefer more wooden, primitive, vintage, and natural accents. A goth or Victorian witch, on the other hand, will prioritize black and dark shades in her kitchen.
Below I will list some essentials for the witchy kitchen and then recommend amazing witchy-inspired kitchen utensils and accessories for every type of witch.
Common elements of the Witchy Kitchen:
---
Whether you are a gothic witch a super modern witch or a natural boho green witch, one thing is certain: you are connected with nature and you agree that your witchy kitchen must evoke a natural mood, even if just in the details.
So, wood, green, herbs, natural light, candlelight, antique and secondhand details, like knobs, drawer pulls, and handles are elements that must be in every kitchen witch.
Celestial elements, like the moon and stars in the details, are an extra representation of nature, cosmos, and astrology that elevates the mystic mood of a kitchen.
Check out every witchy kitchen essentials.
A witch cabinet for the herbs
An apothecary cabinet with herbs is the most essential item for a witchy kitchen. Spices for cooking, roots, herbs for spellwork, and teas are stored there. Crystals, other objects of personal significance, and decorative candles can also be a part of this setting.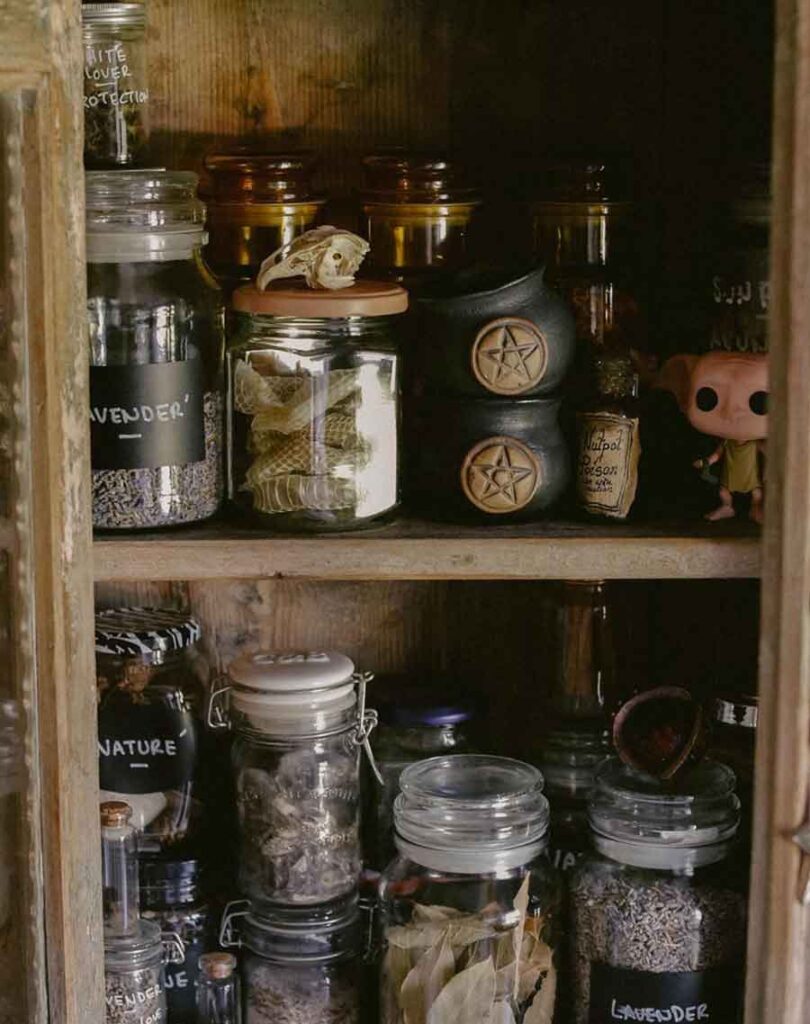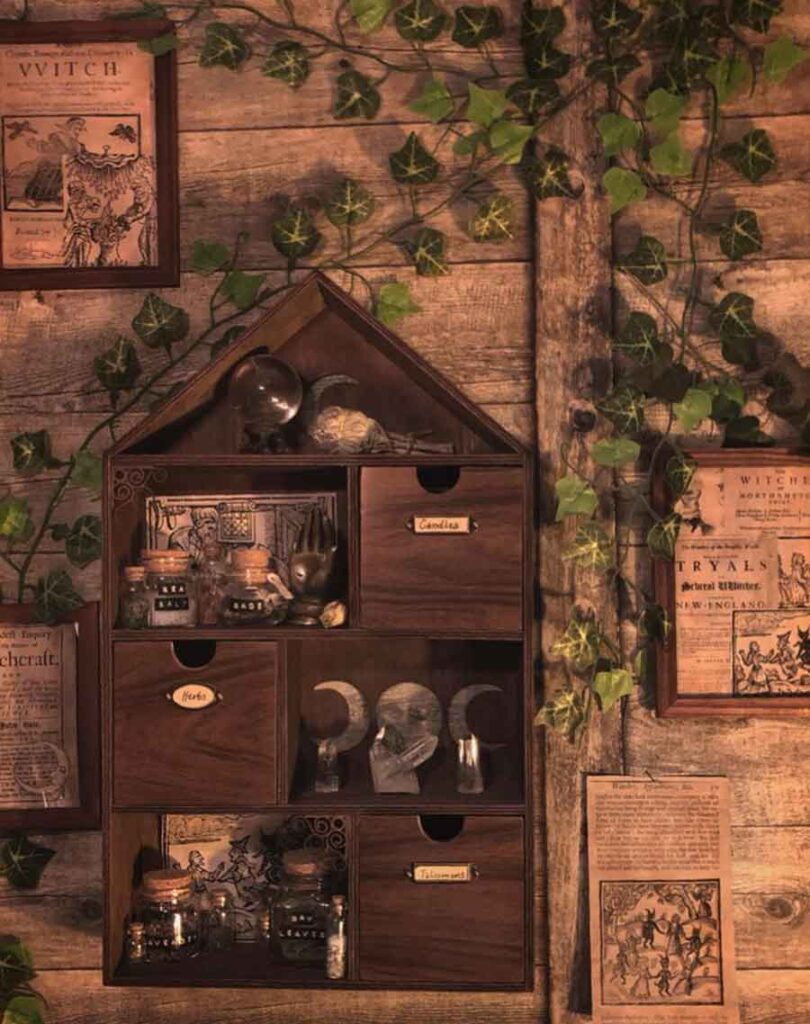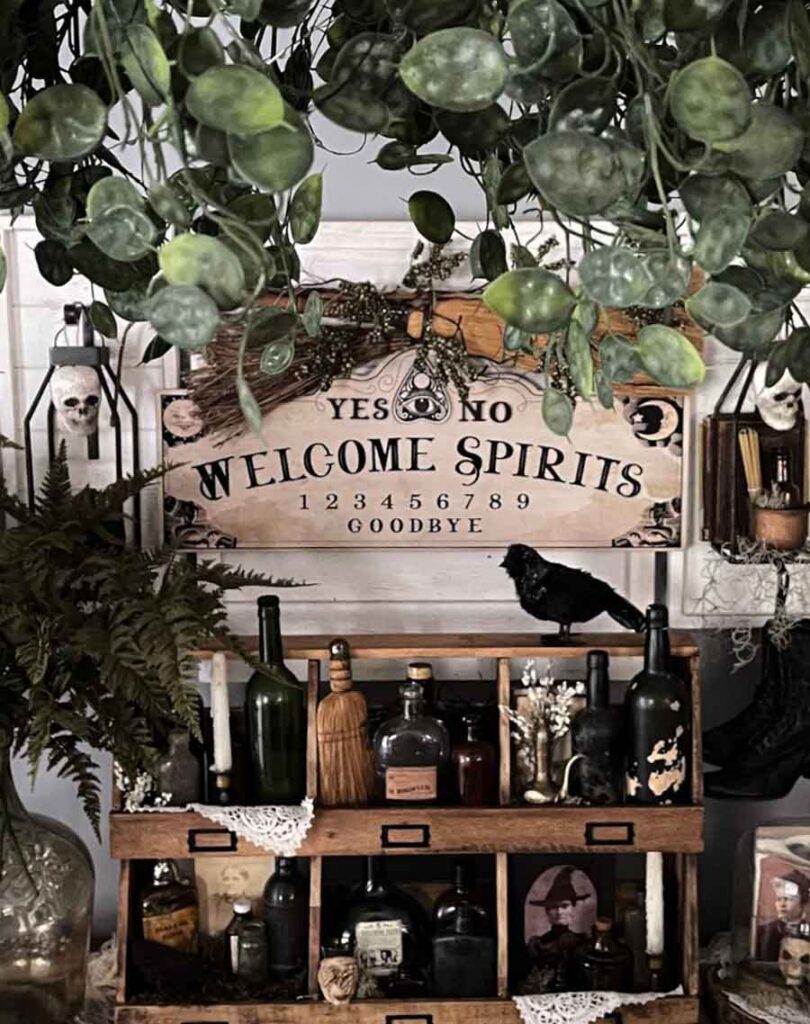 Sop witchy kitchen cabinets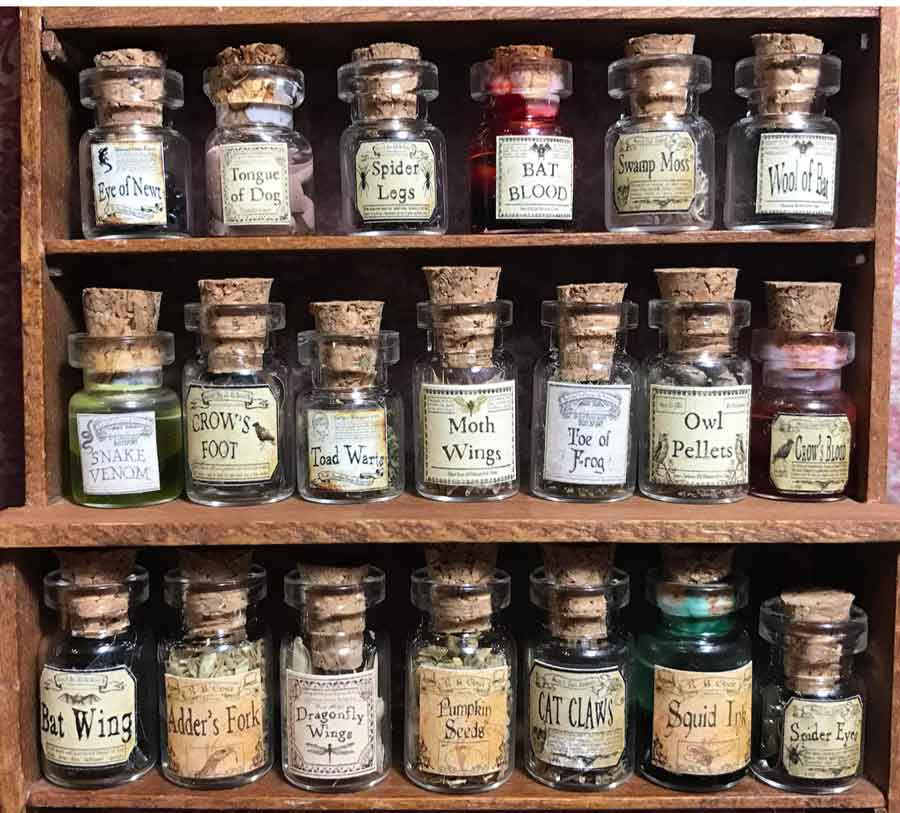 Dollhouse size, 20 Bottles of pretend Witch's herbs and poisons l Etsy l $49.99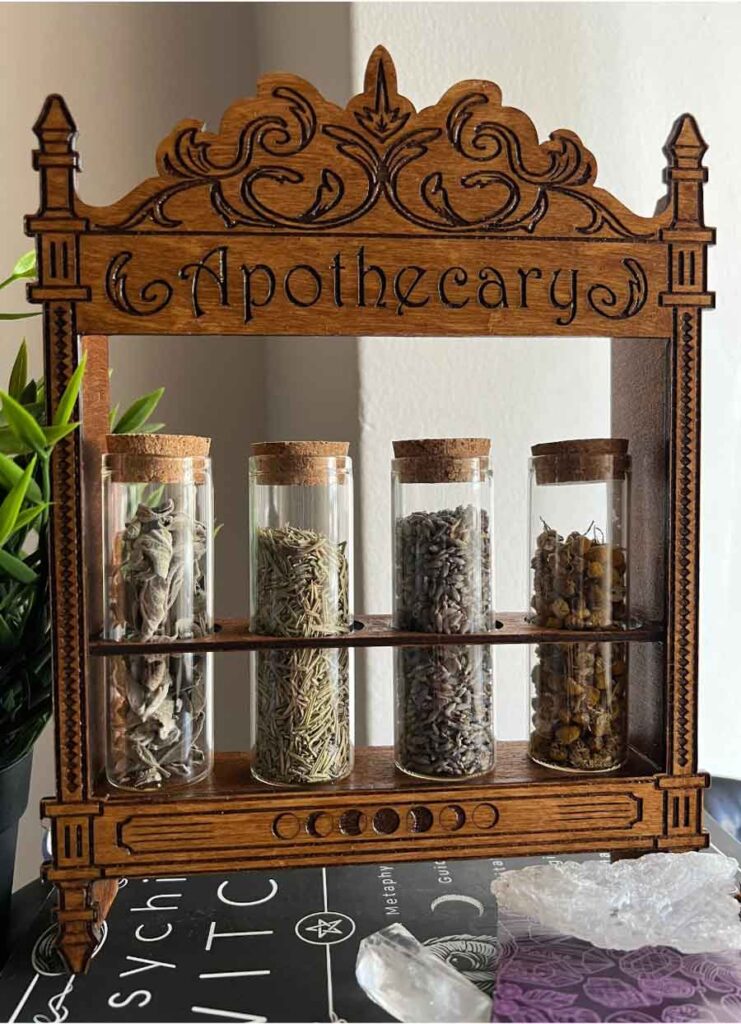 Apothecary stand for herbs and potions made with wood l Etsy l $44.87
Dried Herbs & Botanicals
The use of dry herbs is also recurrent in the witch kitchen. According to @emmagriffinwitch on her Instagram: ¨One reason why I dry flowers is for use in my spell craft. Each flower has its own symbolic meaning and correspondences that can be utilised in spells or rituals. By preserving these flowers through drying, I always have a ready supply of potent ingredients at hand whenever they need them. Plus they are beautiful hung up around the home.¨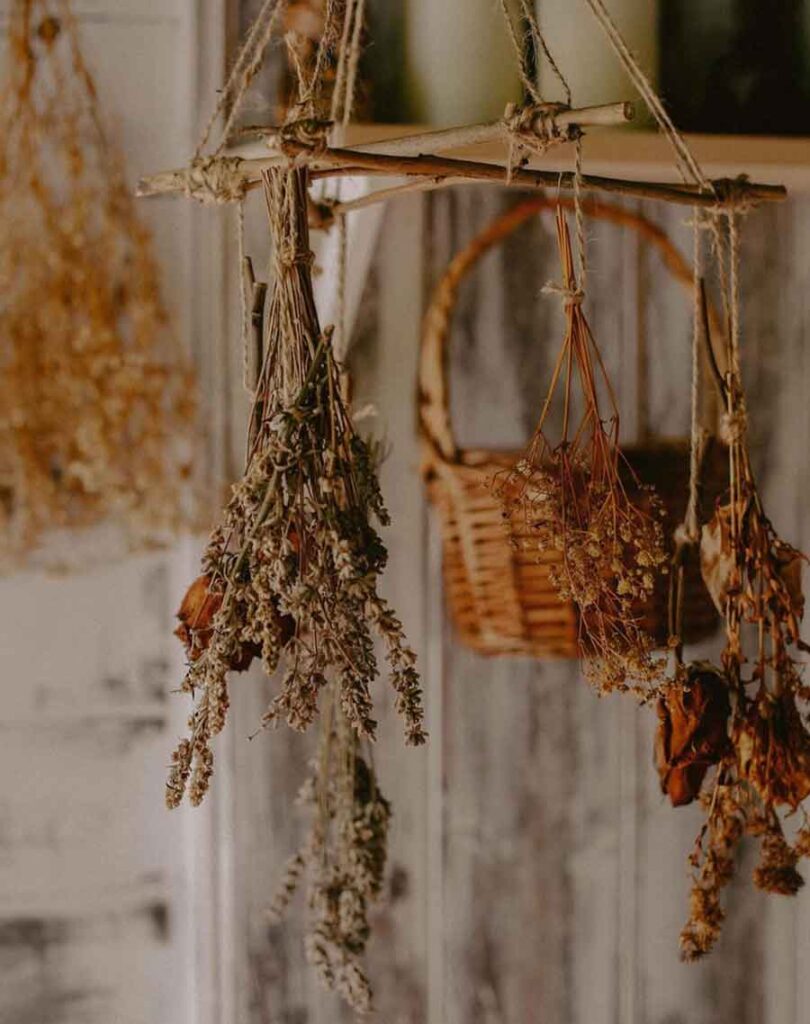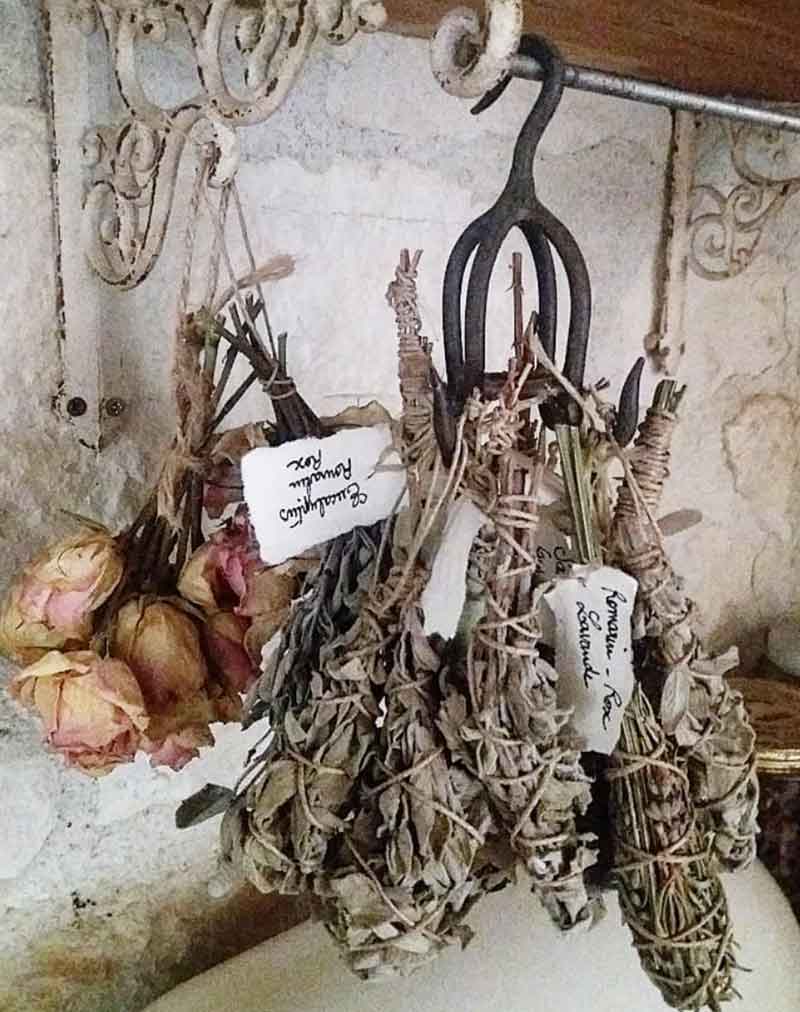 A Book of Shadows.
Not only food but also teas and infusions are also prepared in the kitchen. Once you have your herbs organized in an apothecary or hanging, you must also have a place where you write down your favorite magical recipes and herbal properties.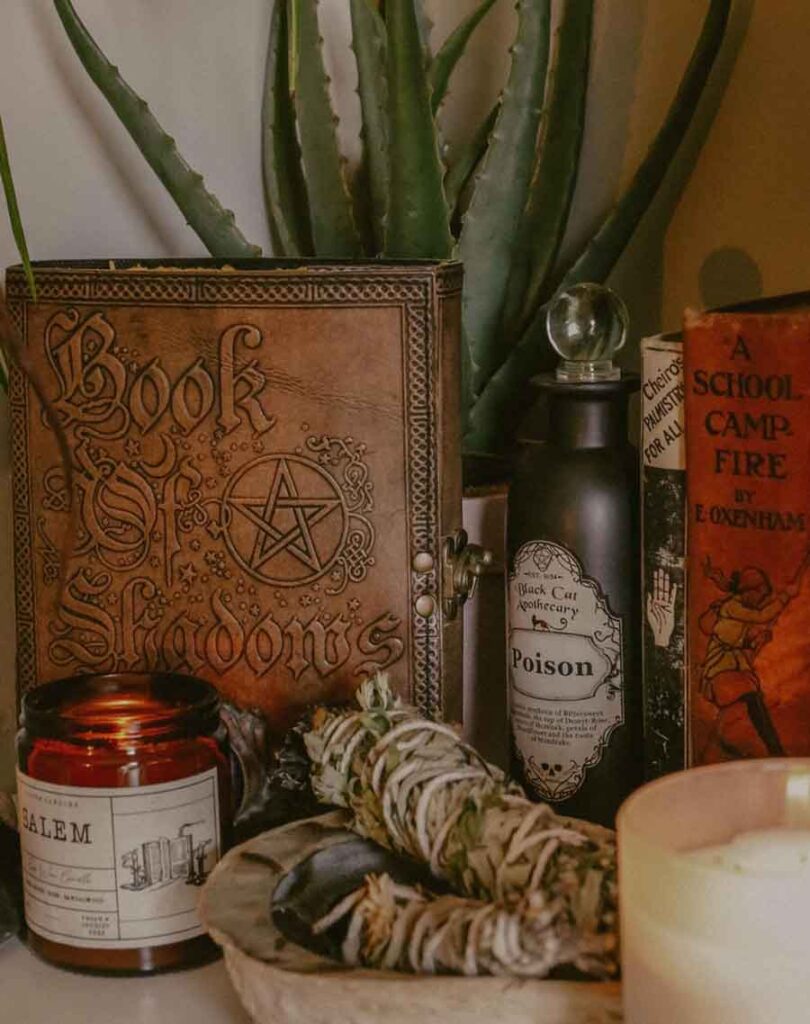 Hanging Copper cookware and utensils
A witch know the power of nature, therefore, they prefer toxin-free, natural cookware and utensils. Therefore, at least one good item made of Copper, iron, wood, and clay is mandatory in a witchy kitchen.
Copper, especially, evokes a vintage yet magical mood. Copper's earthy and warm tones can evoke a sense of nature and organic beauty.
When combined with natural materials like wood, stone, and textiles, it can create a harmonious and grounded atmosphere yet enchantingly glamorous and opulent.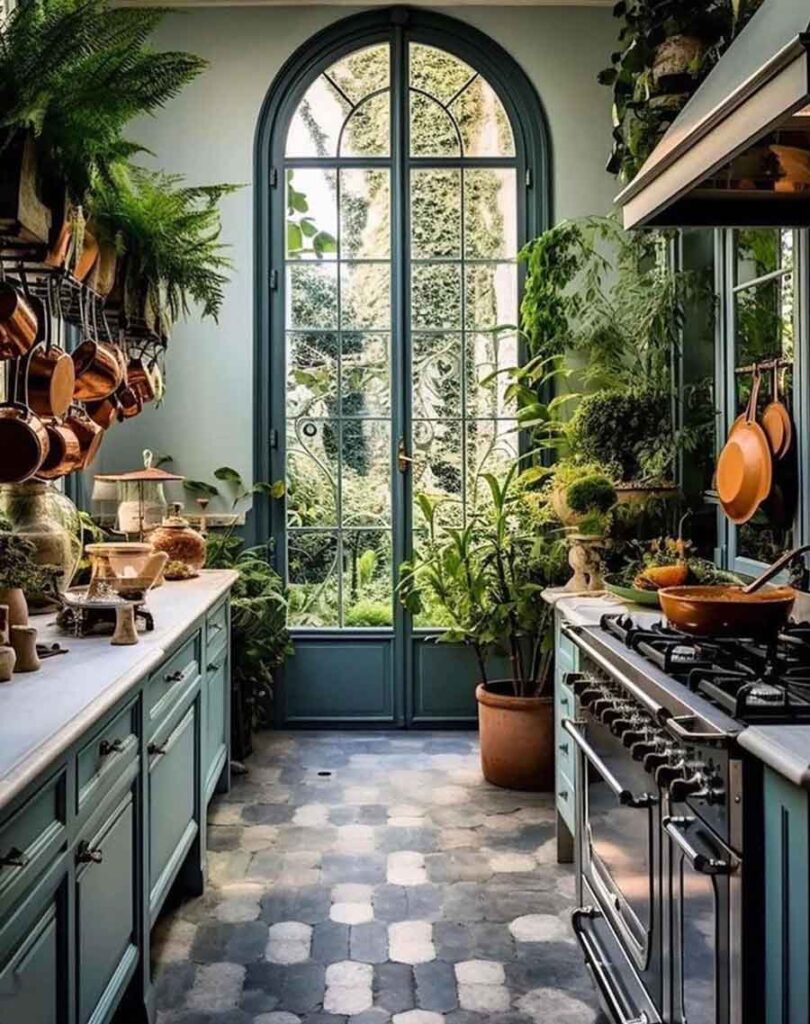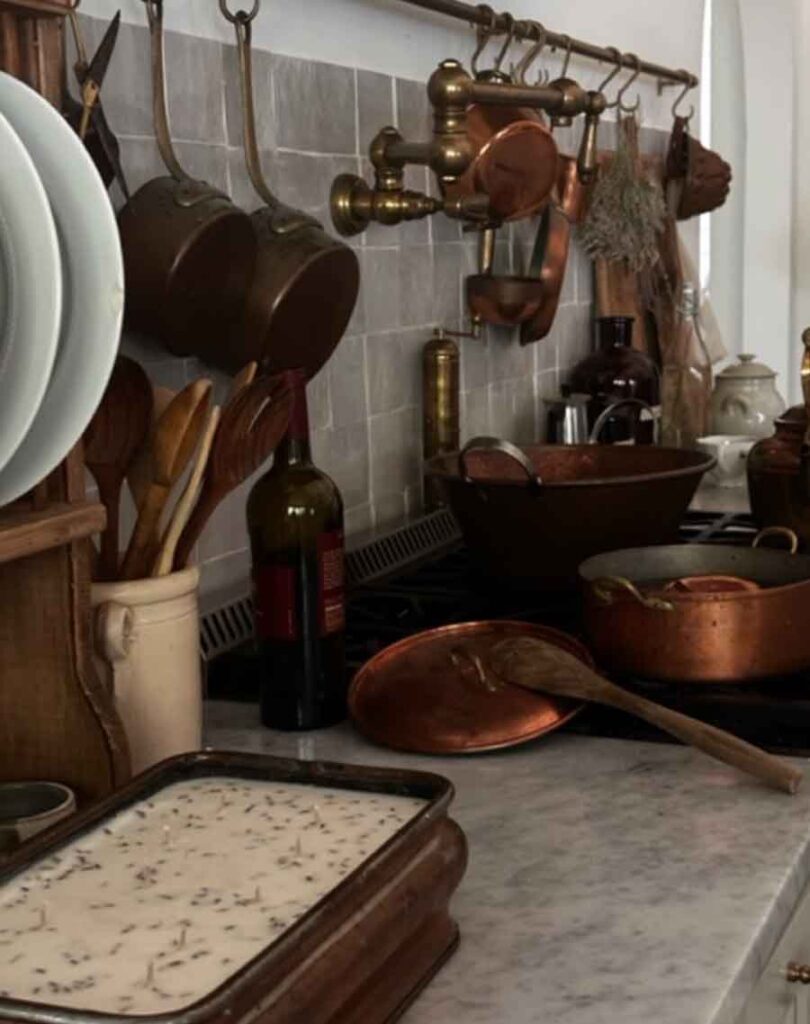 An old Copper kettle forms an aged patina with time and use and keeps its quality. There is an extra withy charm in aged copper, but the new Copper also evokes a bewitching mood in your environment.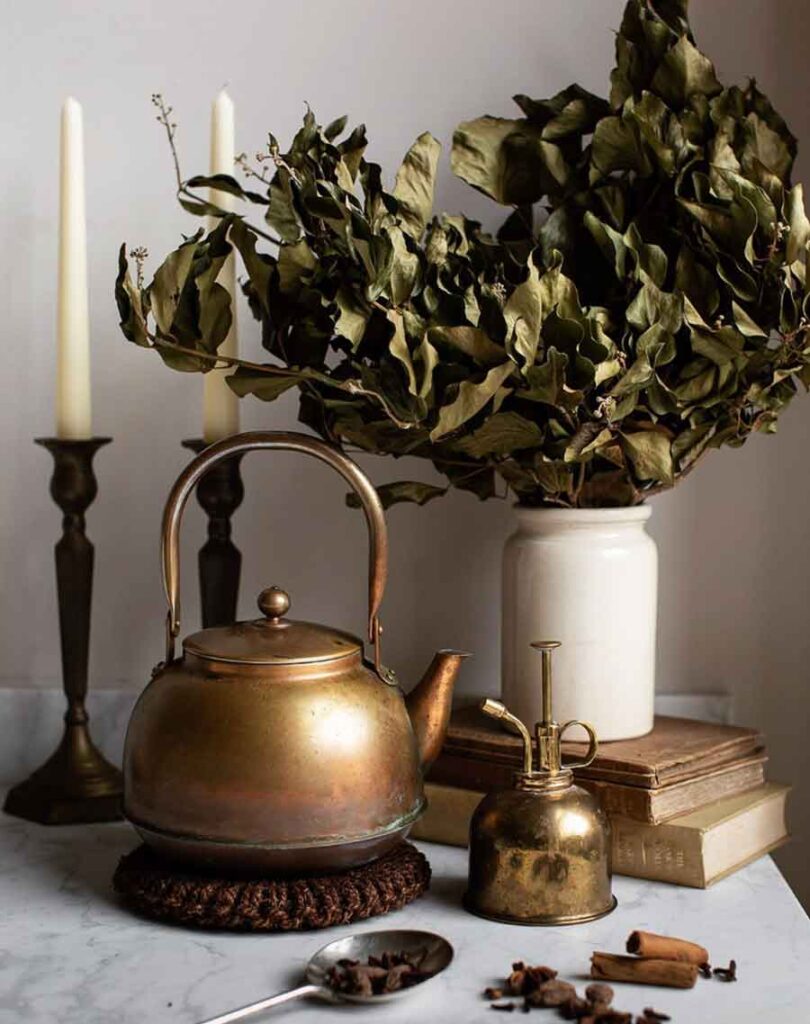 Fairy lights & candlelight
Warming moods for the Fire from a candle and the king sun coming inside for a morning and afternoon delightful visit from a large window are also small details that make all the difference. Fairy lights are also a cool alternative to create a mood of magic.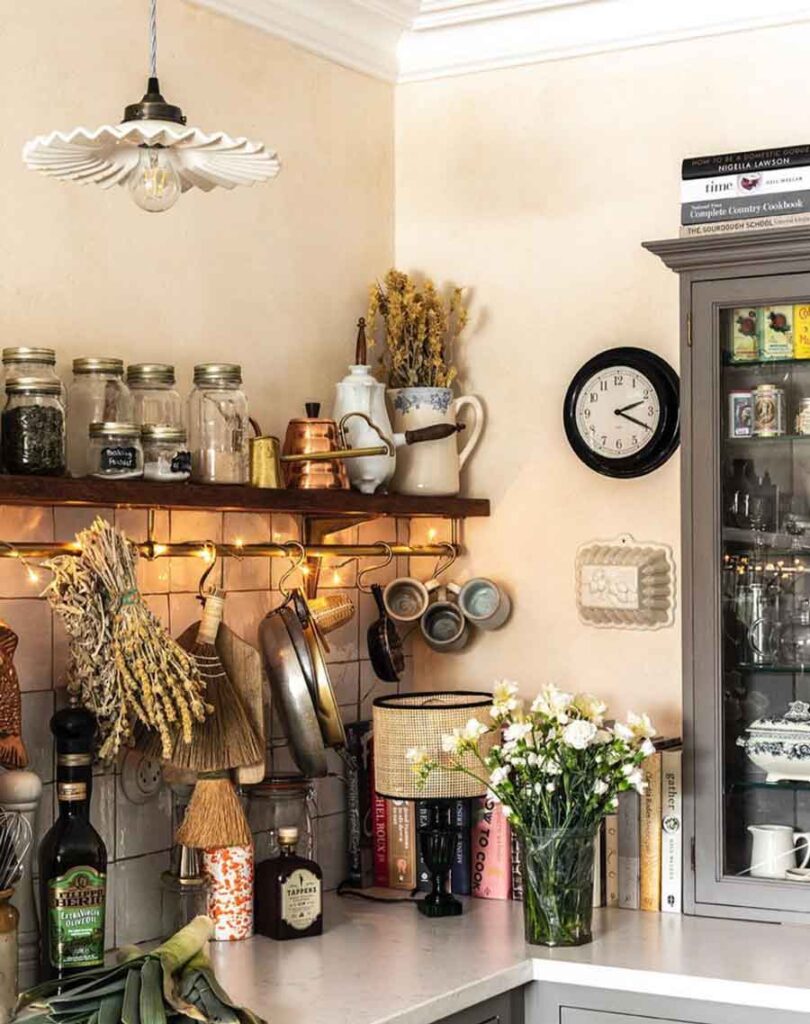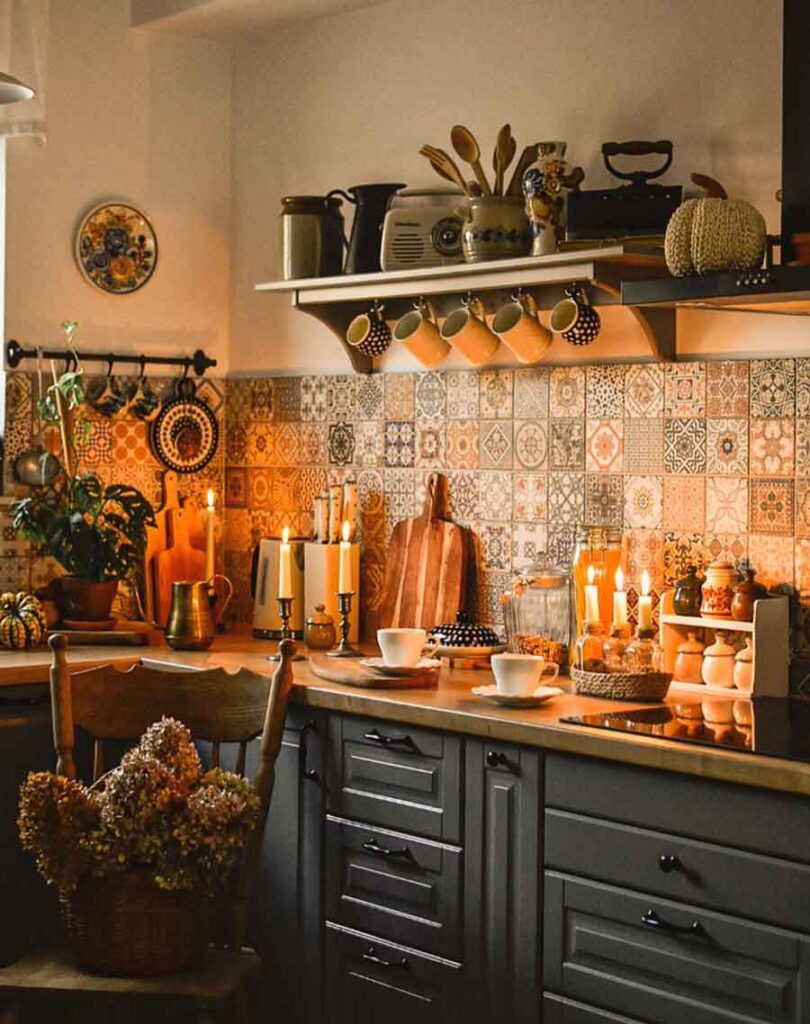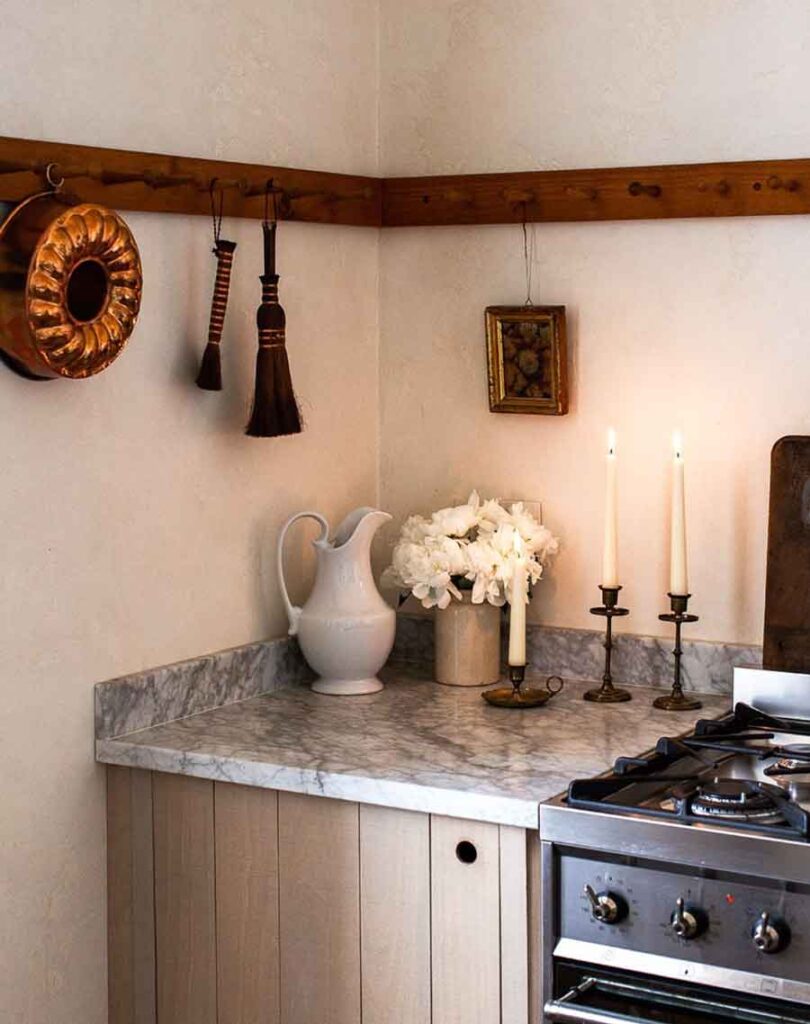 Wooden utensils
Light or dark wood is welcome to evoke the earth's power to assist you in your kitchen magic.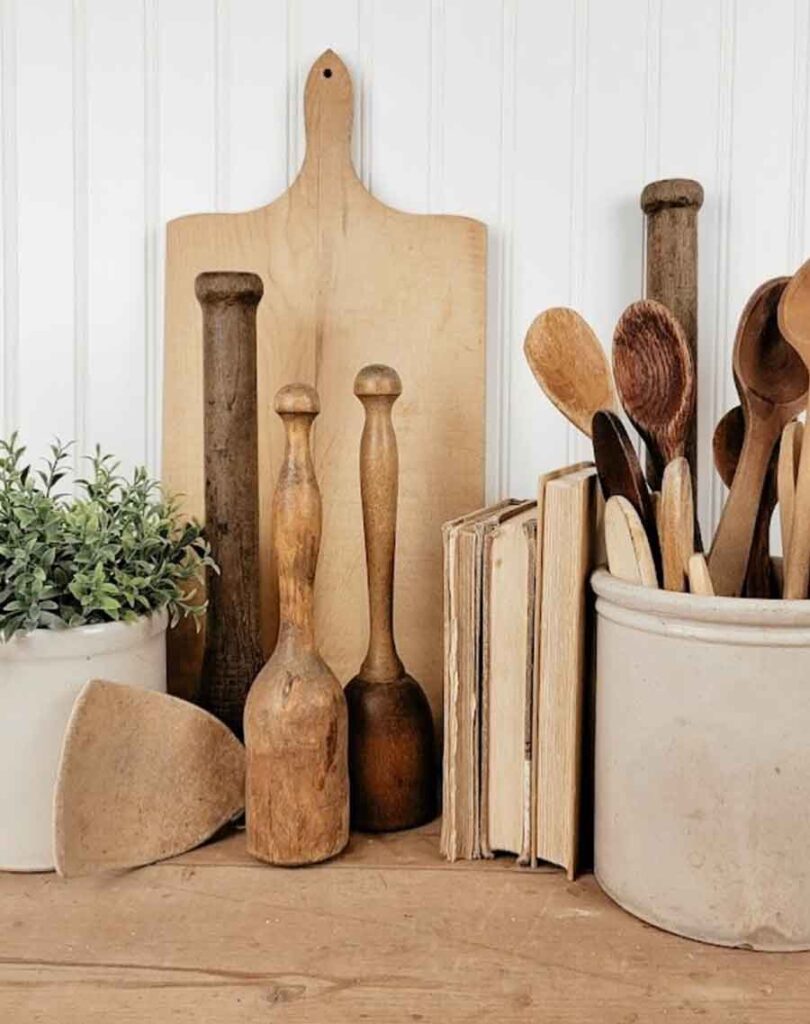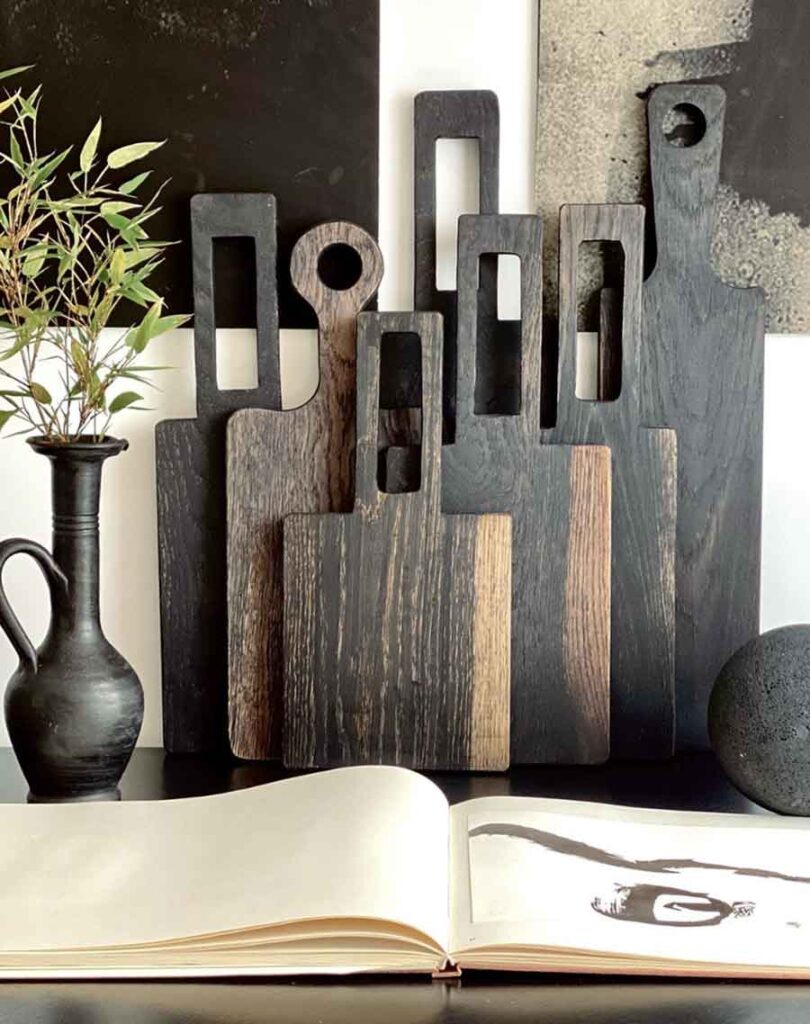 All together
I love how Deb, from the blog Seeking Lavender Lane managed to create a super Practical Magic mood in this little kitchen corner by setting the dry herbs, wood, copper cookware, and vintage jars in one little corner.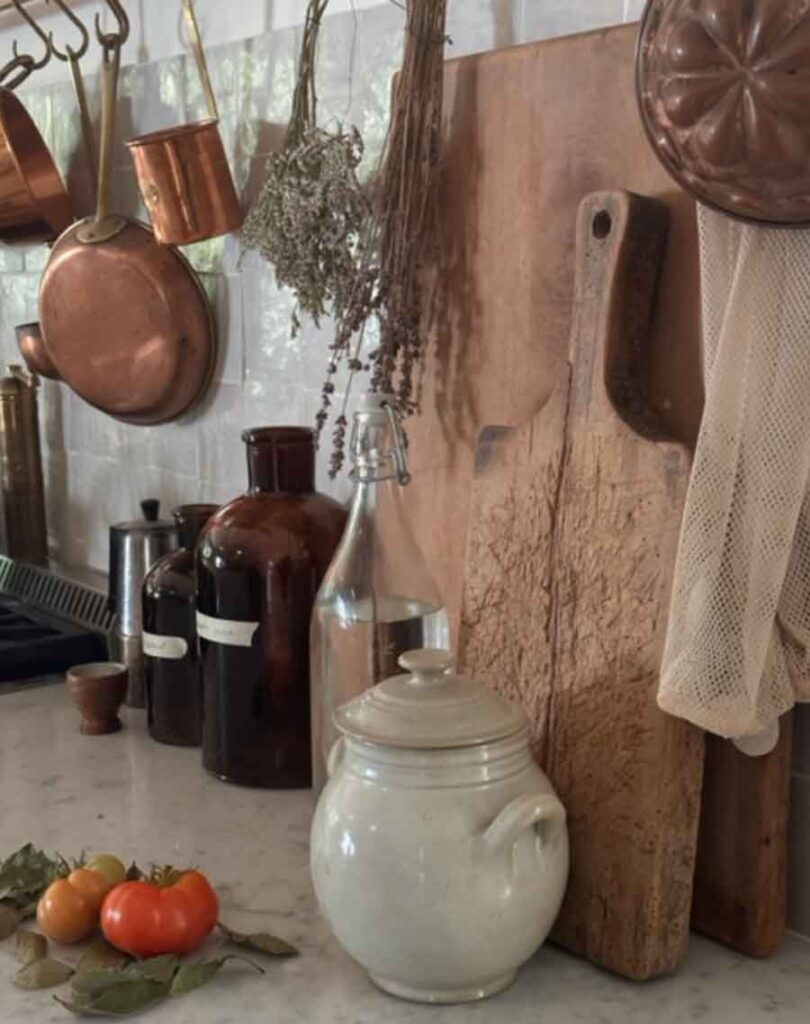 Moon mugs
Ceramic moon mugs are super witchy and essential in a witch kitchen. No wonder there are tons of them on Etsy
Witchy Kitchen Ideas by types of witch + utensils and accessories
---
Although the elements below are common in every type of witchy kitchen, there is also a range of possibilities to decorate according to your personality. Below I will list a few ideas and also some utensils and accessories to match the mood of that kitchen.
Elements from the witch aesthetics, such as moon and stars, black cats, and snakes are welcome in witch kitchen decorations. I researched the most aesthetic ones that I could find online for this post. I tried to pick products in a context, not only in a white background, so you can actually look and feel how they fit in the witchy lifestyle.
Vintage Dark Witchy kitchen
The dark green tiles create a dramatic atmosphere that we can immediately associate with a slytherin-inspired kitchen. I can picture Narcisa Malfoy making a potion in this vintage antique, yet modern and opulent kitchen. The black wood with dark green will create a super dark and sophisticated environment, while the dark green with wood will evoke a more dark forest mood.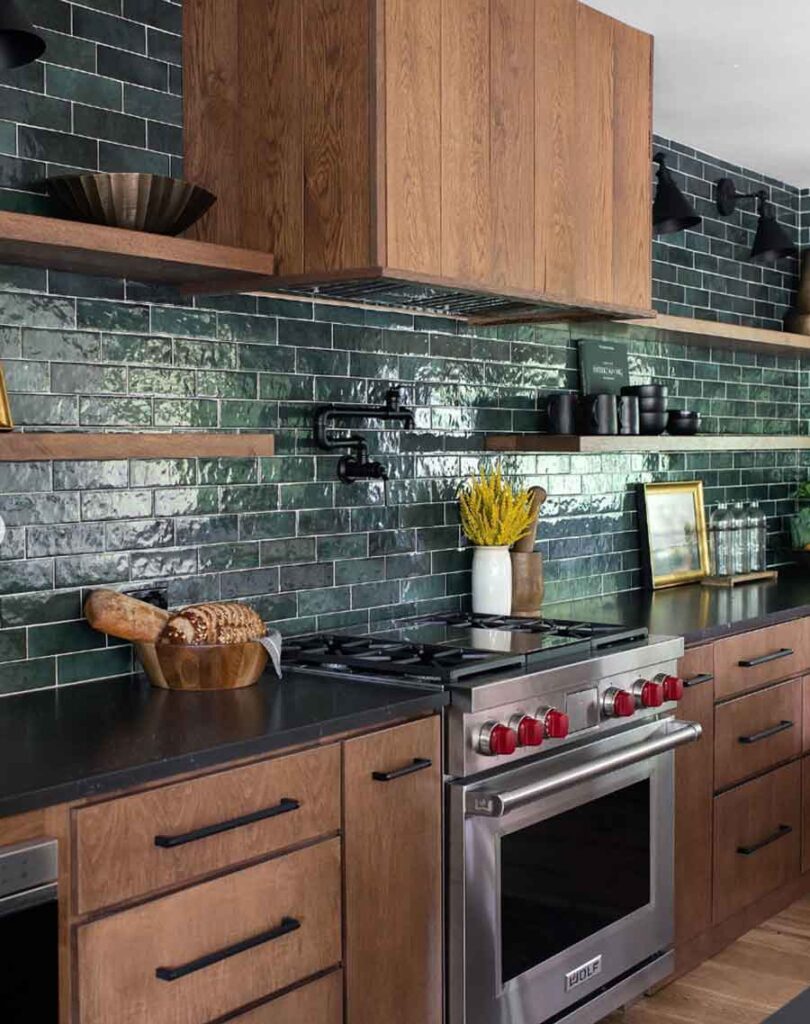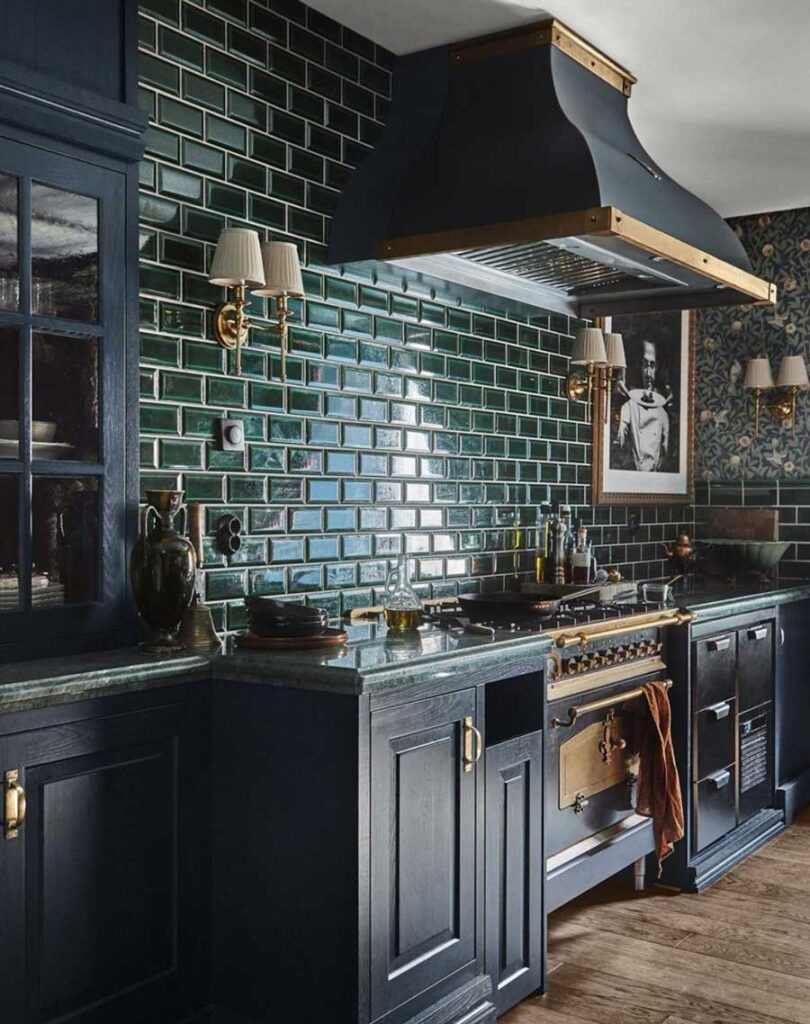 Shop this Witchy Kitchen Mood:
Below are some utensils that are similar to the ones in this mysterious dark green black and gold kitchen, or that would fit well. The detail of the oil dispenser in the shape of laboratory glassware makes this kitchen really feel like someone is going to prepare a magic potion in there, and creates motivation to use your imagination and experiment in the kitchen.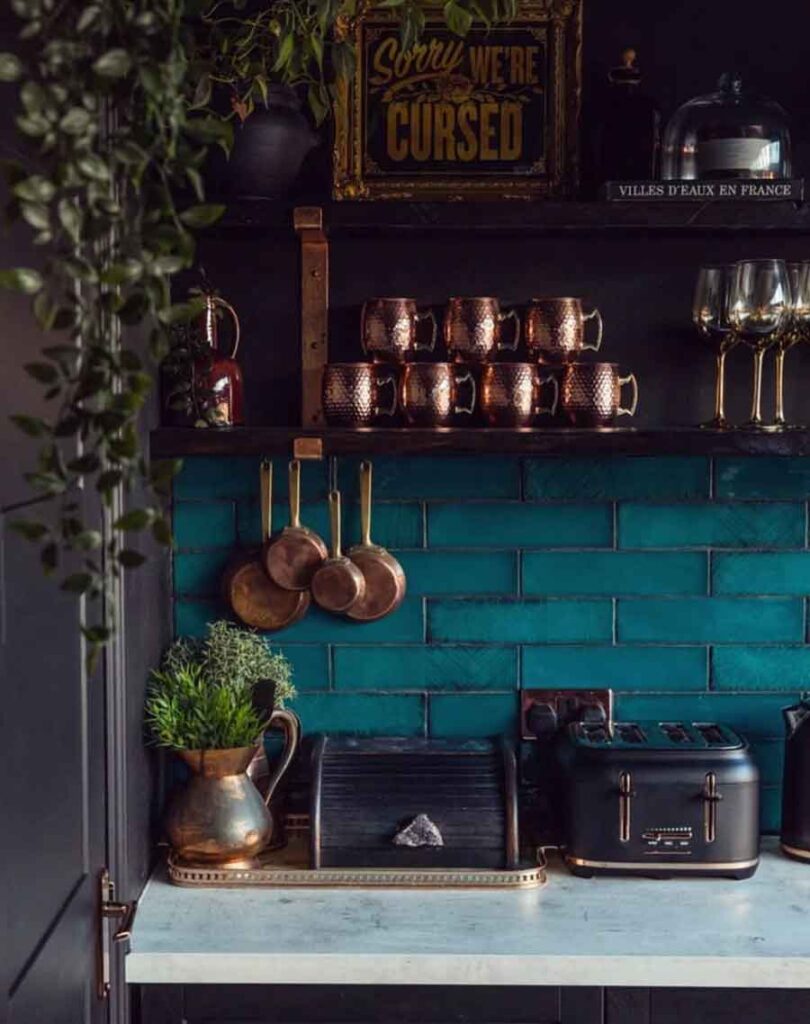 Forest, Woodland, and Green with kitchen ideas
If your witchy aesthetic is more earthy and natural, these are the essentials for you. Lighter shades and primitive and rustic style set the tone of this kitchen. Here, lighter shades of greens and browns will make your home feel merged with nature. And don't forget the greenery and wooden utensils.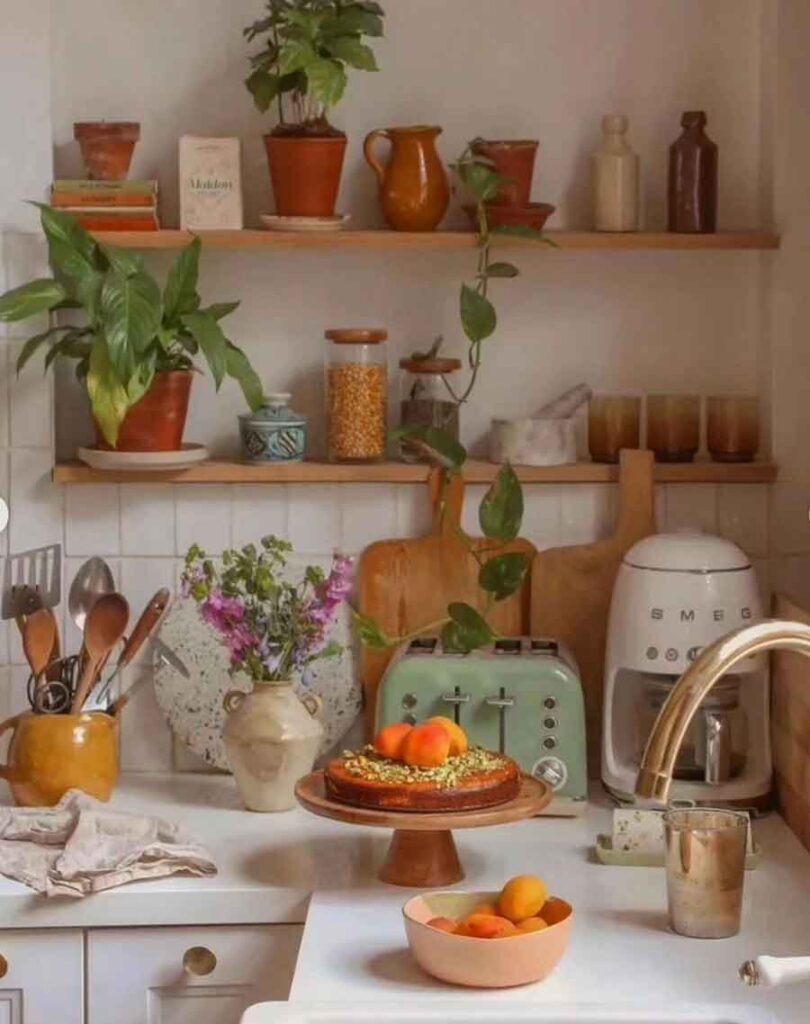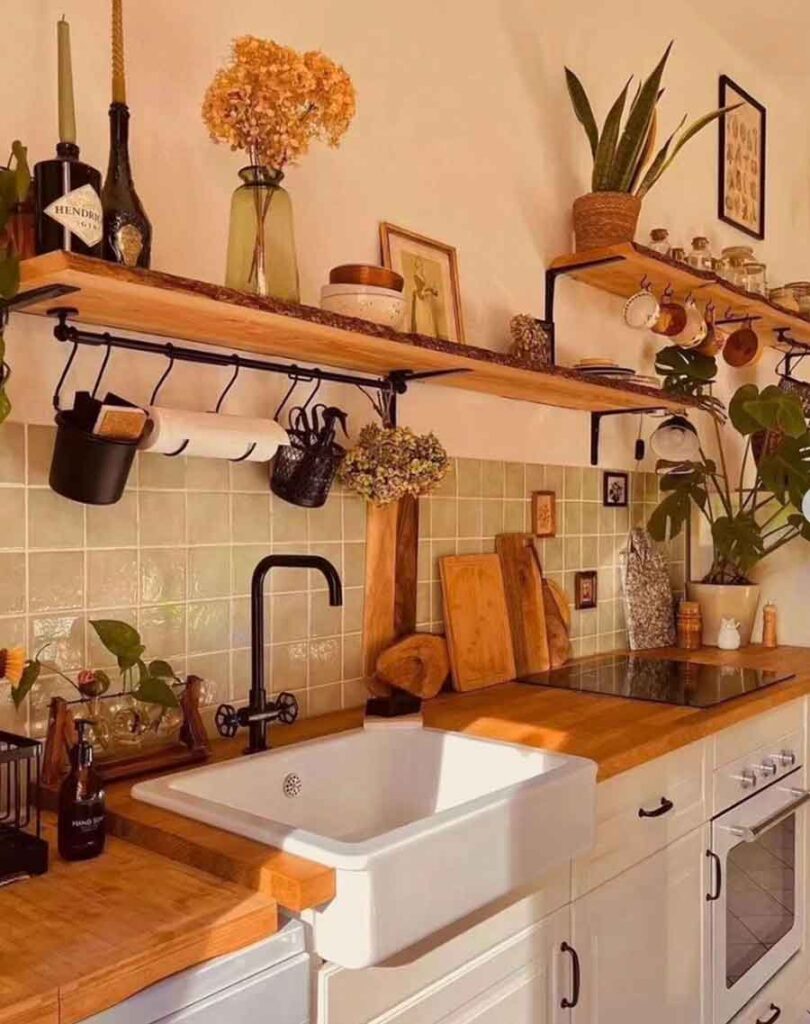 Bring nature colors, fruits, plants, grains, animals and other elements and shapes to your green witch kitchen decor.
More copper, when combined with dark wood makes this an interesting mix of rustic with elegant witchy kitchen.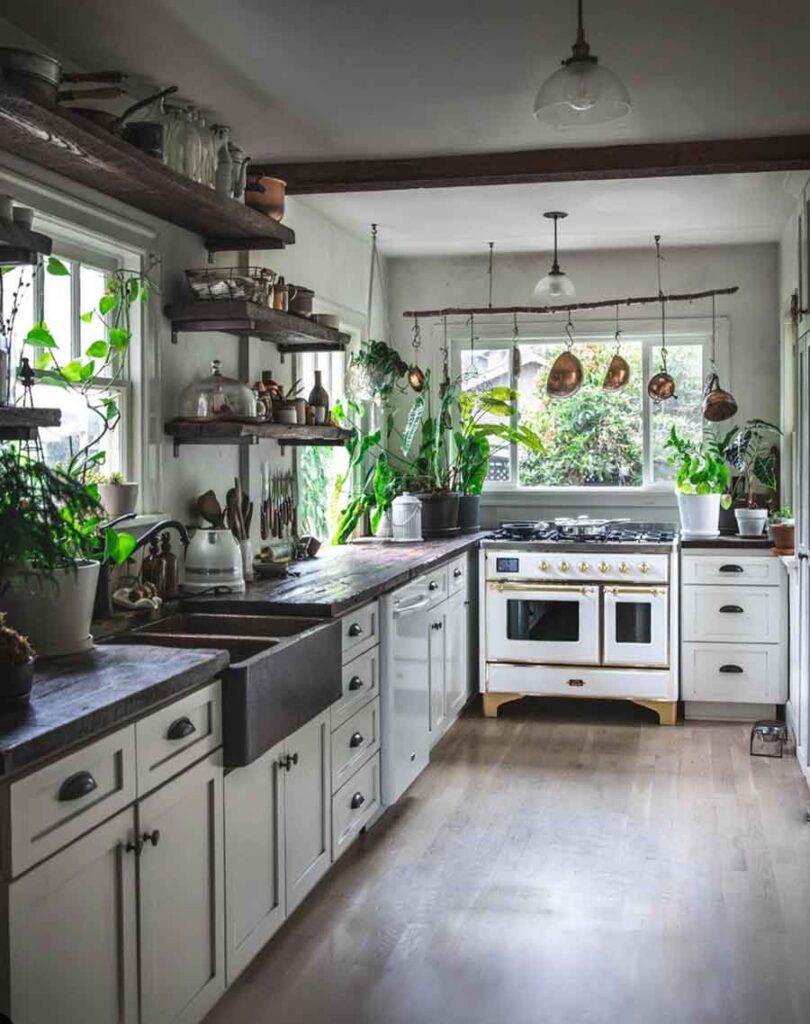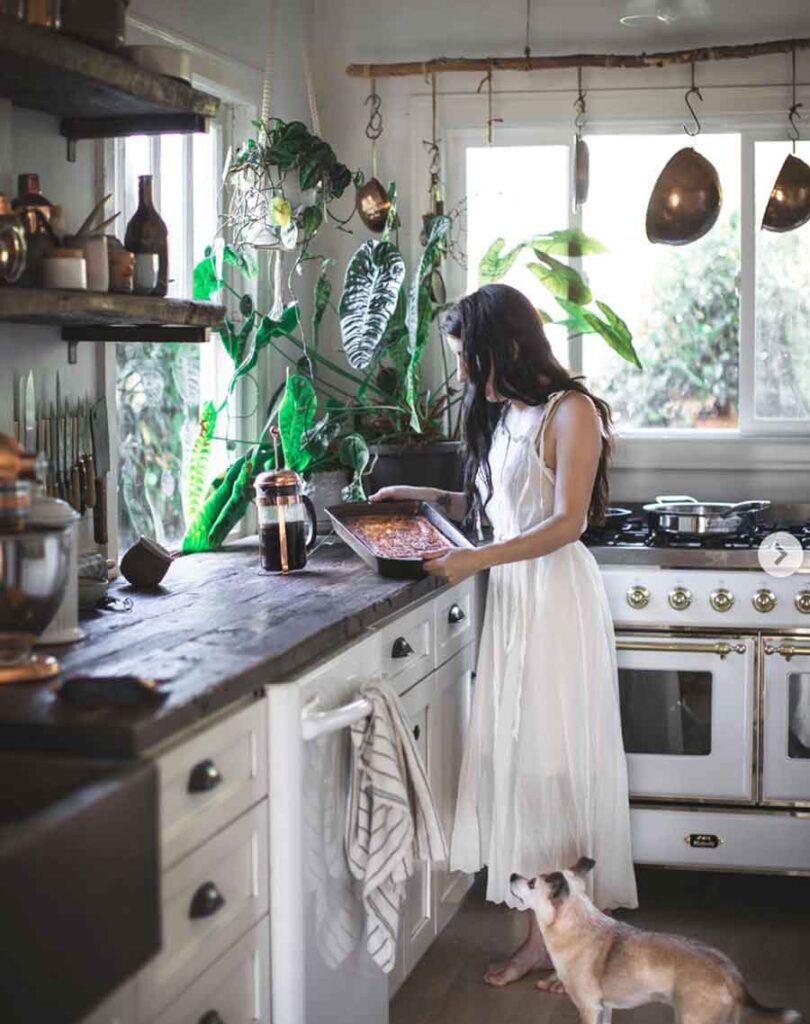 Modern & Celestial (star, sun and moon) Witchy kitchen things and utensils
This is one of my favorite styles of witchy kitchen, and one of the hardest to find references for. We get all the power and deepness of gold and black but involve them in modern, clean shapes.
Mix with green, white and copper and you can make wonders for a modern mystic kitchen. Celestial utensils fit perfectly with this aesthetic. Dark blue and purple also look nice with celestial elements, and when it comes to pop culture, blue matched with stars and the moon makes the perfect Ravenclaw aesthetic.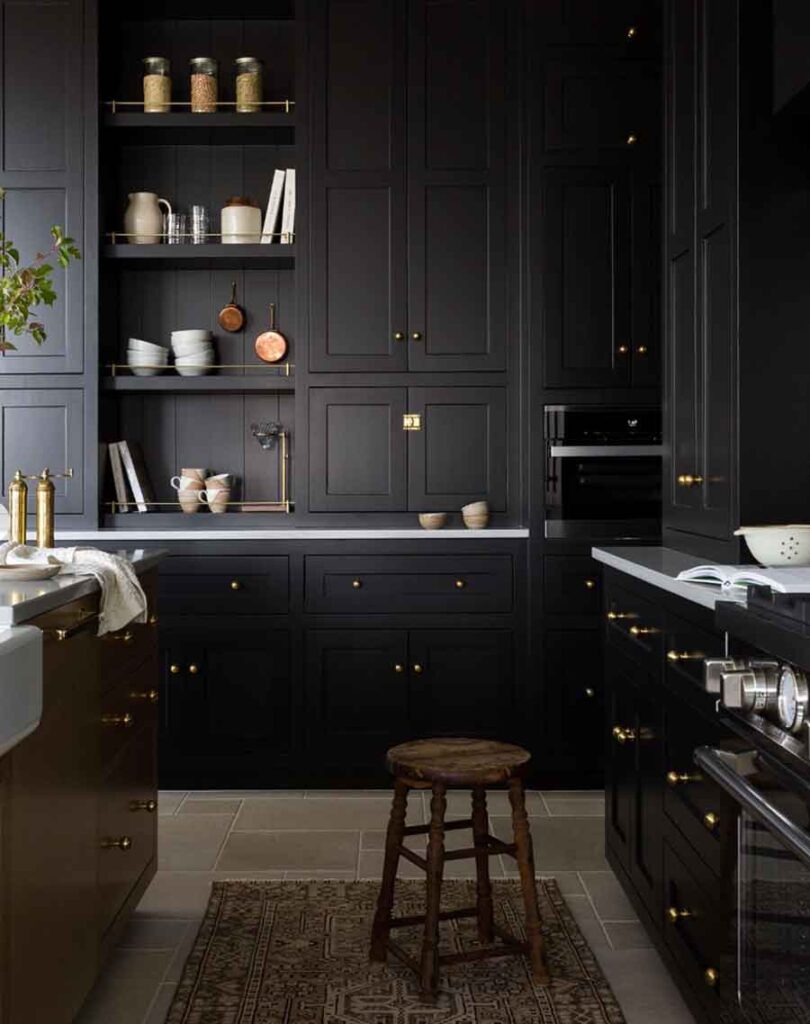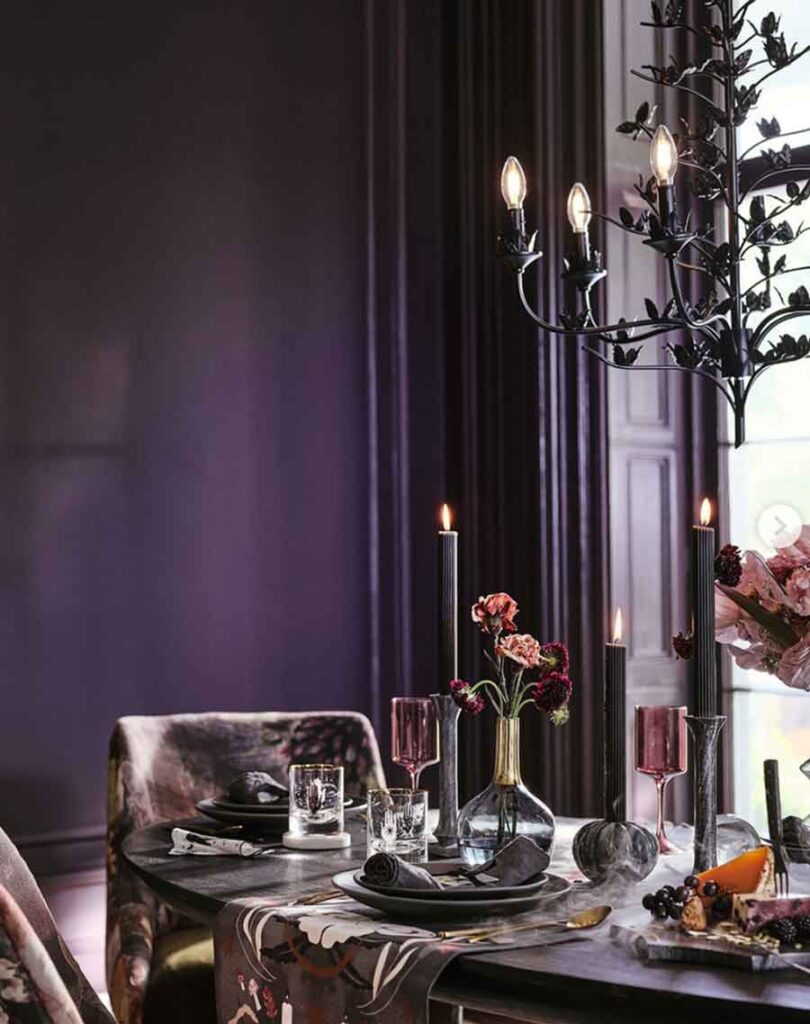 ---
Shop the mood for a modern mystic kitchen
In conclusion, of course, you can mix and match everything in this post and make your own eclectic witchy kitchen. I organize by style because this way it is easier to visualize and sense the moods evoked by that environment, hence, respect your feelings by cooking and eating in a place that makes you feel good.