☾ Affiliate Disclosure: The Mood Guide celebrates women's moods and versatility. Even though we may earn a commission from some of your purchases, we encourage you to shop with the right intention. Focusing your energy on what you feel confident and comfortable in is empowering! ♥︎
---
Major Spring vibes are in the air, so there is not a better moment to finally write our Cottagecore aesthetic guide. I have to start by admitting that amazing articles about this aesthetic have already been written, such as this reflexive piece in The New York Times and this one with a more political focus from Architecture Digest. So, I will do my best here to bring to light something new about the gorgeous elements and meanings of the Cottagecore aesthetic. As a graphic designer, I like to remember in all my aesthetic guides that my focus when I write them is on highlighting the power of image, symbols, and storytelling when it comes to creating identity, finding individuality, and making wise life choices for ourselves.
What is cottagecore
---
Cottagecore is pretty much about romanticizing and idealizing the rural lifestyle. It is imagining that you can also live a Jane Austen character's life in the English countryside and value the wonders of disconnecting from modern-day technologies and from the overwhelming amount of information that we take in. It is about connecting with real and living things from nature in the present time and adding beauty – a lot of it – to the process, because why not?
Many articles and journalists criticize this movement, highlighting some negative facts, such as possible insects and bugs and no internet in the countryside. As a girl who spent a good part of her childhood on a farm, I have to disagree. You can have internet in some places in the countryside, and you can protect the house from bugs with the right tools. Even if you don't have internet, if the call in your heart for spending a few days disconnected is very strong, I am sure the lack of internet won't be a problem.
---
🍄 🐑 🍓 Dress up with a pretty light dress, feed the chickens with raw corn, brush a horse (they love it!), watch the interaction among animals and learn from their wisdom, listen to the sounds of nature, meditate on the wonderful and infinite shapes, textures, scents and colors from nature that we don't have the privilege to sense on our daily life, and watch the tiny little fishes biting your feet while you refresh in the river. I did all that in my teens (without the pretty dress though), and I can tell, those are my best memories. Don't let people or articles limit your dreams. I believe that we should chase everything that calls to our hearts since we don't do anything that harms anyone else. You don't have to move to a farm in the middle of nowhere to live like a cottgaecore girl, you just have to be in the mood, and, when you can, make a trip to a dreamy, quiet, and peaceful place and reconnect to the real world for a while. And yes, it is absolutely ok wanting to feel pretty and lovely in the process, after all, this is what spring and summer nature feels like: beautiful and pretty perfect, you will just blend in.
---
You must be the best judge of your own happiness

Jane Austen
Cottagecore Painting
When we talk about the definition of cottagecore, it is evident that references to the old country, romantic cottages, and farm life are the first thing that comes to mind. But what not everyone remembers are also the artistic references of this aesthetic. The most beloved painter among the cottagecore girls and possibly the main inspiration is Russian artist Alexander Averin.
¨The main theme of Alexandr Averin's painting is genre scenes with charming Russian ladies against blossoming meadows and gardens, shady river coasts, and sea landscapes.
His paintings are filled with sincere warmth and cordial feelings towards children(…) His style is purely realistic, with a strong influence from the late 19th-century Russian painters, usually depicting domestic scenes in a soft twilight.¨ Source: Haynes Fine Art
The Dreamy Cottagecore Aesthetic
---
Two years ago it was quite easy to define cottagecore aesthetic (or farmcore). These days though, due to the wonderful diversity of people and their need for individuation, that are many cottagecore variations popping up every now and then in online communities.
In this post, we will keep things traditional, after all, cottagecore in its origin is all about living like a vintage and nostalgic romantic sweetheart in the countryside, believing in a sweet, dreamy and precious life in nature, and running wild and free in floral fields.
Cottagecore was a term created on the internet, as far as I know in 2017 on the Gen Y trendsetters' favorite place by that time: Tumblr. For visual reference, I will list some of the cottagecore variations below.
Goblincore: is cottagecore with an extra fairytale in the forest with goblins, mud, and mushroom vibes.
Cottagecore academia: is a mix of the lovely and romantic life in the forest mixed with the intellectual, introverted side of light and dark academia. This is your aesthetic if you love dreamy books and nature and writing your own stories on a typewriter while drinking a cup of strong coffee.
---
🕯 Light Academia Aesthetic: The Ultimate Guide for Artistic Souls and Bright Minds
🕰 Dark Academia Aesthetic Guide
---
Witch Cottagecore: Imagine that classic picture of a cottage witch. The green witch loves life in a cave in the forest, but in this case, also loves to feel romantic and sweet and dress up in lovely dresses. She studies the sacred nature around her and has the knowledge to do magick work in synergy with nature.
Dark Cottagecore: is a Gothic yet cute subculture. Keep the linen dresses and nature, but make it all colder and darker. Spring is replaced by snow, and dry trees are the kind of natural beauty that appeals to the dark cottagecore girl instead of blooming blossoms. And of course, black is her favorite color for dresses.
---
the traditional cottagecore aesthetic: open fields, gardens, yards, farms, frogs, mushrooms, daisies, vintage books, linen dresses, picnic under the soft warm sun
---
Cottagecore: the storytelling
An ethereal and heavenly floral fantasy in the woods or in the countryside (The English countryside preferably). Fantasizing about waking up and smelling the roses while wearing a light-as-air dress and watching de sunrise holding a warm cup of floral tea and smelling the fresh-baked bread in the kitchen.
No phone sign, but a connection with the best music nature has ever done: the bird's morning melodies. After breakfast, you take your vintage bike to explore around, feeling the gentle wind kissing your skin and playing with your hair while you ride in the search for fresh flowers to decorate the homemade lemon cake you are planning to bake in the afternoon.
This is the dreamland scenario of a person who identifies with the cottagecore lifestyle. Maybe you can't do it every day in the modern world, but you can definitely take a vacation on a faraway farm, or bake your own bread wearing a light dress on your day off. Believe me, these small things make a difference in our mood and sense of accomplishment at the end of the day.
In The Mood Guide, we like to reinforce the idea that the conditions don't have to be perfect for you to be what you want to be. If the mood strikes, you take the tools you have at the moment and create your own reality.
Instagram's gorgeous feeds are a tool for ideas and inspiration to be applied in your real life, rather than just a pretty feed goal. It shows highlights of good moments and should be an inspiration for you to create those highlights in your routine.
Lovely Cottagecore Wallpaper Ideas for your Phone
The Cutest Cottagecore Swimwear (Cherry prints, Gingham bikinis, and more)
Cottagecore things, colors and symbols aesthetics:
Shades of a sunkissed spring and slow-living summer are the main aesthetic colors of Cottagecore. Cottagecore elements are about making everything more beautiful and returning to a romantic past.
Cottgecore Flowers:
Spring or not, flowers will be one of the central elements in cottagecore. Cute, beautiful, adorable, meaningful, dreamy, lovely yet bold, graceful & stunning. The symbology of these gifts of nature is one of the strongest and most timeless in any corner of this planet. There are so many flower species in the world, but some play a more central role in Cottagecore aesthetic.
Are you feeling cute as a daisy? Dainty and cute daisies, delicate and calming wild chamomiles, bright sunflowers, lovely hydrangeas, and tender roses are the most popular cottagecore flowers due to their feminine, cheerful and bright qualities, and symbolism.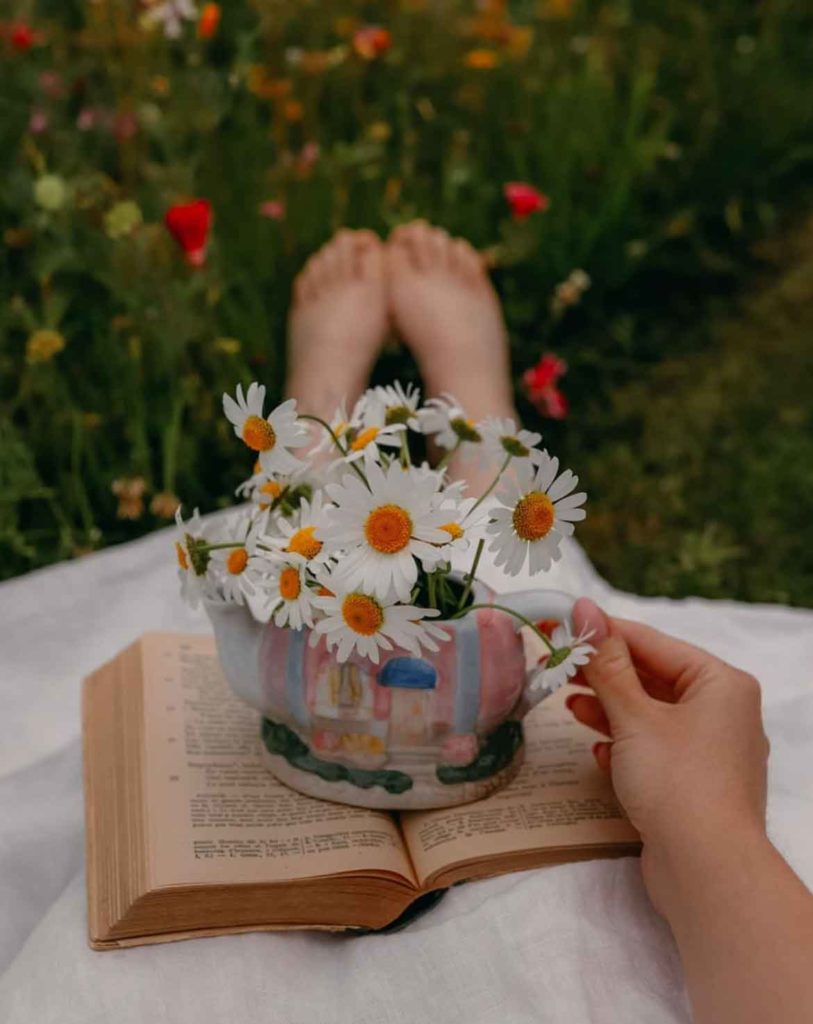 That is one good thing about this world…there are always sure to be more springs

L.M Montgomery
Strawberries
harvesting and picking strawberries are one of the favorite activities of the cottagecore girl. This is why this lovely and delicious fruit is the theme of so many cottagecore-inspired merchandise and recipes.
Sunshine:
Well, flowers need sunshine daily, so, the splendor of the king sun is a vital, natural and important element of this aesthetic
Vintage Bikes
Clothesline
I love the aesthetic of clothes hanging on a line and dancing with the wind. Doing laundry in the countryside (or in your backyard) is a quiet, peaceful, and relaxing activity and a way to live greener during spring and summer.
Enchanted gardens
Picnic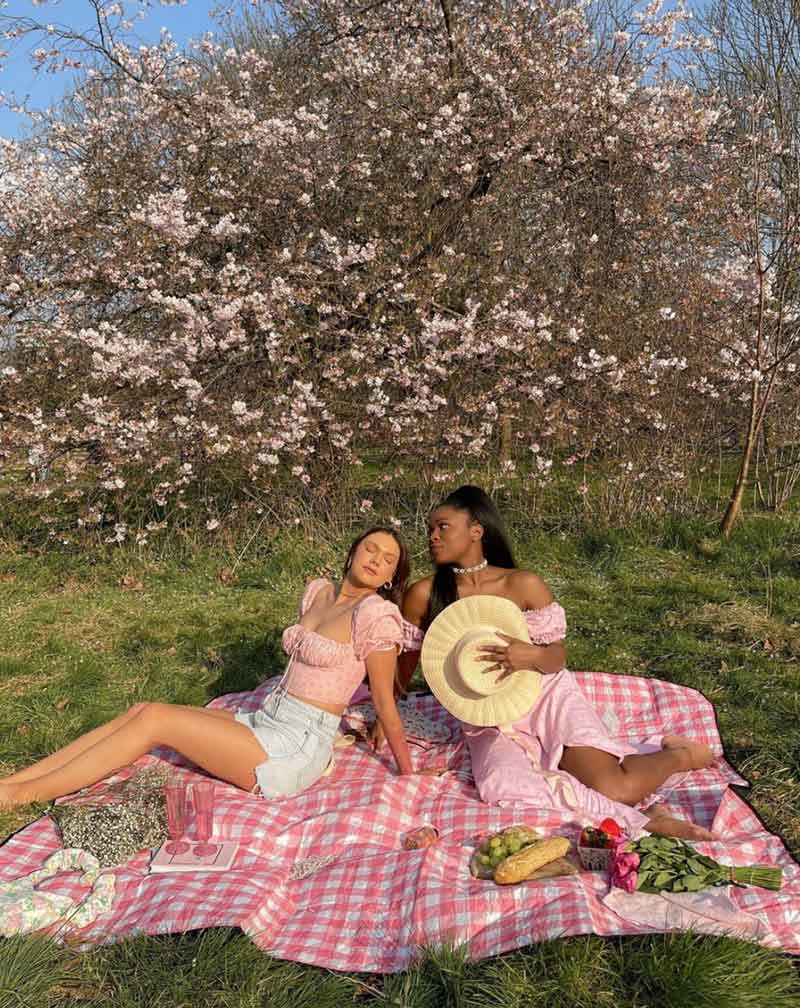 ---
---
Embroidery
Embroidery blooms, animals, or anything inspired by wildlife is a strong element of the cottagecore aesthetic.
Animals
Close interaction and deep respect for undomesticated animals.
14 Unique Squirrel-Themed Gifts with Woodland Aesthetic
Unique Bee Gifts for the Farmcore Obsessed
Cottagecore Aesthetic Moods
Flirting with the sun, dreaming, and living a simple life in harmony with nature are the main moods of the traditional cottagecore. Below are some activities you can add to your daily life to embrace cottagecore
reading love sonnets or a Cottagecre inspired book such as Anne of Green Gables or The Secret Garden in the sunlight or under a cherry tree
keep a gratitude journal and write something new to feel grateful for every day. Think of simple things, like the joy of feeling the warmth of the sun on your skin on a chili day or the intense, happy relief of feeling a rush of fresh wind on a hot day.
it can be from your garden or in a park nearby. Every time you have got a chance, stop and admire nature and its wonders
take a deep breath and feel the scent of the earth permeate the air after a rainy day
enjoy tea time in the garden
organize a picnic in the park with someone you love
I walked across an empty land

I knew the pathway like the back of my hand

I felt the earth beneath my feet

Sat by the river and it made me complete…Oh simple things, where have you gone..

Keane: Somewhere Only we Know
Outfits, Clothes and Accessories
---
Light, feminine and graceful is how you will feel wearing cottagecore outfits.
Ethereal, embroidered clothes with garden, mushrooms, dreamy strawberries, and floral motifs, as well as vintage-inspired themes, such as gingham, pretty much define the magic, slow and romantic cottagecore style.
For the clothes, go for vintage-inspired corset, mini and midi dresses, or tops featuring lovely details such as front lace-up bodice, pleated ruffles, underwire bust and puff sleeves.
Corset Outfit Ideas to Fell Like a Fairytale Character
Where to buy Cottagecore Clothes?
For the hair, flowers, braids, bows and straw hats pair beautifully with your vintage floral pieces. Back in the days, in the countryside, the easiest way to keep the hair out of your face was tying a piece of fabric in the shape of a bandana on your head. Cottagecore fashion brings this lovely nostalgic accessory back.
Cute Cottagecore Hairstyles for Every Type of Hair
Cottagecore House & Decor
Cottagecore is based on the simple life in nature above anything else, so it is natural to think about ways of bringing nature to your home when you think about how to decorate your house with cottagecore.
A garden or a yard, a window with a view to the green area and vintage, trifted and handmade items for a shabby cottage-inspired decoration.
In the kitchen is essential to own a vintage ceramic tea set and have natural, fresh spices storage. If you have space in the yard, a front porch or tree hanging swing, or a small table for lovely afternoon teas will add an extra romantic charm to your home and routine.
---
Related Post:
How To Beautifully Decorate Every Room With Shabby Chic Aesthetic
---
CONCLUSION
I hope this cottagecore guide has inspired you to slow the rhythm of your life, buy a pretty dress because you deserve it, learn something new from a lovely vintage storybook and look with more attention to detail at all the little-big things and colors surrounding your own lifestyle.
---
Final note: This website is called The Mood Guide because we truly believe that we have everything within us. Of course, you can be a 100% dark academia person, but you can also be soft and tough, bold and dreamer, a traditionalist and a rebel, a romantic and a hero, vain and simple, classy and adventurous, witchy and scientist. It depends on your moment in life, what qualities and strengths the situations of your day require from you to channel, and, of course, your mood. Therefore, our main goal in creating these aesthetic guides is to help you connect with your current mood in life and make choices that feel truly authentic. We don't want to put you in a box, but to help you feel more aligned with your true self.