If you're reading this post, it's probably because you're wondering ¨What Aesthetic I am?¨ or ¨what is this aesthetic thing everyone is talking about?¨ or ¨what are the types of aesthetics?¨. In this post, I will answer all these questions, and in the aesthetic list below I will help you define what your personal aesthetic is and guide you toward the ideal aesthetic for your mood. Our goal is to help you find aesthetic clothing, aesthetic home decor, and all aesthetic things that feel authentic to you.
So, by the end of this post, you will understand what your aesthetic is, and will discover that you can, maybe even should, have more than one aesthetic.
---
– EXPLORING THIS POST
What Aesthetic means:
---
The definition below is taken from Collins Dictionary.
But if you're reading this post, it's probably because you're also interested in delving into the most recent meaning given to that word on the internet, which I will also explain.
---
also esthetic1.
ADJECTIVE
Aesthetic is used to talk about beauty or art, and people's appreciation of beautiful things.…products chosen for their aesthetic appeal as well as their durability and quality.
Synonyms: ornamental, artistic, pleasing, pretty
---
I discovered the aesthetic trend by chance in 2018 on Pinterest, when I was looking for references for my work as a graphic designer. It was like landing in a parallel universe inside Pinterest, where there were hundreds of anonymous profiles with folders named AESTHETIC or even just ¨aes¨ containing incredible mood boards filled with images that evoked sensations, bringing me closer to mythology, TV, and literature characters. Fragments of aesthetically pleasing images that, when placed together, made my mind travel far in a story and helped me discover what appealed to my soul at that exact moment in life.
I wanted to find out what was that trend about, and I discovered that from 2017 on, the term aesthetic was appropriated by young millennials, and Gen Z and became a culture that allows people to find personal identification with aesthetically pleasing images with various elements, colors and symbolism that come together to create concepts and patterns with deep and universal meanings.
Internet Aesthetics, in my point of view as a graphic designer and expert in the study of images, are not just random cute images, but they actually help us discover deep patterns of thought, behavior, and motivating factors within.
---
As a graphic designer who has studied the power of image for years, I have the vision that Aesthetic goes far beyond fashion or Tik Tok Trends. They are a MOOD. Each aesthetic represents several moods and can be used as a visual tool that helps us find things, identify sensations and recognize lifestyles fashion, literature, hairstyle, decor, and character patterns that tell stories that really represent us. Aesthetic fashion and aesthetic home decor are part of this tool that has a much deeper meaning than just a fashion guide.
You can be soft and tough, bold and dreamer, a traditionalist and a rebel, a romantic and a hero, vain and simple, classy and adventurous, witchy and scientist (witchy academia aesthetic), romantic and intellectual (Cottagecore Academia). 
At The Mood Guide, we believe that the complexity of women's diversity, moods, stories, and phases is beautiful, and makes us just as special as the moon and its phases. 
Our main goal is to help you connect with things that feel honest and authentically connect to your current mood, and we believe that Aesthetics is a perfect tool to reach that end.
Related:
Aesthetic Wallpapers
---
Steve Jobs already said that he wanted our phones to be like an extension of ourselves. He was right since we usually do everything with mobile phones and, thus, we look at the background of our lock screen 100 times in the day. Our phone wallpapers are either a photo of someone we love (including ourselves) or aesthetic collages/images with an identity with which we identify. Therefore, in the list below, I direct you to a list of aesthetic wallpapers and collage wallpaper background options.
Difference Between Aesthetic Pictures and Editorial Pictures
---
When we look at magazine photos they usually come full of creative and original concepts. Strong lights and colors, extra Photoshop, and striking poses. Most of the time we can see that it was done in a studio. An aesthetic photo, on the other hand, tells a story that was visually written by a real person who took that photo. It is as if each image were the frame of a movie, but closer to our reality than a movie.
What Define my Aesthetic Style
---
When you can see the whole picture, it is much easier to define your personal clothing aesthetics and things. What I mean is, that you can see a skirt with a dark academia aesthetic and one with a royalcore aesthetic and like both skirts. But in what context do you want to use that skirt? What stories can this skirt tell? Which TV and art stories have had similar skirts that cause you an AHÁ moment in relation to what you truly love and awaken your emotions?
A person wearing a white pleated skirt on a piano in a castle can evoke a very different mood from the same skirt being worn at a picnic, which is why aesthetics are amazing. They are images that tell stories with which we identify.
So, Ready to find out what is your aesthetic and how to be aesthetic?
List of Aesthetics:
---
Our main goal is to help you connect with things that feel honest and authentically connect to your current mood. So, which aesthetic reflects your mood? ☾
Important: The list below will be constantly updated.
---
Girly Mood l A List of all the Girly Aesthetics
---
The girly and romantic aesthetics will be your aesthetic when you are in a girly, romantic, and/or ultra-feminine mood. You are in this mood when:
feel like the feeling of love and innocence evoked by the color pink is attractive
likes spring and flowers in general
movies and TV Shows like Bridgerton, Legally Blond, and Classic musicals bring you joy
likes moisturizers and

perfumes with floral or sweet scents

dreams of vintage and romantic Paris
want to feel in a fairytale
want to be a Princess
loves everything Disney, mainly the classics
soft pastel colors and aesthetics are appealing to you
feels like decorating your home like a princess would, whether with royal or classic accents, the delicacy and vintage or modern sophistication of pink, white and gold guide your choices
enjoy the beauty of things
loves the nostalgia and simplicity of vintage and cottage lifestyles
Moods within the girly mood: Soft, optimist, positive about life, dreamer.
Characters and famous people to relate with: Marie Antoinette, Daphne Bridgerton, Hedwina (Bridgerton), Barbie, Cinderella, Aurora.
Mythological Goddess to relate with: Afrodite, Kore
Movies: Clueless, Legally Blonde, Mean Girls, Marie Antoinette
---
Types of aesthetics for when you are in a girly mood:
---
---
Royalcore or royal aesthetic is not just about feeling girlie but is rather feeling like a true princess and channeling your inner Marie Antoinette. Royalcore is your aesthetic if Bridgerton, fairytale castles, royal princess balls, french chateaus, Cinderella, and, of course, Marie Antoinette visuals make your heart feel warmer.
If you like things romantic but also love high status, exuberant, rococo, and dramatic moods, luxury vintages clothing and would love to attend a fabulous ball in a castle you will find yourself in this aesthetic.
---
? Royalcore Aesthetic Related Posts
Fashion: Bridgerton Inspired Dresses For The Diamonds Of Social Season
Home: Afternoon Tea Essentials to bring your Bridgerton obsession to life
Shoes & Accessories: The most Magical Cinderella Shoes online: From Jimmy Choo to Etsy
The Soft girl not only loves pretty pastels and girly things but they relate intimately with more childish things that reconnect them with their innocence and childhood.
If sleeping with a teddy bear and watching animes bring you comfort and pastels are your favorite colors, this might be your aesthetic.
---
Soft Girl Aesthetic Related posts:
Wallpapers: Pastel Aesthetic Wallpaper Ideas for your Phone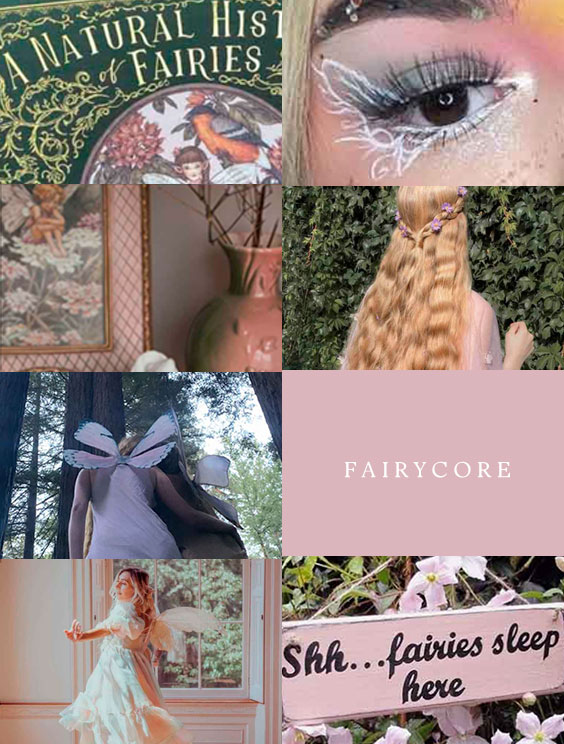 If you love sweet, loving, and girly things, but are also sassy and free like the wind, feel a really special bonding and care for nature, and love the atmosphere and vibes of the woods, then this is your aesthetic.
---
Fairy Aesthetic Related Posts:
Cottagecore (soon)
Cute Aesthetic (soon)
light blue/baby blue aesthetic (soon)
hello kitty aesthetic (soon)
heart aesthetic (soon)
Check out all girly guides
Adventurous mood l All the Outdoorsy and Authentic Aesthetics
---
The adventurous and outdoorsy aesthetics will be your aesthetic when you feel curious to explore new things and take a journey of self-discovery into the wild. Whether is camping or knowing a new exotic flavor of coffee created by an indie brand, your soul is just fulfilled with new sensations and adventures. You are in this mood when:
are in the search for realization and self-satisfaction
values authentic people and stuff
feels that you are always searching for something new to be discovered
images like desert and Amazon Rainforest are appealing to you
is in the mood for trying new and exotic experiences
values your freedom and independence
Moods within the adventurous mood: free-spirited, independent, curious, true to yourself
Characters and famous people to relate with: Lara Croft, Merida (Brave),
Mythological Goddess to relate with: Artemis (Diana in Roman Mythology)
Movies: Tomb Rider, Into the Wild, Wild
---
Types of aesthetics for when you are in an adventurous mood:
---
The granola girl is not only an adventurous soul but she also fulfills her heart by being a visual storyteller.
Their outfits, gear, and the nature around them must tell a story of who they truly are, the journey she is taking and the learnings she is getting from her interaction with nature.
Early adopter, creative, and the first to know all the new things that will later become trendy. The hipster aesthetic is still very strong and remains a symbol of authenticity and escape from the mainstream. When a girl wears flannels, glasses, fringe, and boots, she tells a story: The story of a girl who likes to discover what no one has yet discovered, from an alternative indie band to an exotic plant in the living room.
An aesthetic that is appealing to different moods: Whether you are into a more slow and chill time by the ocean, a luxury vacation in the Maldives, willing to make an adventurous trail surrounded by the wonders of a forest near the beach, or traveling in your van, channeling the 70s vintage vibe across the California coast…
Modern Minimal Mood l All the Minimalist and Chic Aesthetics
---
The modern minimal aesthetics will be your aesthetic when you are in an effortlessly chic, low-profile, Parisian vibe. You are in this mood when:
you like things simple and chic
feel like an urban Independent woman
believe black is chic, not depressing
value luxury, high-quality things
London, Paris, and NYC urban high-status lifestyle is appealing to you
Moods within the modern minimal mood: powerful, in control, fashionista, blasé, resourceful
Characters and famous people to relate with: Jessica (Suits)
Tv Shows & Movies: The Devil Wears Prada, Suits.
---
Types of aesthetics for when you are in a Modern Minimal mood:
---
Beige aesthetic (or nude aesthetic) is a super huge trend among Instagram models and influencers that embody the natural, simplistic, classic yet modern, chic, and conservative meaning of this timeless sophisticated color and its creamy, vanilla shades.
---
Beige Aesthetic Related Posts
Black might feel like a depressing color depending on the mood. But for the minimal modern mood, this color is the ultimate representation of sophistication, mystery, and power. This aesthetic is also relevant for the witchy and goth moods, but I created a guide based on the Chic representation of it because on Instagram and Pinterest the black aesthetic is most of the time represented by chic and minimal vibes.
Mystic mood l All the witchy and Fantastic Aesthetics
---
The mystic aesthetics will be your thing when you are in a magick, mood. You are in this mood when:
love herbs
believe you can communicate with nature
you are a catalyst of change in your life and you are aware of it
loves tarot, black cats, oracle, vampires and other mysterious things surrounded by superstitions
The Moon and stars are highly attractive to you
loves dark forests
Moods within the mystic mood: Mysterious, powerful, change-maker.
Characters and famous people to relate with: Lana del Rey, Lorde, Eva Green, Cher, Sabrina, AHS-Coven Witches, Alina Starkov (Shadow & Bone)
Mythological Goddess to relate with: Hecate, Lilith, Artemis, Circe, Selene
Movies: Practical Magic, Harry Potter, Hocus Pocus, The Vampire Diaries, AHS – Coven
---
---
Types of aesthetics for when you are in a mystic mood:
---
fairy/fairycore
moon (soon)
witchy (soon)
witchcraft (soon)
purple (soon)
Slow Living mood l All the Natural and simple living Aesthetics
---
The Slow Living aesthetics will be your aesthetic when you have a deep inner connection with yourself, valuing the simple and natural things. This is your mood when you:
love Lazy days
believes that life doesn't have to be though
wants to enjoy a simple life here and now
prefer handmade stuff
loves calmness
linen and organic cotton are your favorite fabrics
loves the nostalgia and simplicity of farm life
often shops from a local or family business
loves colors that evoke nature and simplicity like greens and whites.
values ethical and sustainable products
prefer healthy and/or vegetarian food
Moods within the slow mood: ethical, slow-paced, positive, optimist
Mythological Goddess to relate with: Hestia, Demeter, Gaia
---
Types of aesthetics for when you are in a slow life mood:
---
Comfy/Cozy aesthetic is a visual representation of calm, peaceful & cozy moments. It is about simple things made beautifully and it is very much about fall and winter feels.
plant (soon)
books (soon)
natural (soon)
green (soon)
chill (soon)
Intellectual mood l All the scholar, bookish Aesthetics
---
The Slow Living aesthetics will be your aesthetic when you are in an inner connection with yourself, valuing the simple and natural things. This is your mood when:
like introverted activities such as playing chess
people like to ask you for advice
are a good secret keeper
have an investigative soul
you are a witty, individualist
Moods within the intellectual mood: witty, smart, wise, rational.
Characters and famous people to relate with: Hermione Granger, Spencer (Pretty Little Liars), Ravenclaw students, Rory Gilmore
Mythological Goddess to channel: Athena
Movies and TV: Dead Poets Society, The Queens Gambit, Dorian Grey, Sherlock Holmes
---
Types of aesthetics for when you are in an intellectual mood:
---
Dark Academia is a post-modern subculture, lifestyle, fashion trend, or mood, that revolves around the gothic aesthetic, academic knowledge, and passion for reading and discovering new truths.
rainy (soon)
light academia (soon)
books (soon)
academia (soon)
More moods and aesthetics coming soon