---
---
☾ Affiliate Disclosure: The Mood Guide celebrates women's moods and versatility. Even though we may earn a commission from some of your purchases, we encourage you to shop with the right intention. Focusing your energy on what you feel confident and comfortable in is empowering! ♥︎
---
I am a very organized person. I don't know if by nature or out of necessity from being diagnosed with ADHD. Therefore, having a place for everything soothes my mind and helps me not waste money on things I already have. And I learn a lot from The Home Edit. IRL I don't get close to Joanna and Clea's skills, but I don't have to in order to have an organized home. The show has great lessons and one of them is that we need storage containers to retain things. Spread-out stuff is an invitation to chaos. And it can be any container. But, if you want to keep a coastal, boho, or natural aesthetic, this post focuses on the best woven, rattan, and wicker storage baskets to do so.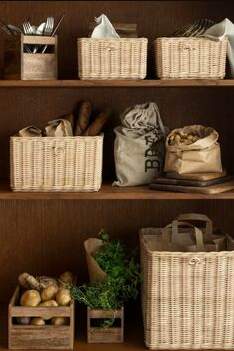 I'm covering all bases with a thorough selection of storage bins for shelves, blankets, toys, cubes, with lids, and even decorative hanging baskets. I organized this post according to my personal preferences of shapes, use, and placement. But all the storage baskets work for every part of the house: the kitchen, under the bed, bathroom, office, and living room. It's only a matter to figure out your needs and preferences.
---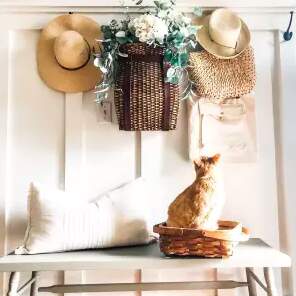 Here are my 2 cents as a methodic home organizer:
Before shopping, make a list of what you want to organize and where you wanna put it.
I prefer structured bins over slouchy ones because they keep their shape even after being abused.
In general, you can use any shape of container for any place in the house. However, from an aesthetic and balance perspective, squares and cubes look better on shelves and round baskets look better on the floor. Can you switch, it? Yes. It's your house, you make the rules!
Style-wise, focus on the big picture to decide if you want only baskets with a rustic/natural vibe or if you wanna mix and match. In general, the lighter the fiber, the less rustic and dramatic the final look. So, if you want a boho-chic room, get as much wicker and rattan as you can.