☾ Affiliate Disclosure: The Mood Guide celebrates women's moods and versatility. Even though we may earn a commission from some of your purchases, we encourage you to shop with the right intention. Focusing your energy on what you feel confident and comfortable in is empowering! ♥︎
---
Rattan, woven or wicker, large or small. With lids or not. There are so many types of bread bags and storage available to make decorative yet simple tables.
Pretty and slow breakfasts really fill my soul with happiness. Slowing down and experiencing to the fullest the textures, flavors, smells, and colors of warm and crunchy bread with jam combined with a nice cup of hot coffee makes me feel grateful and start the day with a more positive approach.
You don't need to be a countryside girl to appreciate the serenity of a delectable breakfast on a quiet morning before the rush of the world begins. Heavenly mornings, with a window that allows the sun to break through and illuminate the magic of the moment, or the rain dancing its refreshing song is magical.
My passion for this cozy and slow mood is the reason why I couldn't resist curating the most lovely bread bags and boxes to make your slow mornings more visually pleasing and organized.
Whether you need them as storage or just for an aesthetically pleasing display of your homemade bread, the bread bags and boxes below will work both ways.
There are a few types of bread storage containers, from loaf bread linen bags to vintage boxes. Below I will list the main options for an aesthetically pleasing and functional breakfast table setting.
Linen Bread Bags
---
Linen bread bags are a perfect and breathable replacement for plastic grocery bags. Since they are all reusable, you can bring them to the bakery or grocery shop and avoid some paper or plastic waste. Linen is also one of the best ways to store bakery since it allows air flow.
Available in 6 different colors and 7 different sizes, this eco-friendly handmade linen bread with ties is super practical. Whether you want a small bag to set a pretty table or a large one to carry bread to a picnic, this one works fine.
$2.10+ – RPLinen
The printed ¨bread¨ logo gives an extra charm to this super aesthetic and sustainable natural 100&% linen made from European Flax brand bag.
$19.00 – MagicLinen
Available in 14 colors and 7 sizes, these gorgeous 100% linen bags are not just perfect to keep bread fresh and protected, but they also can be used as laundry, nuts, or herbs bags. Made in Lithuania.
$9.58+ – HomeLinenLT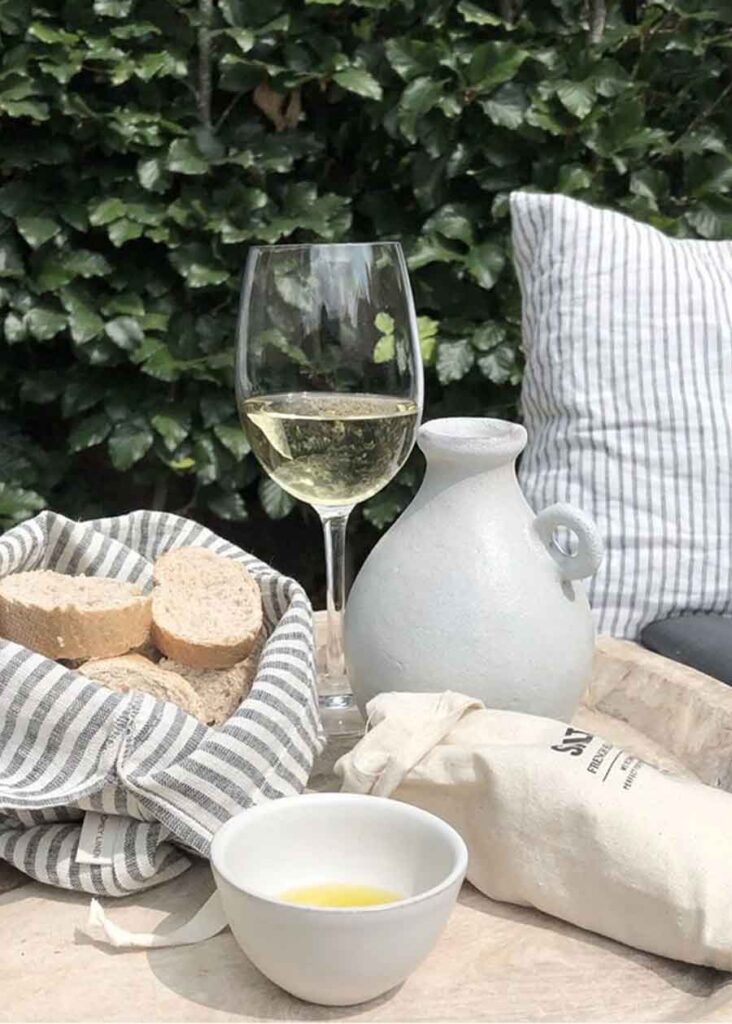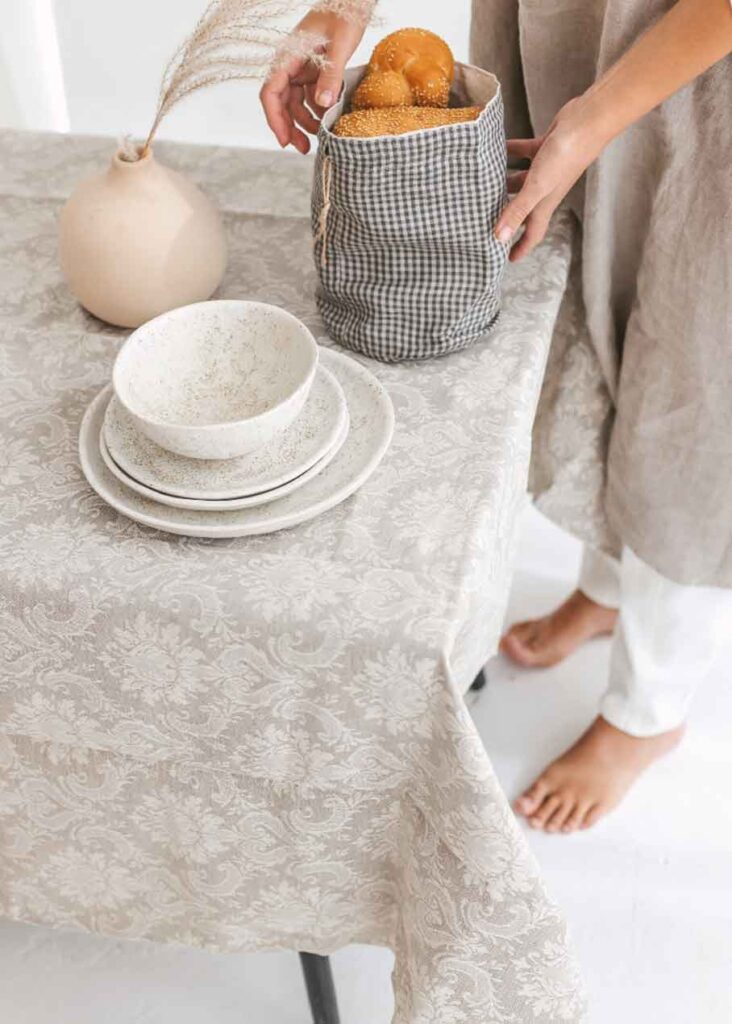 Ideal for those who want large, pure linen bred bag with strings. Available in medium and large sizes.
$14.60+ – SavaSeasons
Paper Bread Bags
---
If you want a bred storage that is not just aesthetically pleasing but it is ¨something else¨, you just found it. Made in Italy from washable paper, this bag comes with a terracotta plate inside that'll help yesterday's dinner rolls taste like they just came out of the oven.
$40.00 – $53.00 – Food52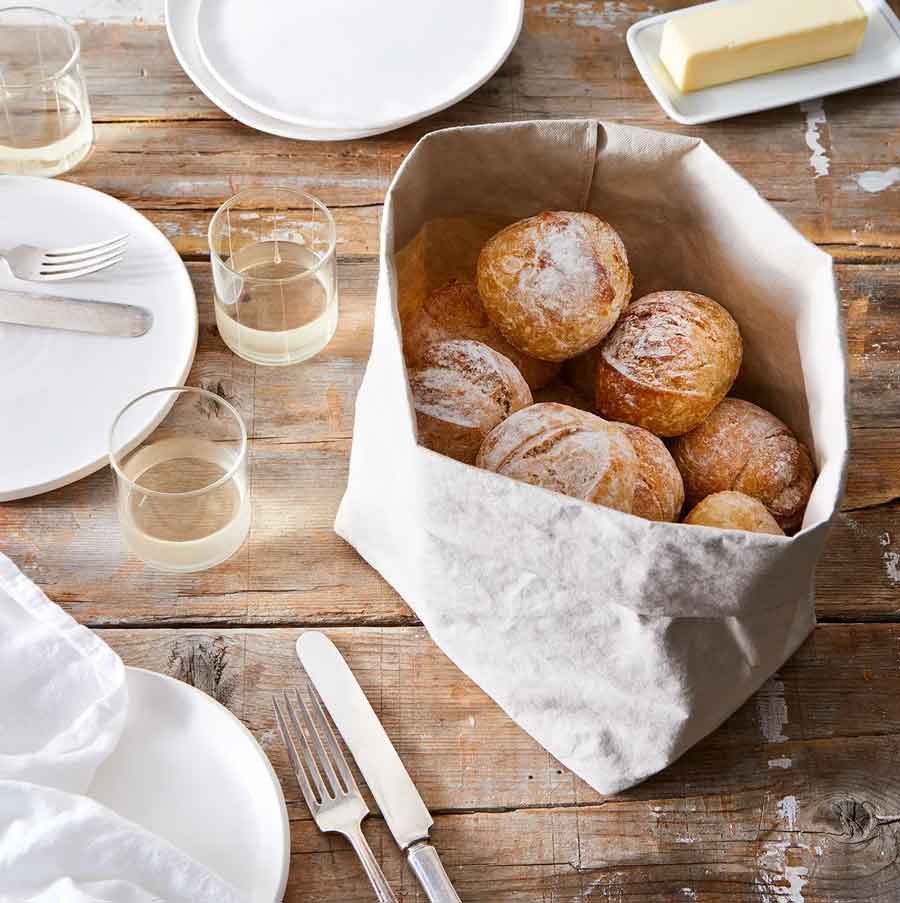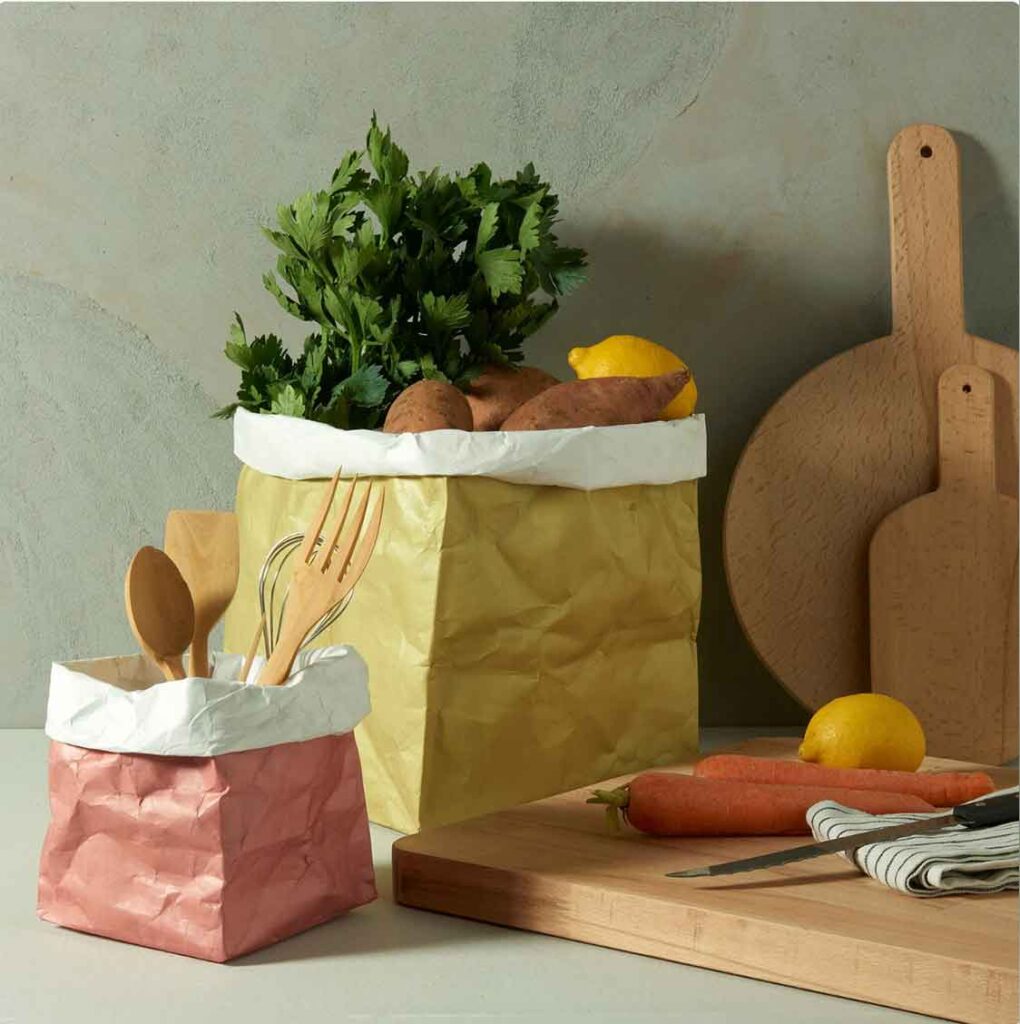 This eco-friendly bag is 100% recyclable. The material used is Tyvek. Its texture is very much like paper, but stronger, waterproof and tear-resistant.
$22.73+ –Loopa
Bread Box
---
The bread containers below are for those who like more storage space and a slightly chic design.
---
Available in 3 colors, this bread box is the perfect decorative accent for a minimal and rustic kitchen. They are sustainably made from recycled plastic water bottles and bamboo lids that double as a cutting board. Made in Italy
$78.00 – Food52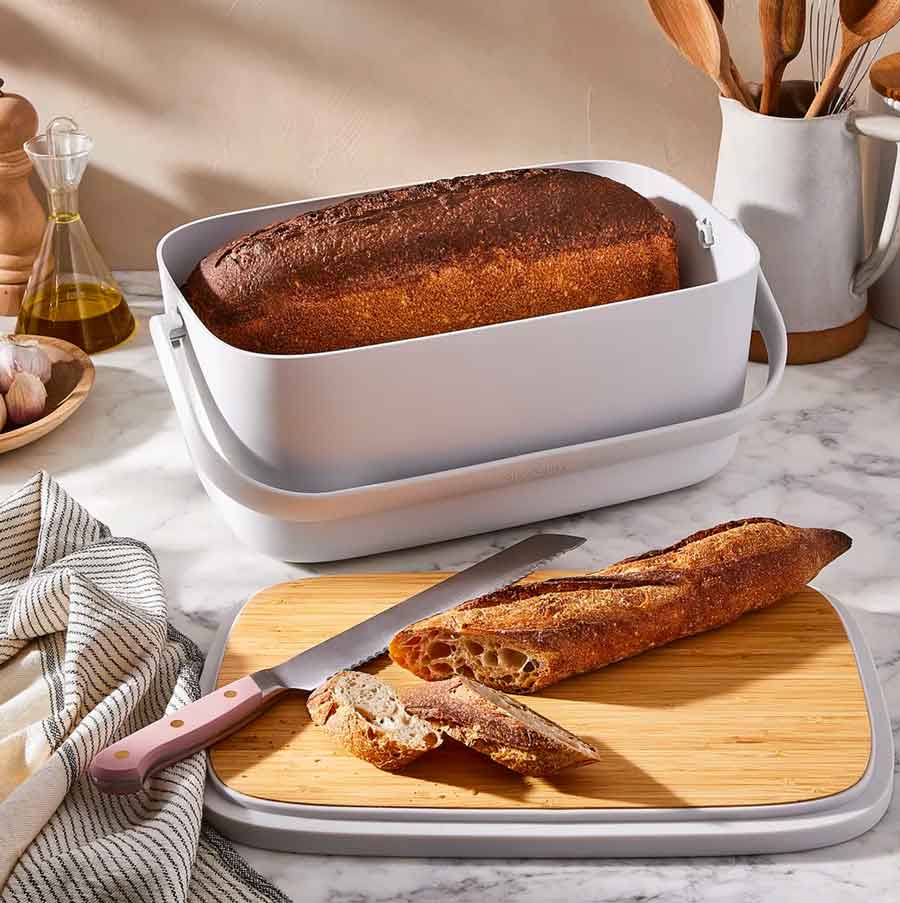 This roomy and elegant bread box fits 3 loaves of bread and its bamboo lid also doubles as a serving and cutting board.
$75.00 – Food52
A vintage dream, this round wicker bread box/basket is the most lovely accent for a romantic farmhouse, cottagecore or shabby chic kitchen.
$85.00 – ByLanaBaskets
Bread Basket
---
A small bread basket made from Linen in a selection of colors with a wool blend filling. Super cute and simple basket for timeless kitchens.
$22.00 – BicoEstonica