☾ Affiliate Disclosure: The Mood Guide celebrates women's moods and versatility. Even though we may earn a commission from some of your purchases, we encourage you to shop with the right intention. Focusing your energy on what you feel confident and comfortable in is empowering! ♥︎
---
Waffle towels are becoming more and more popular. And good quality waffle towels live up to the hype because they are soft, lightweight, quick-drying, and to top it off, they have that rustic cool look. The honeycomb shape is responsible for the beautiful aesthetic, but it's functional above all. The little weaved squares absorbed more water and help the moisture go away faster. So, in this post, we rounded up the best waffle towels from Japan to Portugal.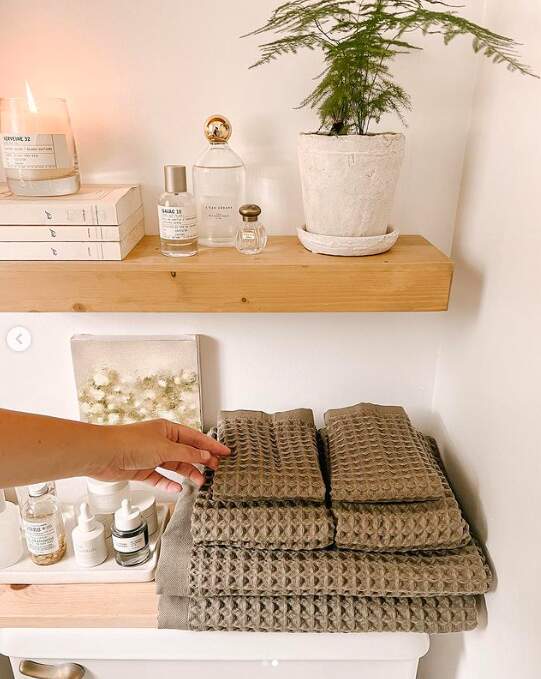 ---
Turkish Cotton Waffle Towel
$29 – $156
Shop at
Parachute's marketing is as good as its products so they are always on top of the best bedding and bath lists.
Their waffle towels are made in Turkey, out of Turkish cotton at 240 grams per square meter, resulting in a soft, absorbent, and lightweight towel. It's available in different colors.
---
Cotton Waffle Weave Towels, Hawkins New York
$20 – $410
Shop at
The Hawkins New York waffle towels have a good reputation in town, like everything they do. Their honeycomb towels are made in Portugal out of ultra soft and super absorbent cotton. On top of it, the variety of colors is an extra for those who care about the bathroom aesthetic.
Available in 12 colors and 4 different sizes, washcloth, hand towel, bath towel, and bath sheet. You can get them separately or in bundles.
---
Japanese Cotton Pima Waffle Towel Set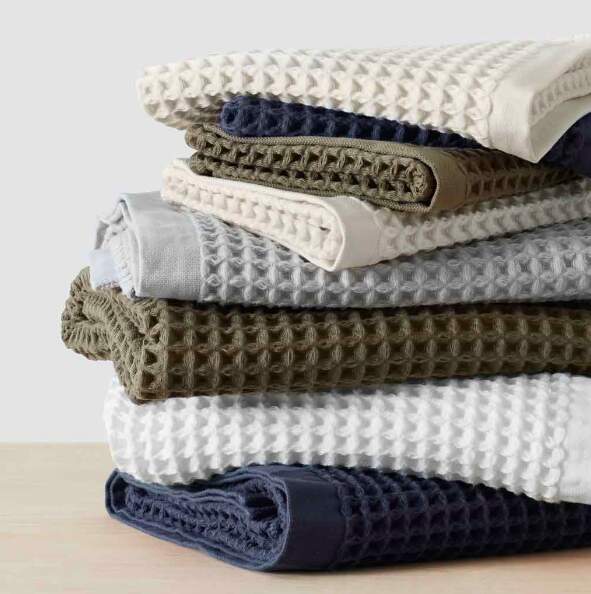 $195
Shop at
These towels are all about quality and tradition, like everything from The Citizenry. These waffle towels are loomed in Japan, in The Ishizuchi Textile Mill, a 100-year-old mill. They use 100% American Pima cotton, resulting in a soft, lightweight, and highly absorbent towel. To top it off, these waffle towels are slightly bigger than the usual bath towel.
The set includes 2 face towels, 2 hand towels, and 2 bath towels.
---
Linen Blend Waffle Towel Set
$74
Shop at
Here is a great combination of linen and cotton, if you're all about the laid-back aesthetic but you want a waffle towel. Linen is naturally antibacterial, so what can be better in a moist environment?
This is the pistachio green set but they have several colors.
---
If I had to choose one time to shower, it'd be the evening. I can't even imagine the idea of going to bed with all the dust, sweat, and energy of an entire day interacting with people, cooking, or doing anything. However, I also like to feel fresh and clean in the morning, so guess what? Most of the days, I shower twice. What about you? What's your shower rotine?