The feel-good play kitchen is set, now it's time to stock up those cabinets, and the fridge and get into the action with gentle kitchen wood toys! Play food for kids is a wonderful way to pass on the family's eating habits, create a bond, implement the Montessori philosophy of independent play, and even get inspiration for real-life cooking. And because food can be very personal and even emotional for some people, this post has it all: from vegan to veggies to charcuterie, no judging. The only thing we are strict about in this post is for the play foods to be non-toxic. It means water-based paints and dyes, low-VOC emissions, BPA/PVC-free plastic, non-toxic glues, and environmentally responsible wood according to current European and American standards . That way we can help the parents who are trying to lower the kids' exposure to toxic chemicals or live a more natural life .
P.S.: you can find the non-toxic and sustainable wooden fridge from the cover picture here !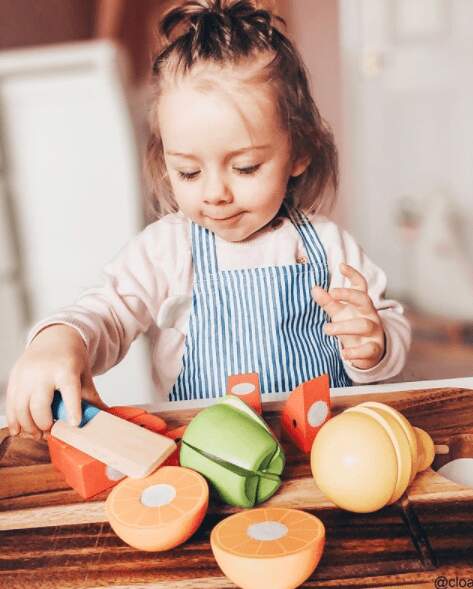 Related:
You'll notice that most nontoxic toys sold in the US are from European brands. Why? Because the European Union has more strict standards for toy safety. They understand that kids are prone to put anything in their mouths, therefore, should not be exposed to chemicals known to be toxic. The Scandinavian countries have even more specific and strict standards. You can read more details about which standards I take into consideration at the end of this post . Also, in general, non-toxic play food for kids is more expensive than "regular" play food for kids. But it's worth it! The atoxic wood kitchen toys are tactile, naturally soothing, and more durable. Fortunately, American customers are becoming more demanding of child-friendly toys, therefore more companies will have to keep up. So in this post, you'll find non-toxic play food for kids in every price range!
---
Play Pretend Pantry Staples, Groceries & Shopping Cart
---
The kiddos gotta get those groceries and organize the pantry to cook out a storm.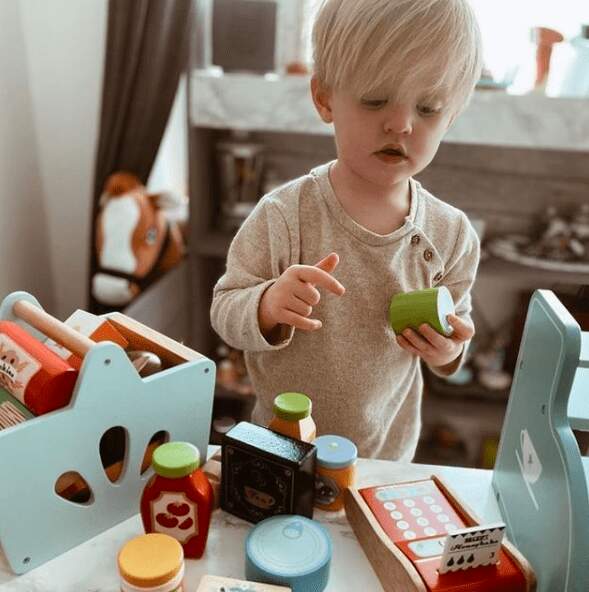 ---
Nontoxic Toy Fridge & Chilled Goods
---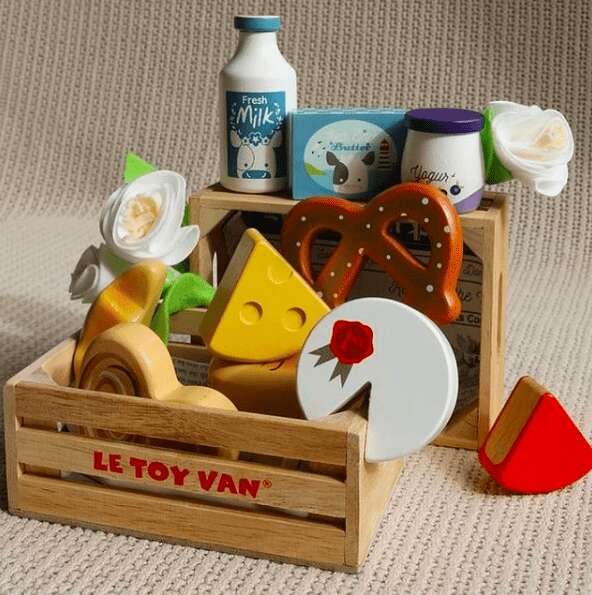 ---
Baked Goods, Cake, Cookies, Pastries, Mixers, Donuts Play Food
---
Non-Toxic Coffee & Espresso Play Sets
---
For breakfast, afternoon tea, to practice for a job, or to open the best cafe in town!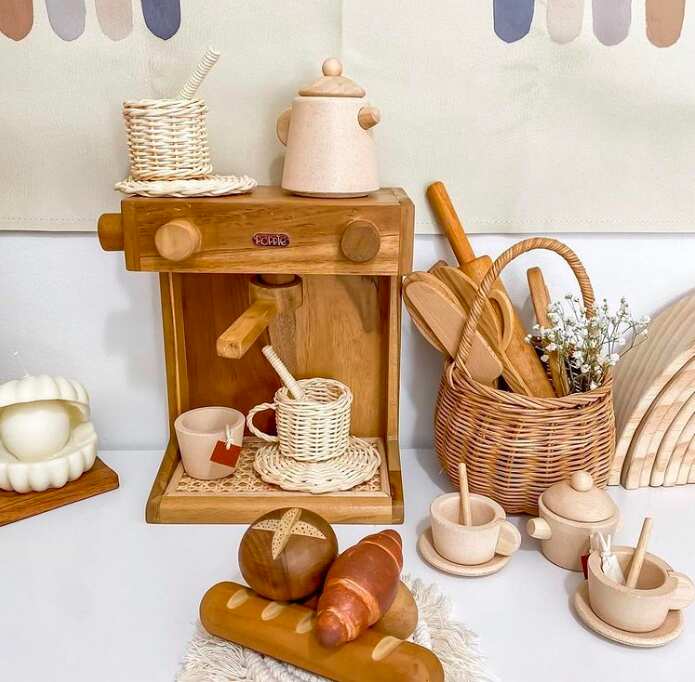 Non-Toxic Sweet Treats, Candies, Ice Cream, Lollies Toys
---
Here are the most harmless treats your kids will ever put in their mouths: sugar-free and water-based paint!
---
Atoxic Fruits & Veggies Play Sets
---
From the garden to the blender. Fruits and veggies are the most colorful and fun gifts from nature for us! It may be easier to get the kids playing with them than actually eating the real one, but learning where food comes from, chopping, and making smoothies are wonderfully creative and fun motor skills play!
---
Non-Toxic Breakfast Play Food for Kids
---
Bacon and eggs, waffles, or toast with PB and jam?
Nontoxic Meals, Sandwich & Pizza Play Food for Kids
---
Nontoxic Meats & Charcuterie Play Set
---
Related:
---
☾ Affiliate Disclosure: The Mood Guide celebrates women's moods and versatility. Even though we may earn a commission from some of your purchases, we encourage you to shop with the right intention. Focusing your energy on what you feel confident and comfortable in is empowering! ♥︎
---