? 1. Crate&Barrel

Crib Bassinet

| 2. @nic.maxam, Design dua Bassinet | 3. @claudiavalero, Pottery Barn Bassinet | 4. @__thenguyens, Design Dua Bassinet
---
– Rattan Bassinets IN THIS ARTICLE –
---
☾ Affiliate Disclosure: The Mood Guide celebrates women's moods and versatility. Even though we may earn a commission from some of your purchases, we encourage you to shop with the right intention. Focusing your energy on what you feel confident and comfortable in is empowering! ♥︎
---
As much as babies sleep in their bassinets for only a few months, it's an easy way to follow one of the safe sleep recommendations from the American Academy of Pediatrics and keep your newborn and infant baby next to your bed during sleep. And rattan bassinets are trending. They have a natural aesthetic, that is retro and atemporal at the same time that it brings a sense of simplicity to the nursery or the master. A rattan bassinet is perfect to complete a coastal, gender-neutral, or boho-chic decor vision. It's the picture-perfect baby furniture! Who can resist a cute baby with a vintage bonnet in a rattan basket? But it's much more than that! To be a safe sleeping surface for your newborn, your rattan bassinet must comply with federal US safety regulations.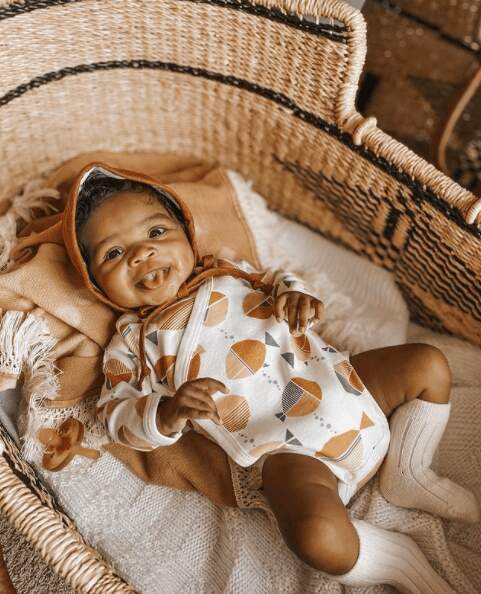 And some companies or particular sellers are offering amazing rattan bassinets, but I'm featuring only the ones that claim to be compliant with CPSC Safety Guide for Cradles and Bassinets on their website.
---
Types of Bassinets
---
Portable and Moses Bassinets
Portable bassinets or Moises baskets are the ones that look like a basket and you can carry around the house or take with you on social visits. Some portable bassinets have an appropriate and safe support stand, that can be rocking or stead, so you can keep it next to your bed.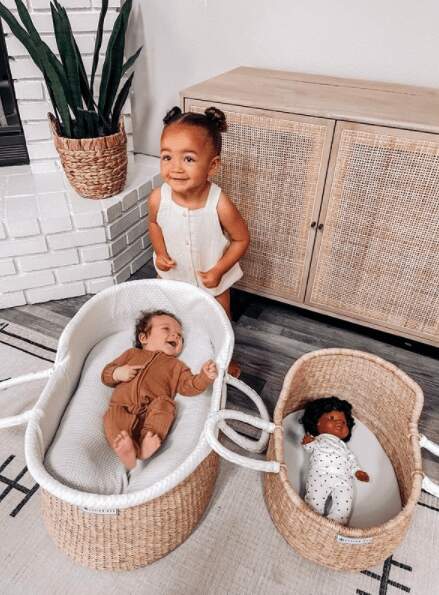 Bassinet Cribs
Basically, bassinet cribs are fixed on a support stand or platform and are designed to stay next to your bed or in the nursery. As much as you can move them in the house, you'll definitely not take them on a trip.
---
Bassinets Safety
---
The bassinet is a practical and safe way to have your newborn sleeping in the same room as you, no matter which room you are in.
To comply with Federal Safety Regulations the bassinets must include a perfectly fitting mattress pad. They recommend that you only use bedding and pads from the same manufacturer, to ensure a great fit. Also, always follow the manufacturer's instructions for weight limit and assembly.
So, for how long do babies sleep in bassinets? Usually between 3 and 6 months, but it depends on each baby's development. The safe moment to let go of your beautiful beloved bassinet is when your baby starts to roll over, push up on hands and knees, or reach the manufacturer's recommended maximum, whichever comes first.
---
The Best Rattan Bassinets
---
Natural Rattan Bassinet & Mattress Pad Set
$299
Bassinet Dimensions: 38.25″Wx19″Dx30″H
The Crate&Barrel rattan bassinet is the one to bring your boho-chic vision to life. The frame has a light breeze look and is made in natural rattan with a clear gloss lacquer finish. The base is low emission engineered wood and the legs are powder-coated iron.
---
White Rattan Bassinet & Waterproof Mattress Pad Set
$299
Bassinet Dimensions: 22.5″W x 38″L x 38.5″H
The Pottery Barn rattan bassinet looks like a travel in time. The romantic basket is made of sealed tightly woven rattan, giving it this vintage look.
The cross-braced mahogany wood platform has a handy storage shelf and rolls on locking casters on the practical side.
---
Signature Bilia Bassinet & Mattress Pad – Natural
$179.99
Bassinet Dimensions: 29″x 16″
The rattan bassinet from Design Dua is completely handmade with natural dried elephant grass. The leather handles add an extra charm.
And they have a few different stand supports, in case you wanna keep the bassinet next to your bed.
---
Design Dua at Anthropologie Handwoven Bassinet and Mattress Pad
$220
Bassinet Dimensions: 29″x 16″
You can also find some wonderful and especially colorful Design Dua bassinets at the Anthropologie website. This is the Turquoise one and they have 3 more colors!
It's the same rattan bassinet from the Design Dua website. Completely handmade with natural dried elephant grass with leather handles.
---
Rattan bassinets are definitely a mood. And I was very strict about selecting only 3 rattan bassinets for this post, but those are the ones I'd buy for my niece. Did I miss something? Let me know in the comments!
Stella