---
– Child-Friendly Wood Trains IN THIS ARTICLE –
---
☾ Affiliate Disclosure: The Mood Guide celebrates women's moods and versatility. Even though we may earn a commission from some of your purchases, we encourage you to shop with the right intention. Focusing your energy on what you feel confident and comfortable in is empowering! ♥︎
---
Do you fancy train trips? They are magical! From the French TGV to the American Amtrack (and they couldn't be more different), a scenic train trip sparks new emotions, puts the landscape in a different perspective, and for the time of the journey, changes our relationship with time. Well, train toys are just as magical as real-life trips on the railway. And because we want kids to be as safe as possible, we rounded up the most amazing non-toxic wood trains for babies, toddlers, older kids, and I kid you not, grown-ups! You'll find the coolest train sets, the most scenic landscapes, and even blocks and pull-along wagons for the little ones.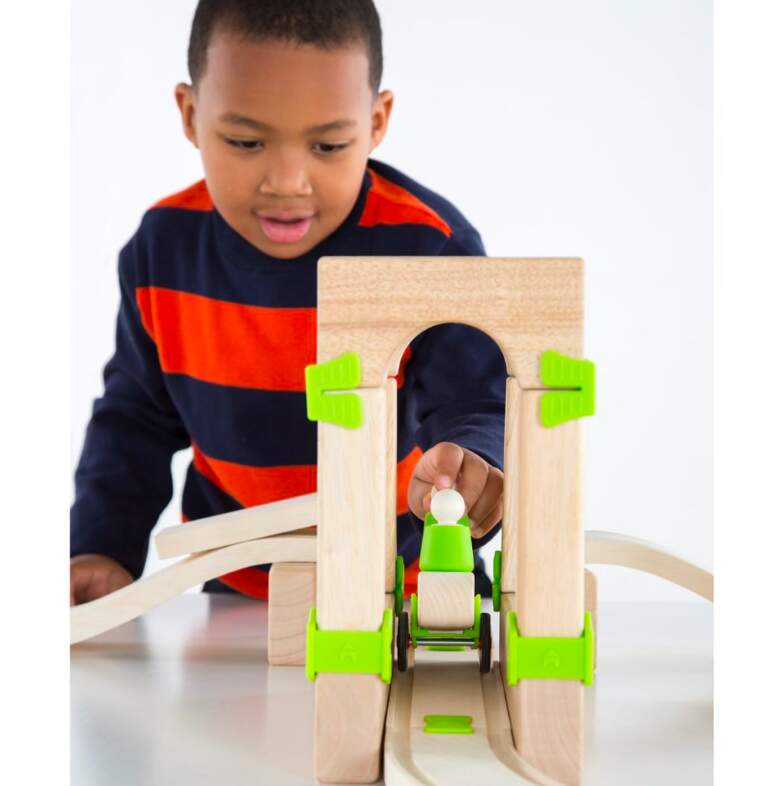 So, according to the manufacturers, all the trains in this post are gentle, low VOC, lead safe, have no known harmful phthalates, are made of clean wood, and use non-toxic water-based dyes. We go by the manufacturer's information on their websites and the European and American standards. That way, while your little ones travel to the wonderlands of their creativity you can rest assured that they are not exposed to harmful chemicals.
---
Child-Friendly Wood Train Sets & Tracks
---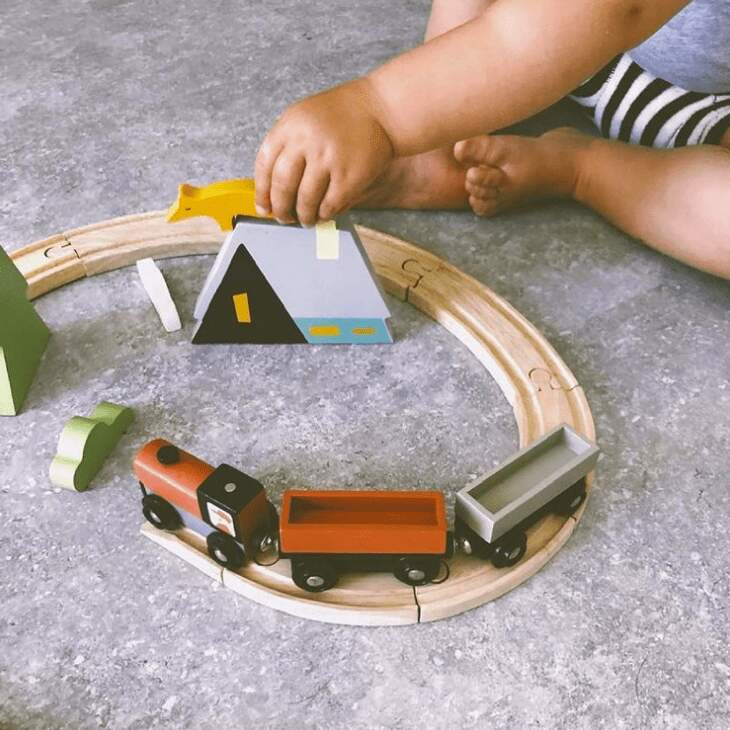 Big Mountain View Wood Train Set, by Tender Leaf Toys
3 Years + | Renewable rubberwood and TSCA Title VI compliant plywood, Non Toxic water based paint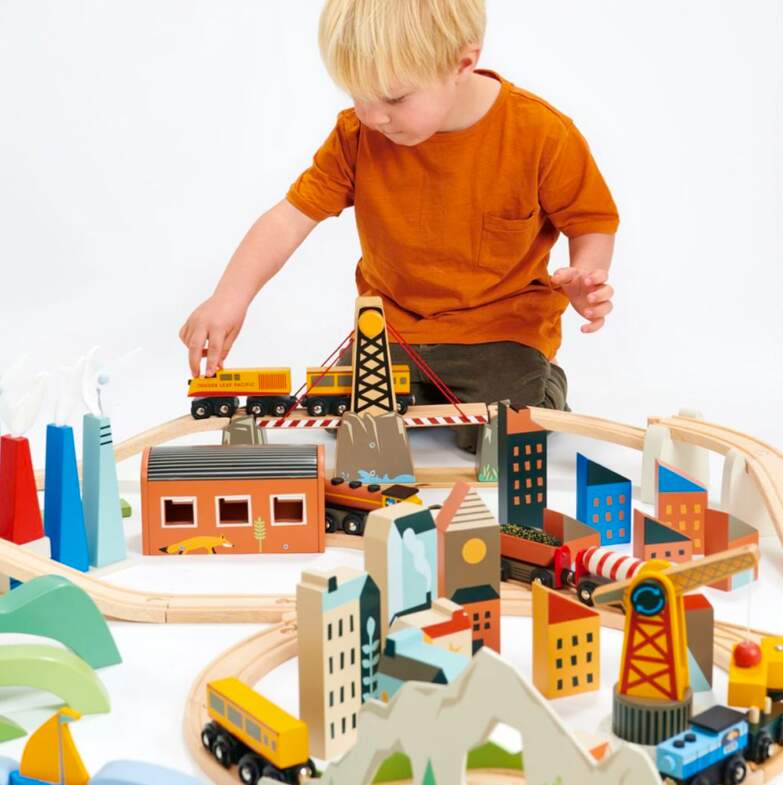 Shop at
With 58 pieces of train track traveling across 3 rich and fun landscapes, this wood train set is THE wonderland of imagination and play pretend. With a modern city, the wild mountains, a hectic industrial area, and different trains for each scene, it's a boredom-proof free-screen toy. And it's made of wood, so it will stand the abuse test of kids.
Includes
Industrial area – 1 lifting road bridge, 3 chimney stacks with felt smoke, a train shed, 7 factory buildings, container ship with 5 magnetized blocks, crane with lifting mechanism, train with 2 carriages to hold 2 more containers. Town – 10 contemporary city buildings, car ferry with a yellow car, fuel lorry, container lorry, crane vehicle, long engine with 3 carriages for coal, logs, and cement. Holiday – 5 elevating mountain passes, mountain bridge, waterfall area, cattle grid, wind turbines, small sailboat, red car and caravan, 3 tents, 3 fir trees, tender leaf pacific passenger train with 2 carriages, and a shy looking grizzly bear!
---
Related:
Foundation Train Set A
3Y+ | by Guidecraft
Shop at
Includes: 8 roadway curves, 2 roadway units, 2 roadway ramps, 2 roadway double units, 2 exit/entrance ramps, 2 cars, 4 wheel clips, 2 rope hitches, 10 block clips, 1 hinge clip, 16 roadway clips, 2 adults, 2 children.
Material: Smooth sanded beech wood and rubberwood, BPA + BPS Free plastic connectors.
Wild Pines Train Set
3Y+ | by Tender Leaf Toys
Shop at
Includes 30 piece set: An engine and 3 carriages holding 27 logs; A logging truck featuring 9 long timbers with magnetic spots; A loader vehicle that can magnetically pick up the logs and load the truck; A log pile with a sleeping bear on top; A lake with 2 magnetized boulders and a bear; 3 fir trees that will block the track unless they are rotated out of the way; 4 cut timber logs; A tree nursery with 6 trees in various stages of growth
Material: Renewable Rubberwood, Non-Toxic water-based paint.
---
♡ Related:
Royal Express Train Set, by Le Toy Van
3 Years + | Renewable rubberwood tracks and wood accessories (only the wheels are plastic, but not toxic), Non Toxic water based paint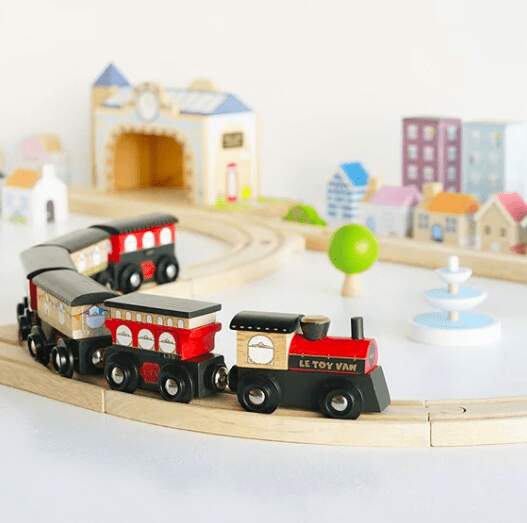 Shop at
It's time to take the railroad to Dreamland! Oh my, I need this train set. The level of detailed artwork in the houses, the train station, the long trains. It's fun for the whole family.
Includes
180 pieces: 2 trains (passenger and goods), a Ferris wheel, 2 bridges, a car, a truck, a train station, a crane, boats, a variety of buildings, shops, houses, and 3D outdoor elements
---
Non Toxic Wood Train Toys & Stacking Blocks
---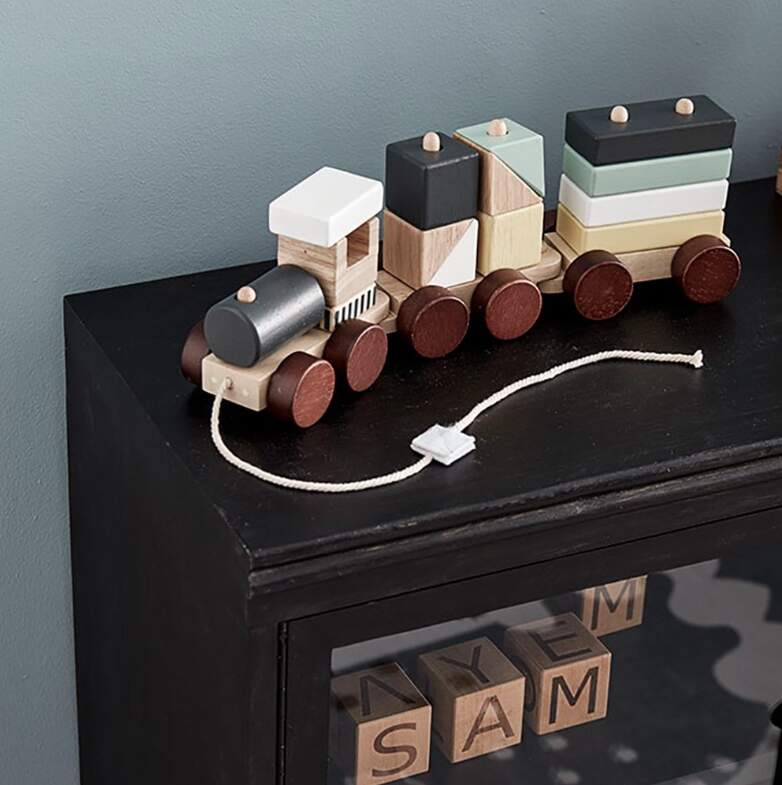 ♡ Related:
Sustainable & Non-Toxic standards considered for this post
Each country or economic bloc has its own standards for sustainability, safety, and toxicity. And because they can go from strict to almost nonexistent we are considering brands that market their products as compliant with at least one of the standards below.