☾ Affiliate Disclosure: The Mood Guide celebrates women's moods and versatility. Even though we may earn a commission from some of your purchases, we encourage you to shop with the right intention. Focusing your energy on what you feel confident and comfortable in is empowering! ♥︎
---
Soft Girly + ballet aesthetic + Minimal Chic + classic Parisian. Mix everything and you will get the overall mood of the modern romantic coquette aesthetic.
You might not be living in Paris, but it does not stop you to romanticize your life or at least creating a lifestyle that brings you closer to it, even if just by drinking a glass of rose in your bedroom while Listening to La Vie on Rose.
The Coquette Aesthetic: Colors & Moodboard
---
White, pink, black, neutrals & beiges are the main colors of the Parisian chic dolette, ballerina, also known as coquette.
Also, vintage classy places, such as classic art museums and castles are the main scenarios of this aesthetics, making them also relatable with royalcore, angelcore and light academia. Urban-romantic scenarios (hello Paris) are the main setting of this aesthetic.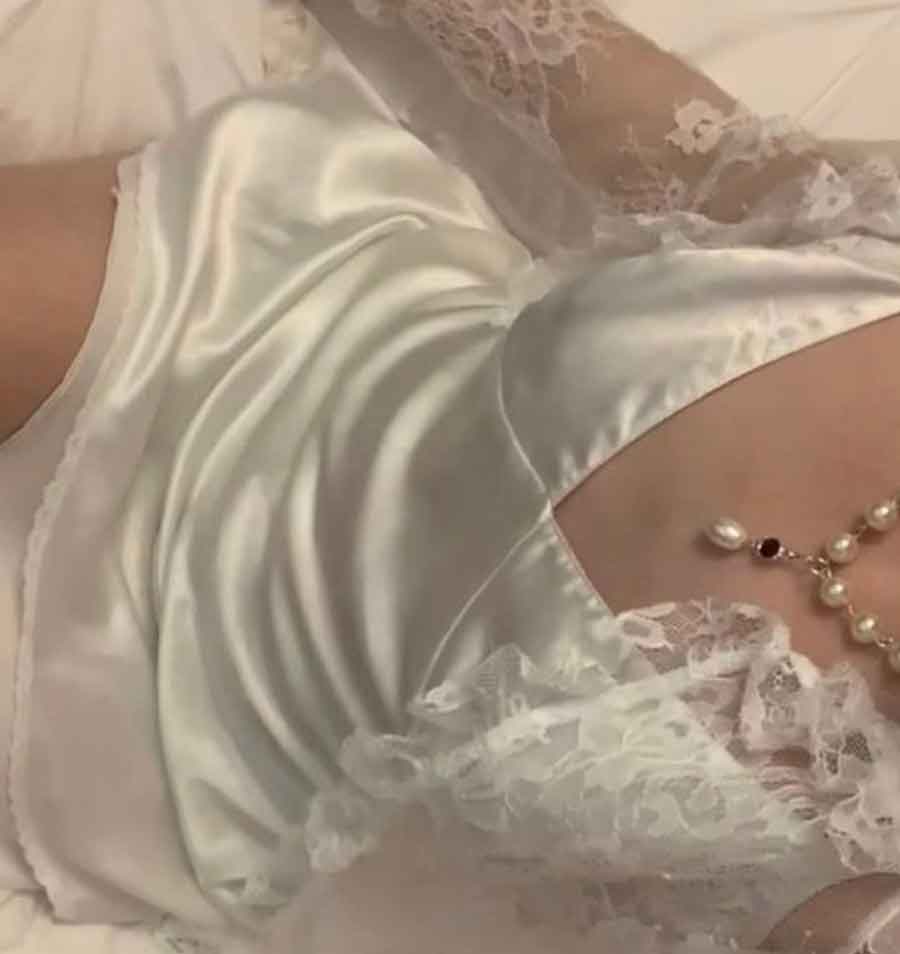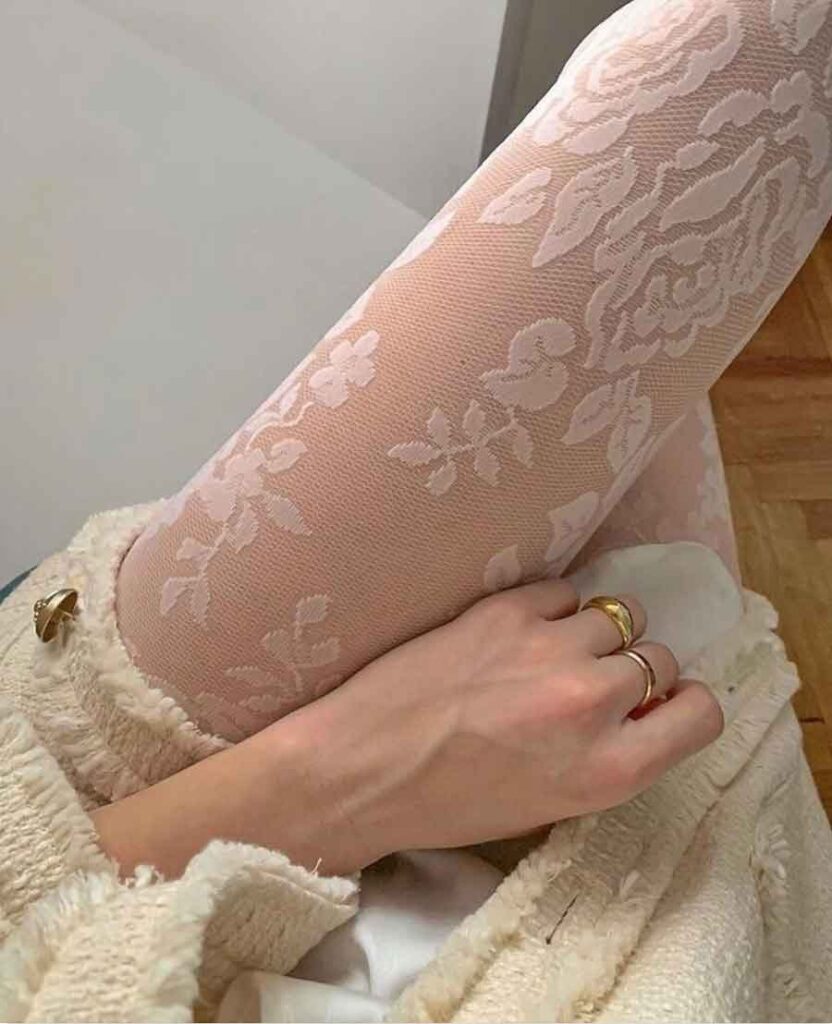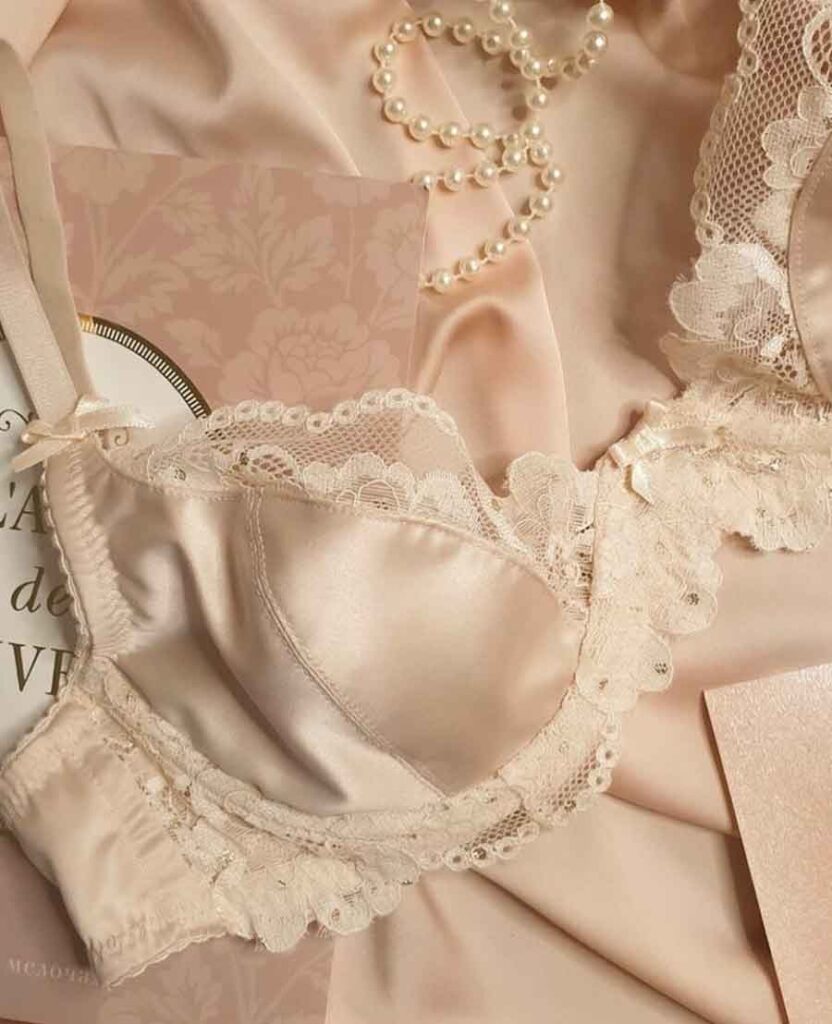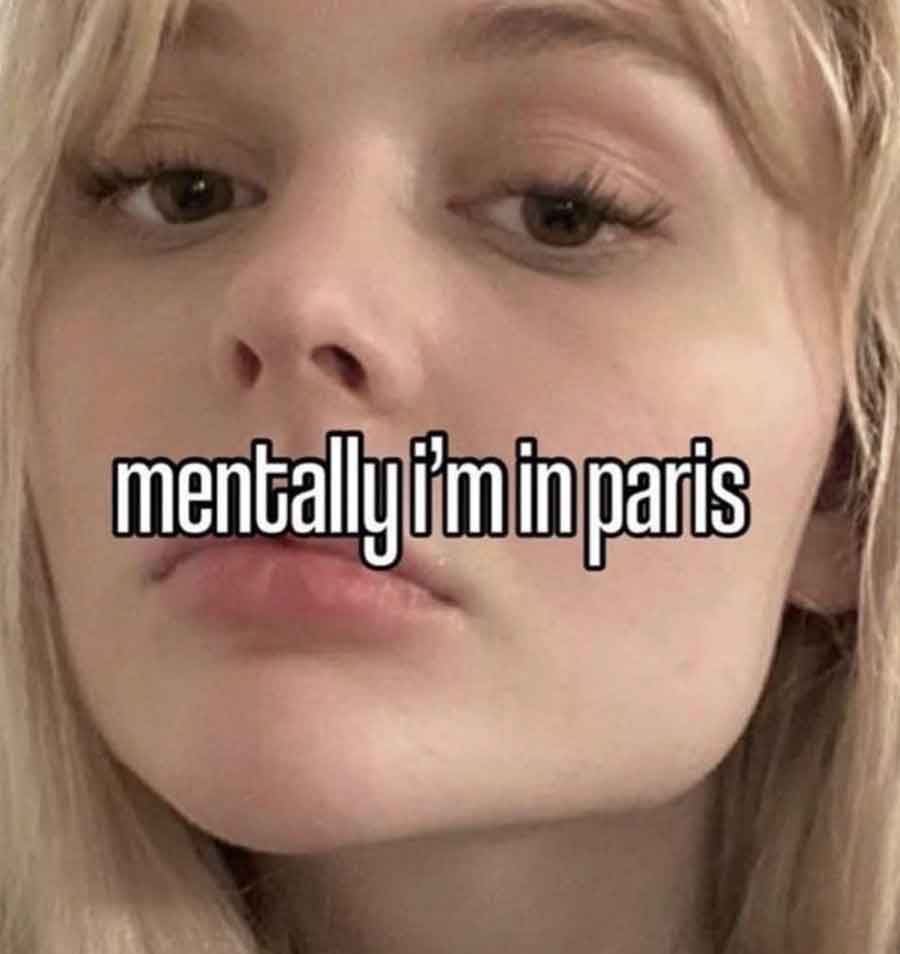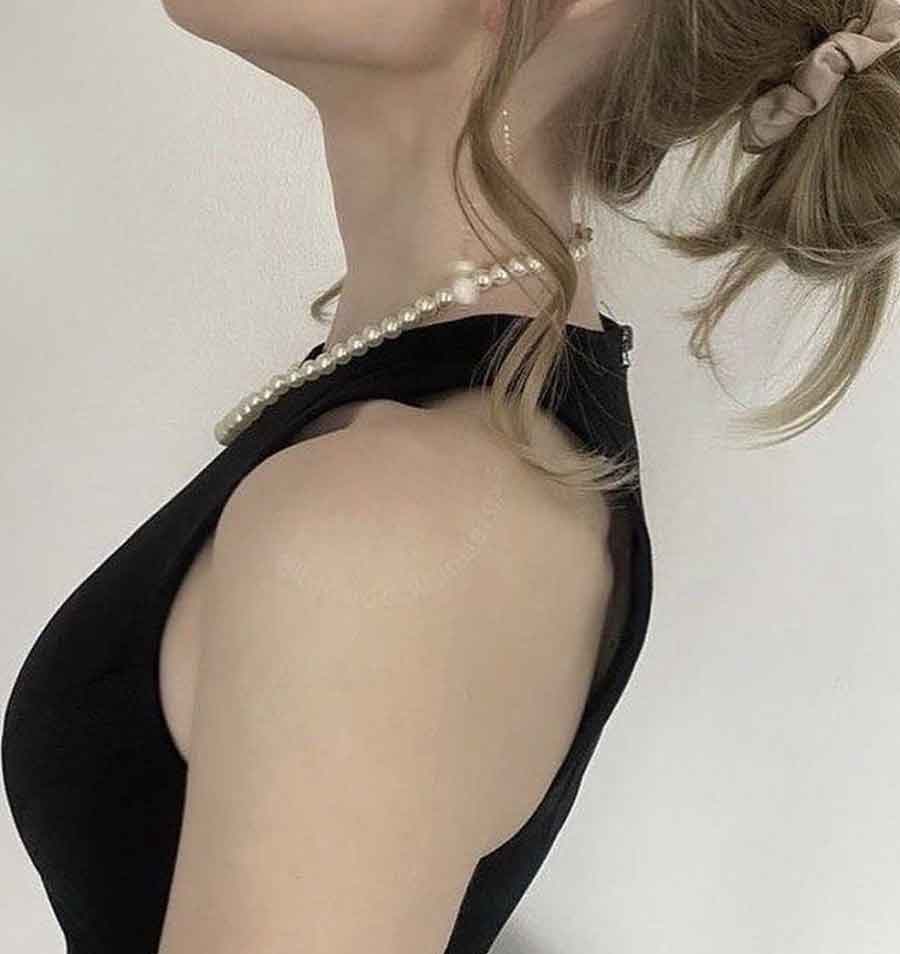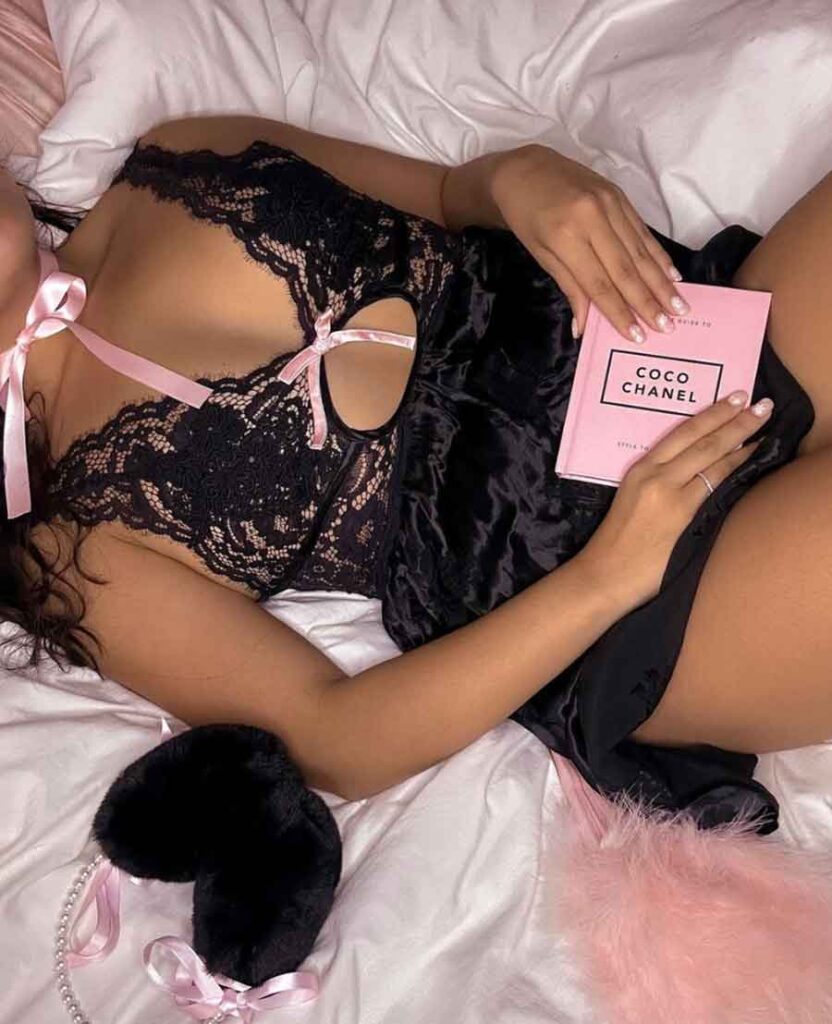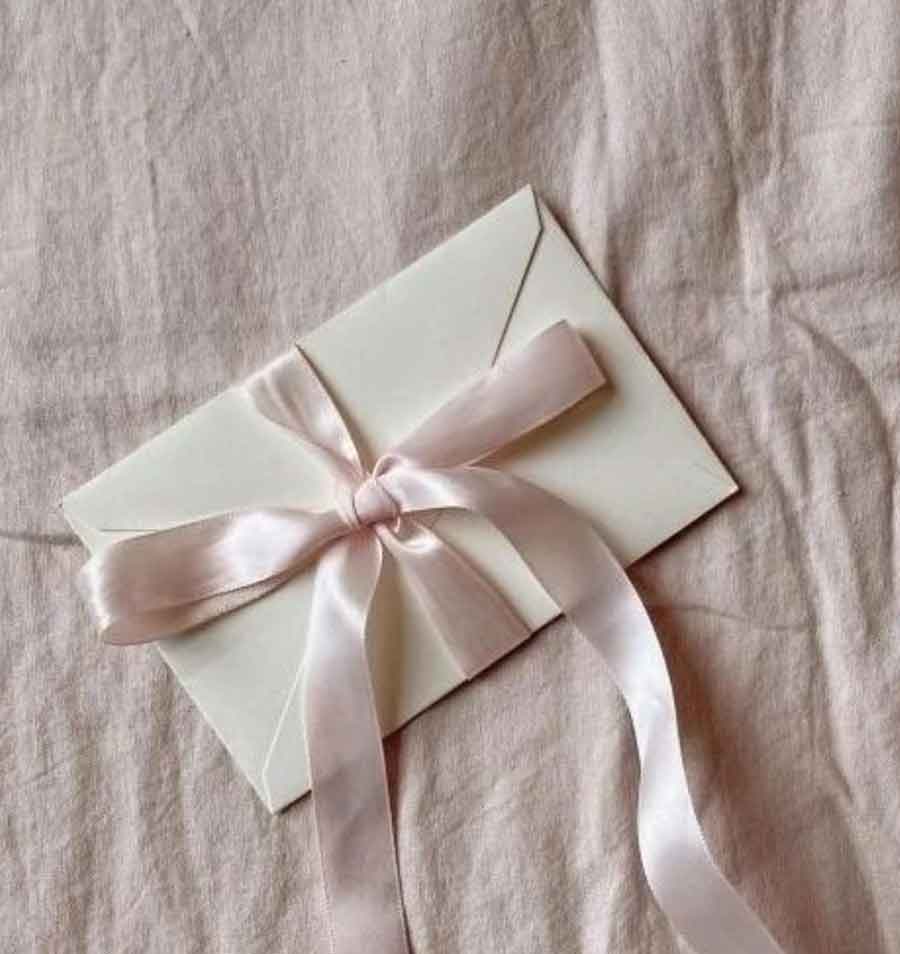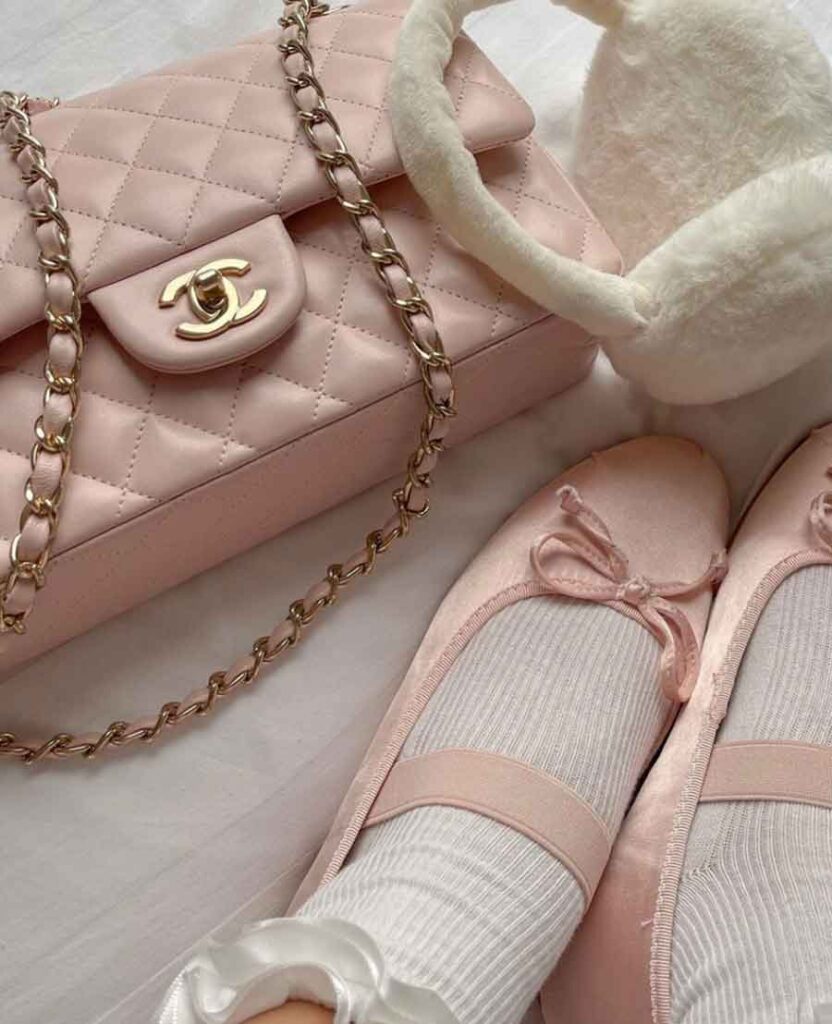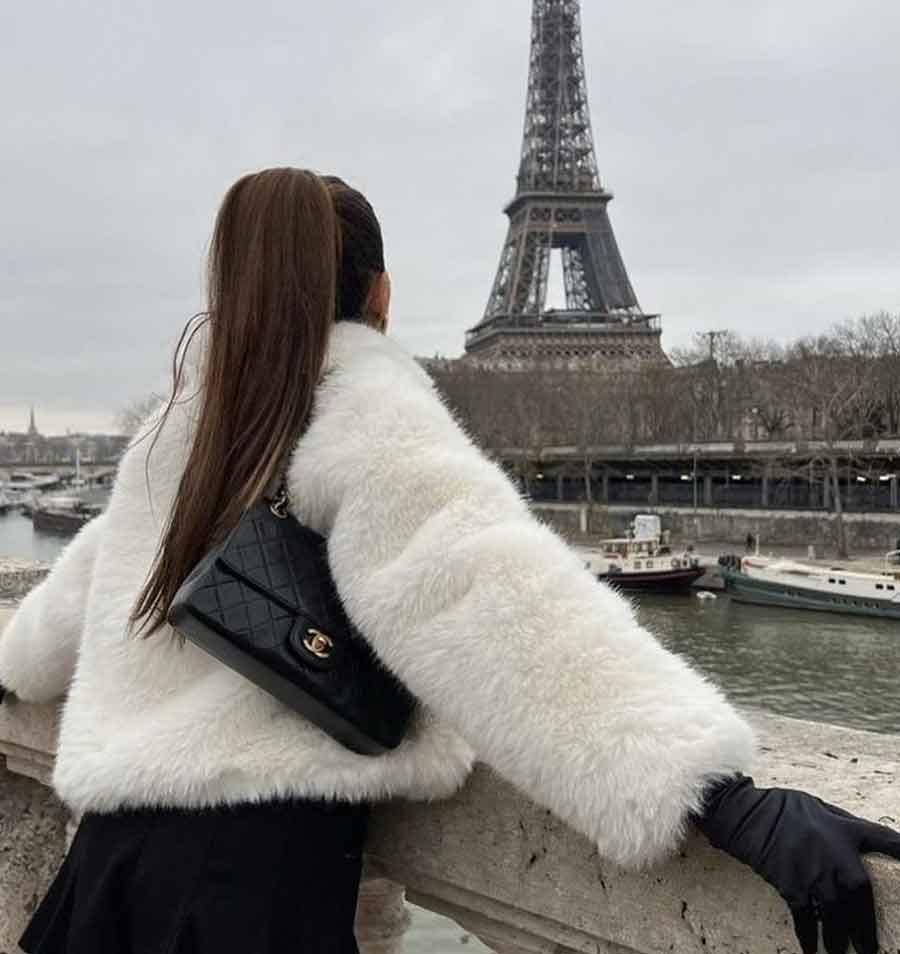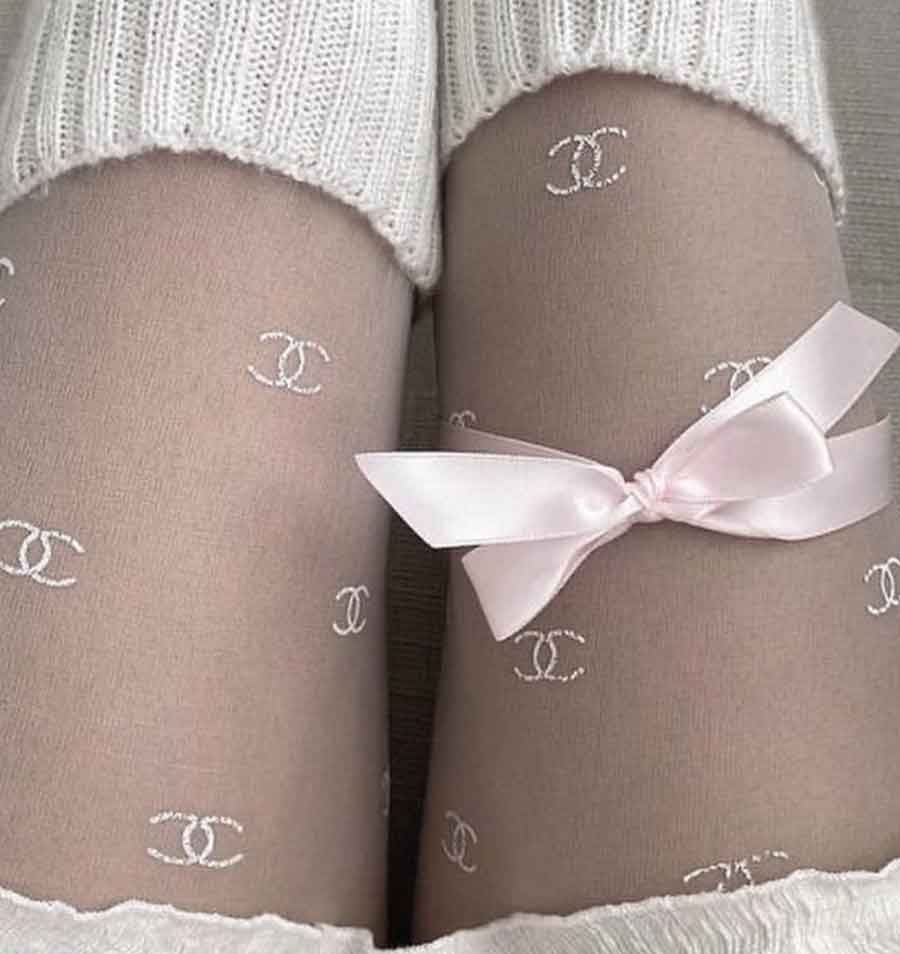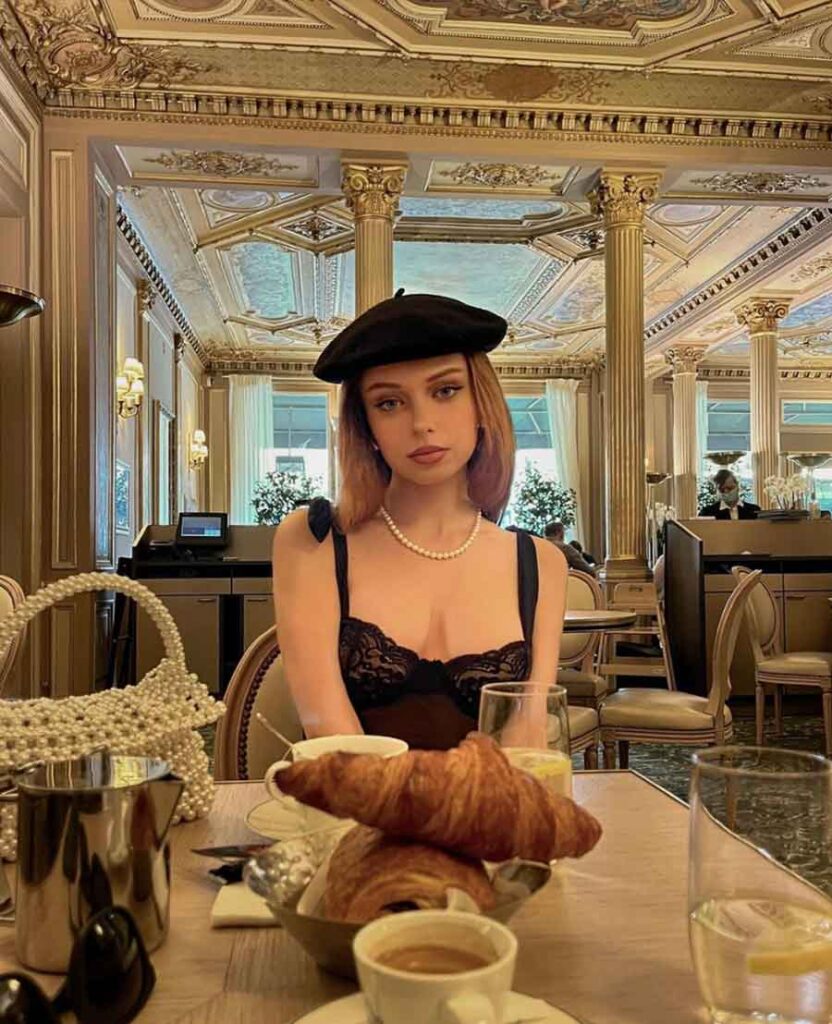 Related:
Coquette Girl Traits & Lifestyle
---
I write posts about aesthetics because I believe it is so useful to use images as something more than inspiration, but actually as a tool to help us dig up things that might be internalized, stopping us to do things that we truly love.
So, I gather images and storytelling to motivate you to just go live the lifestyle you want, through simple things, using the tools you have at hand. So, below, I listed a few simple suggestions to help you live a coquette lifestyle.
Believe me, even the simple things can make a huge difference in your self-esteem.
---
Wear a pretty satin bow in your hair
Wear some beautiful vintage lace & Underwear
Treat yourself to some pretty roses
Listen to la vie on rose on cover versions
Write a love letter to yourself in a beautiful envelope
Always have delicious Truffle Chocolates in the house
Make yourself the prettiest macaroons on the weekend
Wear long satin gloves just because
Own a pair of Ballet flats (It doesn't have to be Chanel)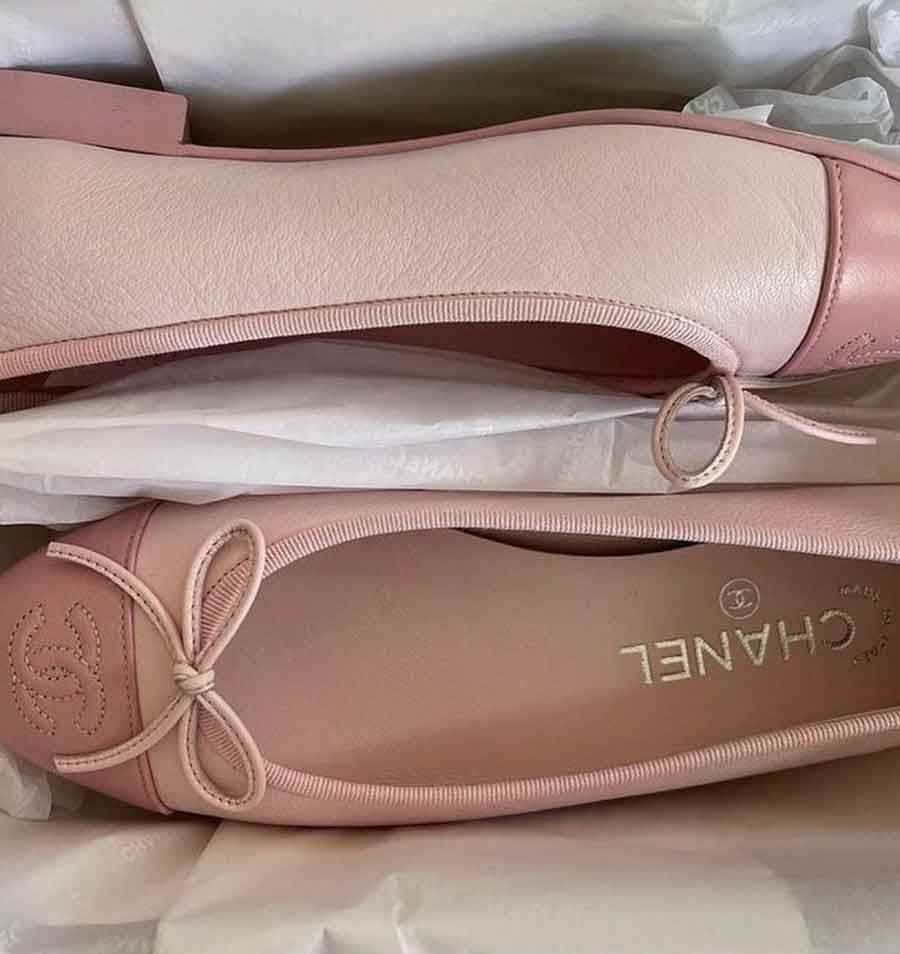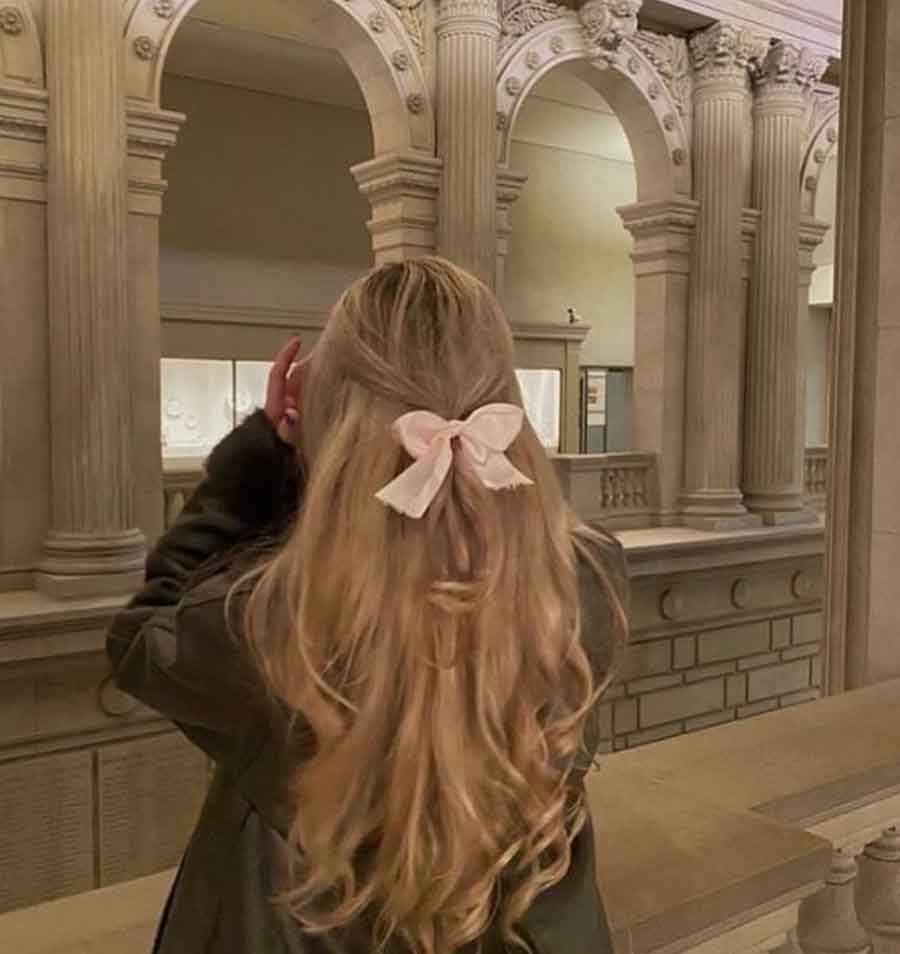 Coquette clothing
---
The right fabrics & materials are one of the best ways to express the coquette aesthetic through your clothing style. Also, the details and colors hold the power to evoke a whole mood: satin, lace ribbon, tweed, pearls, black or white tights with details, bows & berets are the accessories to go to evoke the Coquette vibe.
✦ Check it out to discover what aesthetic outfit is a match to your current mood: 20 Types of Aesthetic Clothing to Discover your Style
Coquette aesthetic outfits
---
Below are some outfit ideas to channel your inner coquette Parisian-chic-ballerina-princess for summer, spring fall, and winter.
Satin/silk dresses
Satin and silk pink or white dresses are a chic and feminine option for a Coquette aesthetic outfit.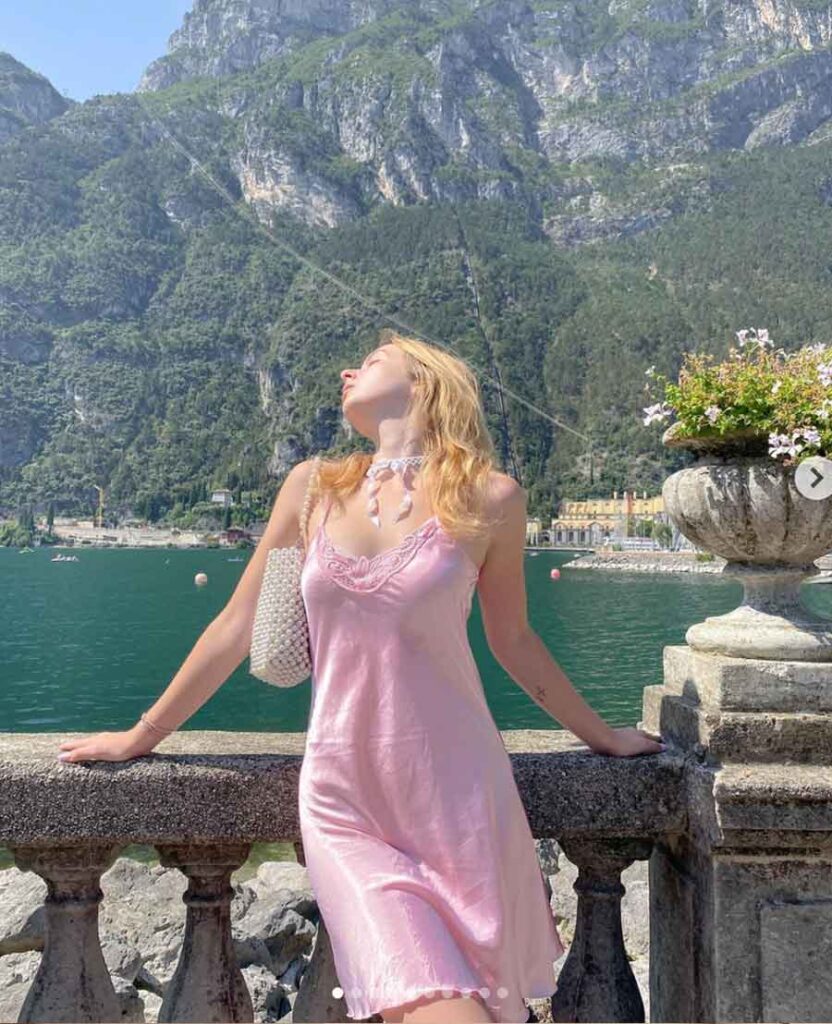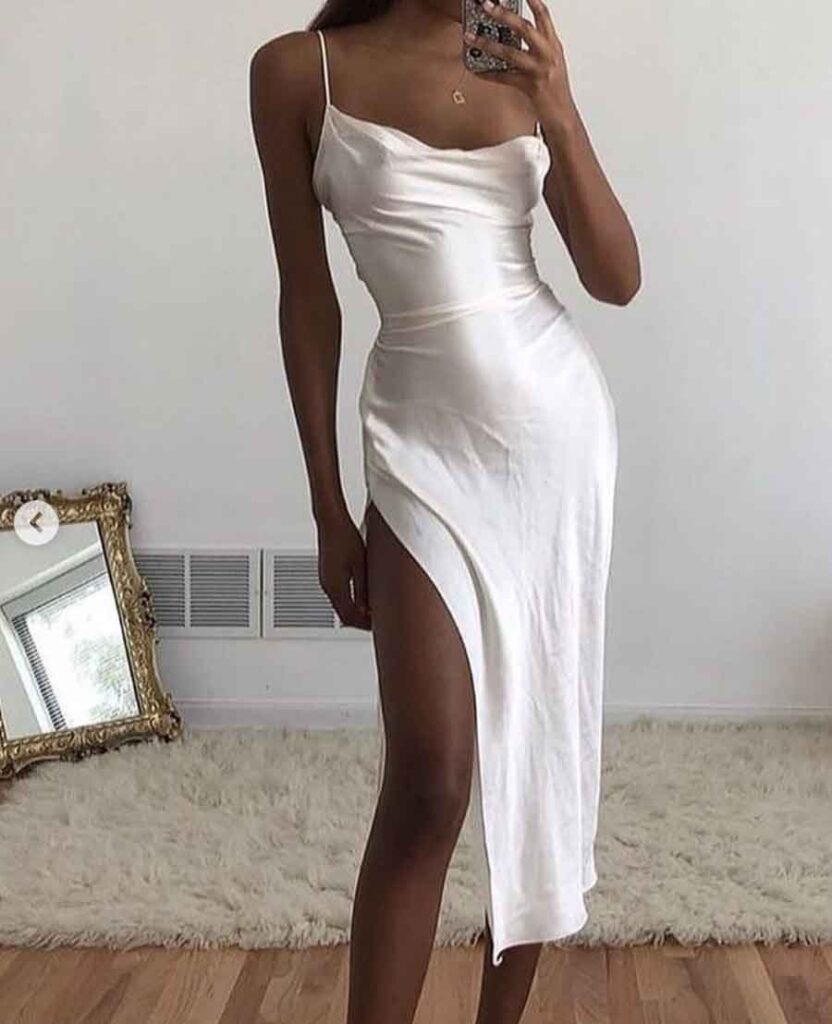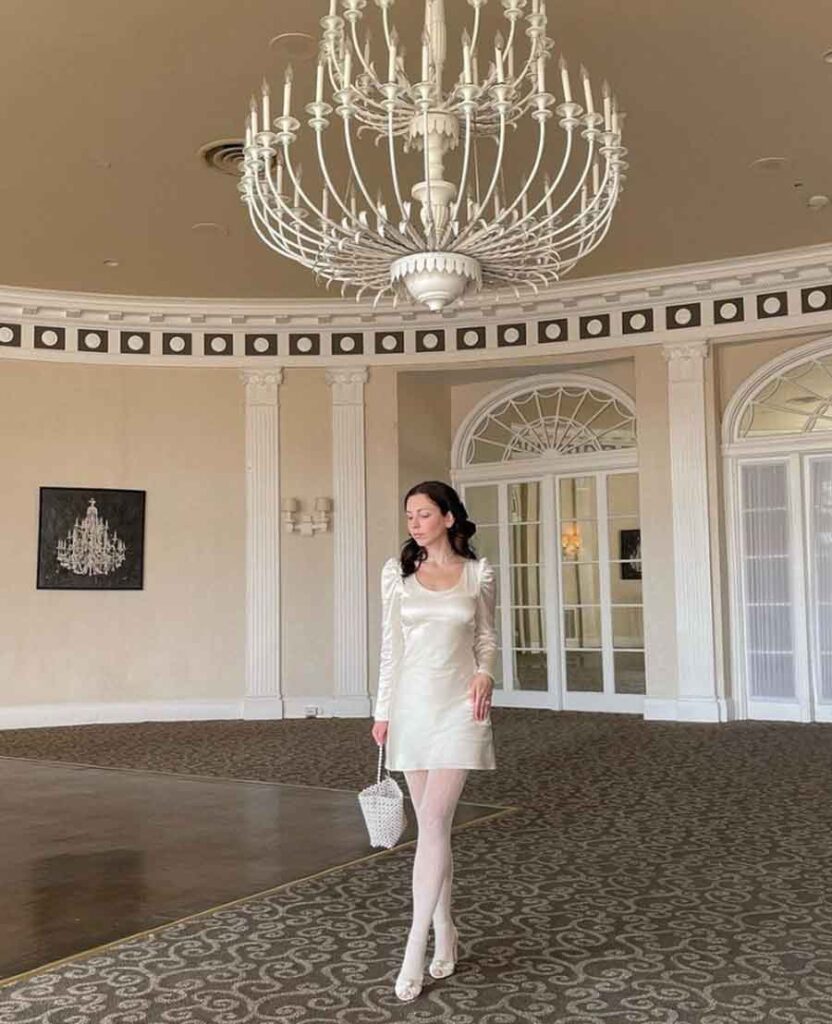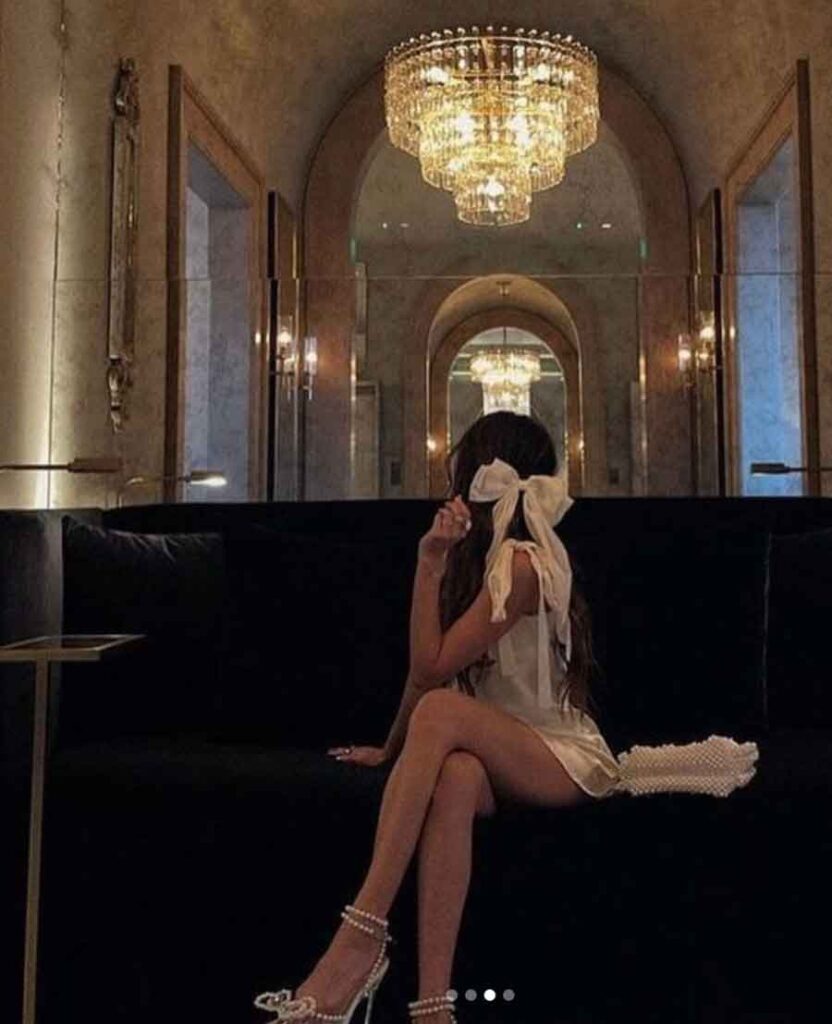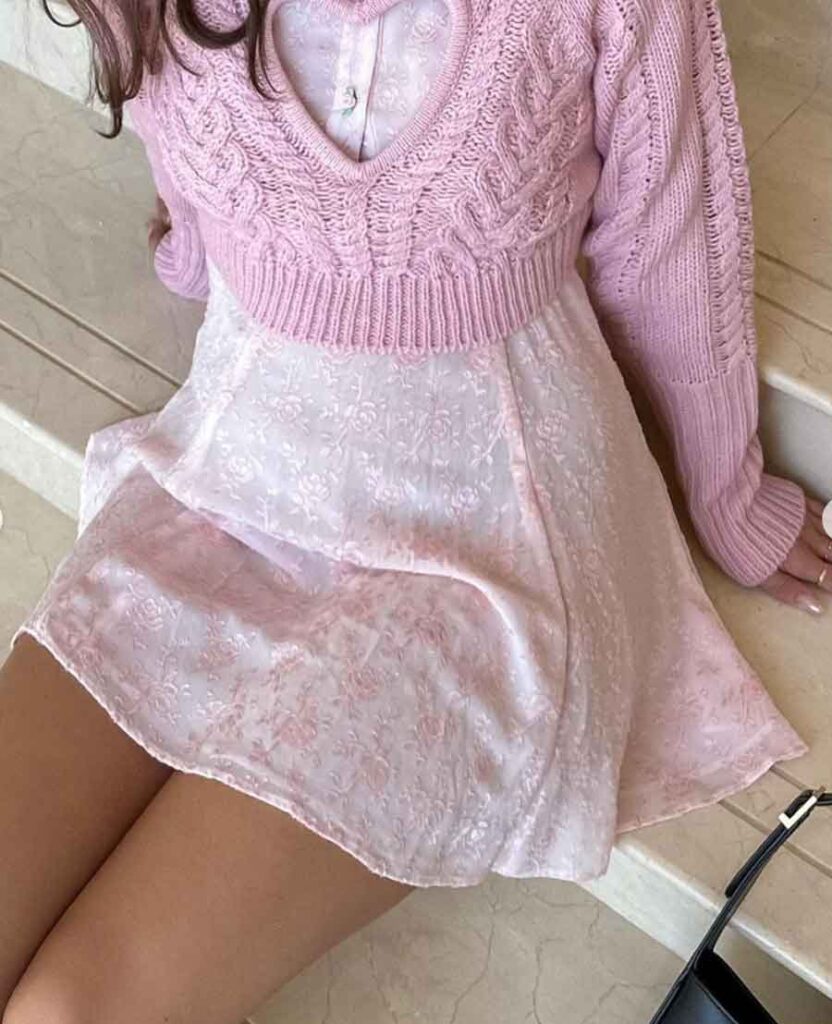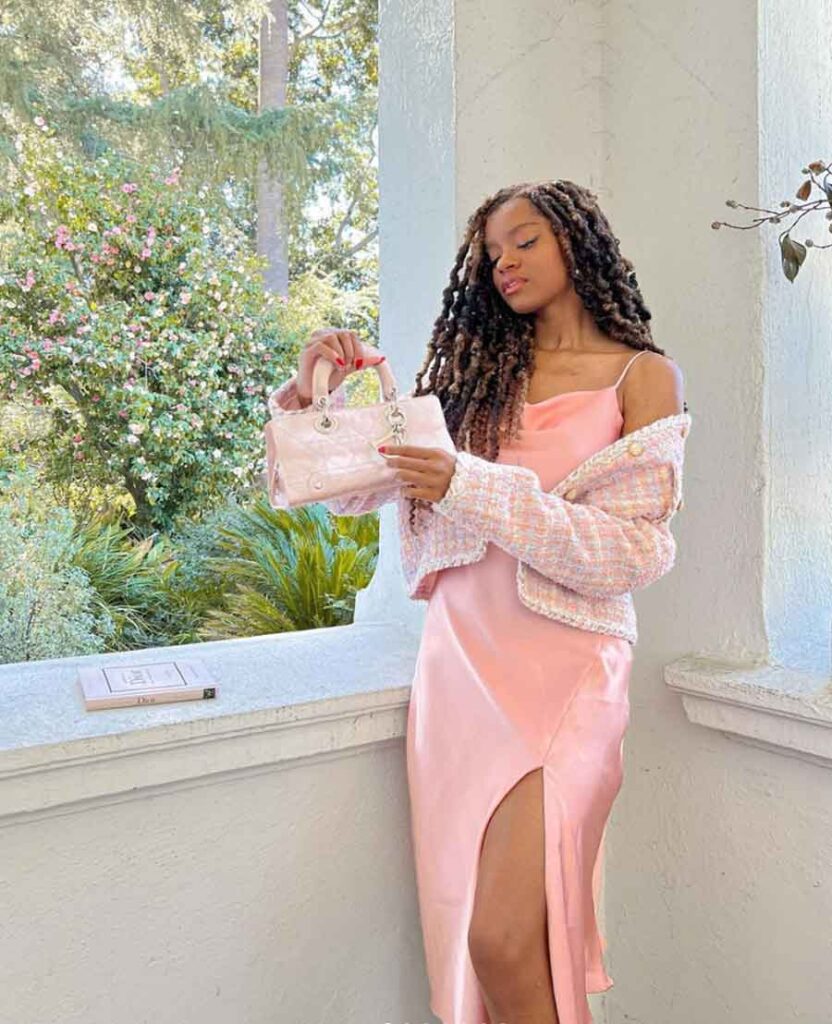 Bows on the outfit
---
Big statement bows.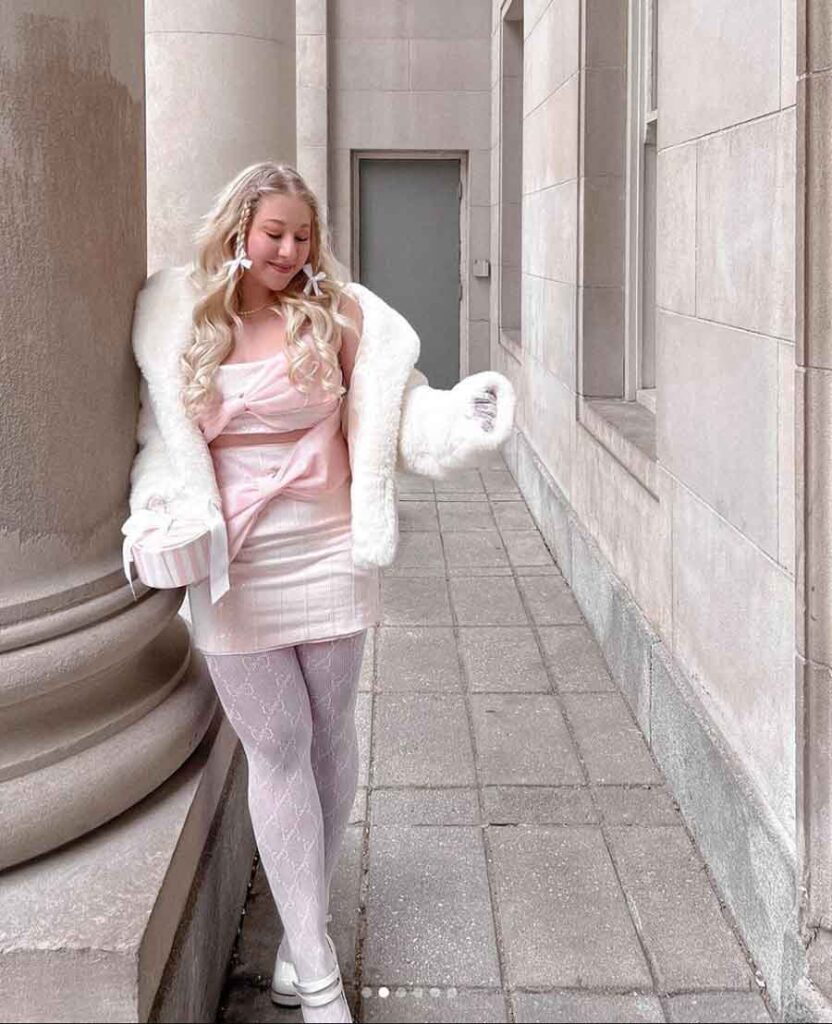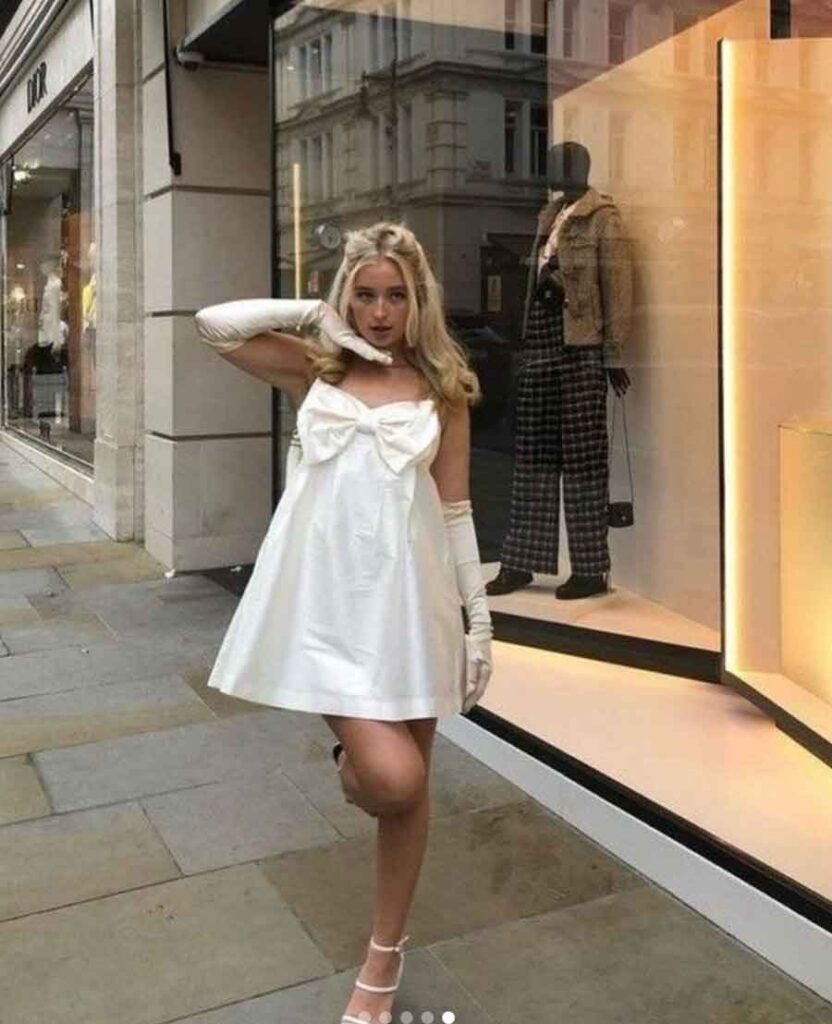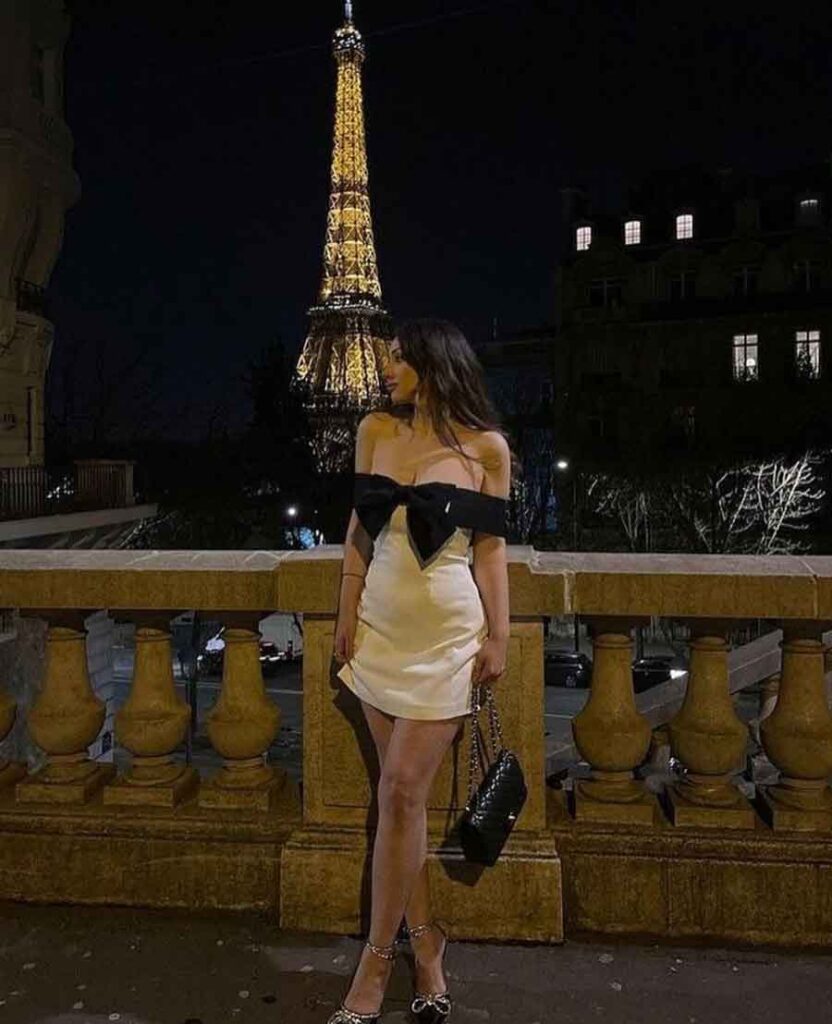 All black
All Black satin, bows, lace, and tights are my favorite coquette outfit composition. So chic yet slightly mysterious and romantic.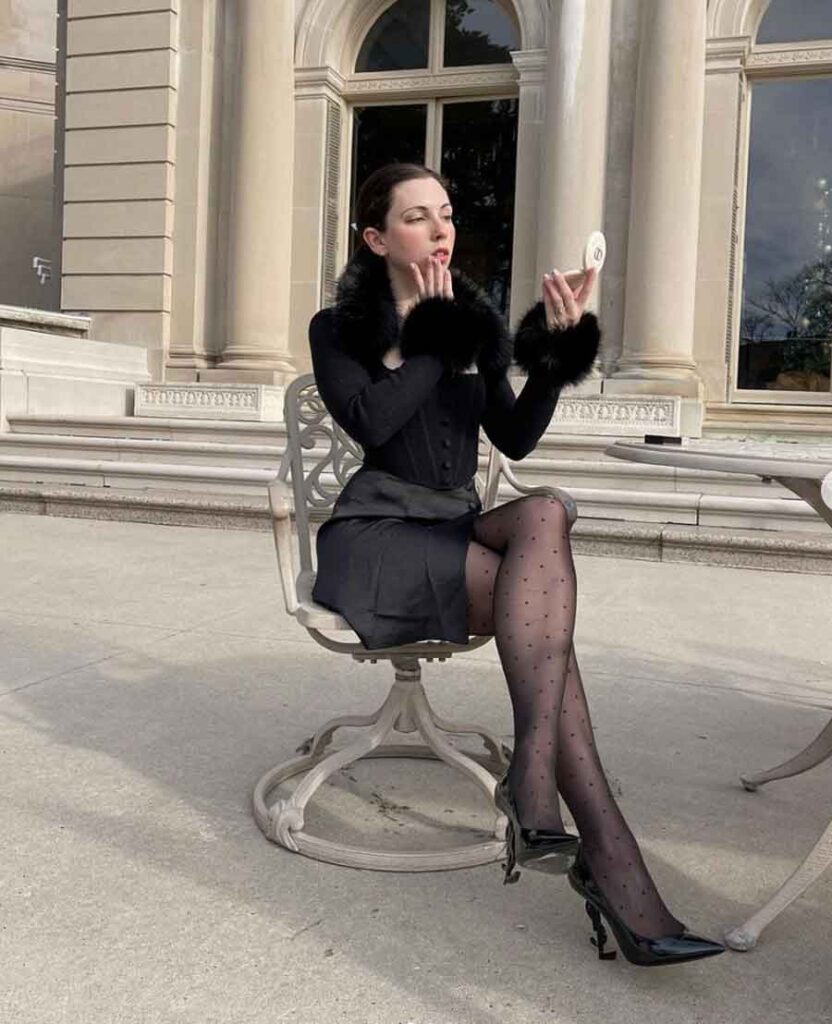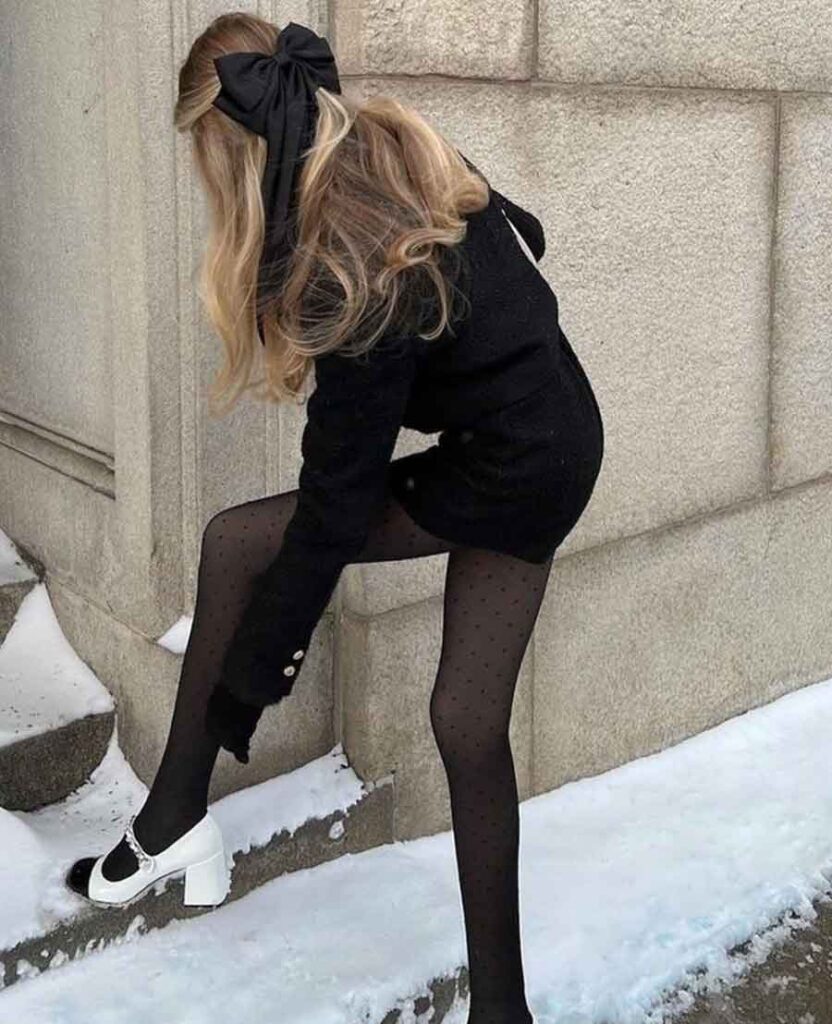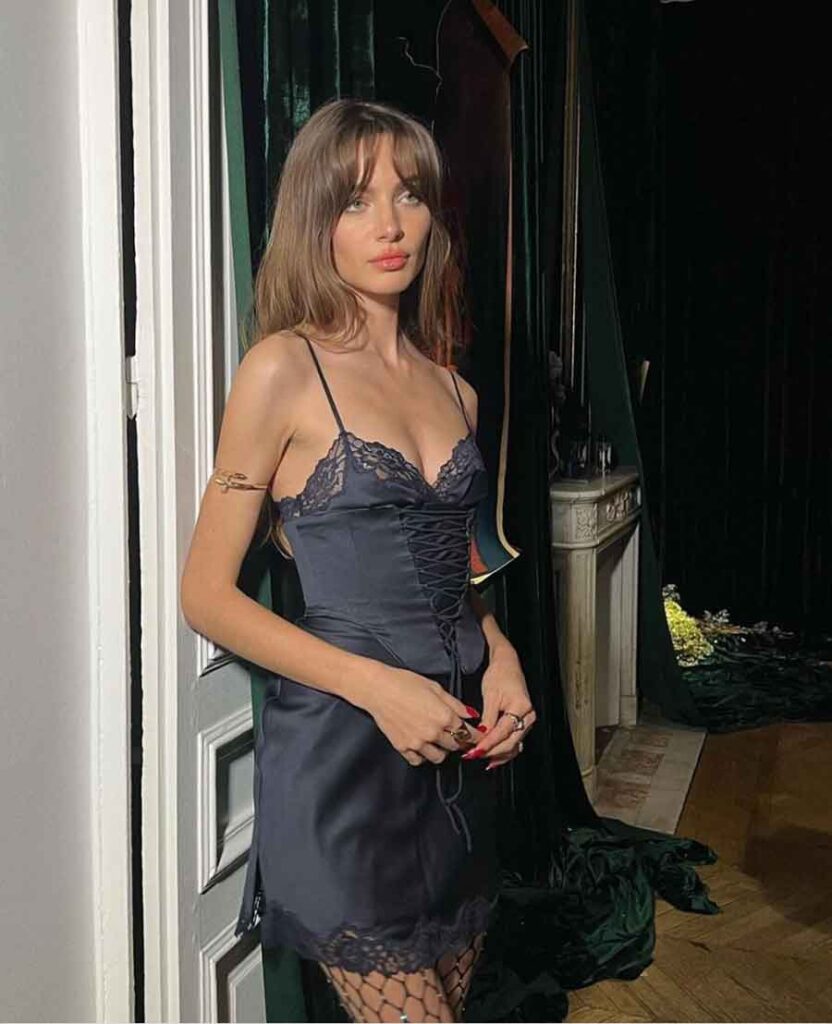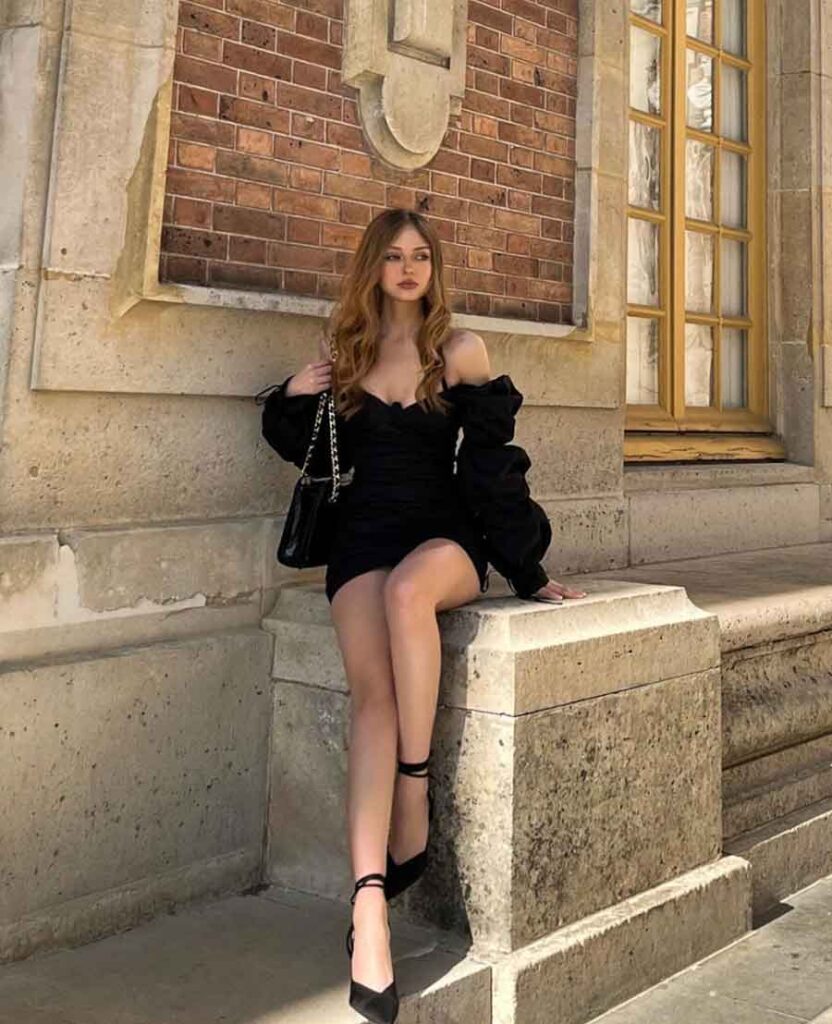 Tweed & knit
Nothing like a matching tweed set or knit dress for a super preppy coquette fall outfit.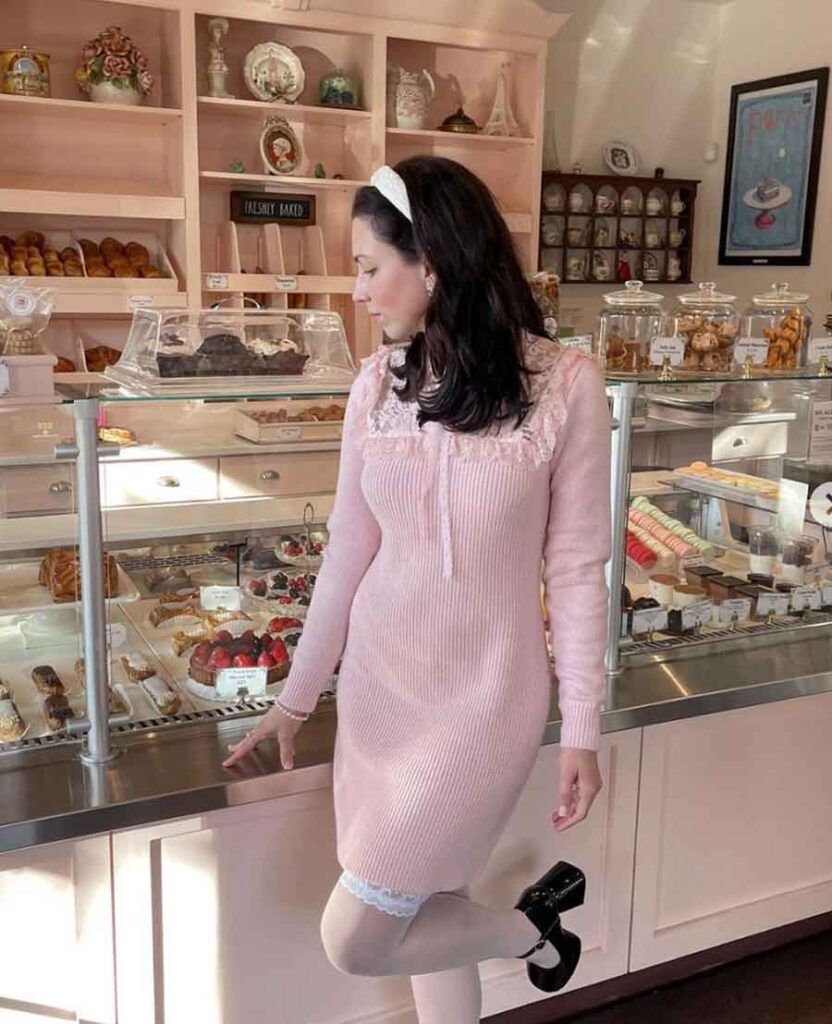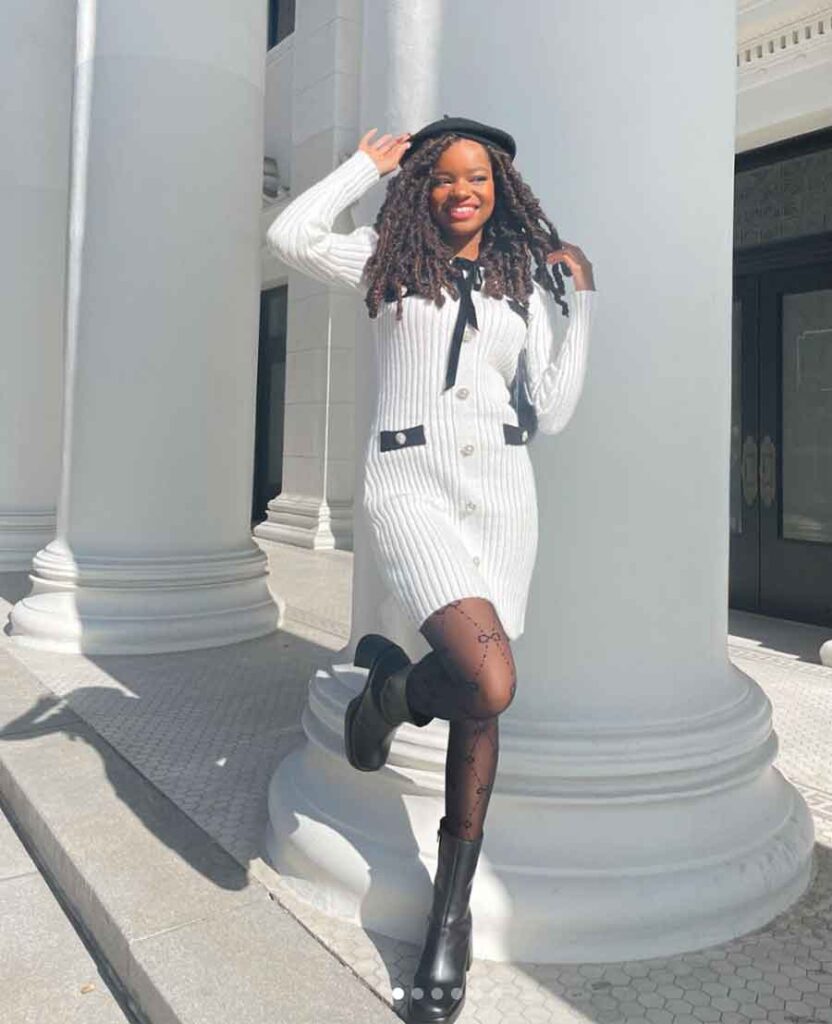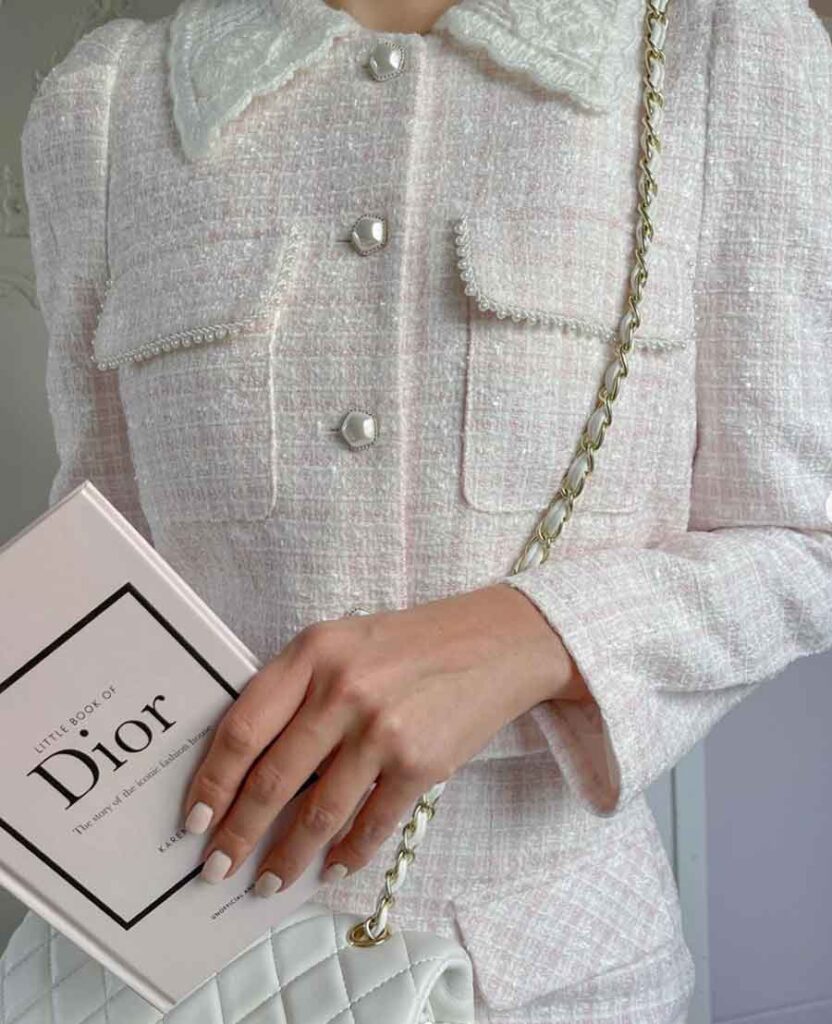 Corset Outfits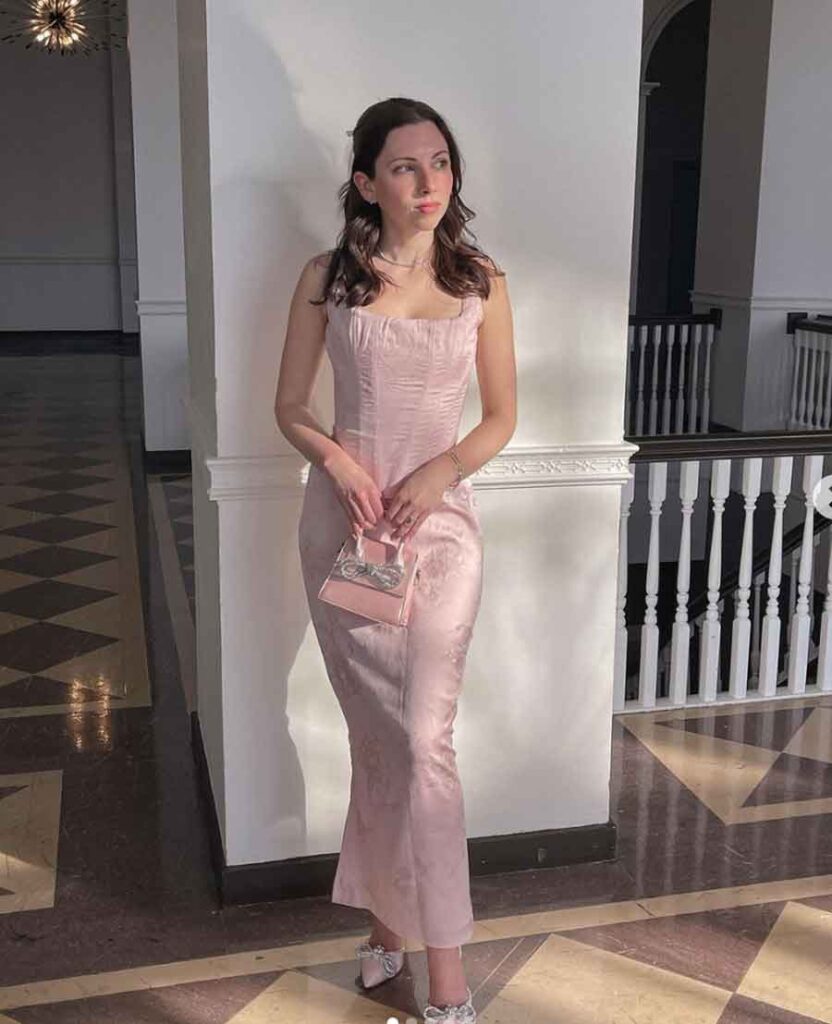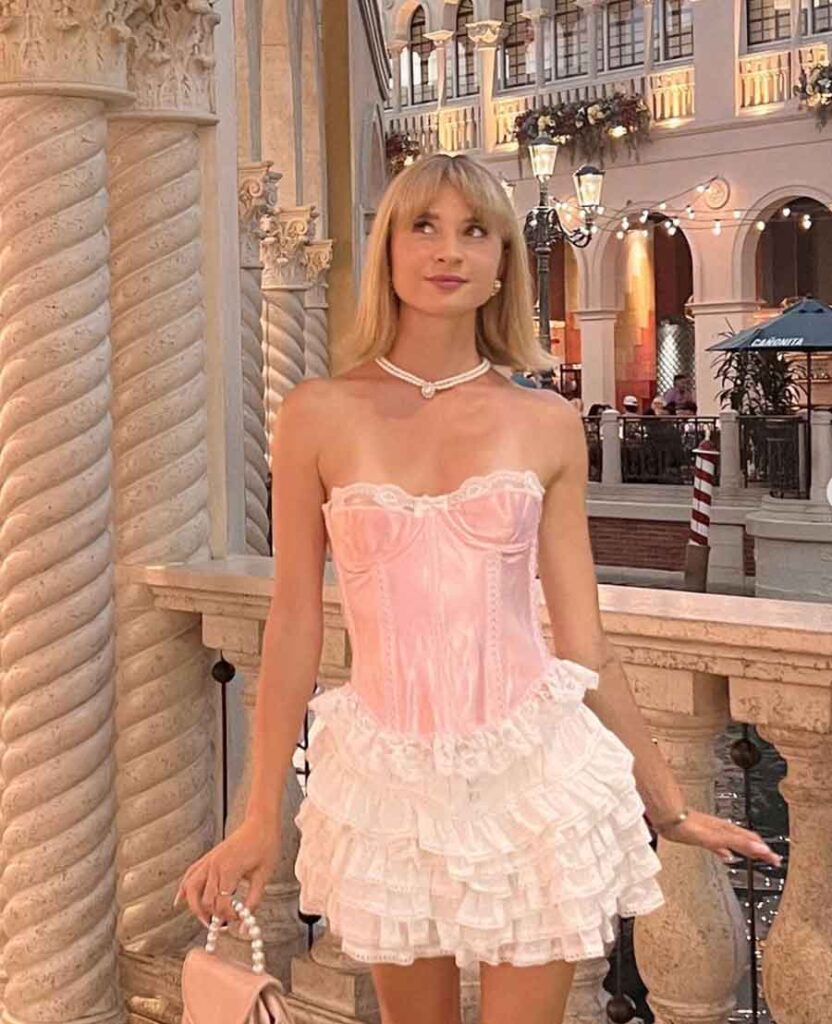 Related:
Coquette aesthetic room
---
A coquette room is quite similar to a girly princess room but less rococo and much more urban and classy. Mix vintage elements with modern architecture to get that modern romance in your interior design.
Little compositions that influencers call ¨coquette clutter¨ are a simple way to make little corners with a mood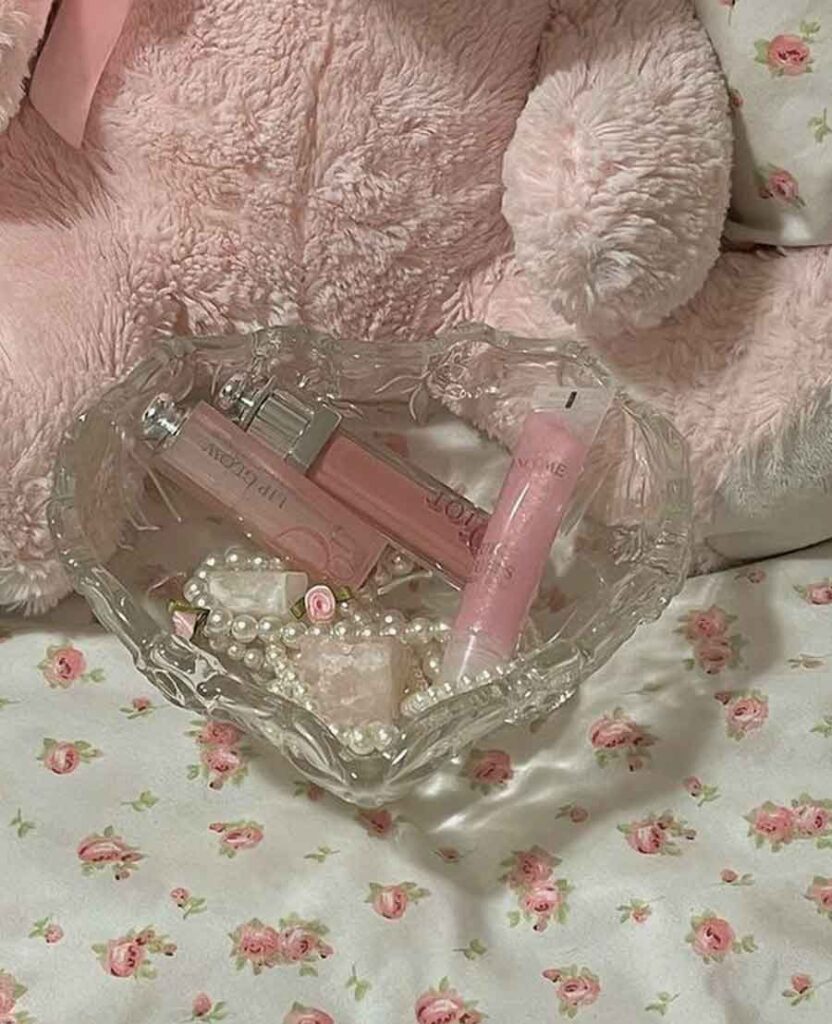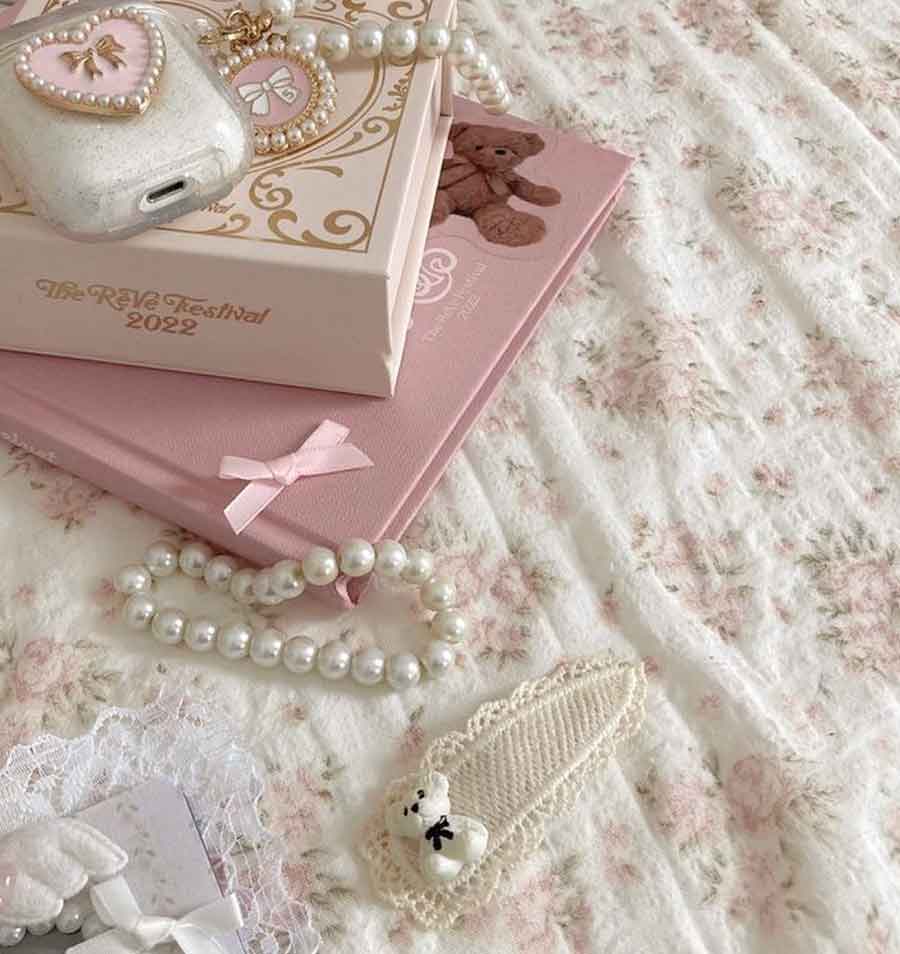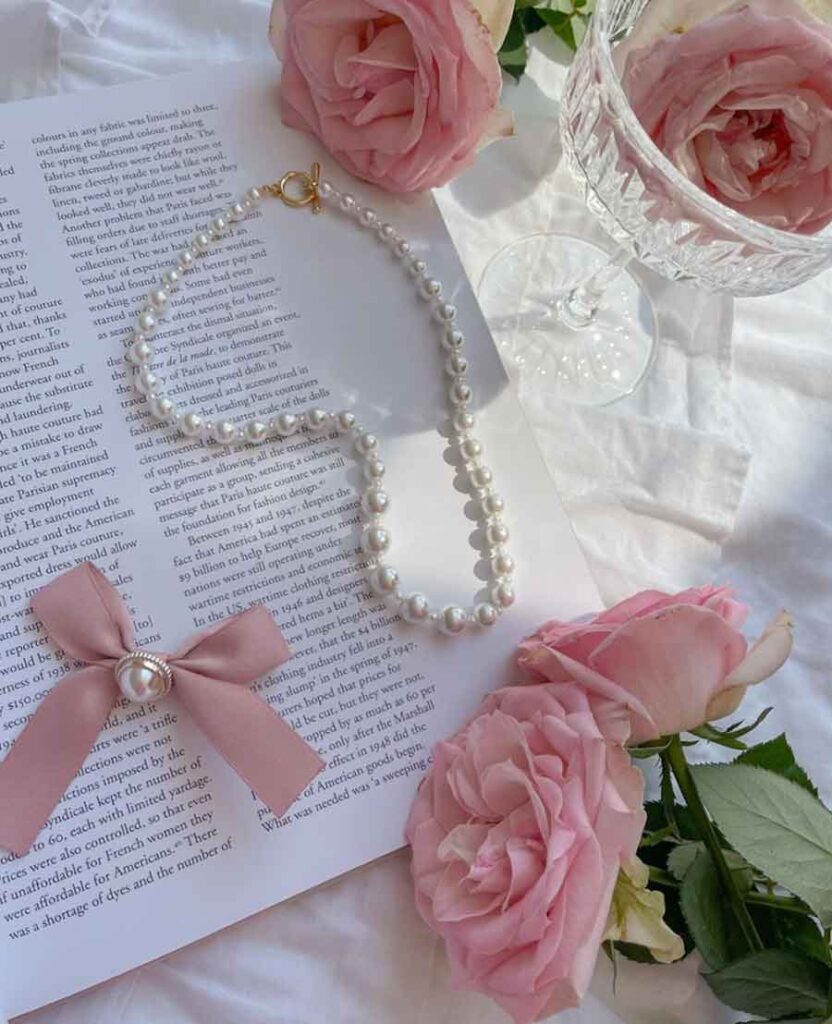 The bathroom below is the perfect coquette bathroom. The natural candlelights make the environment so aesthetic, plus the modern chic candleholders making a composition with super girly roses and channel prints creates an easy DIY coquette bath time. The same romantic with the modern combination also works for the vanity decoration.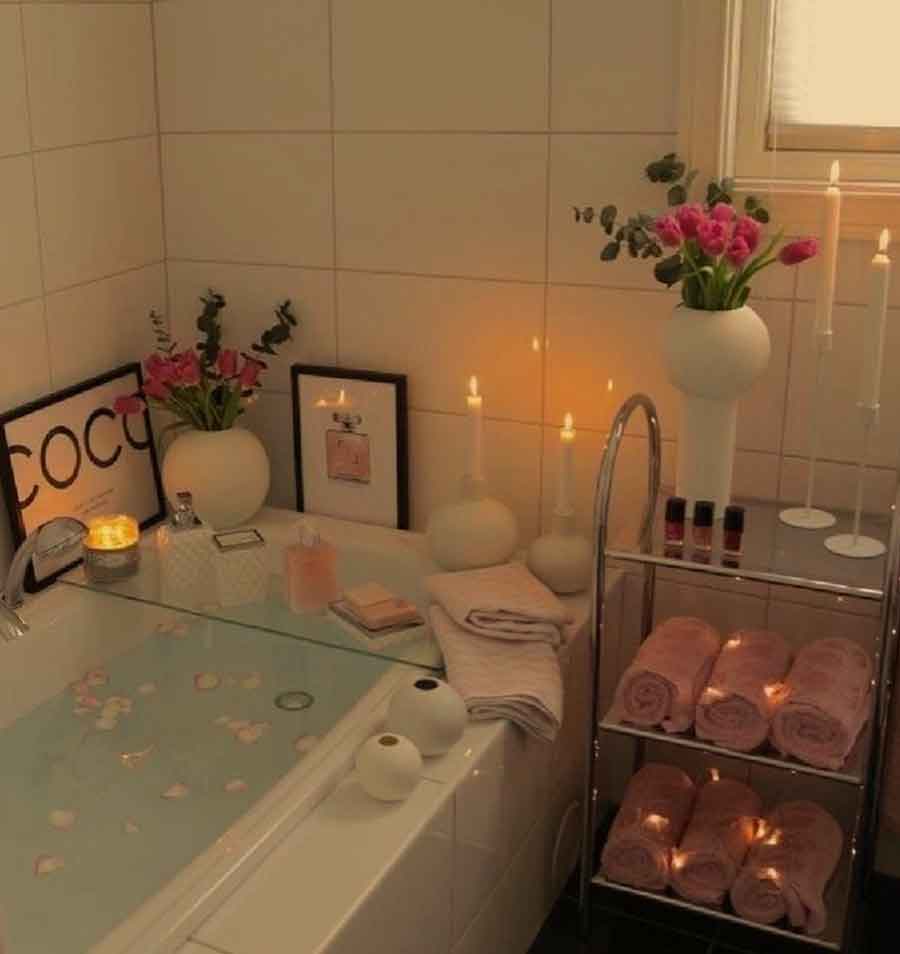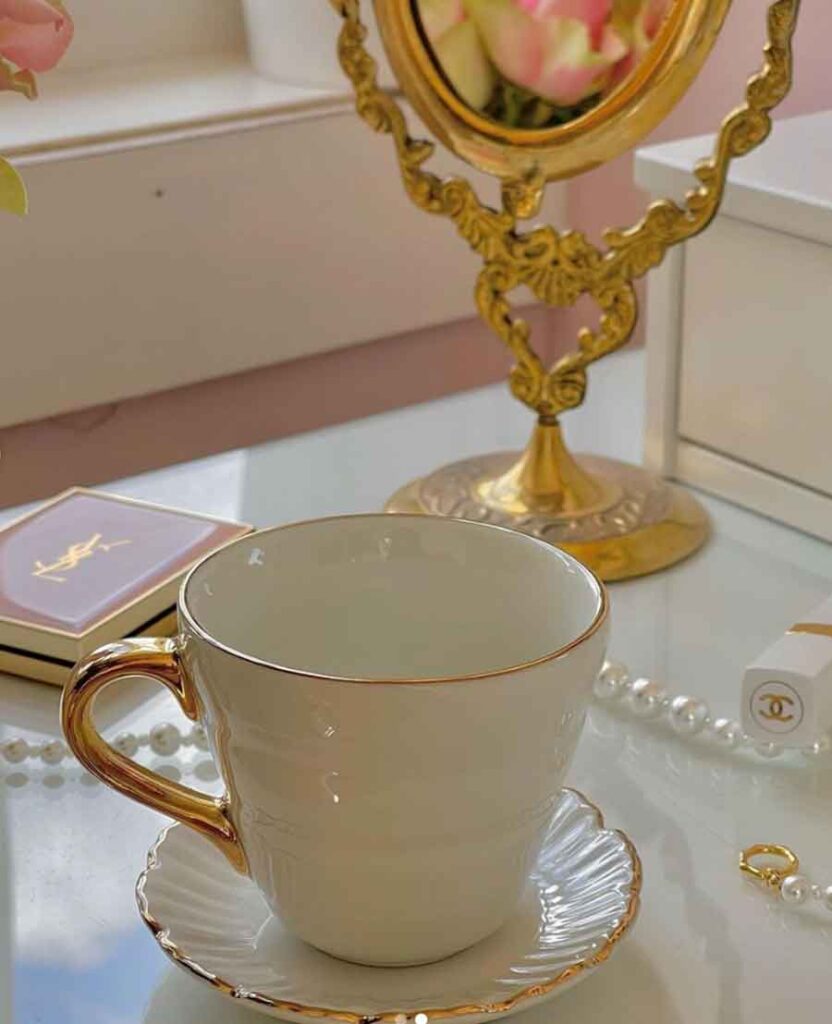 Coquette aesthetic Beauty basics
---
Girly brands and designer french perfumes are must-haves for a coquette life. Miss Dior is a perfect example, but also Parfums the Marly. Some US brands also invest in Frenchie romantic branding for their cosmetics and perfume, such as Too Faced, Gisou, and Glossier.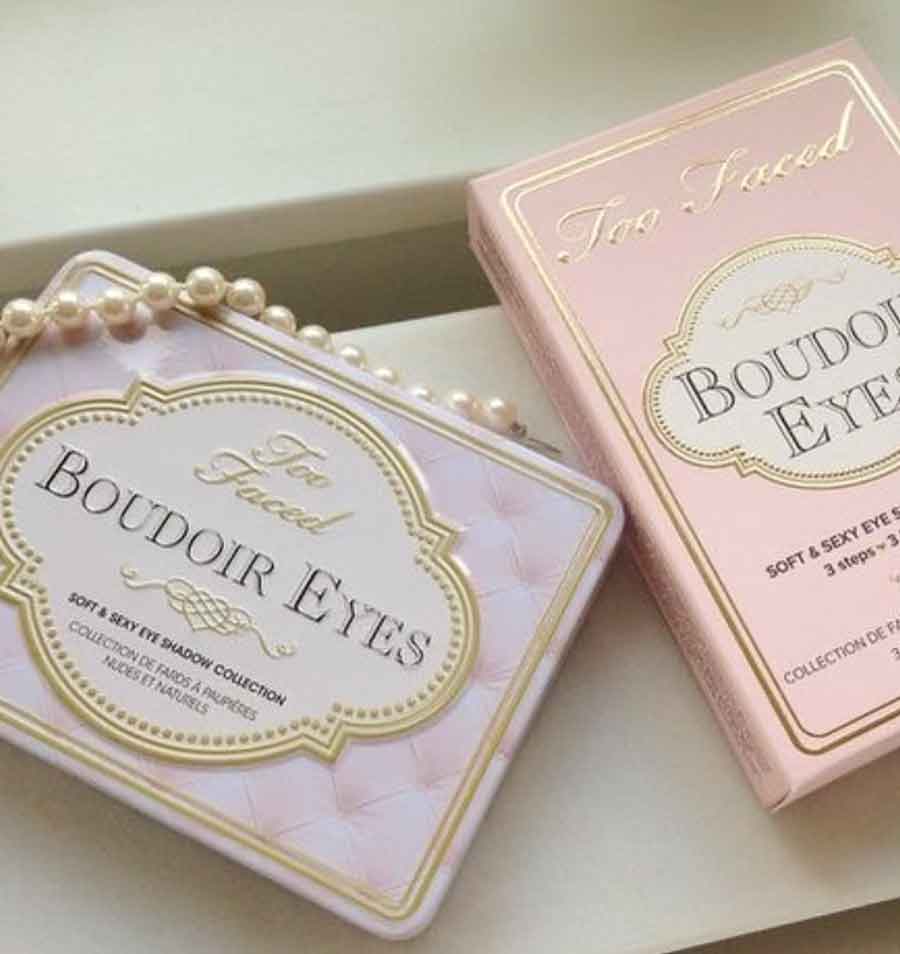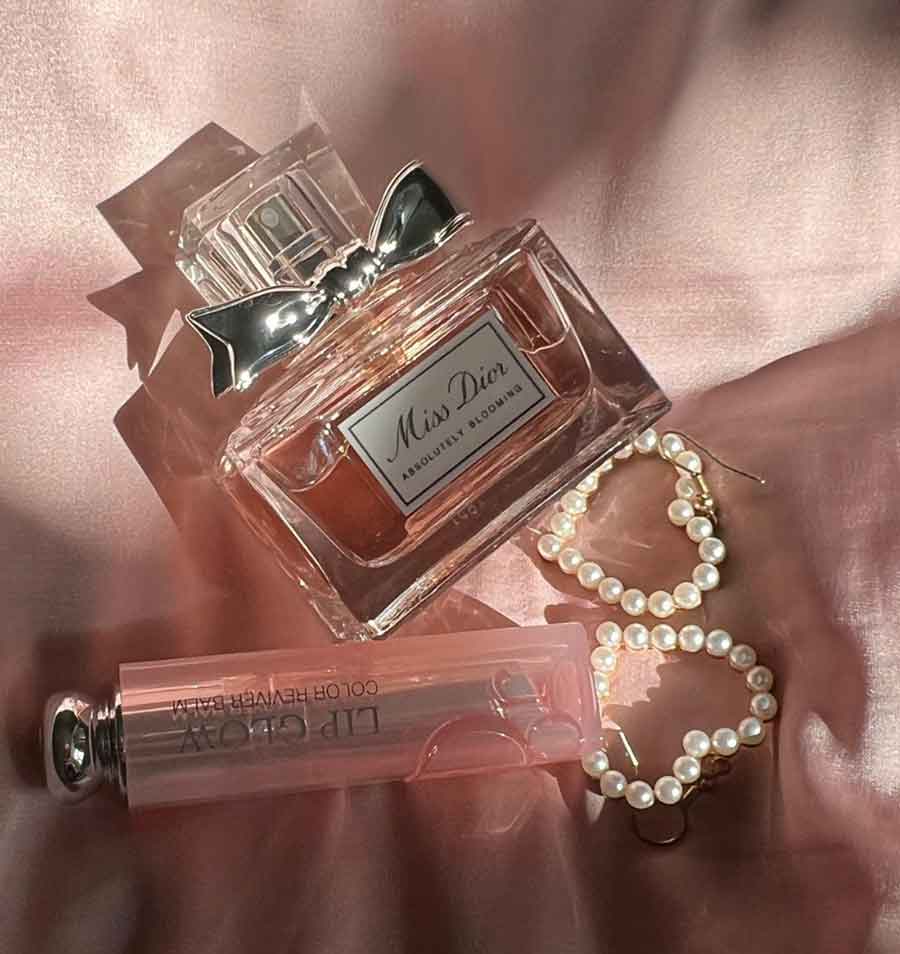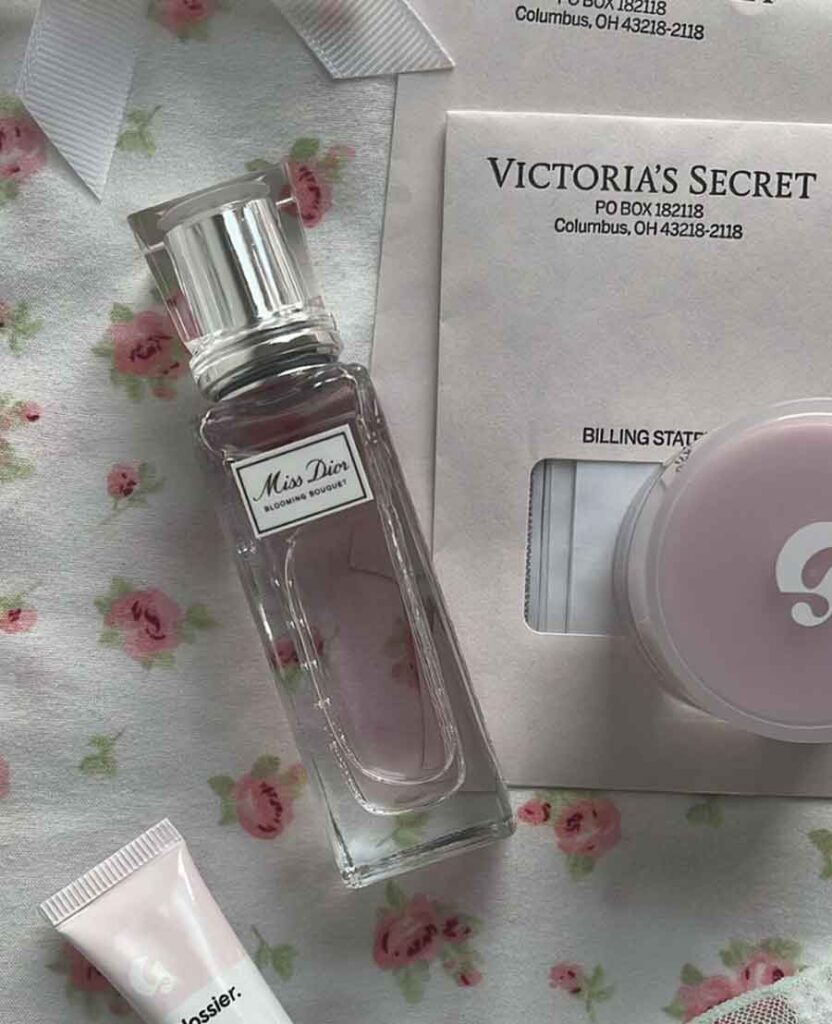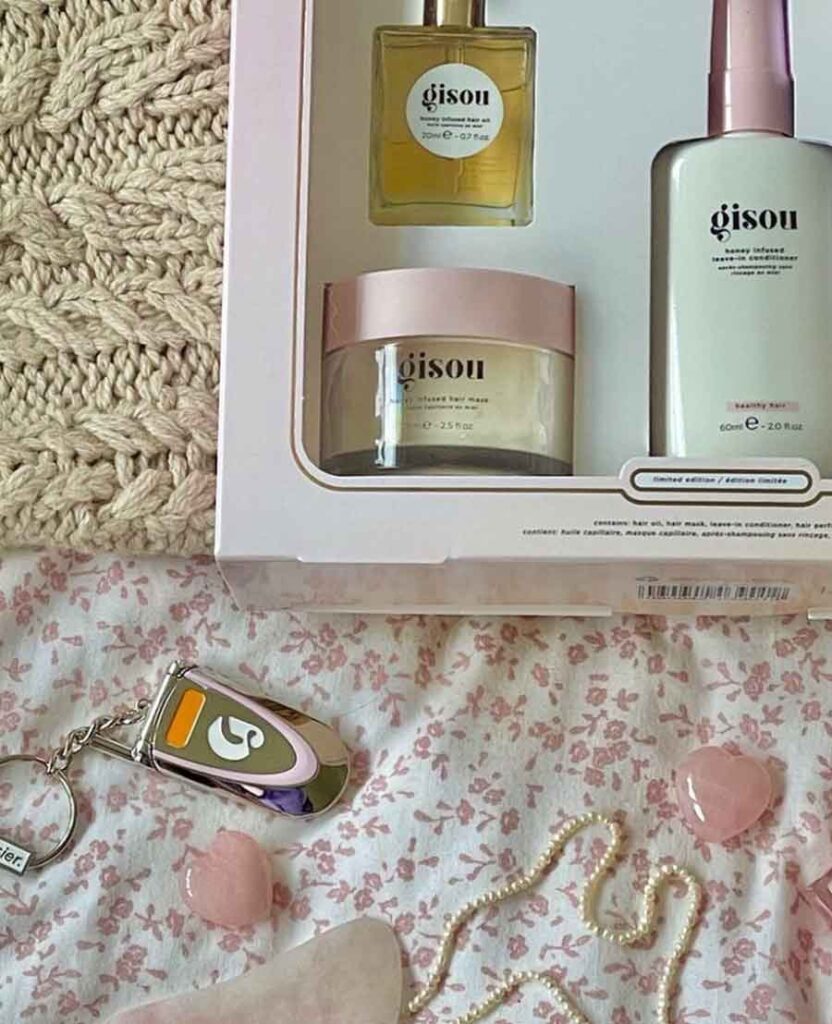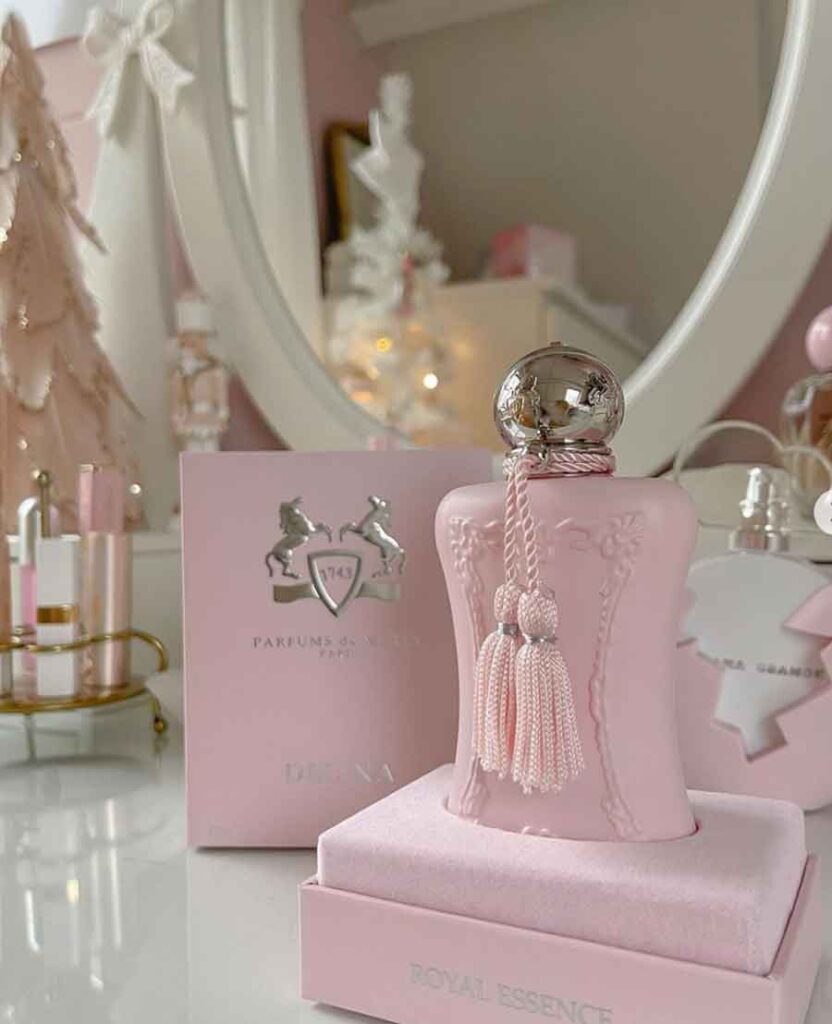 Coquette Nails
---
A coquette girl will have her manicure done in the cutest and most glamorous way possible. So, coquette nails with designs will have bows, pearls, hearts, and gold hues. For the color pallet, always shades of white, nude, and soft pink. For the minimalist coquette, french nails are the way to go.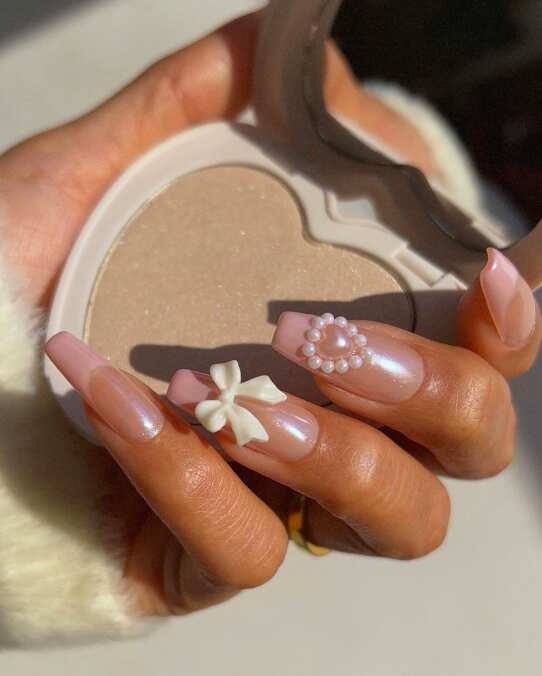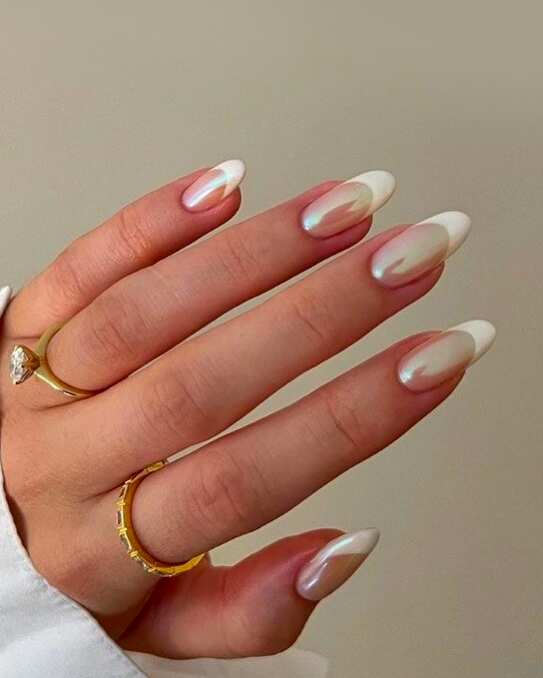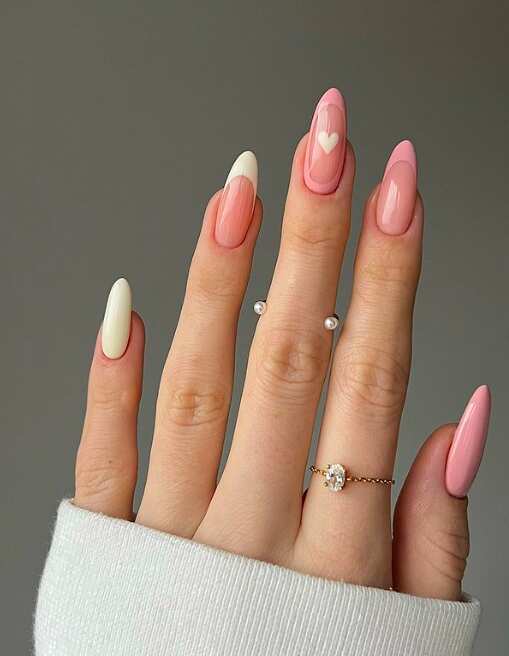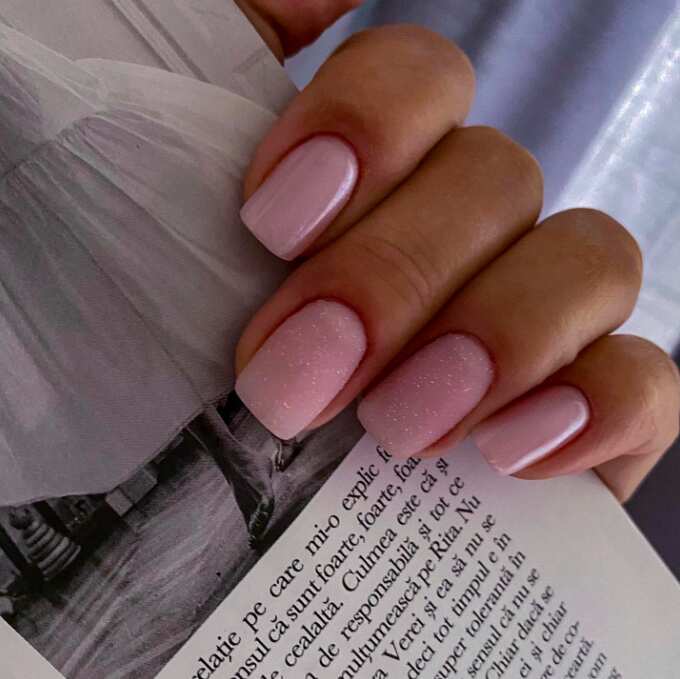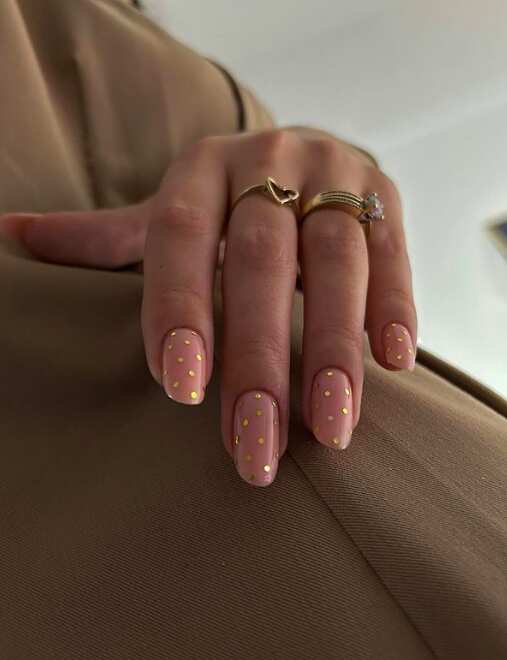 Related:
Shop the Mood: Coquette Aesthetic Gifts
---
Whether you want a gift for yourself or for a friend, Here are some super coquette aesthetic things.