Light Academia Aesthetic is a visual representation of a lifestyle revolving around literature, just like dark academia, but brighter. This is an aesthetic for people who are attracted to intellectual life and who feel that inner fulfillment, self-satisfaction, and realization come from knowledge, wit, and following the right instructions. In this guide, we will give you a path to embody the light academia aesthetic not just in your photographs, but also in your lifestyle.
Light Academia versus Dark Academia
---
Although both light and dark academia are focused on an intellectual lifestyle, literature, and poetry whether vintage or not, some main elements of this aesthetic differ. As the name obviously states, dark academia is darker. Everything about it revolves around darker book stories, gothic literary references, sadder poetries, and darker outfits.
Also, while dark academia is more about victorian gothic architecture, light academia is more connected to classic Greek and neoclassical designs.
The overall mood of dark academia is rainy and gloomy, while light academia comes with brighter, more joyful, and softer vibes.
---
Related:
---
Light Academia Aesthetic Elements
---
Throughout history, many symbols and colors were carried with meanings. The convergence of the ones with similar moods is what creates a specific aesthetic.
The light academia aesthetic is a mood board of the right historical elements, lifestyles, animals, towns, and architecture, that when seen together, are powerful enough to shake our emotions and senses and awaken something substantial, and sometimes new, within us. Below, I list the main elements that create the light academia aesthetic for
Animals: The Owl is a bird associated with wisdom and therefore highly connected to the light academia aesthetic.
Cities that represent wisdom and arts: Athens, Oxford, London, Firenze, and Vien are towns rich in history, mysteries, and birth homes of great authors, artists, painters, and classical musicians. These cities are also filled with historical architectural masterpieces that might make a light academia girl feel safe at home.
Books: light academia's main element is literature and knowledge. From fantasy books to natural history books, to Leonardo da Vinci anatomy books, the light academia girl will love to learn and feed on every line of mystery and knowledge from new or old books.
Timeless English classics like Wuthering Heights, Jane Eyre, The Secret Garden, and Jane Austen books are among the top favorites of every light academia girl.
Books have always found me when I needed them the most. They ground me. I finally get to stand still and take time to see myself and the world. Books let the light in¨

instagram.com/coffeeandbookss
Coffee Shops: Cute coffee shops, preferably the ones with a cozy vibe and a bunch of books to be explored by the customer.
Art Galleries & Museums: One of the hobbies of the light academia girl is hanging around in a museum, and wondering how life used to be in the old days. The classical and neoclassical sections are their favorites.
Classical architecture: Unlike dark academia, the design reference here is classical, not gothic.
Goddess: I have been digging deep into the mythology to write complete and relatable aesthetic posts and help people actually understand the deeper meanings of an aesthetic.
Greek mythology is the most popular one in the occidental world and the one most Jungian psychoanalyst uses as a reference to identify our archetypes. The greek goddess that connects to the light academia aesthetic is Athena: The Goddess of Wisdom and Crafts and Strategist. She is a strategist warrior and absolutely smart and the protector of her namesake city, Athens.
Clothing & Outfits to express your classic and wit Academia Personality
---
Light academia style, in a way, can be very similar to dark academia. They are both practical, durable, of lasting quality, and uninfluenced by fashion changes.
The upper-class, quintessential English Preppy look is usually worn by de academia girl, though dark academia outfits are, of course, darker, while light academia comes in lighter colors and sometimes lighter fabrics as well.
The aesthetic of light academia clothes
---
Poetical, light, soft, sober, ageless, asexual but sometimes cute and adorable pleated and plaid skirts evoking a rich traditional smart girl vibe. Imagine a preppy, back-to-school outfit with modern and soft vibes to it. Below I list some ideas of outfits created by amazing ladies on Instagram.
Layered sweater vest and blouse in light colors
Paired weather with pants or skirts, this grandpa sweater vest layered with a blouse is an iconic piece of light academia clothing.
Light linen pants and linen blouses
Light linen blouses and sober pants will give you serious and traditional vibes. For a ¨I can be smart and cool¨ mood, choose ankle-length pants and pair them with sneakers.
Layer coats and sweaters
The ultimate preppy way of layering a sweater.
Mini plaid and/or pleated skirts
Cute, feminine and my favorite way to style dark academia outfits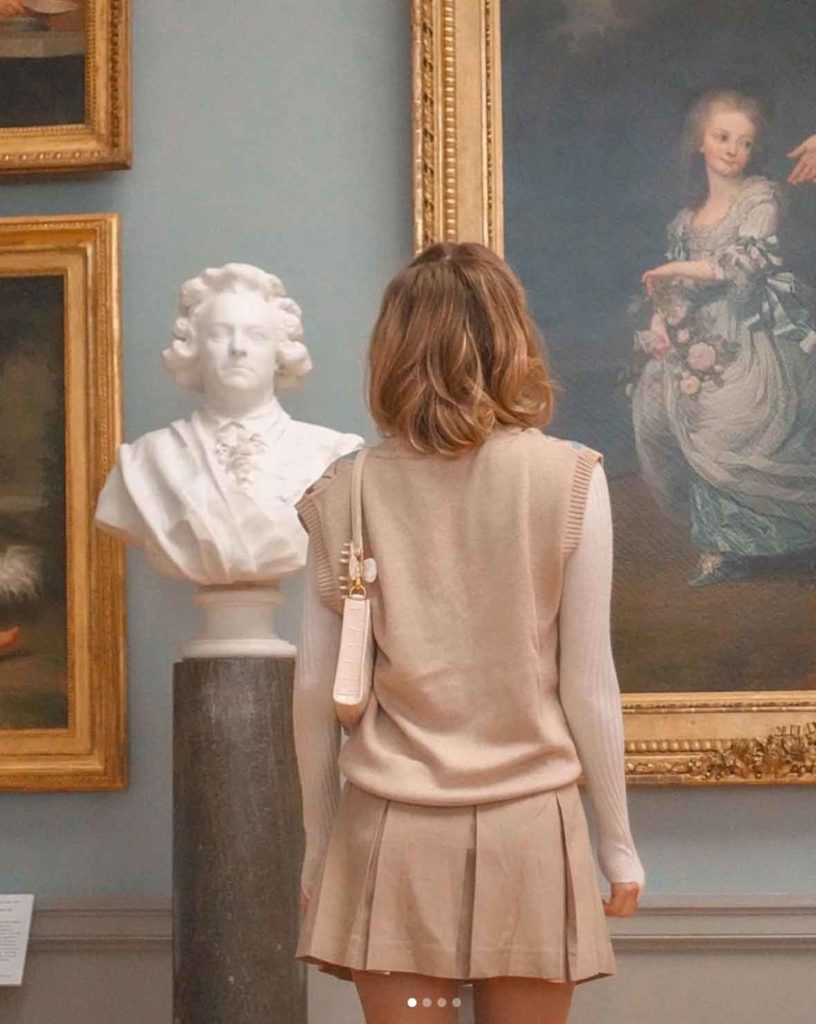 Trench Coats and mini skirts
For the ultimate cute, smart, and chic vibes.
Trench Coats and blazers
For a gender-neutral light academia outfit.
Long Sleeve turtleneck
Feminine and Vintage
If you are more into a Jane Austen mood rather than a Theory of Everything vibes, go for these feminine and vintage light academia outfits, with lace details and very light fabrics. The second picture gives me an Aurora lost the woods vibes and I love it.
Summer and Spring light academia style: plaid skirts and white blouse
---
📜 Related:
Light Academia Outfits Ideas (Plus the Best Fashion Brands)
---
Light Academia Movies & TV Shows
---
Academia movies, in general, are movies that revolve around specific themes like investigation, bright and smart minds, preppy antique schools, writing, and art.
Movies set in a nostalgic time Like Enola Holmes or Movies set in the present like a Rainy Day in New York can both have an academia aesthetic.
Dark academia though will come with an extra dose of gloomy vibes, rain and a gothic atmosphere (think the TV Show Penny Dreadful, or Interview with the Vampire movie, for example).
Light academia movies are, of course, lighter, from the script to the outfits, to the photography, light academia movies are catalysts of bright and cheerful moods in a context of smart minds, intellectual characters, investigation, and art.
Light Academia Girl Moods & Personality
---
You may be a light academia girl in your daily life, or you may feel attracted to this aesthetic and want to incorporate it into your life but you are still unsure how.
Below I list some features, hobbies, and moods to dive deeper into this lifestyle.
professions such as detective, investigator, planner, writer, analyst, architect and painter are attractive to you
you believe in science above anything
you love to study all religions and understand them deeply, with an analytical mind
orchestras and

ballet

are attractive to you
strategic activities that require purposeful thinking are your favorites
you are a practical person who likes tangible results but also is very emotional and sensitive
the mix of art and reason is appealing to you. For example: Looking for the meaning behind a classic sculpture is a hobby for you
will and intellect matter to you as well and instincts and arts
you love the city and all the cultural activities it has to offer, like cafes, vintage bookstores and museums
learning about art, learning to paint and taking sculpture classes makes you happy
your dream date would be in an old library or museum
Hairstyle
---
Light Academia Decor
---
The best rooms to decorate with a light academia aesthetic are the living room and the bedroom. Usually, these places are our personal temples, where we stay to feel out of the rest of the world and feel safe. For reading, writing, enjoying solitude and privacy, and of course, resting. Decorate with beige, white, books, and classical accents, and don't forget the attention to detail to achieve light academia aesthetic in your home.
Make a little art gallery on your walls, mixing vintage prints and your favorite artworks. Also, create your own little bookshop in the bedroom or living room, and don't forget to ad classical sculpture somewhere. It will be like reproducing your favorite places to be in your own sacred space.
Color palette: shades of beige and earthy light brown.
Creativity and an artistic eye for the details are qualities of a girl who has the ability to get it right with the light academia decor. Attention to the little things makes her house feels like classic poetry