When it comes to aesthetics, marble is often associated with chic and sophistication, and this also applies to marble nail designs. If this is the first post you read at The Mood Guide, I must tell you that I don't write standard "best stuff" lists. I mean, you can always just type "marble nails" on Pinterest and find a ton of great ideas. What I do as a designer and storyteller to add value to you and not contaminate the internet with more repetitive content, is always associate images with the right aesthetic that will help you express the mood you are in or achieve the mood you want to feel.
What Moods Will You Achieve With Marble Nails
---
The marble effect on nails is usually a choice for those who want a chic and sophisticated manicure. White and black marble, especially are often associated with classic luxury.
When you visualize a white marble bathroom for example, what do you feel? A sense of wealth, I believe.
The Marble's historical use in grand structures, sculptures, and palaces has created a perception of luxury and opulence associated with the material. Also, its cool and polished appearance when applied to the nail transcends that timeless sophisticated, and refined look to your look.
---
30+ Chic Marble Backgrounds for iPhone
---
Below I will start with the classic: Black and White Marble nails for every type of nail, and then I will show you how the chic aspect of it also works in other colors with some stunning marble nail color ideas.
White Marble Nail Ideas
---
A beautiful classic, the white marble nail is perfect for the ultimate classy and polished high-end manicure.
All white and milky marble combined with chromed or pearly nails is a perfect choice for wedding nails.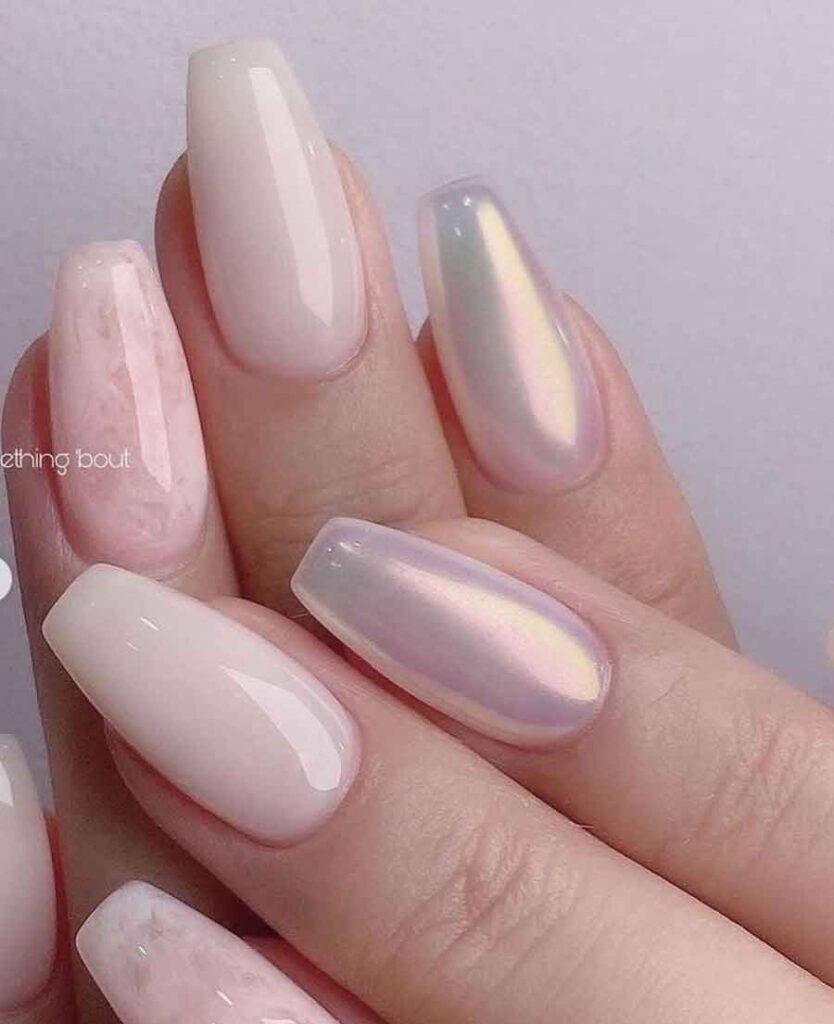 The most popular, though, is the foil on white marble. Below we see how the silver foil looks beautiful.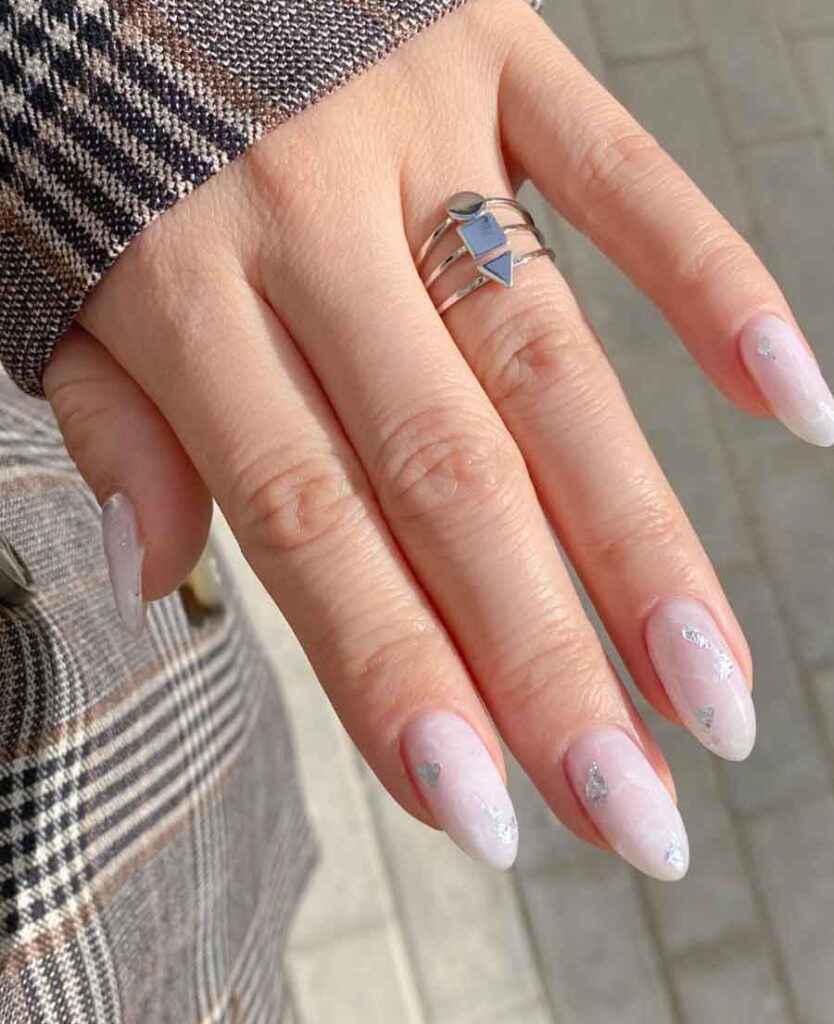 Copper flakes on white marble are also an original alternative.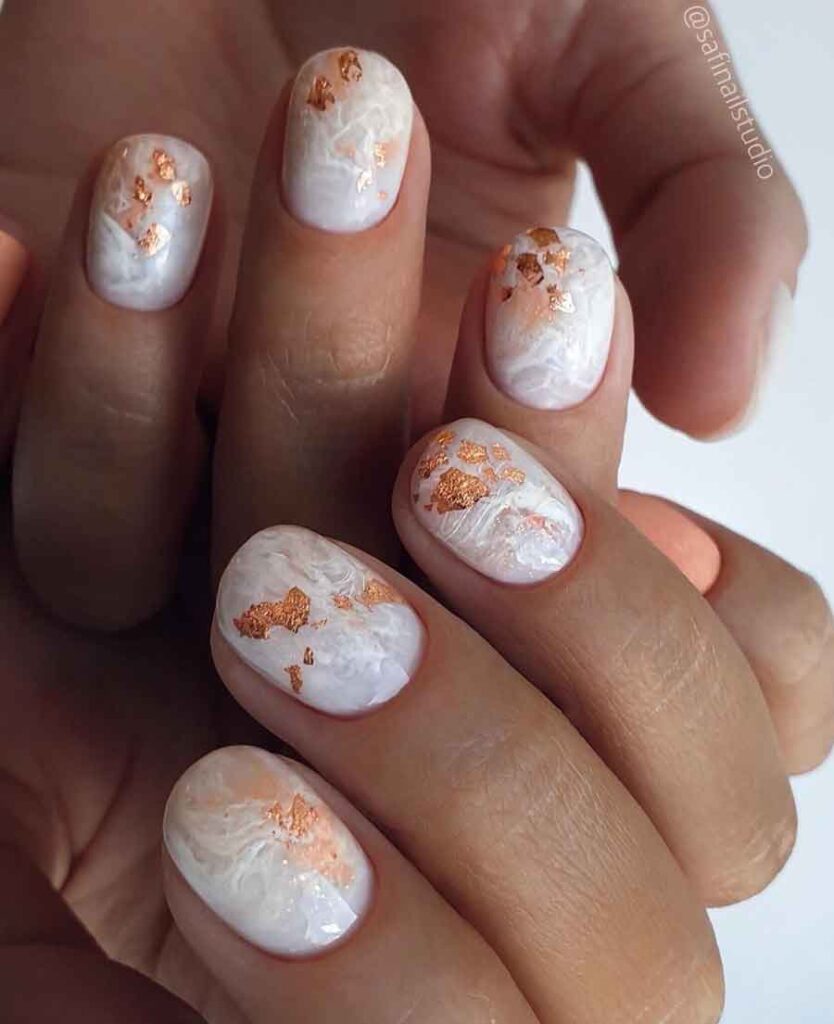 Gold foil flakes deliver the ultimate touch of Midas mood for me. You know, the king in Greek mythology that turned to gold everything he touched. Whether you have almond, square, long, or short nails, this will always evoke an ultimate classic luxury vibe.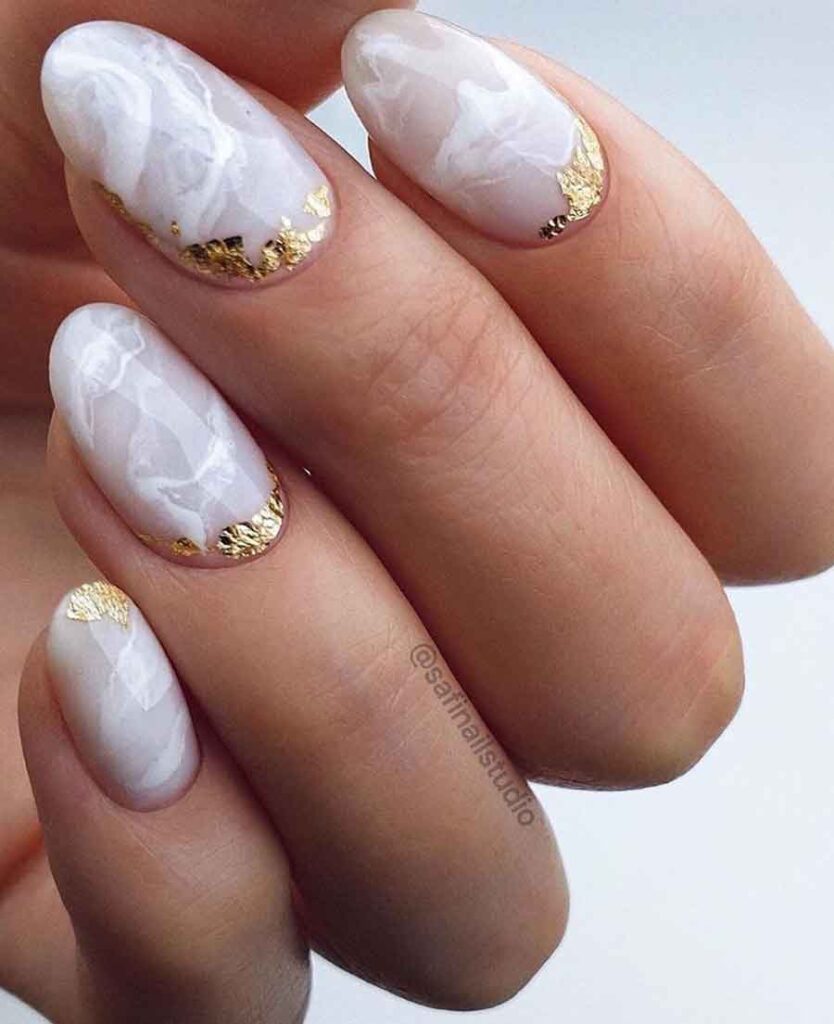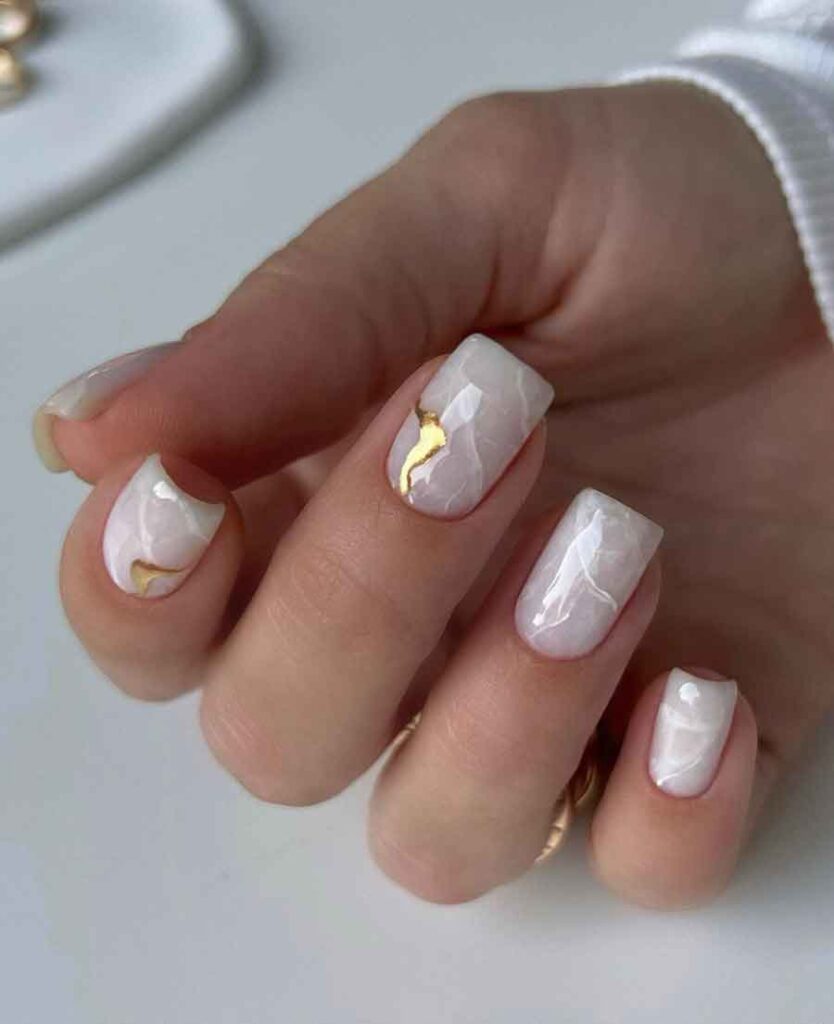 Black and White Marble Nails
---
Here we replace that ultimate feeling of cleanliness and brightness of the all-white marble with a much more powerful rich aesthetic vibe. The golf foil also adds to the feel of luxury, and the example below shows us that even some glitter is welcome.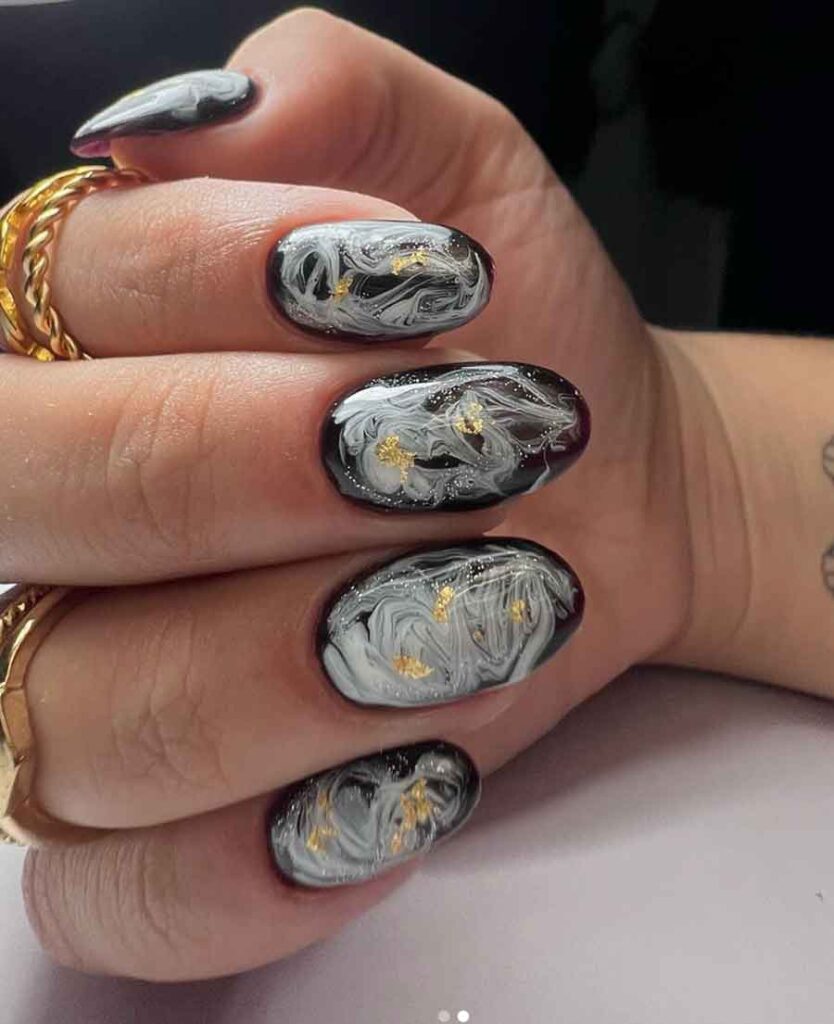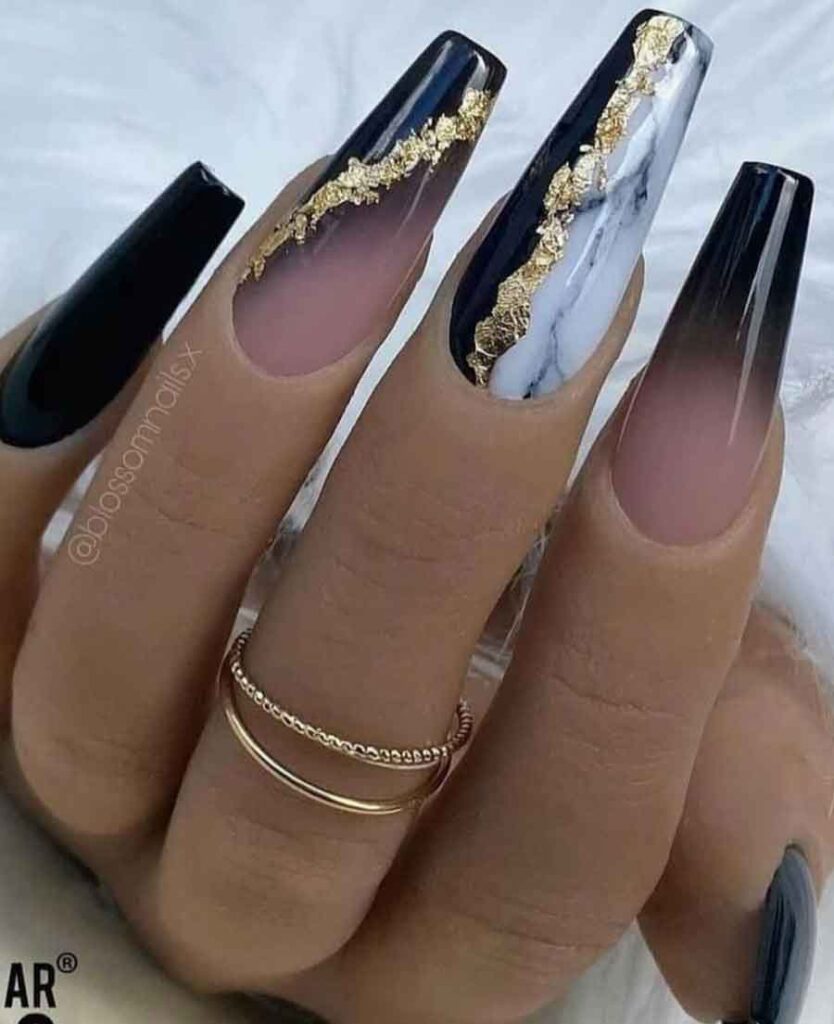 The marble veins in gold and silver are pure luxury.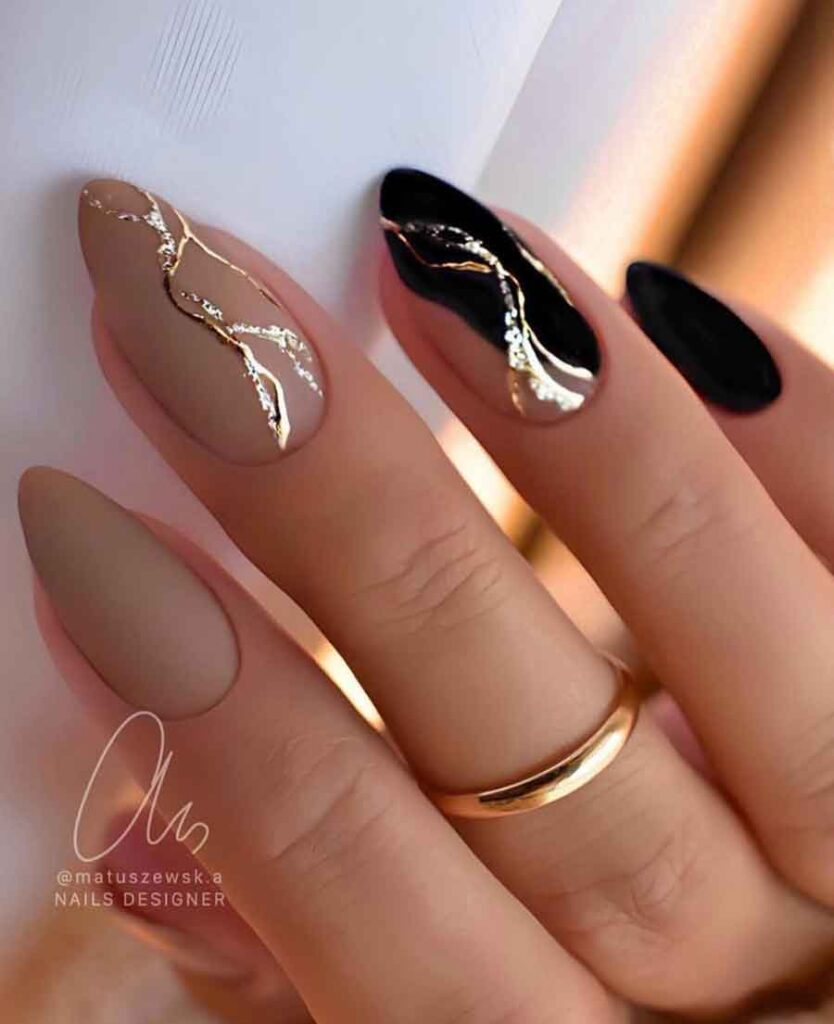 A more white than black art with only marble and nothing else on this coffin nail transports us directly to some ancient architecture mood.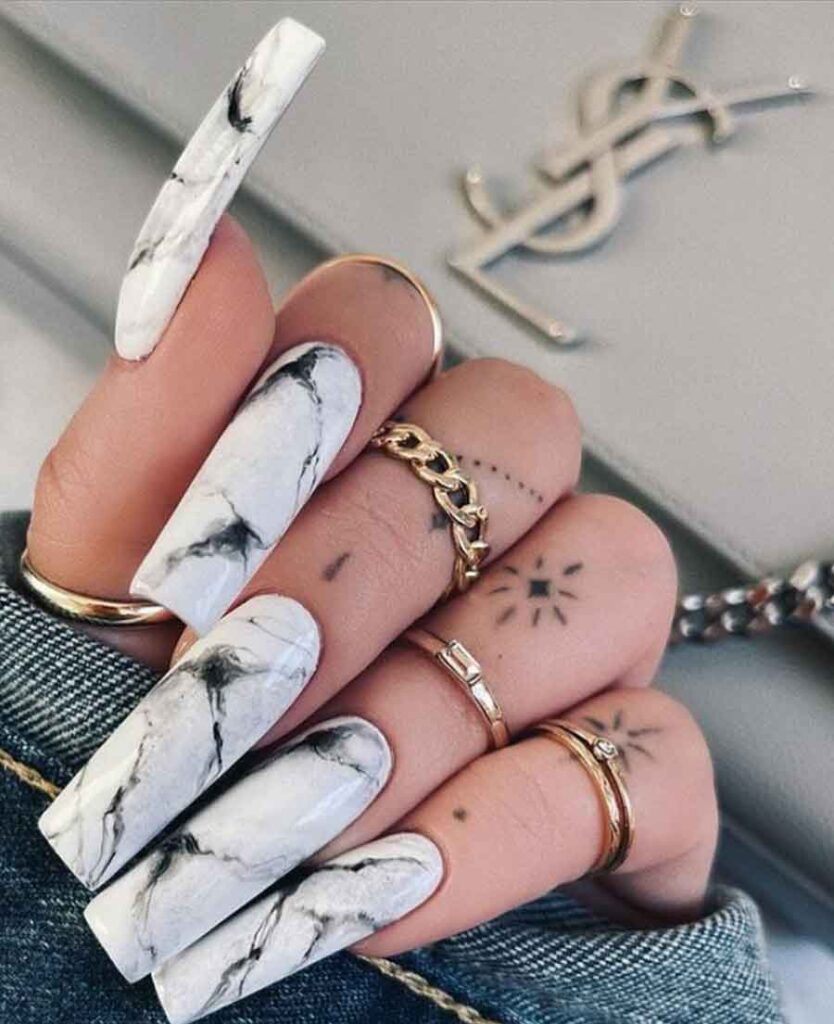 Moonstone-inspired design evokes a chic and mystical mood.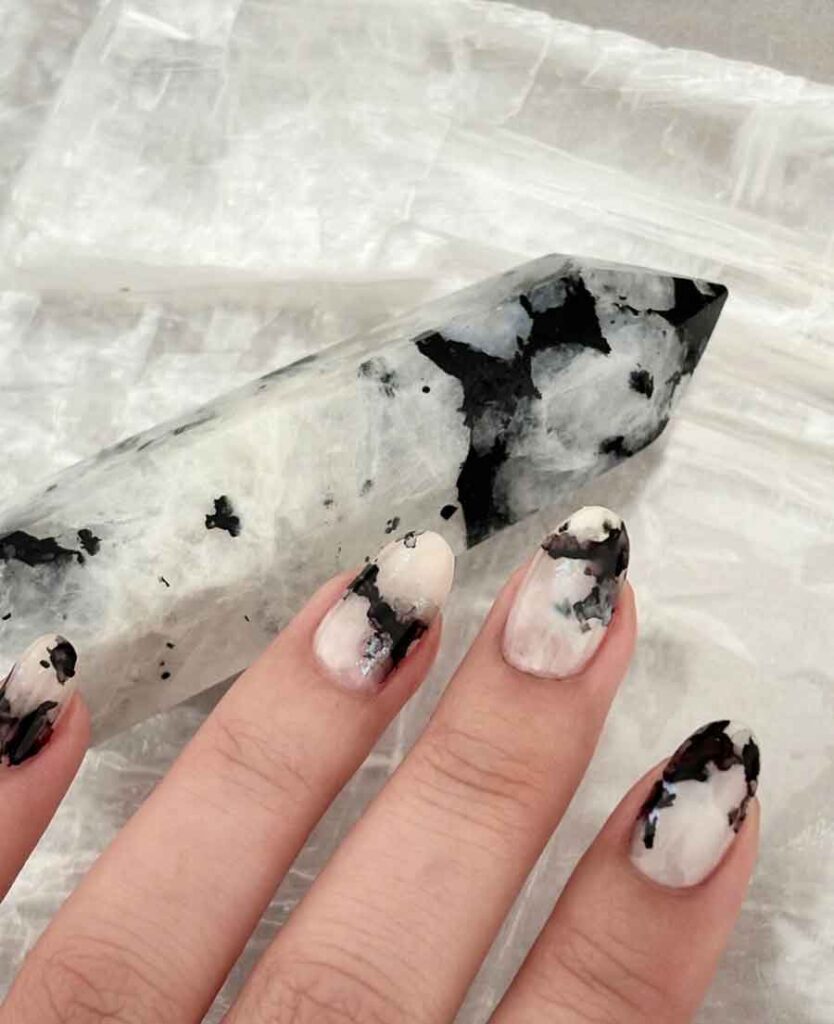 This one with black white and silver gives me absolute "I am the Rich Man" vibes.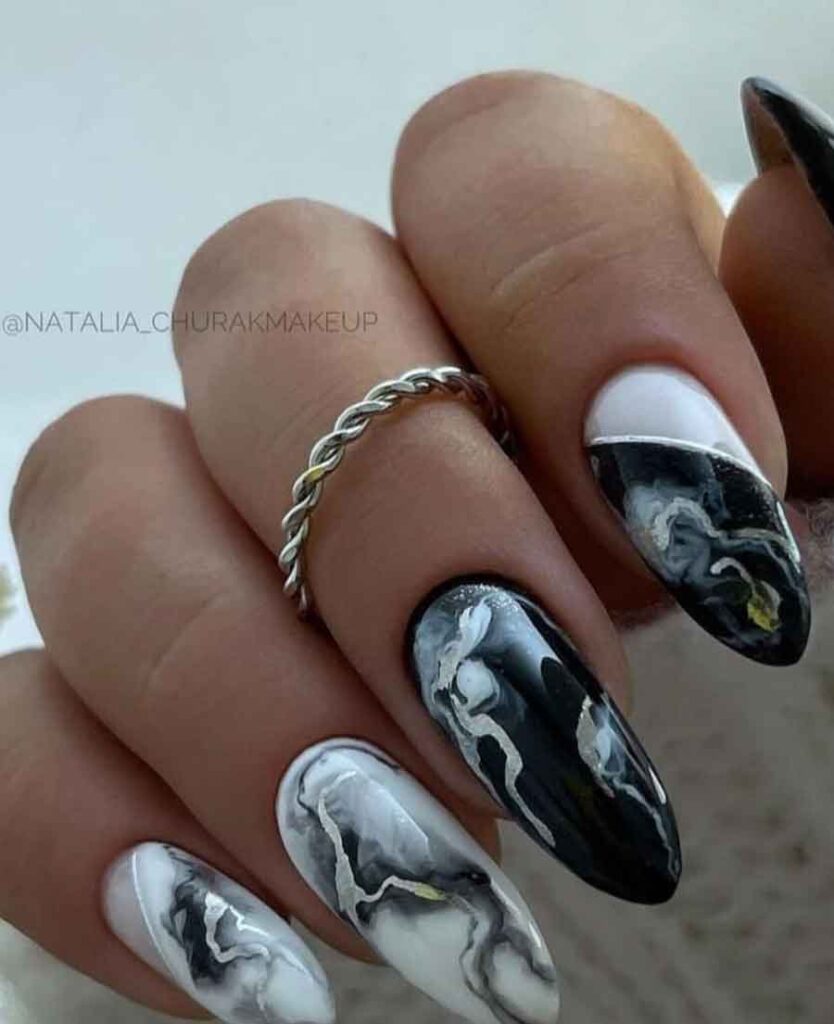 Marble nails with rhinestones and glitter mix the clean sophistication of marble with a touch of baddie extravagance.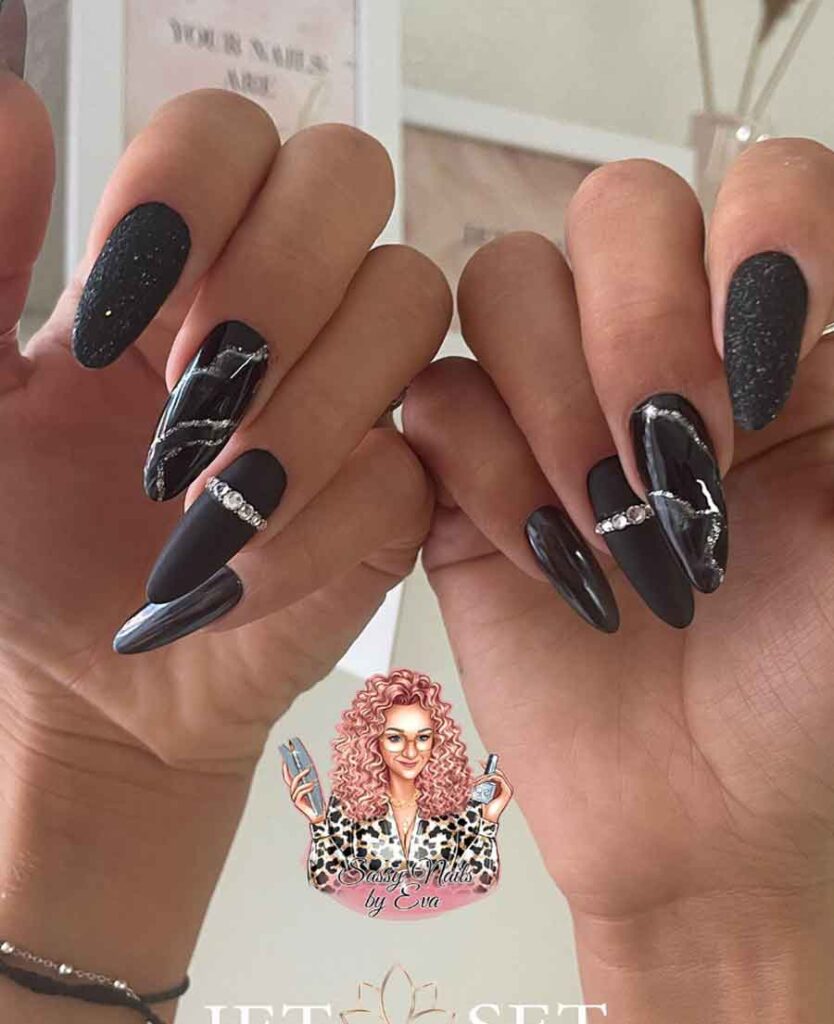 A chic and girlie mix of black white, glitter and pink.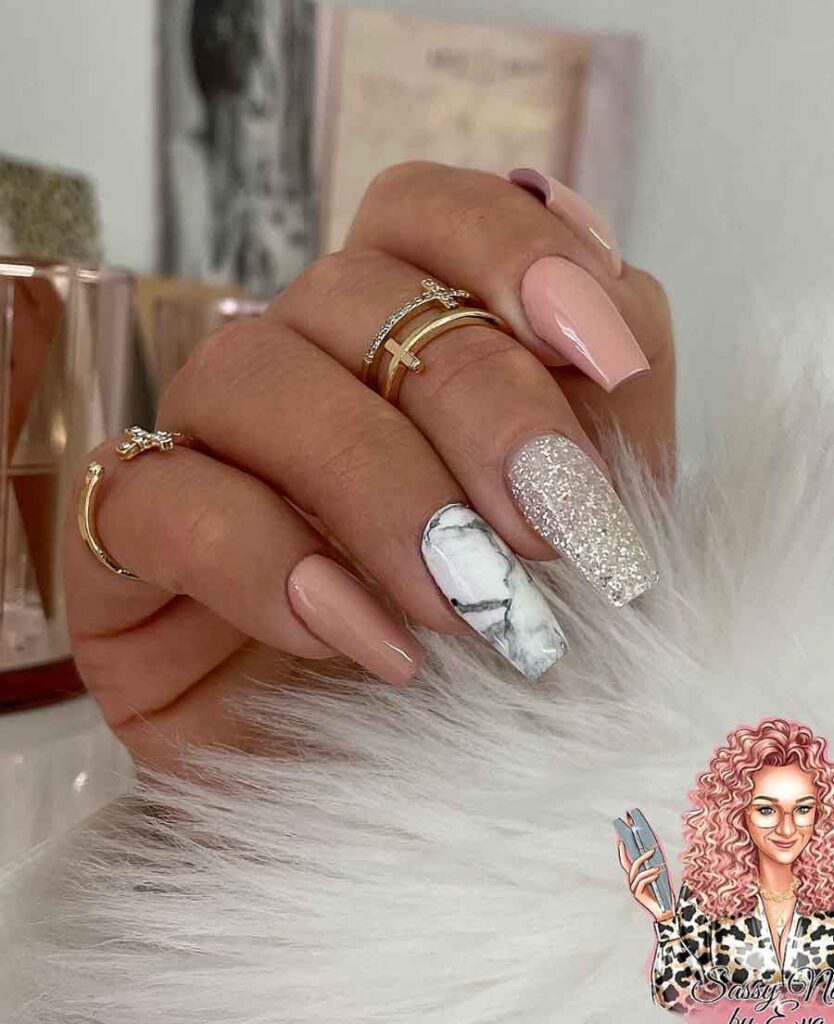 Grey Marble Nails
---
I love how uncommon this one is and still evokes a very chic mood, spatially due to the subtle silver details merged with the marble effect.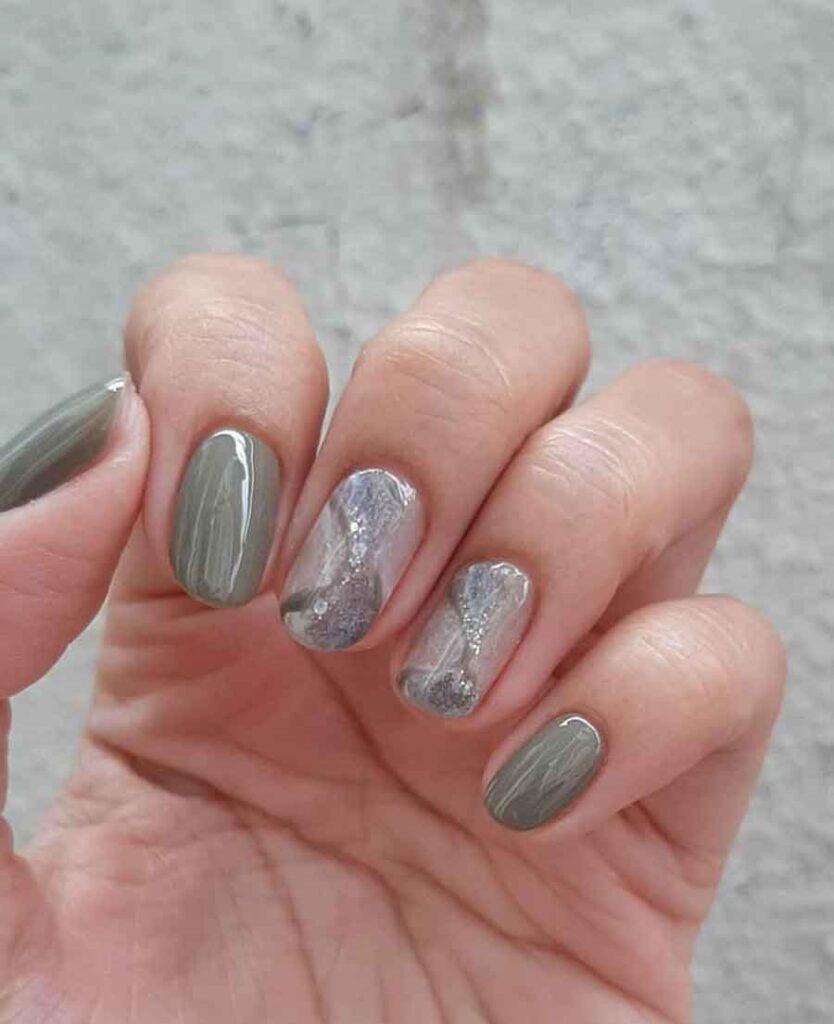 Pink Marble Nails
---
Can Pink still look super polished and chic? Well, it depends. The marble effect combined with it will always give an impression of sophistication. On the other hand, pink will also always be associated with feminine and delicate moods.
This mix of very soft, almost aged pink marble with rose gold foil is the proof that pink and feminine can be very chic and elegant as well.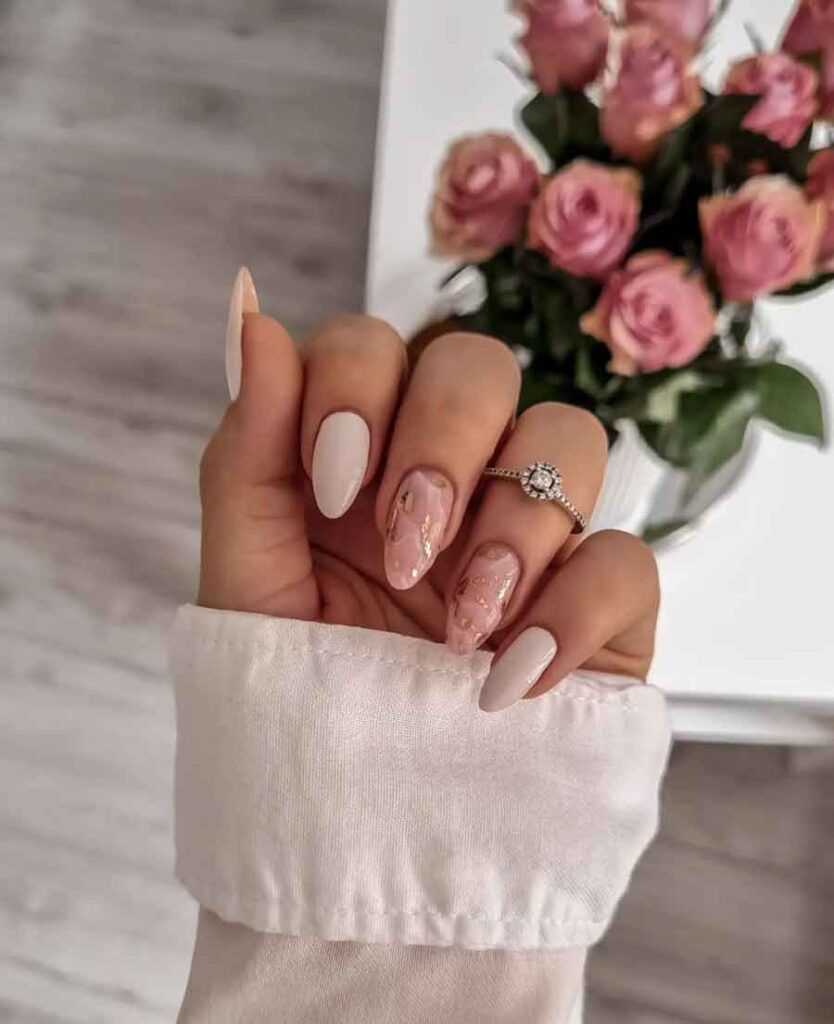 Milky white with rose gold marble is just stunning and absolutely glamorous and polished.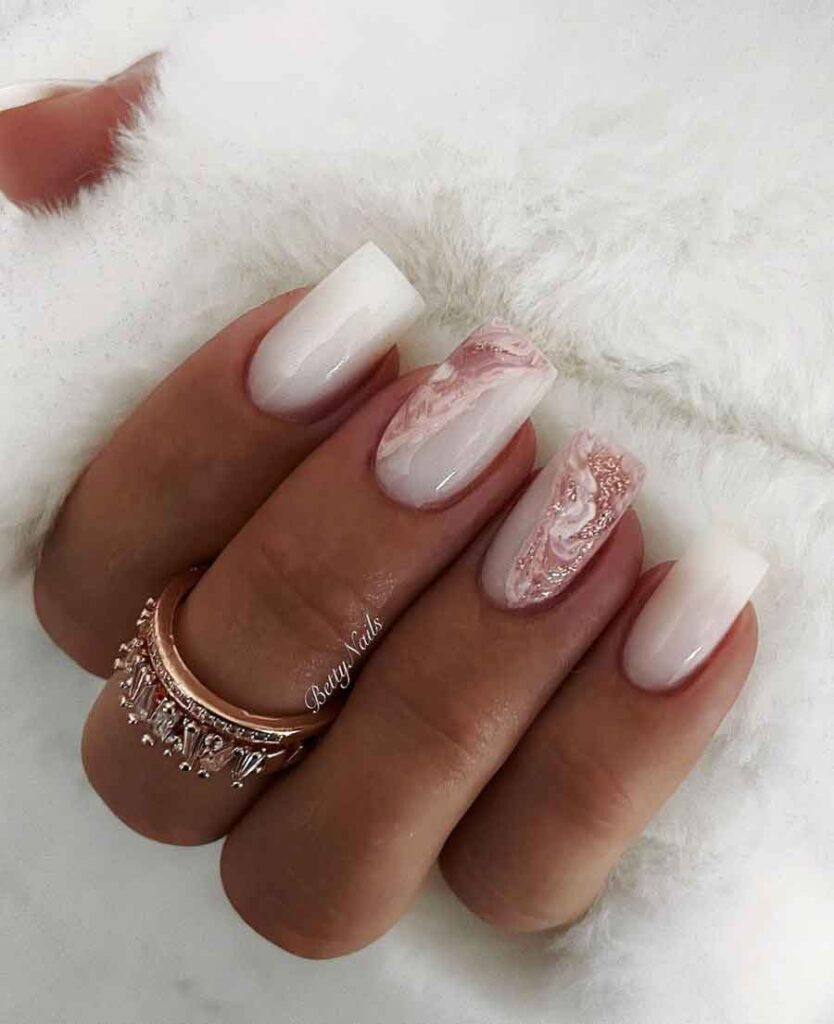 Less chic glam and more Barbiecore vibes are what you will get from hot pink marble nails.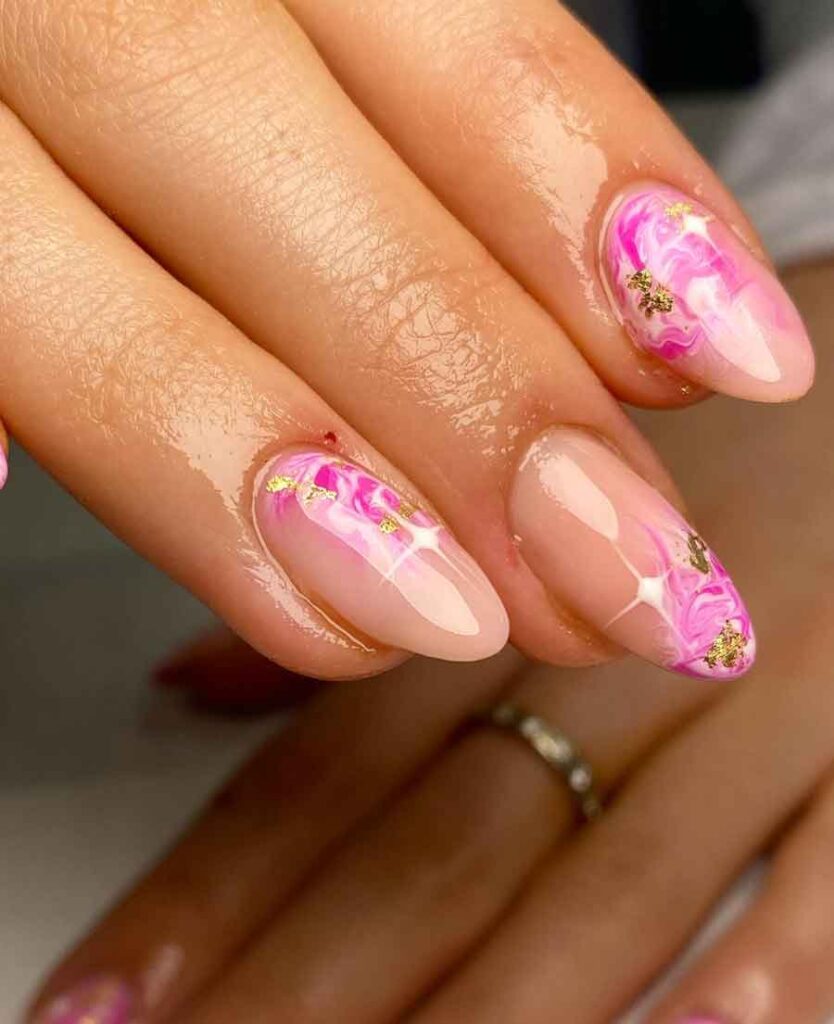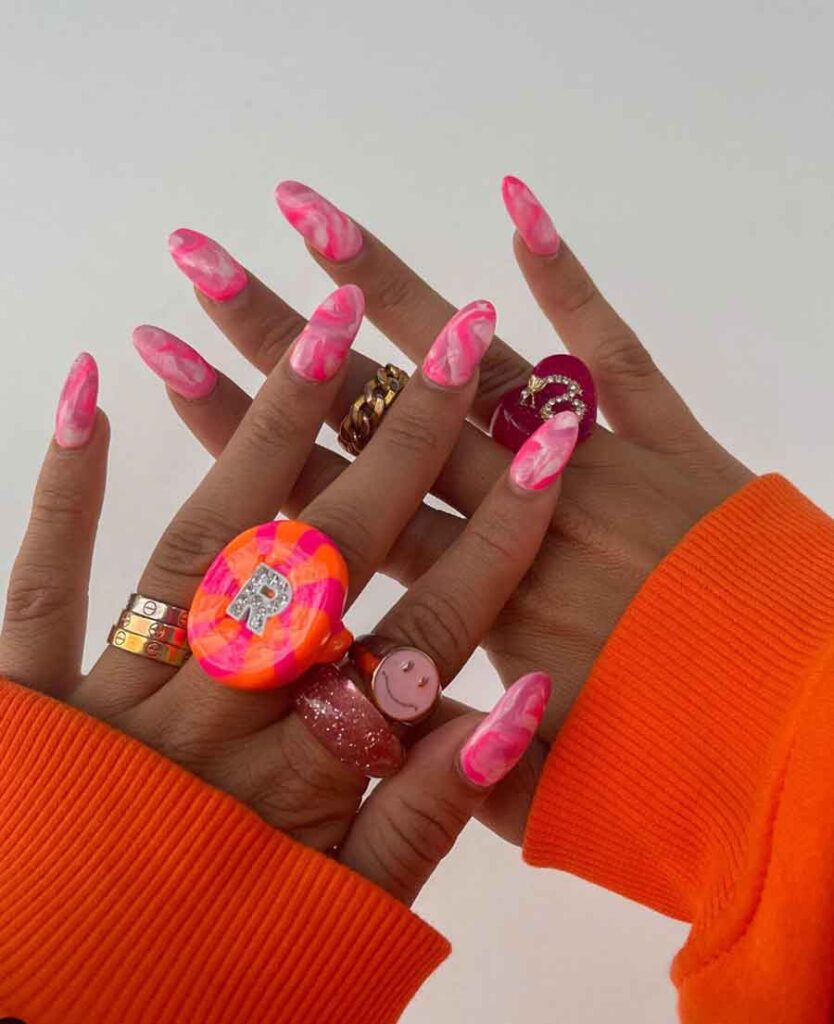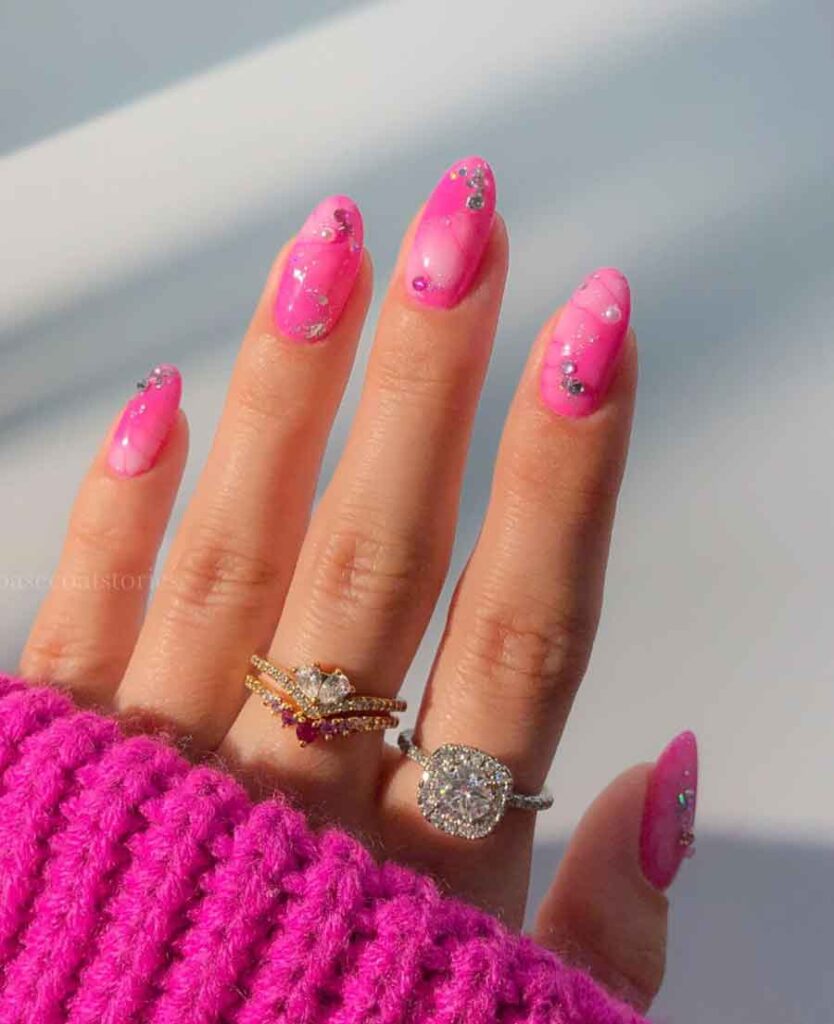 Blue Marble Nails
---
Can a woman communicate that she is chic and sophisticated yet a dreamer? These light blue marble nail arts with a cloud effect prove that yes, she can.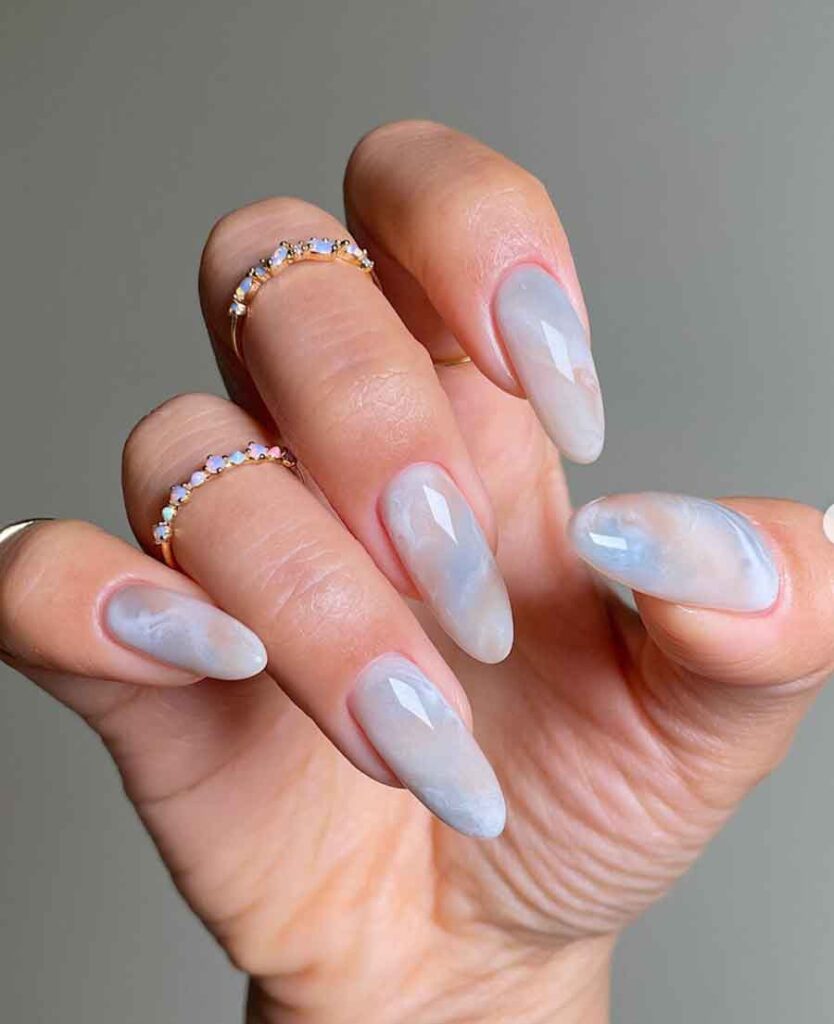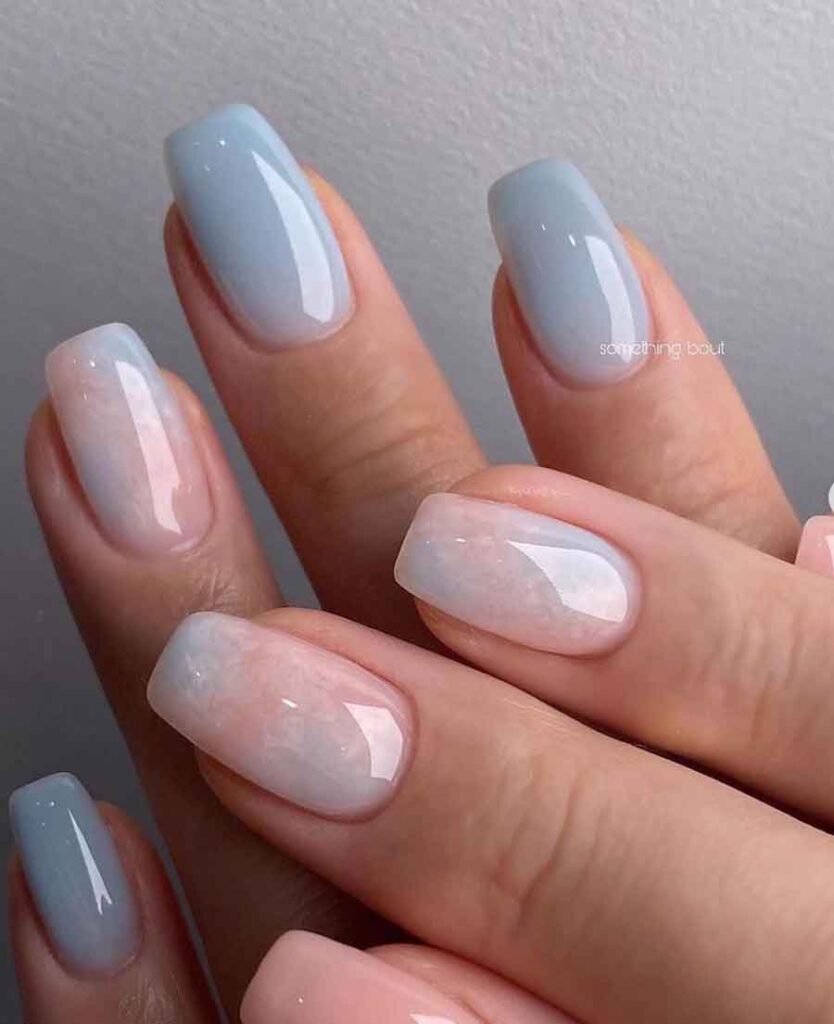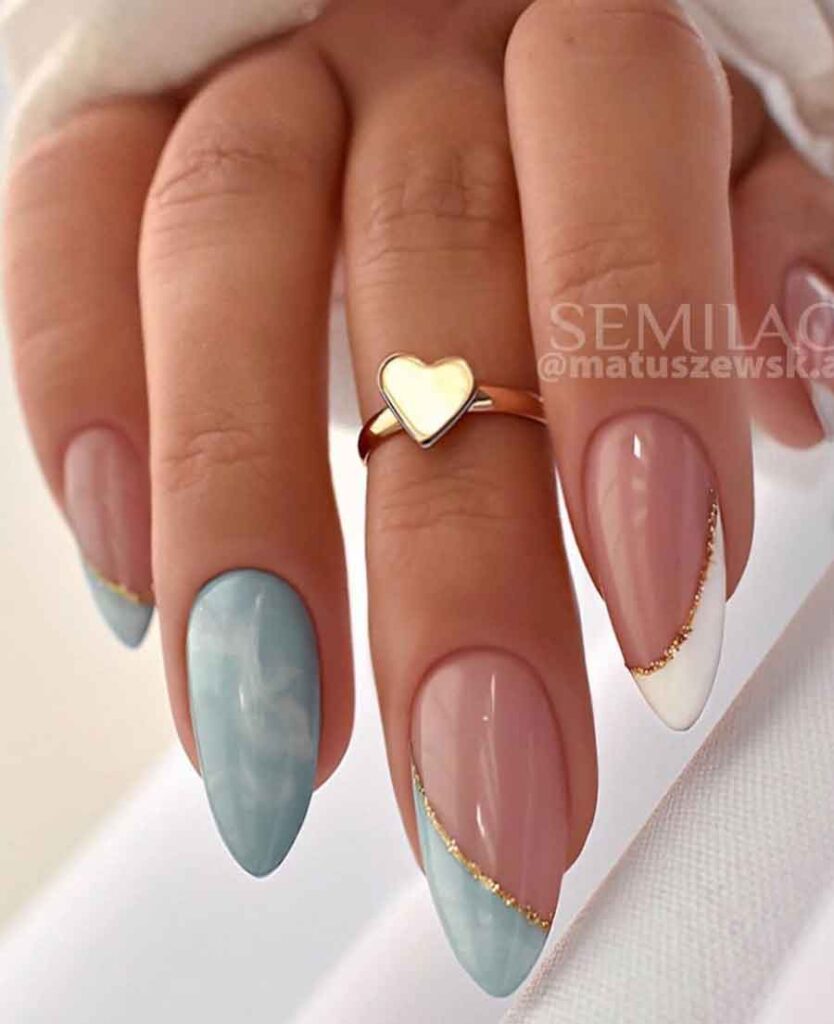 A darker shade of blue with white avokes this wonderful lost-in-the-ocean aesthetic.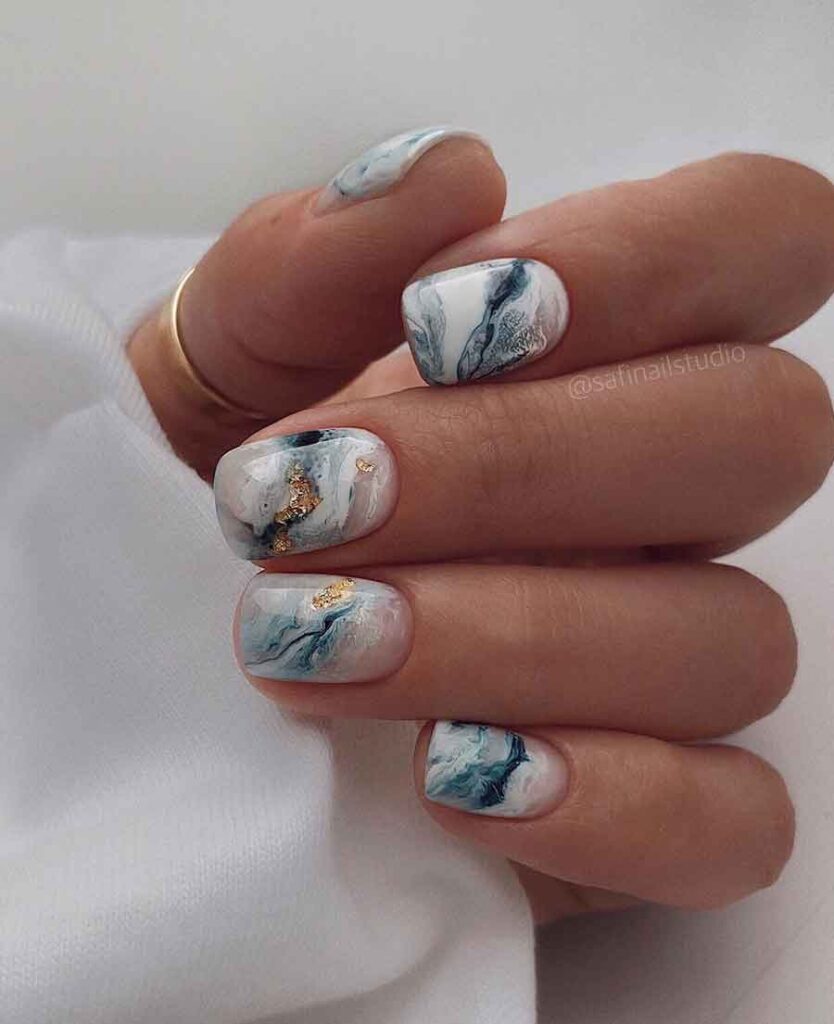 A very soft blue merged with soft pink marble on short nails for the ultimate cute and dreamer yet sophisticated appearance.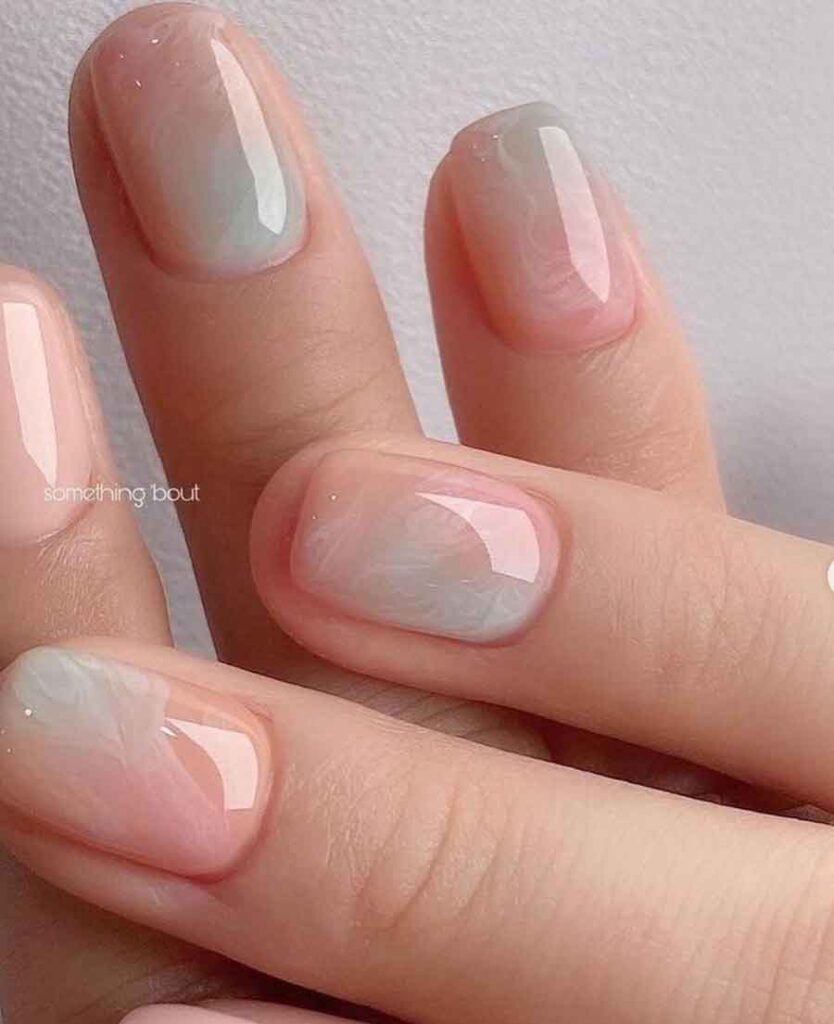 Green Marble Nails
---
Another unpopular color when it comes to marble nails and is surprisingly elegant. The light green will evoke a mood of peace in your already chic and polished nails.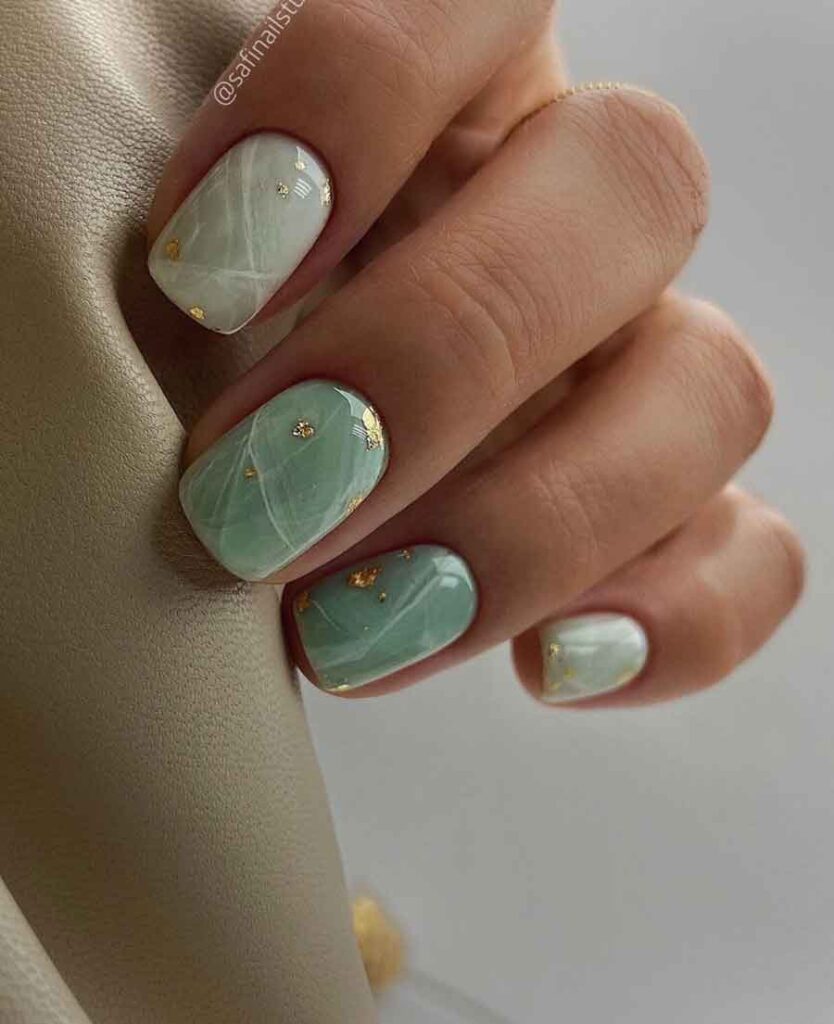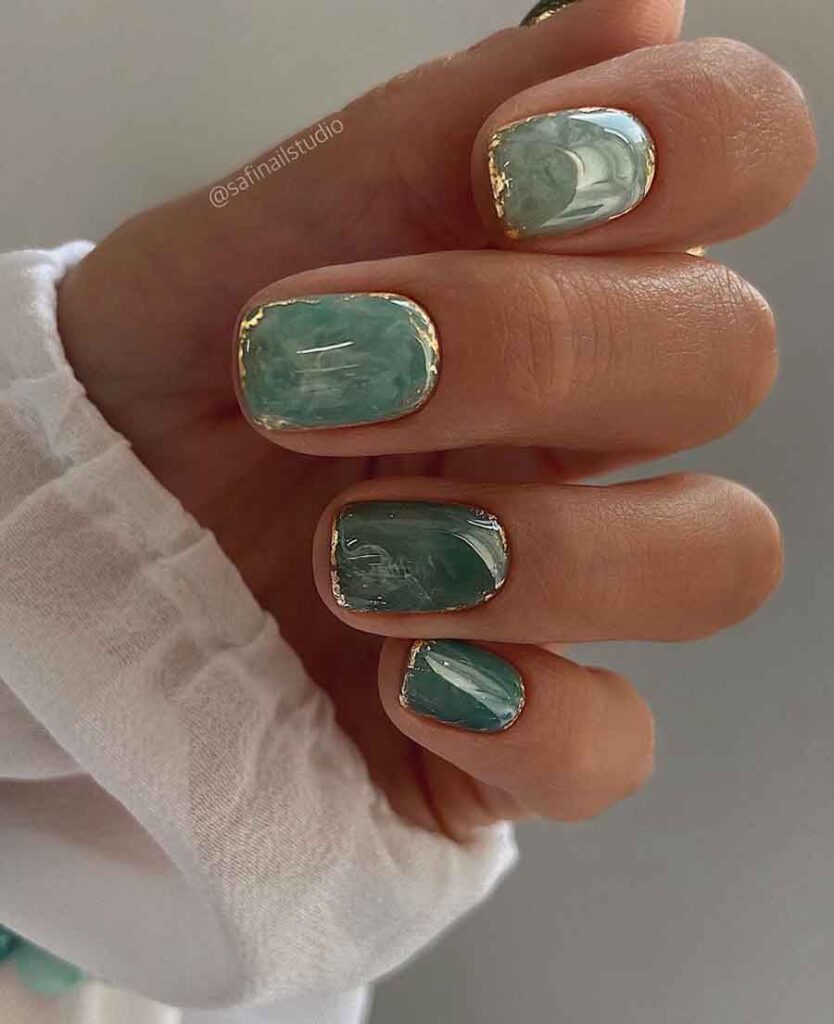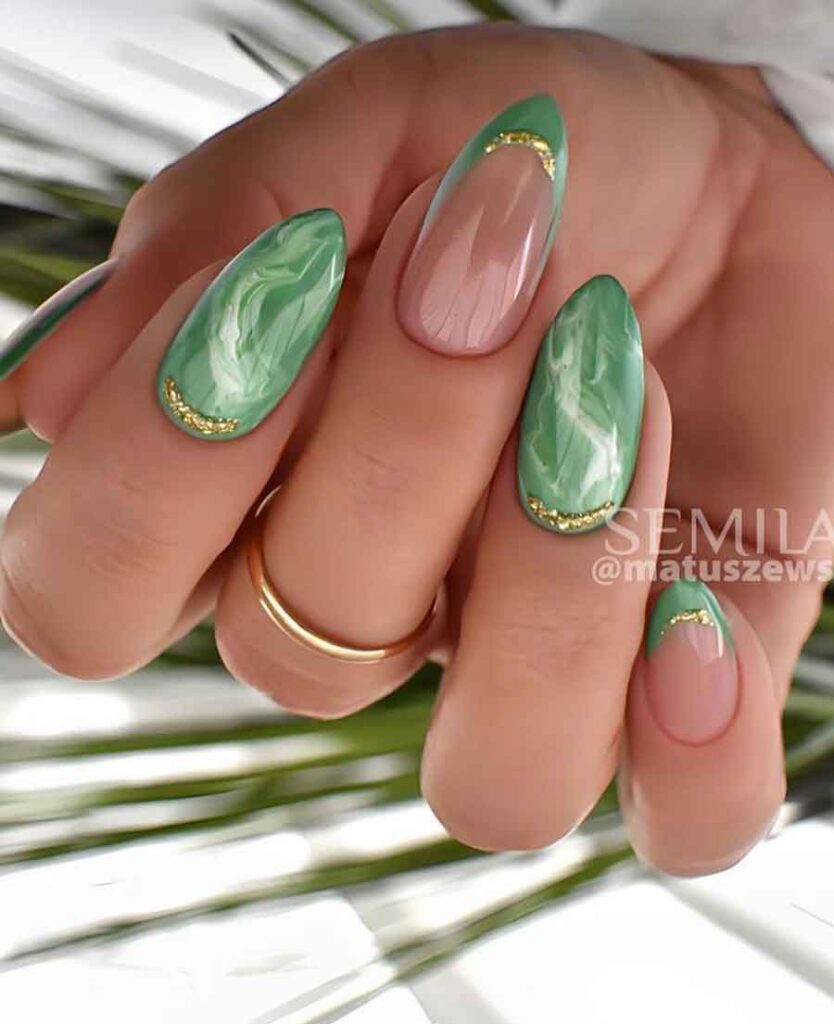 Emerald green (or jade green) in the marble nail art is, for me the ultimate powerful rich, and elegant aesthetic. If you love this color like me, check out these 30+ Sophisticated Emerald Green Nails Design for Winter and Emerald Green Jewelry & Hair Accessories To Inspire Your Slytherin Mood. And even though you are not a Harry Potter fan, in this post about the Slytherin Aesthetics & Outfits to help you Embrace your Ambitious, Cunning and Determined Self. I explain how appealing and powerful this shade of green and the symbols associated with it are.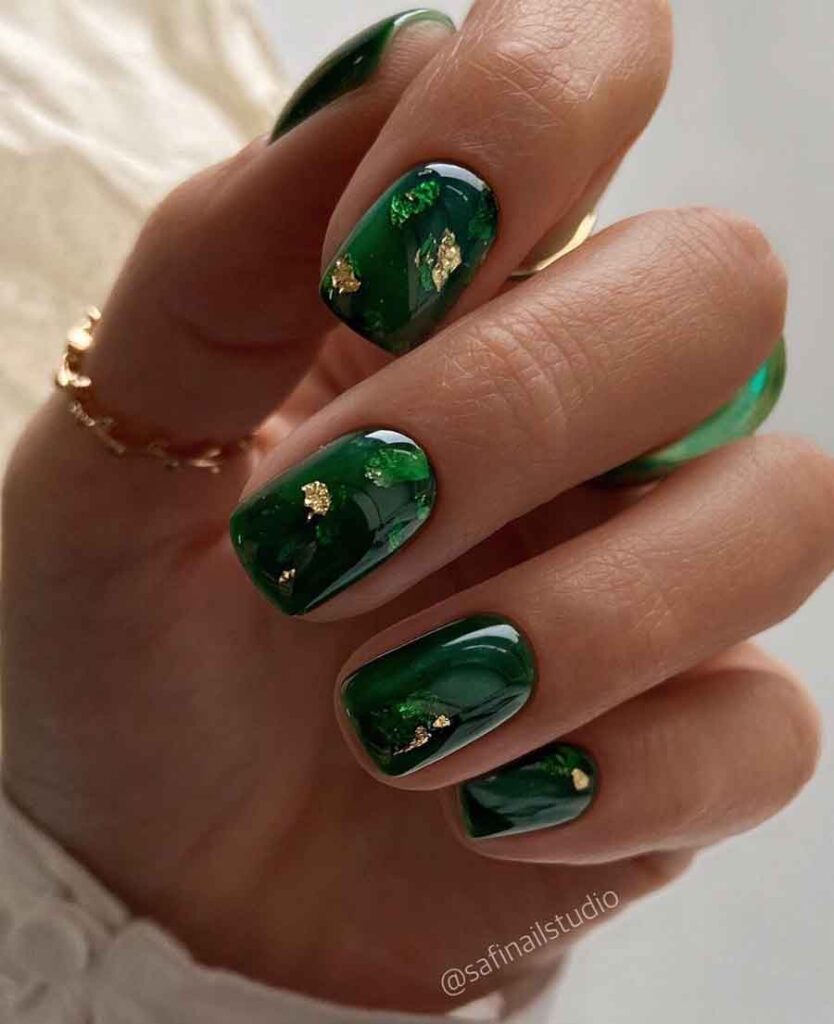 Purple Marble on nails
---
Light purple is a very dreamy and feminine option for your chic marble nails.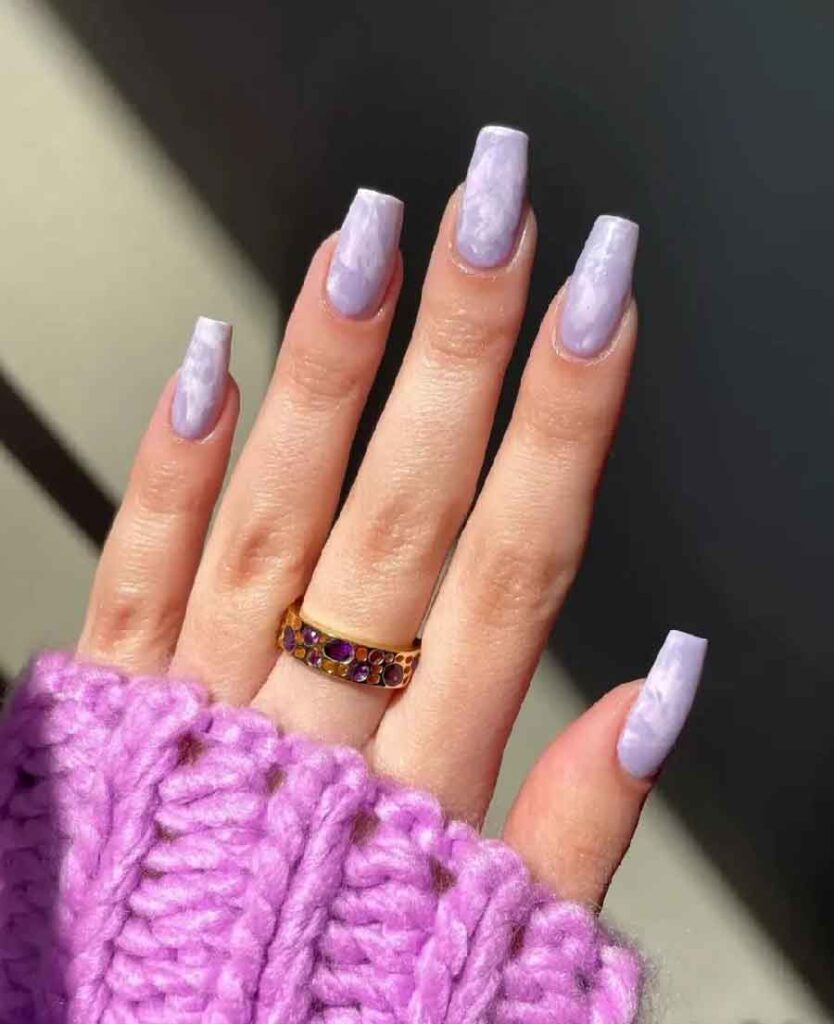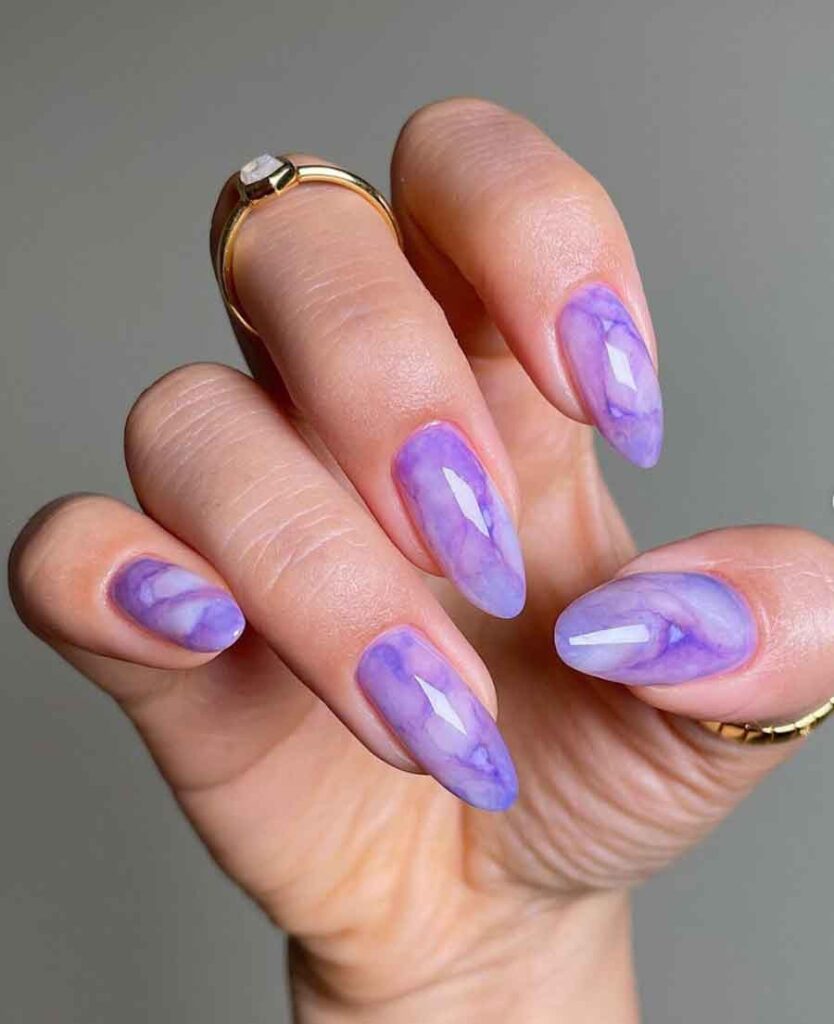 I really like the ombre effect here.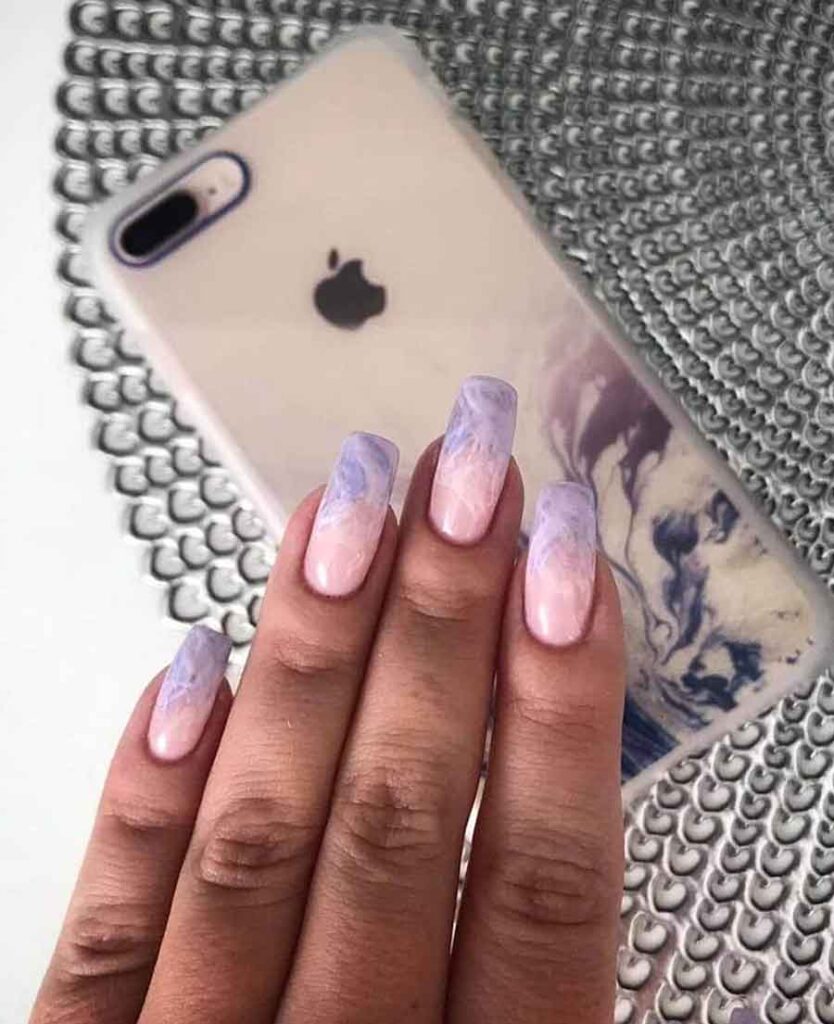 And a witchy mystical vibe is what you will get with this gorgeous mix of gold foil, black white, and purple marble effect.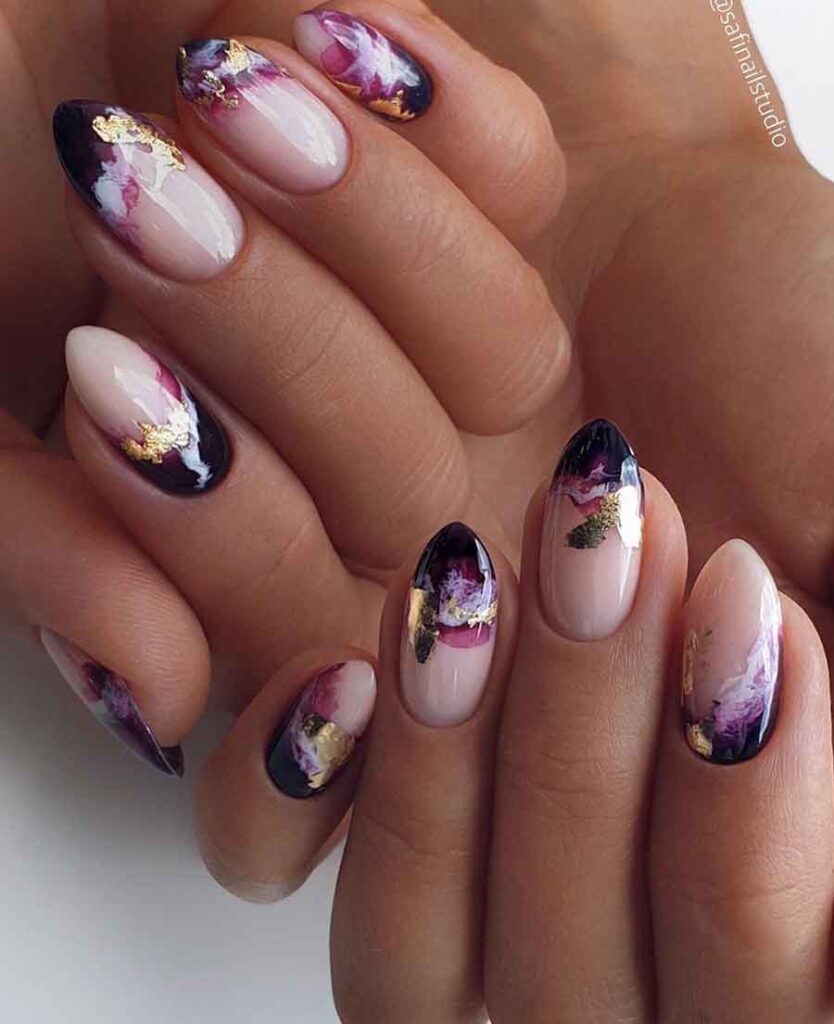 Marble and silver on French tips mixing purples and pinks. Below, I show this great tutorial by @heygreatnails on how to make marble nail tips.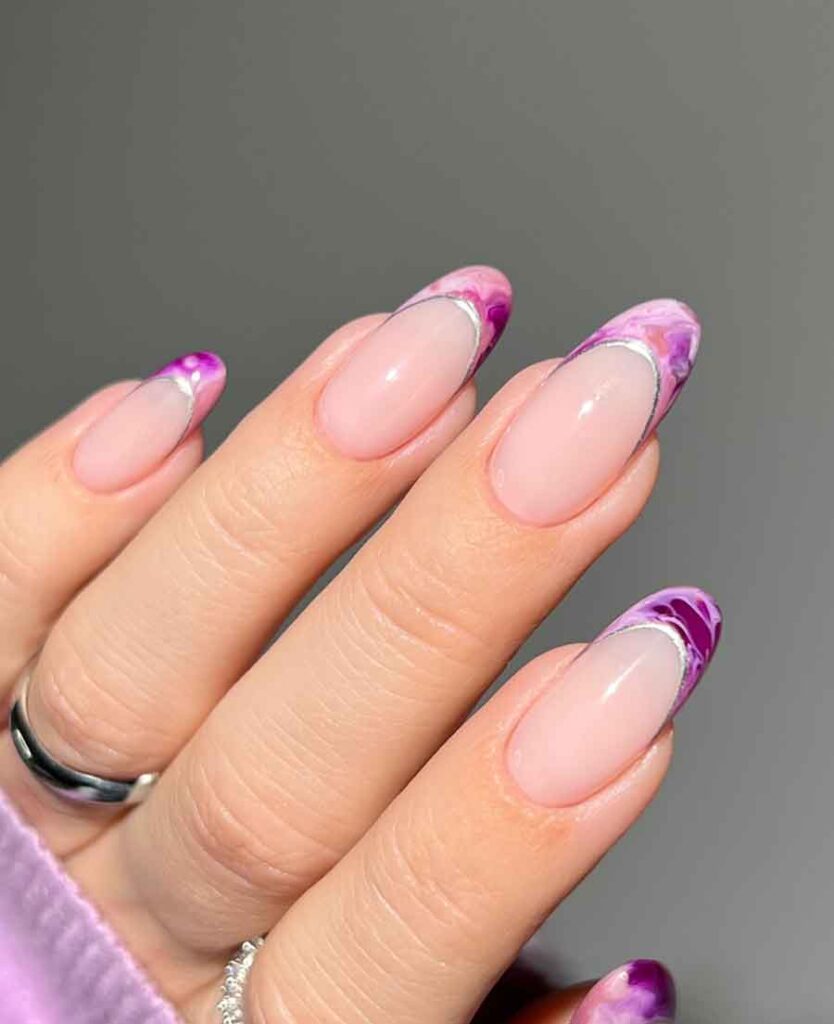 ---
Brown Marble Effect
---
We have already made a post only with brown nail designs. This color evokes luxury to its core, just think about Louis Vuitton branding, for example. Below I selected some marble nail art in light brow and chocolate brown that irradiate pure polish millionaire feelings.
This brown pumpkin spice with glitter gold is a beautiful chic fall nail idea.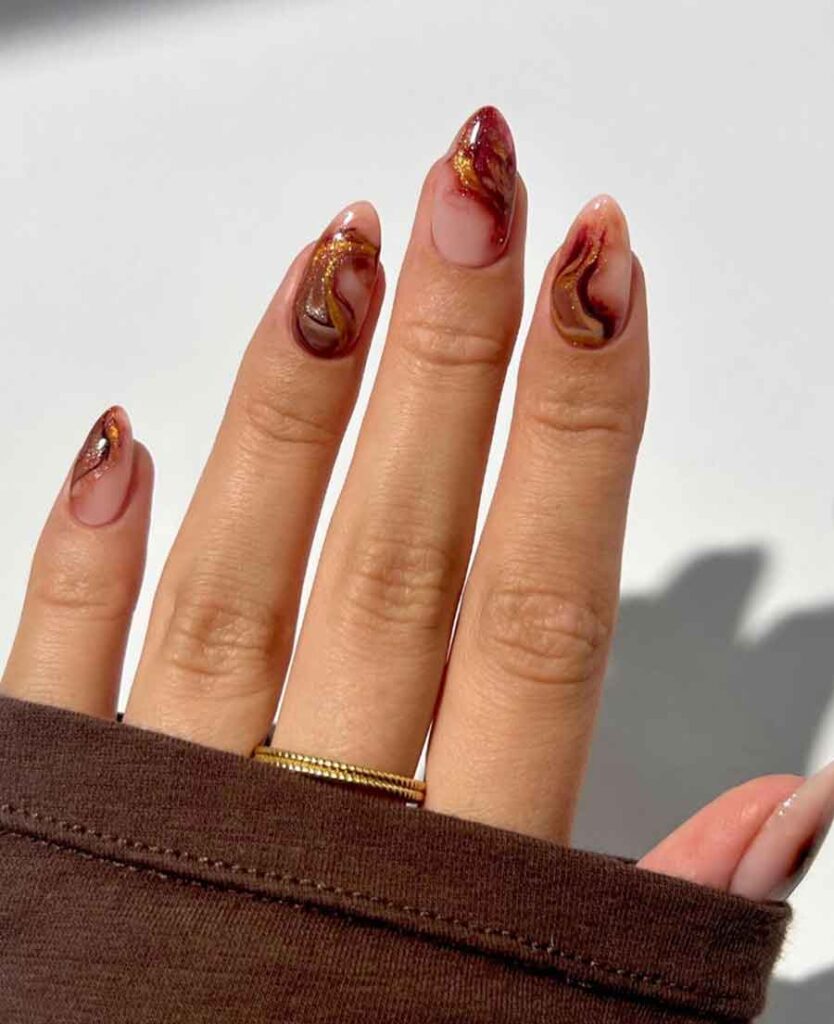 Matte brown nails with gold, white, and brown marble. A piece of art!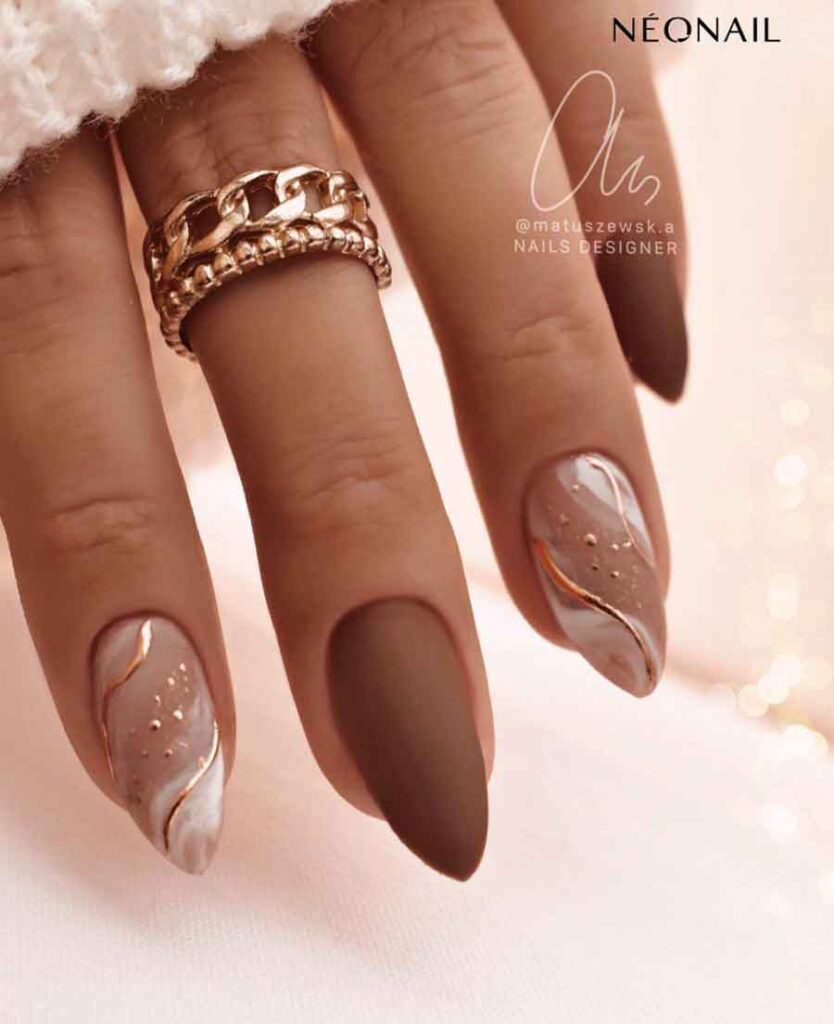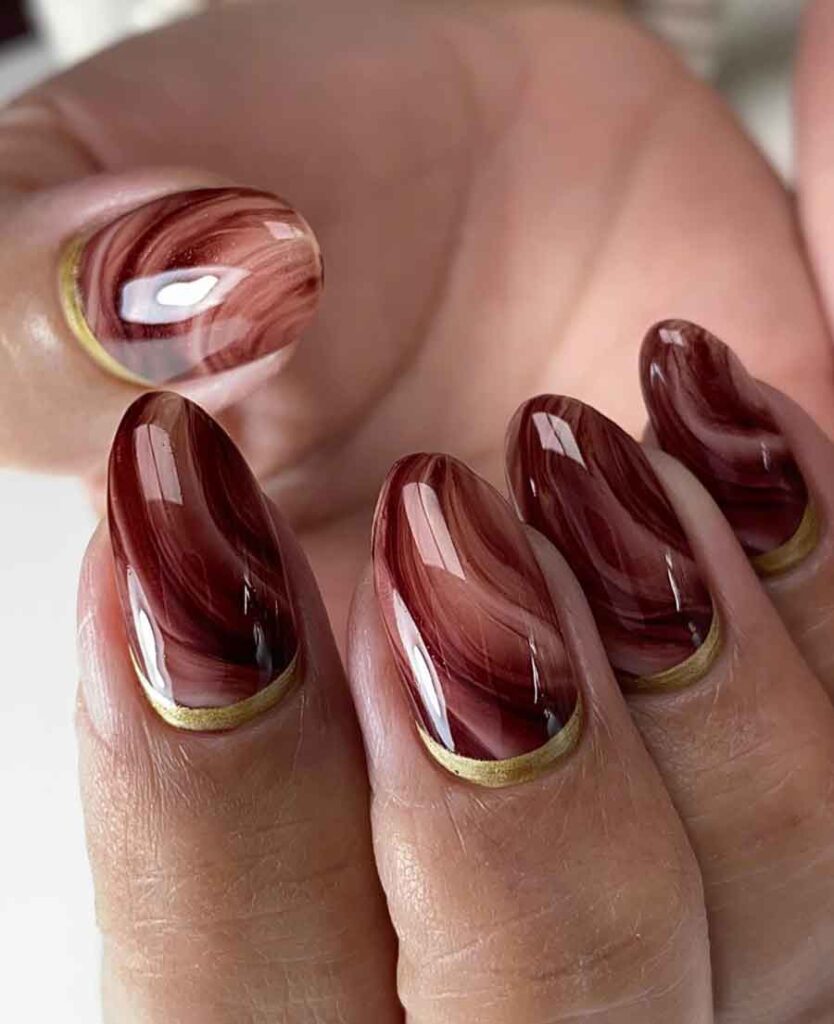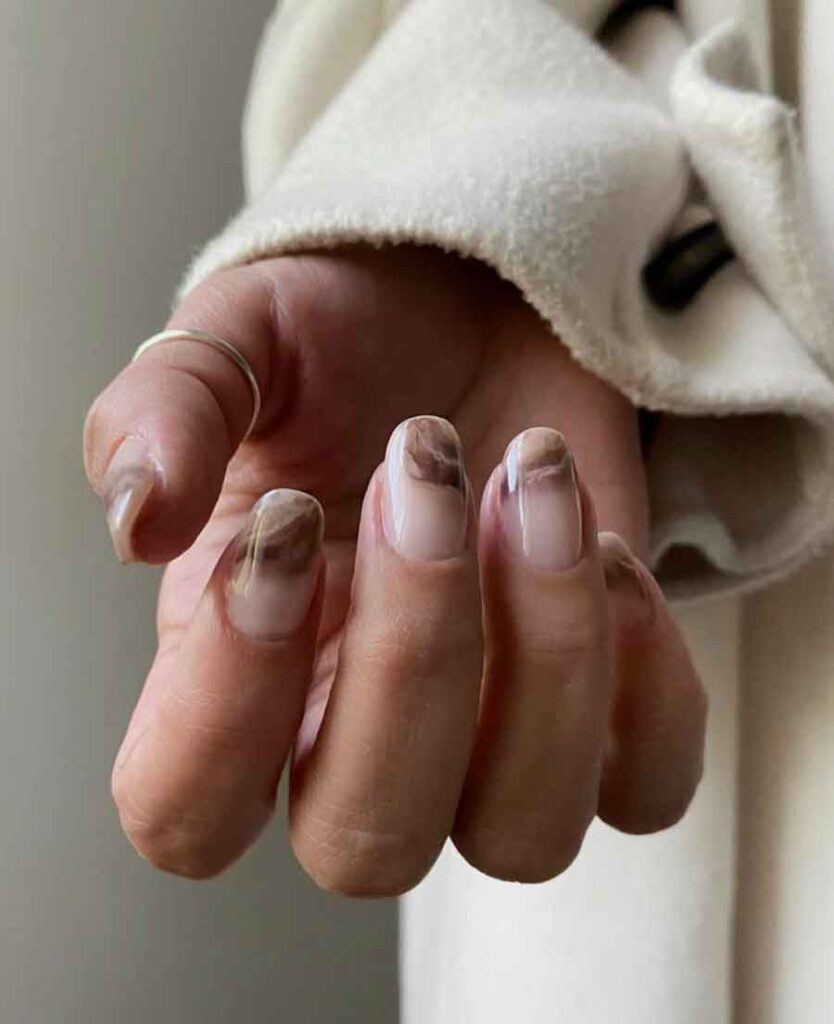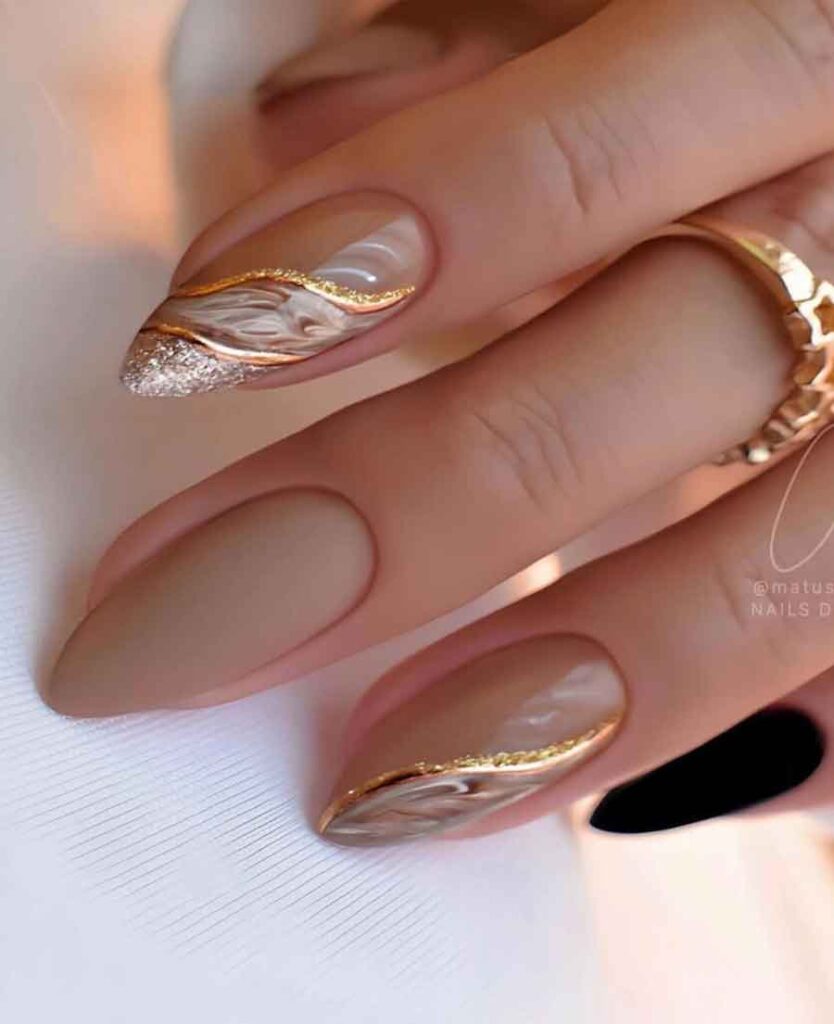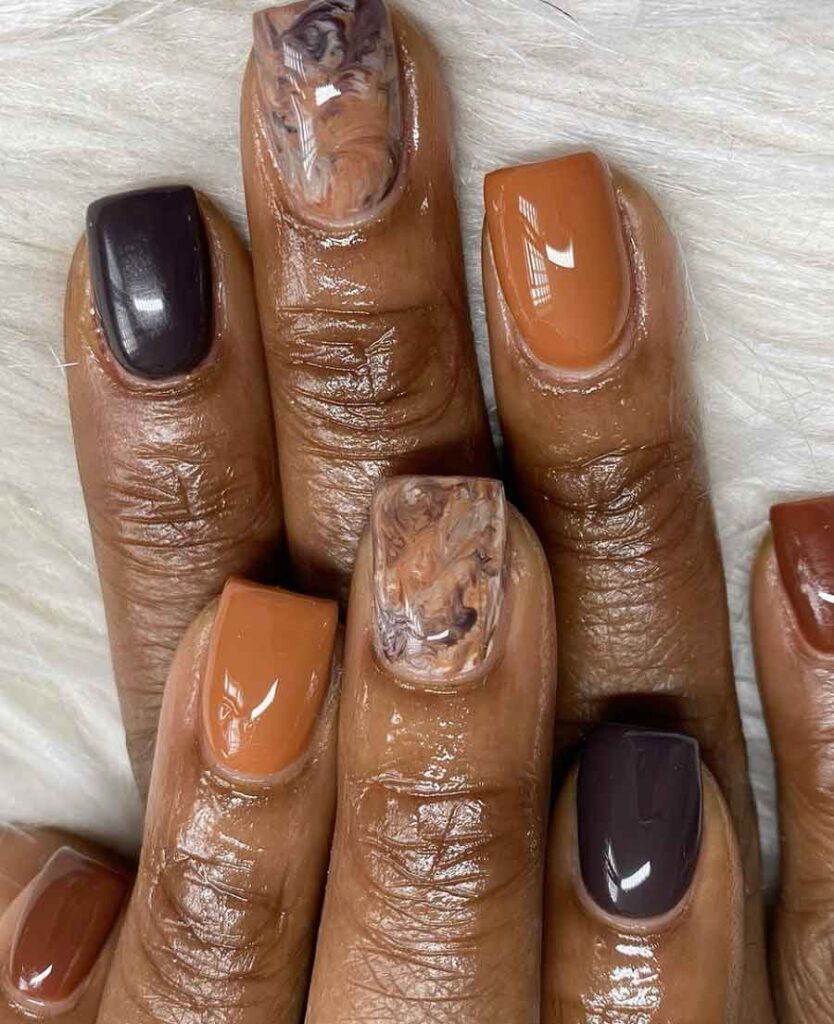 Nude Marble
---
The white marble effect over the nude nail is a very chic option and also not as common as black and white when it comes to ultimate chic minimalism. See the effect of nude nails when it comes to chic aesthetics here: 50+ Chic Nude Nails Ideas and Inspiration.