☾ Affiliate Disclosure: The Mood Guide celebrates women's moods and versatility. Even though we may earn a commission from some of your purchases, we encourage you to shop with the right intention. Focusing your energy on what you feel confident and comfortable in is empowering! ♥︎
---
Think of the smooth touch of satin embracing your skin after a warm bath by candlelight. Or the hide-and-seek game of the lace against the yellow light. Naturally seductive, right? Whether you need to channel your femme fatale archetype for yourself or for someone else or you're living your Baddie aesthetic era, sexy robes are an instant mood maker. From the honeymoon to a solo play night, putting on a sheer robe is an act of seduction, no matter who you are with. So, for this post, I picked some of the sexiest robes from our reader's favorite stores according to how they interact with this sexy lingerie post.
I hope you have a fantastic time browsing through my picks and that you can connect with your core needs.
---
Custom Sexy Long Robe
S – XXL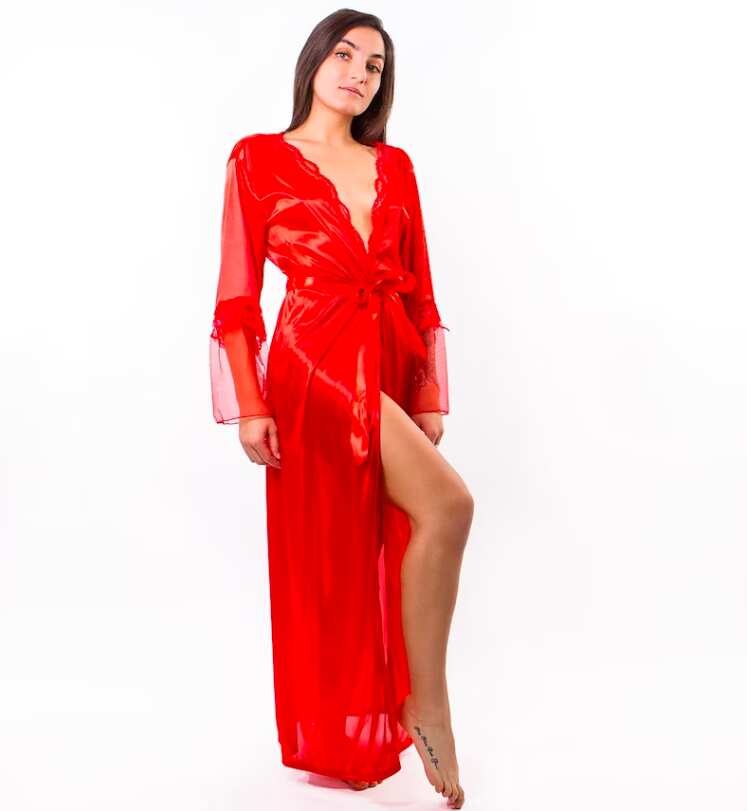 from $11.99
Shop at
Wow, wow, hello, hello, queen. This long sheer robe is also available in white and black, both very sexy. However, the red one is over the top. Since I started my journey of healing my divine feminine, red has become my favorite color. For me, it embodies the female power of connection and intuition. When I look at this picture, I see a warrior goddess, ready to love and be loved.
---
Sheer Floral Robe
XS – XXL
$119.95
Shop at
Who said that a girly girl can't have a baddie sexy side? As a matter of fact, we all have many aesthetics and archetypes that manifest or we can summon according to what life is asking of us. It's one of our female superpowers.
So, I feel like this black sheer robe with colorful flowers embodies this complexity of the feminine soul; sweet and sexy, powerful and delicate.
---
Black Frill Satin Robe
S – L
$30
Shop at
Minimalist, yet sexy and romantic? Yes, girl. Your life is not a box with a label on it, no matter what the feminine magazines have been trying to tell us, our moms, and our grandmas since the 50s. We cycle with the moon, we bleed every month, and our hormones change drastically every 7 days so trying to fit us into any "stable" homogeneous label is a way to castrate our souls and creative power. It's a cheap one-way trip to mental illnesses.
So, if you are sexy, romantic, and minimalist or you like it, this is the perfect robe to embody that vibe.
---
Sheer Robe with Lace
Regular & Plus Sizes
$64.95
Shop at
When I was growing up, back in the 90s and 00s, fatphobia wasn't even a word because we were simply not allowed to be fat. The amount of shame and crap women have been enduring about our bodies over the years is revolting and disgusting.
Fortunately, a few things have changed ever since and even though we are far from having actual freedom over our bodies, I hope we are on the right path.
This sexy sheer robe with lace is available in 4 colors.
---
Black Lace Robe
S-L sizes
$260
Shop at
Whenever I put on my black lace robe, and I only wear it on very very special occasions when I feel like nothing else will demonstrate how powerful and sexy I feel, I also feel like a class-A Hollywood movie star.
I love how certain clothes have this magical power to transport us to a world of fantasy. Well, that's why I do what I do for a living. Learning how to listen to my soul and honoring that as much as I can in my everyday life saved my life and I hope it helps women everywhere.
---
Charmeuse Robe
Sizes: S – XL
$88
Shop at
Sexy and chic is one of my favorite combinations for seduction. On a daily basis, I am low profile and I walk bare feet in gym clothes all day. However, when I'm meeting someone I'm in love and attracted to or going out this sexy sophisticated side pops up.
My favorite ex-boyfriend used to say that I had 2 different kinds of beauty: my everyday beauty and my dressed-up beauty and they were both attractive because they showed the complexity of my soul. How beautiful is it, right?
This stunning sheer and satin robe is available in 6 colors.
---