Image: @jellinadetmar
☾ Affiliate Disclosure: The Mood Guide celebrates women's moods and versatility. Even though we may earn a commission from some of your purchases, we encourage you to shop with the right intention. Focusing your energy on what you feel confident and comfortable in is empowering! ♥︎
---
Genuine leather is one of the noblest and most durable materials for sofas. If you prefer a rustic and worn-out aesthetic it's even better. Because of its natural nature (I did it on purpose!), leather has different tones, marks, and signs that tell a story. Maybe that's why it's the #1 upholstery material for the Industrial style. It adds warmth and texture to any room and the final result is always unique. Go with the buttery full-grain and top-grain leather or distressed leather sofas to get this raw effect. And this is what you'll find in this post. Black, grey, and brown leather sofas with exposed structure and manual stitches, bold Chesterfields, modern sectionals, comfy sleepers, and L-shaped. They will match your exposed brick or concrete wall, and rustic coffee tables, balance out exposed beams and pipes and reflect beautifully the warm yellow light from your bare Edison bulbs.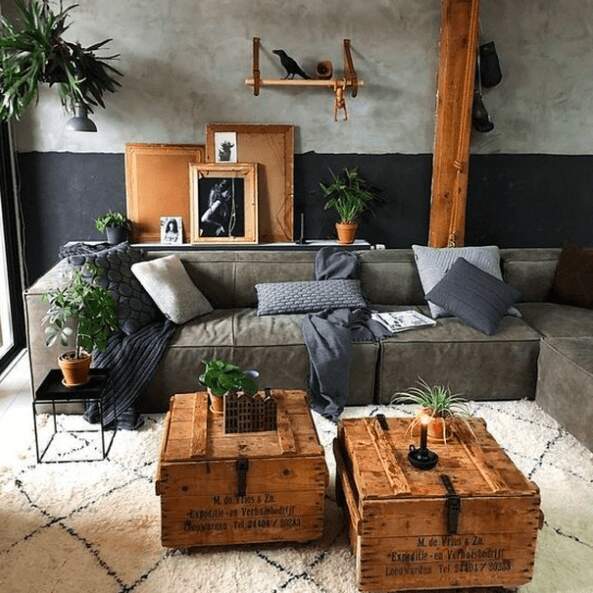 We selected only distressed leather sofas with great reviews. Also, it's hard to get the authentic time-worn aesthetic with faux leather, and I couldn't find a piece good enough to make the list. We understand that a genuine leather sofa is a big investment, so all sofas in this post are top-notch quality, comfortable, and made to last for many years.
Related:
---
And if these leather sofas are not what you're looking for, you can try the RH website! They have more distressed leather sofas than I've ever seen. It was impossible and unfair to choose only one! I hope you find the perfect, buttery, marked, distressed leather sofa to stay in your home for many years!
I typed #industrialliving on Instagram, where I found the stunning pictures for this post, and 90% of them were from European accounts and women's houses. Usually, the industrial style is more associated with masculinity, so it was such a nice surprise. Every stereotypical rich-charming-bad boy from the movies lives in a cool Industrial loft, right? It caught my attention because I feel like it may be a trend amongst women. After all the industrial style calls for the free-spirited adventurous mindset that was denied to us women for so long! More and more we are being encouraged to embrace our multidimensional selves. Like we always say, women are not crazy, women are diverse! Besides, the balance between curves and textures, boldness, and warmth, iconic from the industrial aesthetic, sounds very familiar to many of us, right?!
Stella