@homelisty
☾ Affiliate Disclosure: The Mood Guide celebrates women's moods and versatility. Even though we may earn a commission from some of your purchases, we encourage you to shop with the right intention. Focusing your energy on what you feel confident and comfortable in is empowering! ♥︎
---
Industrial coffee tables are the living room furniture that blends most of the old factory's texture elements. So, in this post, you'll find distressed and reclaimed wood, covered in marks and signs of time, reminiscence of worn-out crates used as storage in the factories. Also, rough materials like metal, iron, and concrete, could have been scrapped from factories' floors or were used as raw material in the manufacturing machines. And in all shapes, round, square, rectangular, with storage, with wheels, pipes, low, adjustable, and so on.
When we combine those elements with the distressed or exposed brick walls, original from the factories' open sheds, and distressed leather sofas we have that rich Industrial aesthetic that is so warm and nostalgic.
---
The Best Industrial Coffee Tables
Industrial Coffee Tables in Wood, Rustic & With Wheels
---
Rectangular Rustic Industrial Coffee Table With Wheels
16.53" H x 35.43" L x 23.62" W | Solid wood, Iron
$499
This dashing coffee table mixes distressed solid wood with metal finishes in a clear reference to old factories' machines and ambiance.
---
Round Industrial Coffee Table With Iron Pipe Legs
8 sizes from 18″to 60″diameter | Solid wood, Iron
from $266
This very industrial coffee table is a bestseller on Etsy. The top is handmade of distressed solid wood and iron pipes. It's a conversation starter and a compliment catcher. The reviews are raving!
---
Industrial Wood Coffee Table With Storage
36″x26″and 50″x26″ | Solid Mango Wood, Reclaimed Iron
from $599
If you're not ready to commit to the industrial style completely, but you have a crush on it, this coffee table from West Elm is your match. It's a bestseller in the store. A smooth combination of sustainable solid mango wood with blackened steel legs and storage reveals itself on the pop-up top. It's available in 2 different sizes and 4 colors, including black.
---
Reclaimed Wood & Iron Round Industial Coffee Table With Crank
42W x 42Dx 19-23H | Solid Reclaimed Wood, Reclaimed Iron
$1,999 $1,045
How cool is this table? The crank really works so you can adjust it to different heights. The top is made of different types of reclaimed wood, so the finish is very rustic and uneven. The legs are a combination of leftover scrap iron, steel limestone, and carbon from the factory foundry. And because it's handmade, it's also unique.
---
Wood Trunk Industrial Coffee Table
18" H x 40" L x 22" W | Solid Mango Wood, Reclaimed Iron
$519.99
Old trunks have a nostalgic train travel flair. This trunk is made in solid wood purposely distressed. It has a spacious storage area, a safe hinged opening, and charming dark metal details.
---
Wood and Iron Round Industrial Coffee Table
41.5″Wx41.5″Dx17.75″H | Oak Twist, Iron
$1,799
This 2021 fall launch from Crate&Barrel is a great twist. The round top is made of iron with a distressed finish and the legs combine 2 thick slabs of wood. Like a precious stone on a ring.
---
Metal Industrial Coffee Tables
---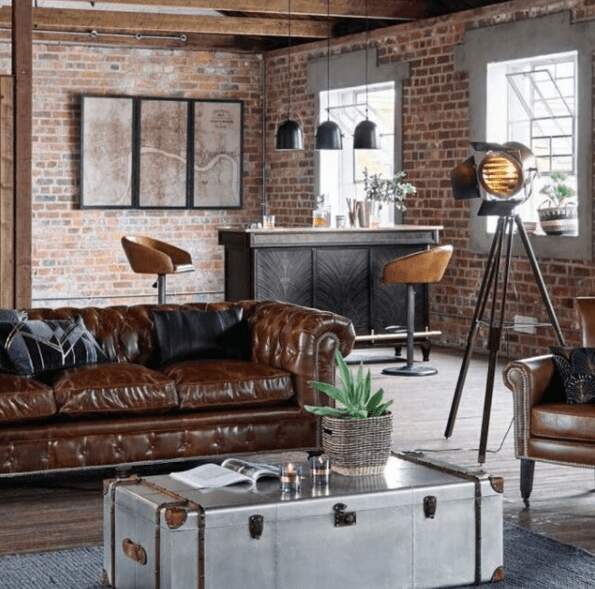 Industrial Metal Coffee Table With Storage
19" H x 51" L x 33" W | Aluminun, wood, leather
$1,249
This rectangular coffee table checks all the boxes for a mix of textures from the Industrial style. Patchwork aluminum frame, wooden tapered legs with nailhead trim, oak wood top, and leather handles on the big drawer. Functional and full of personality.
---
Metal Trunk Coffee Table With Storage
19" H x 52" L x 31" W | Aluminun
$1,560
This bold coffee table is inspired by mid-century airplanes and designed to leather sofas. It's a big piece with a large drawer, ideal for open floor spaces. The round edges make it even more interesting and practical in case you wanna save your legs or kids from sharp corners.
---
Asymetrical Metal Coffee Table With Tapered Legs
19" H x 59.5" L x 32" W | Aluminun, wood, iron
$1,269
Do you prefer a sleek coffee table over a chunky one? This central piece is inspired by old-school aircraft and has interesting design elements, like only three mid-century tapered legs and an asymmetrical top.
---
Gunmetal Industrial Coffee Table
60W x 28D x 18H | Heavy gauge steel
$1,050
This minimalist coffee table is hand-forged in heavy gauge steel. Add to that the rivet details on the edges plus the aged-looking patina and the imperfections from the handwork and you get a pure old factory vibe.
---
Black Container Coffee Table With Storage
40″L x 20″W x 21″H | Engineered Wood, Faux Leather
$1,040.99
The original description on the Target website says this coffee table has a masculine design. If this is your first time here, know that we don't care about gender stereotypes. So, this is a rectangular coffee table with storage and sliding doors on both sides! It has a super cool container design and an industrial aesthetic from the mix of black, metal, and wood.
---
Concrete & Stone Industrial Coffee Tables
---
Square Concrete Coffee Table With Low Pedestal
12" H x 43" L x 43" W | Fiber-Reinforced Concrete
$799
The concrete coffee table is perfect for creating harmony with a cold pallete or contrasting with a warm brown background. In any case, it's a bold match with any style of distressed leather sofas if you are going for the rough factory effect.
---
Square Bluestone and Iron Industrial Coffee Table
33.50″w x 32.50″d x 13.75″h | Bluestone, Iron
$1,499 $899
Spectacular central piece with a thick square bluestone top and asymmetrical sleek iron legs. Perfect for the sophisticated industrial loft.
---
And if these leather sofas are not what you're looking for, you can try the RH website! They have more distressed leather sofas than I've ever seen. It was impossible and unfair to choose only one! I hope you find the perfect, buttery, marked, distressed leather sofa to stay in your home for many years!
Stella