☾ Affiliate Disclosure: The Mood Guide celebrates women's moods and versatility. Even though we may earn a commission from some of your purchases, we encourage you to shop with the right intention. Focusing your energy on what you feel confident and comfortable in is empowering! ♥︎
---
I made a selection of unique moon gifts for those who are searching for something special for a friend who loves the cosmos, the night sky, and especially this gorgeous satellite called moon that is so full of meaning and the strongest symbol of femininity in nature.
The moon is our closest celestial neighbor. She is there every single day, offering a sense of stability, magic, and enlightenment to our living experience. For some people this connection is so strong that would feel absolutely thrilled to recieving a moon-inspired gift.
Full, waxing, or waning, all phases of the moon are incredible and, below I list some of my favorite moon gift ideas.
Full moon gifts
---
Considered by many as the most powerful phase of the moon, these gifts are for the person who loves the moon and identifies with the full moon energetic aspect.
A gift for those who are fascinated by the moon, not only the astrological aspect of it but the scientific astronomic facts about the moon.
$20.00 – Uncommon Goods
A mesmerizing and magic gift featuring the full moon;
$90.00+ – Uncommon Goods
A levitating 3-D lunar replica that rotates while emitting a meditative glow.
$190.00 – Uncommon Goods
Related: The Best Moon Lamps to Set an Enchanting Mood to Any Room
Crescent & Waning moon Gifts
---
The crescent moon is the new moon when we see that first silver smile of light in the sky. A sterling silver charm that works as a gift to reinforce wishes of new beginnings and new relationships.
$260.00 – Free People
This selenite crystal charging bowl is made with ethically sourced polished selenite from Morocco. A perfect vessel for crystal collectors and users.
$80.00 – Free People
This gorgeous black candle will inspire the strongest wishes.
$29.00 – Urban Outfitters
For moon lovers and dreamers. To inspire a good night of sleep with a warm cup of hot cocoa.
$16.00 – Urban Outfitters
This lovely and affordable gift is probably one of the most popular planters on Instagram. I have seen it many times on gorgeous boho and minimal decor feeds.
$10.00 – Urban Outfitters
Phases of the Moon
---
Some people believe that the moon phases influence the events in their lives, and some don't. But we can't deny the aesthetic beauty and harmony of the visual representation of the moon phases. In my opinion, this aesthetic is proof enough that there are hidden mysteries lying behind the language of the universe, which makes this type of moon gift perfect for the mystical person in your life.
---
Beautiful minimalist clock showing the moon phases.
$41.25 –Fine Deozine
Have a wellness enthusiast in your life who also loves the magic of moon phases?
$80.45 – Lemon Box
This lovely journal comes with a perfect cover for those who like to write about feelings and life. With a reminder to celebrate wins in the full moon, allow yourself introspection in the waxing gibbous, and so on, this is a simple way to keep life aligned with the language of nature.
$16.00 – Free People
I can picture any woman channeling Artemis, the moon Goddess, after wearing this gorgeous chain with the moon phases as a gentle reminder that just like the moon, we all go through phases.
$88.00 – The Crystal Boutique
Related: Witchcore: Channeling your Inner Power With the Witch Aesthetic
Star and moon gifts
---
This delicate crescent moon among a constellation of mega-watt crystal stars will make any sophisticated moon lover feel like a fairytale princess.
$425.00 – Jennifer Behr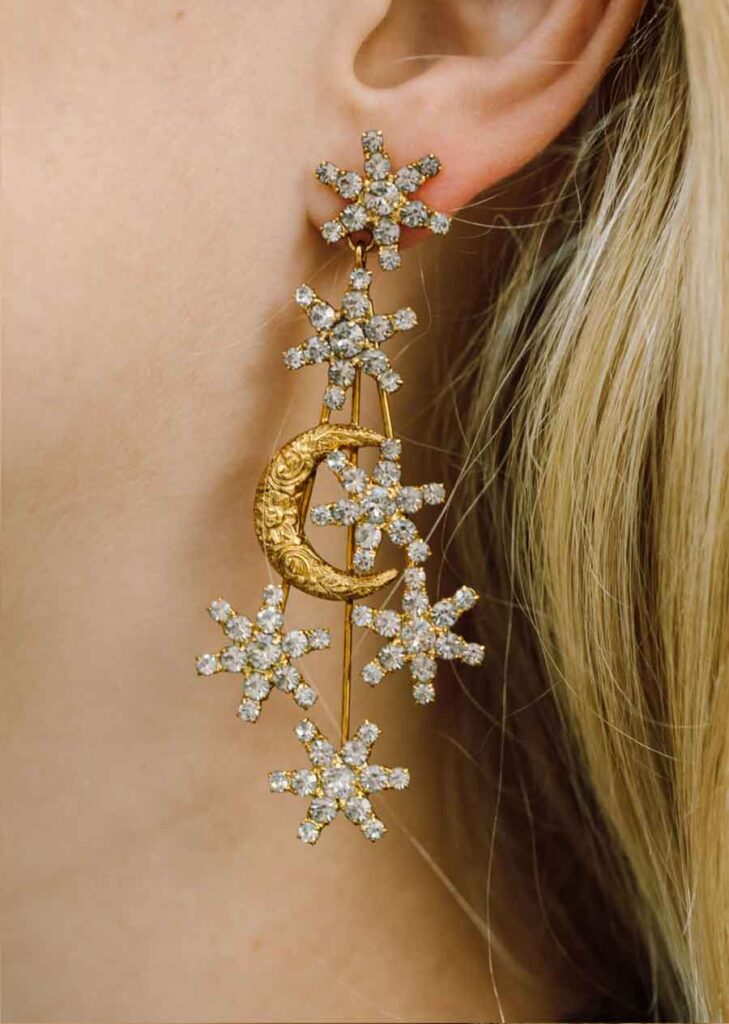 These stunning pair of earrings are also part of Jennifer Behr's The Celestial Edit and it evokes powerful feminine and mystic vibes. The sophistication and also feminine pearl and the star details can make any woman look and feel like an ethereal and whimsical divine being.
$198.00 – Jennifer Behr