☾ Affiliate Disclosure: The Mood Guide celebrates women's moods and versatility. Even though we may earn a commission from some of your purchases, we encourage you to shop with the right intention. Focusing your energy on what you feel confident and comfortable in is empowering! ♥︎
---
Fall is my favorite season for decor. I'm not deeply moody due to the shorter Winter days yet and my witchy personality kicks in to prepare my body and soul for the harvest season. Also, there's no pre-Christmas shopping anxiety and we are soaked up in vitamin D from Summer. As I always say, Fall decor is about slow living and nesting. We cozy up our home so it warms and protects our bodies from the temperatures dropping outside. The same goes for the food we cook and the clothes we wear during the season. However, if you have a minimalist style, you are on a budget, or for environmental reasons it doesn't have to feel like you live in a pumpkin patch to get in the mood for Autumn. In this post, I organized simple Fall decor ideas that are popular on Instagram and Pinterest and that are easy to replicate in any room of your house, from the porch to the mantel, regardless of your interior design style. You can pick as many or as few elements as you want from dried botanicals, candles, wreaths, cozy throws, amber glasses, and of course, pumpkins.
Happy harvesting!
Autumn Trays For Kitchen, Coffee Tables & Centerpieces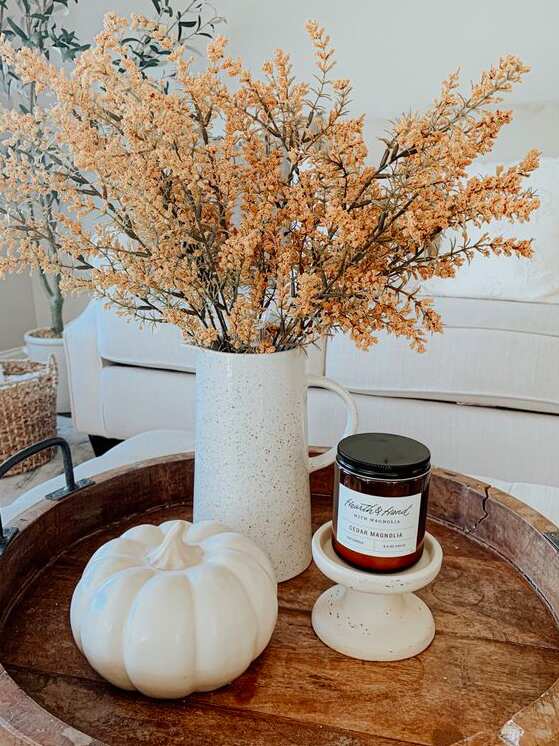 If you pay close attention to interior design pro's pictures, you'll notice a detail: trays. Regardless of your style, the suitable tray adds an effortless "put together" touch to your decor. When it comes to simple fall decor ideas, throw a pumpkin and a vase with dried botanicals in a nice tray and get a nice autumn decor for your kitchen or coffee table. Of course, you can mix and match any fall decorative elements to your liking. Dried botanicals, cute pumpkins, and candles are the most popular picks of the season. And the possibilities go as far as your imagination.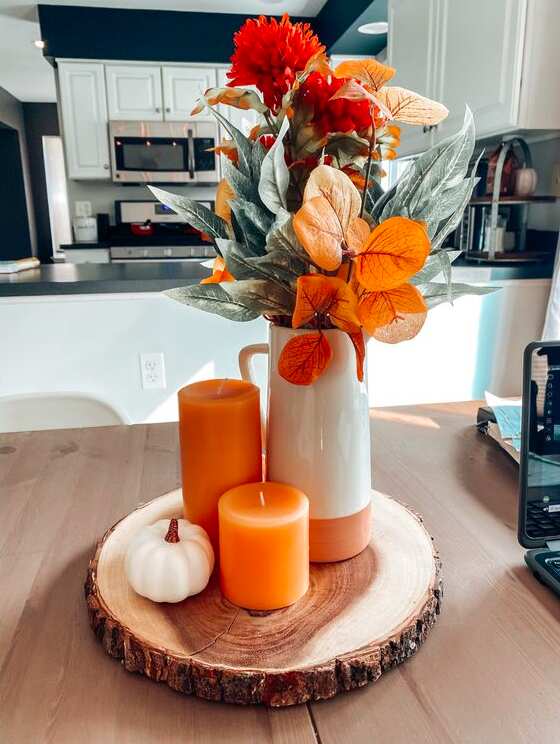 Amber Brown Glasses For Easy Fall Decor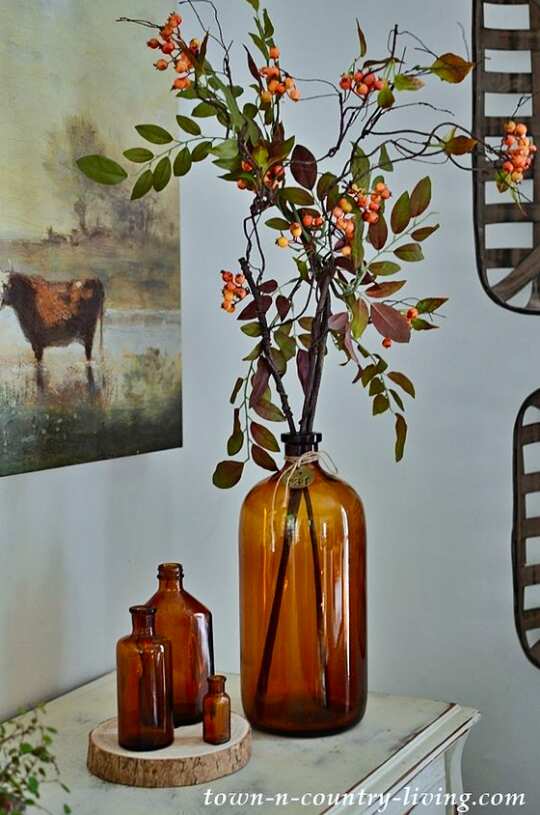 Amber bottles, vases, and glasses are timeless. They will add a rustic, vintage, and warm tone to your fall decor, whether you have minimalist or maximalist decor. It is an Instagram and Pinterest favorite trick for easy Fall decor. Also, the apothecary glasses are relatively cheap, you can re-use them year after year only by changing the combination and the room you place them in. The amber vases look good in every size, from tiny vintage medicine bottles to large vases.
Mix different sizes of amber glasses for a cool look. Add candles for a mystic vibe or dried botanicals for a rustic aesthetic.
On top of your fireplace, at your front door, on the windows. As long as you don't decide to DIY, you get a bang for your buck with Fall wreaths. You just pop them wherever you wish and the magic is ready. It can't get easier than that.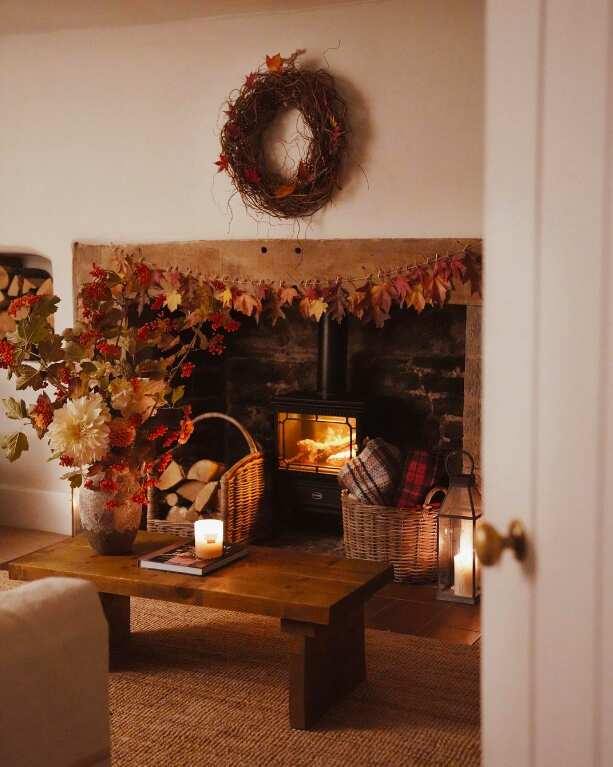 Related: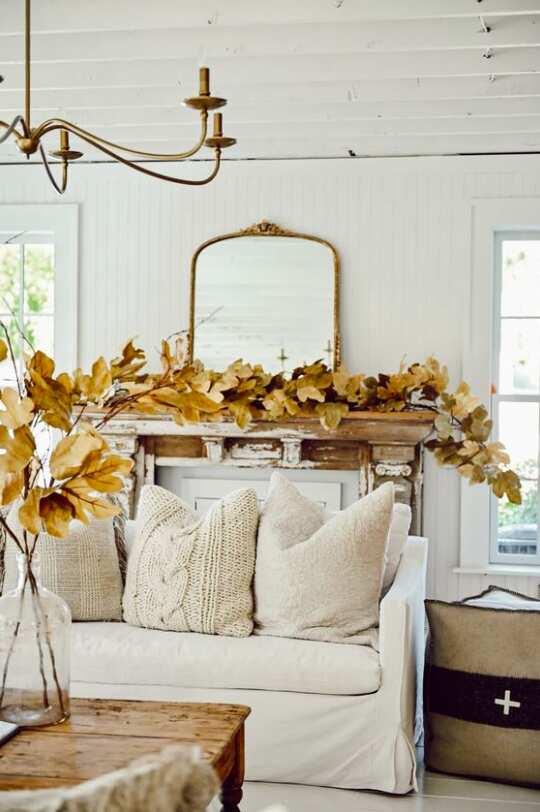 When we think about the aesthetic of Fall, chances are that dried leaves in muted shades of red, yellow, and orange pop into mind. No wonder dried botanicals are at the center of the vast majority of Autumn decorations. You can make it extra simple, by adding a bunch of your favorite Fall colors to a vase you already have or by a garland and throwing it on top of your mantel, hang it in the kitchen, over your headboard, cabinet doors.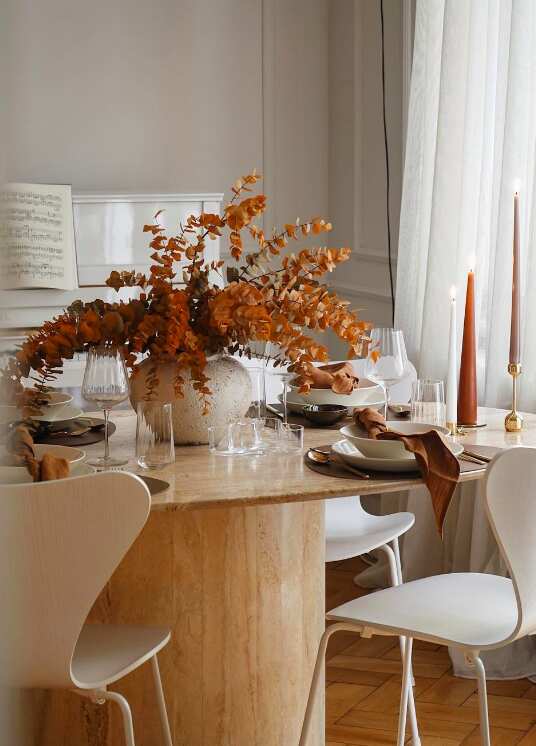 Throw Blankets For Cozy Living Room and Bedroom Fall Decor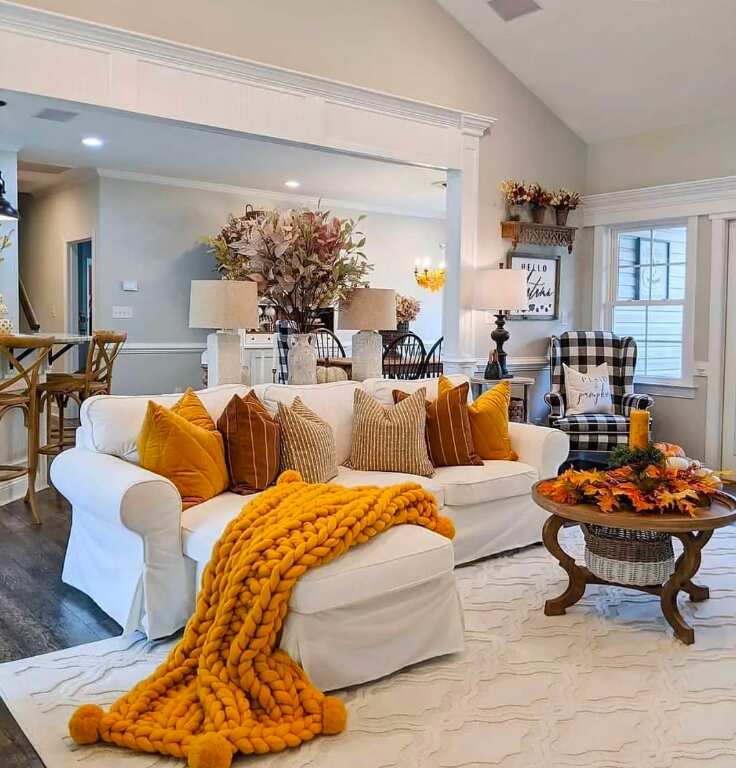 A chunky throw blanket is the one piece you need to cozy up your home for Fall. But a nice checkered throw in wool or a cashmere blanket in a Fall color pallet will have a similar effect. One way or another, curling up with your cup of tea while watching the day go by and the leaves fall is my favorite Autumn activity. If you opt for a blanket in neutral shades, you can wear it all through Winter as well. It's a great choice if you don't wanna splurge.
Last but not least, she, the queen of the patch, the icon of the season, the "gordeous" pumpkin.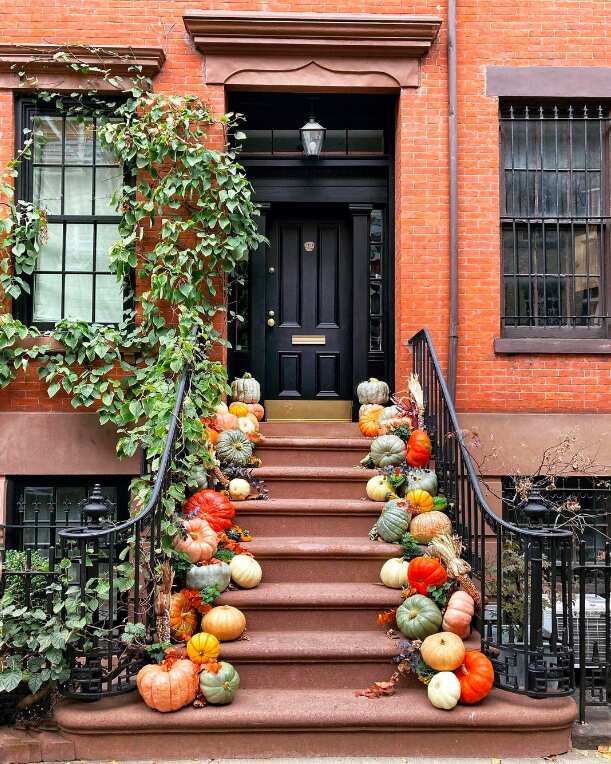 Of course, you can opt out for a post-modern ultra-minimalist Fall aesthetic, which is beautiful as well, but 9.9/10 Autumn decor has some sort of pumpkin. To make it simple, easy, affordable, and sustainable, I suggest you go for natural pumpkins, cook them before they go bad, and keep repeating the ritual week after week (the ones you keep natural in your kitchen, of course). One can't cook enough pumpkin recipes during Fall. If you are not into home cooking, the sky is the limit, but a single pumpkin in your fruit basket, centerpiece, or tabletop will be enough to feel like Autumn.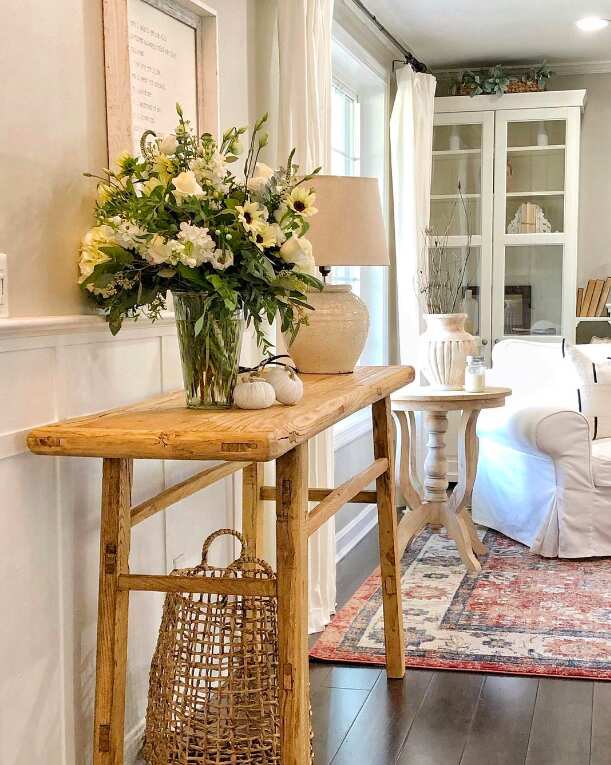 So, what's going to be your take on a simple Fall decor this year?