☾ Affiliate Disclosure: The Mood Guide celebrates women's moods and versatility. Even though we may earn a commission from some of your purchases, we encourage you to shop with the right intention. Focusing your energy on what you feel confident and comfortable in is empowering! ♥︎
---
It is no secret that I am obsessed with robes, I would live in robes if I could, and I have one for each occasion (by occasion I mean: reading, after showering, beauty routine, day in, etc) and season of the year. My love for robes might be the most indulgent and petty habit I cultivate as a minimalist. I always share the story that when I moved to the mountains carrying a backpack, I took a robe and a blankie with me because emotional comfort is everything when you have no idea what to do with your life. Back in the city, and with plenty of options, a good plush robe is a must for an after-shower or bath, especially during winter. For spring and summer, I prefer linen or waffle robes because thermal comfort equals peace of mind, after all our skin is the largest organ in our body, it's directly connected to our brain and emotions but that's a different conversation.
Anyway… enough with my personal tales (I've been feeling extra chatty lately… I wonder why) and let's dive into this comfy, tactile, and cozy world of plush robes. Of course, I am not the New York Times, therefore I didn't try tons of robes, but I am a terrific researcher with outstanding interpretation skills, so here is a list of the internet's and our reader's favorite plush robes that you can wear year-round. As usual, there's something for everyone, from teddy bear hug-level hooded UGG to luxurious Versace and extra soft organic cotton.
---
Oeko-Tex Certified Plush Robes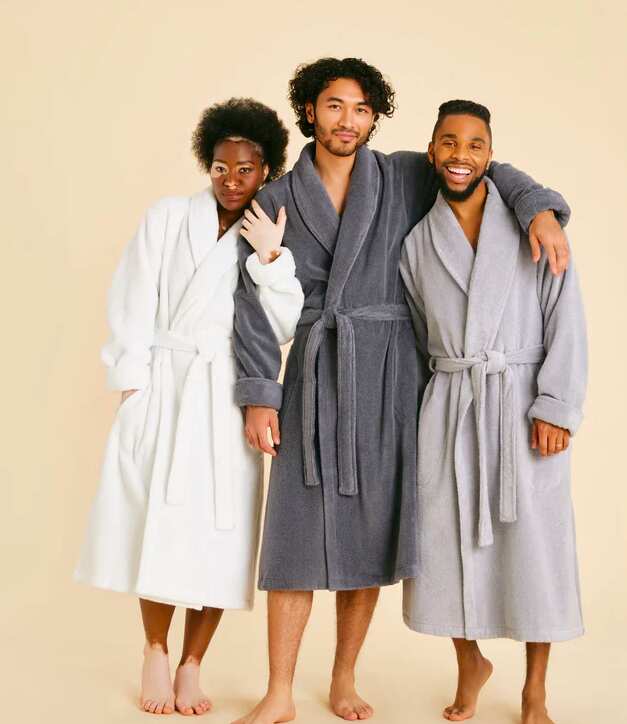 $99 each
Shop at
With 380 grams of Turkish long-staple cotton per square meter, Brooklinen's plush robes are made in Turkish and they have a cult of fans.
It's available in 10 colors and they have striped and fun colors like lavender and blue
---
UGG Hooded Plush Robe
$98
Shop at
There is plush and there is the UGG teddy bear plush level, so you pick your favorite according to your comfy needs.
Just look at this robe. Doesn't it feel like merging into a warm bear hug? Once you put on the hood, your head will be so warm and cozy that it might put your overthinking to rest. I dunno, just give it a try.
I can't think of a better gift for a single person (man or woman). It's available in 4 colors, including pink.
---
Organic Turkish Cotton Plush Robe
$178
Shop at
Whenever the organic option is available and I can afford it, it's my choice. I never regretted buying anything organic, because the softness, beauty, and longevity of the organic fabric are superior. Our readers absolutely love Couyuchi stuff and my heart skips a beat every time I see a purchase from them!
It's available in 6 beautiful colors.
---
Egyptian Cotton Plush Robe Made in USA