☾ Affiliate Disclosure: The Mood Guide celebrates women's moods and versatility. Even though we may earn a commission from some of your purchases, we encourage you to shop with the right intention. Focusing your energy on what you feel confident and comfortable in is empowering! ♥︎
---
When it comes to aesthetic gifts for women, I enjoy curating the ones with very clear and relatable aesthetics. Today I will list a selection of very interesting gifts with a super cozy and warm aesthetic.
This is a magazine aimed at women, so I created a list of cozy and warm gifts for those who love the introspection and sort of permanent appreciative mood we get during the cold seasons of autumn and winter.
There are so many gift ideas posts out there, so I admit it is challenging to curate the ones that will really stand out and make it worth a whole article about them. Therefore, I chose some really aesthetic, impressive, and useful stuff, which means that just by looking at the image, you feel an urge at the core of your soul to embrace that special and unique item into your lifestyle. Besides, all the gifts on this list have something very authentic to them
---
Cozy and warm aesthetic gifts are for her who:
The gifts below look cozy, feel cozy, and are cozy. They have an aesthetic and function made to provide a sense of satisfaction and calm. Cozy and warm gifts are perfect for the woman who adores appreciating the slow moments of life.
---
Cozy and Warm Gifts for Her House
---
Getting something that provides feelings of warmth in home decor is always well-regarded and welcome for those who like presents. The gifts below will provide a welcoming feeling and increase the sensation of comfort and ¨feel safe at home¨ in an environment.
Games for the home
A warm gift is not just about keeping the physical body temperature warm, but also about creating heart-warming moments. Here is a curation of games and entertainment with an aesthetic that instigates warm moments between people who care for each other and love to share moments of joy.
This new puzzle from Ordinary Habit is the perfect gift for a heartwarming moment with friends or family. The aesthetics of autumn and Christmas, mixed with the creativity and authenticity of the illustrations, will give that woman who loves being among loved ones a good reason to get together and cherish affectionate memories.
Candles
I think everyone recognizes the comfort provided by candles. In this curation of gift candles, I chose the ones that I considered most original because they evoke warmth in colors, shapes, concepts, and smells. Candles are powerful in an environment, they bring the warmth of fire just by looking at it, and make any environment more welcoming.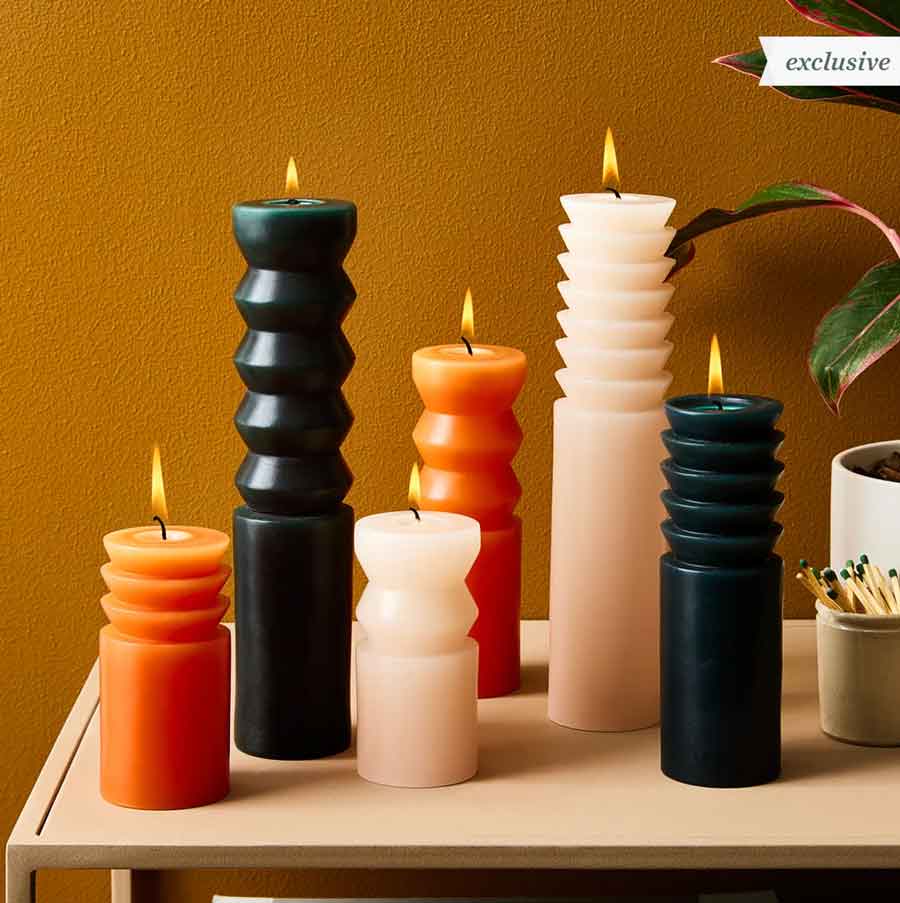 These Totem Pillar Candle Sets are perfect for the woman who loves decoration and likes comfort with elegance. The orange and dark green colors evoke the autumn atmosphere, while dark green with white and geometric shapes brings elegance and stability. Do you know a woman with these characteristics? This candle is for the woman who wants a gift that is comfy and warm but is also minimalist, authentic, and chic.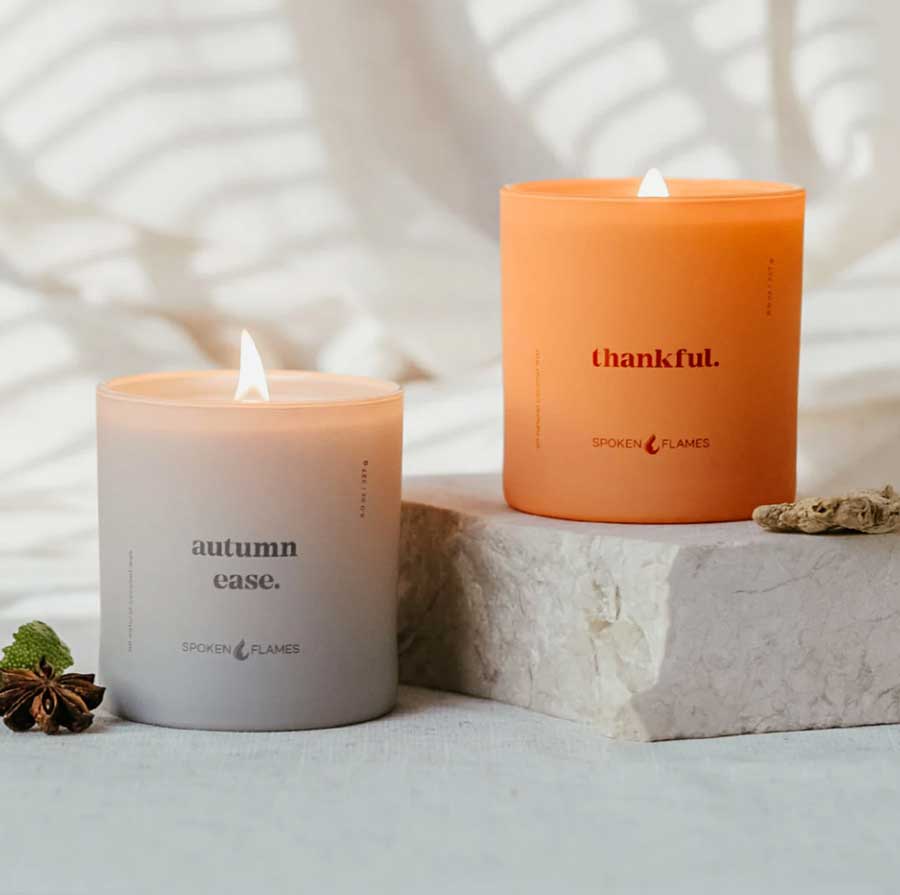 Everybody likes a thematic candle. I love how sensory they are by evoking a meaning or a feeling to the senses. I mean, it must feel amazing to feel an ¨autumn easy¨ mood in your own toilette just by smelling the nature magic that is present in the Juiced Orange, Bergamot Zest, Fresh Hay, Cardamom, Cedar Embers, Patchouli, and Musk elements. These Fall candles are vegan, Non-Toxic, Phthalate-Free, and made of All Natural Coconut Wax Blend.
Lights and lamps
Few things create a bigger sense of warmth and comfort than the lightning of an environment, this is why a beautiful lamp with warm glowing light is a good choice of gift for a friend who loves home decoration and values the warmth provided by the light in the surroundings.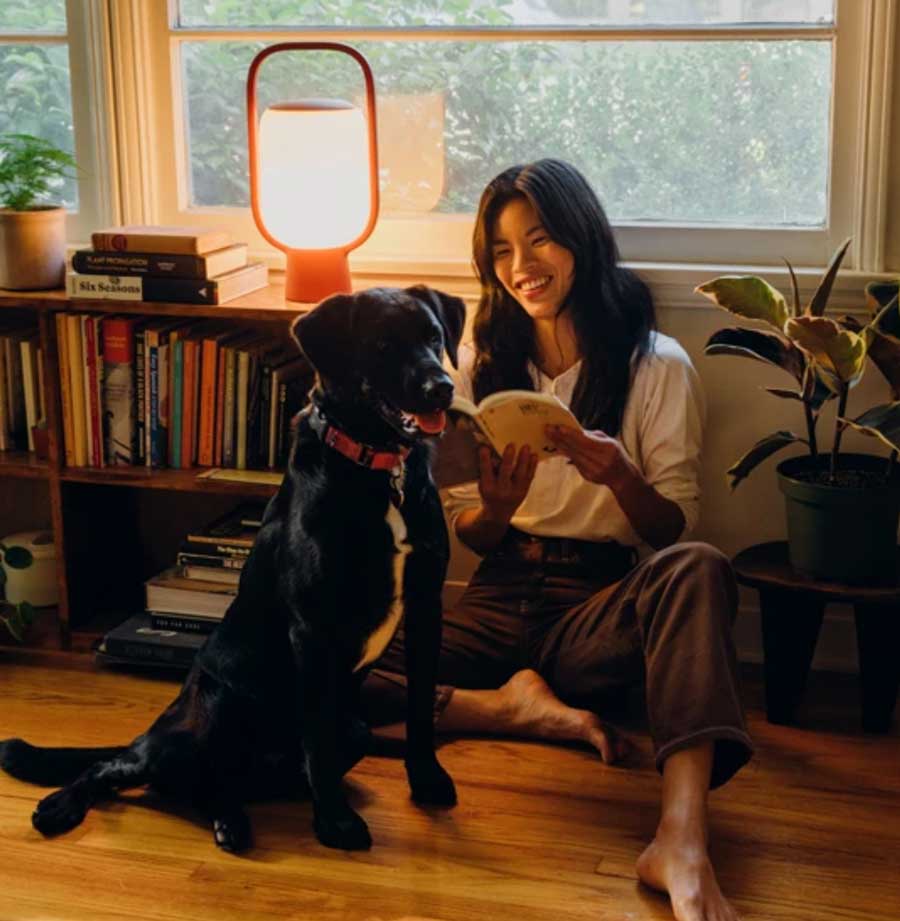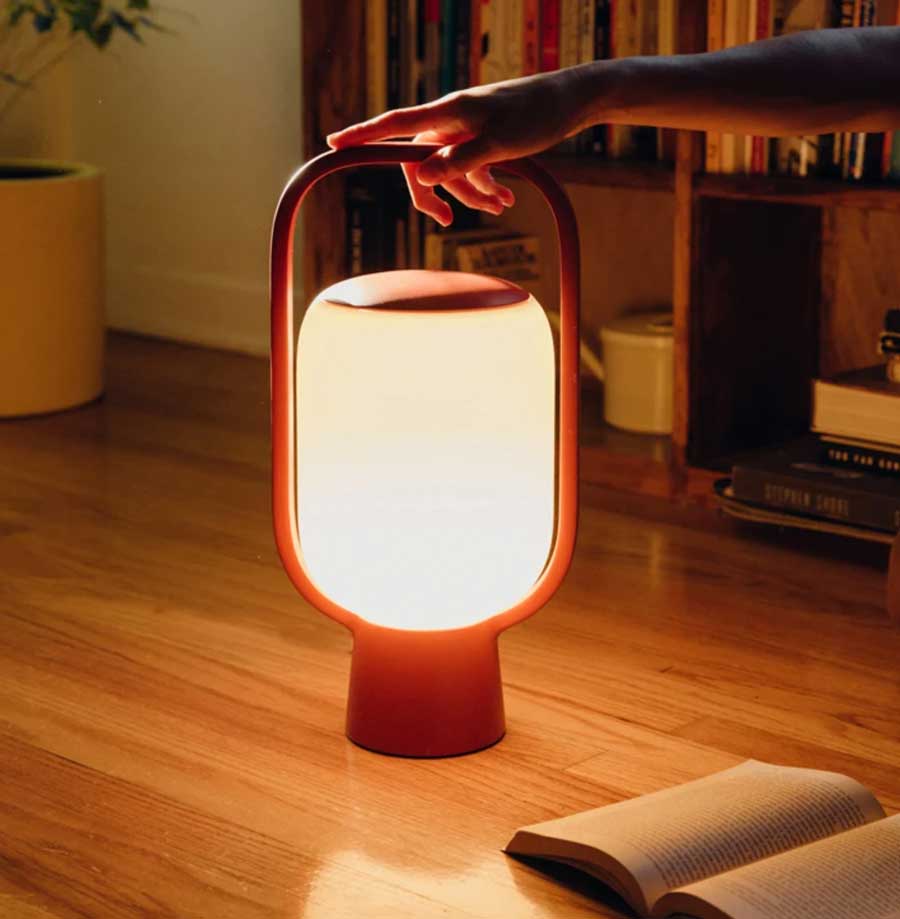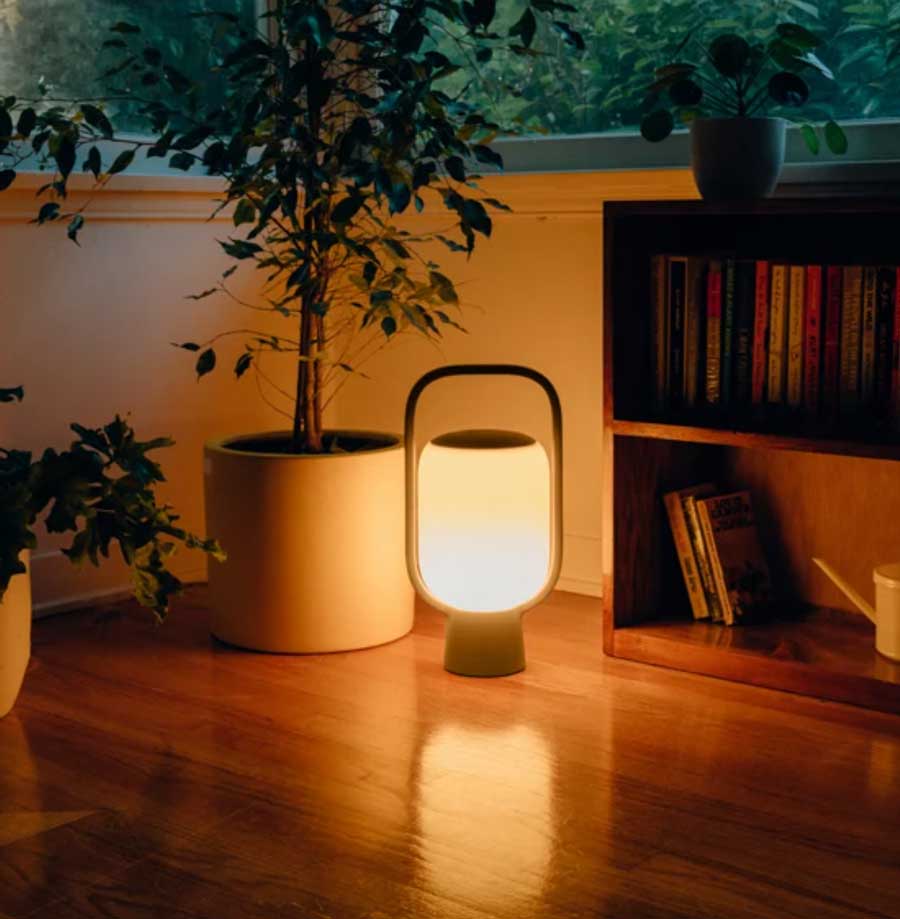 Gantri lamps are all so cool and modern that it was difficult for me to choose only one. But, since we are focusing on warm moods and aesthetics, I picked the Kero table light, which is a modern take on the antique and cozy kerosene lamp
Cozy Loungewear Gifts for Her
---
Loungear is that comfortable and versatile outfit for that woman who loves herself so much that she wants to look cozy in the house and outside, without losing on the aesthetics. The type of gift to help her feel good, and of course, warm and cozy. There are so many types of loungewear on the internet that sometimes it is challenging to find one that is perfect for the person you want to give a gift to.
Cashmere
Needless to say, cashmere is the ultimate comfy and warm fashion gift that absolutely every woman who appreciates comfort and quality would love to receive. There are tons of cashmere wool stuff on the internet, so I took the time to find the ones that stand out in the crowd of cashmere. This fabric is perfect for loungewear and also for more sophisticated events.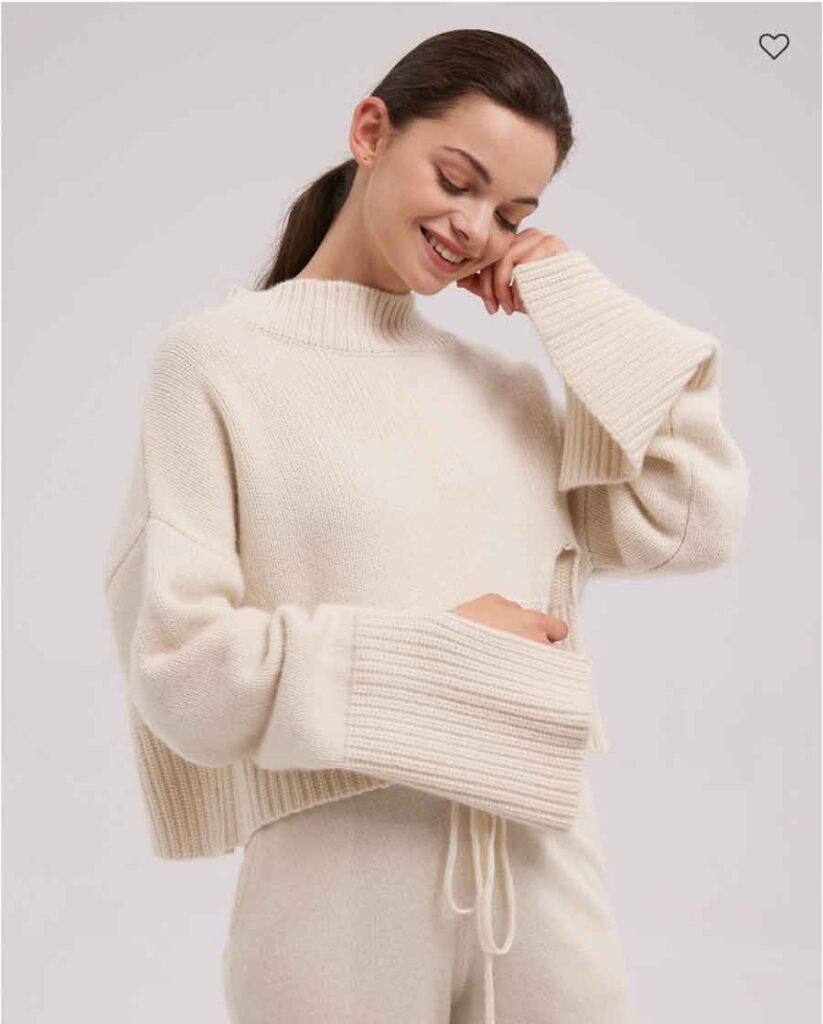 This pure cashmere flare sleeve sweater stands out for its wide knit cable collar and cuffs. A gift from who can afford something chic and high-end, yet comfortable.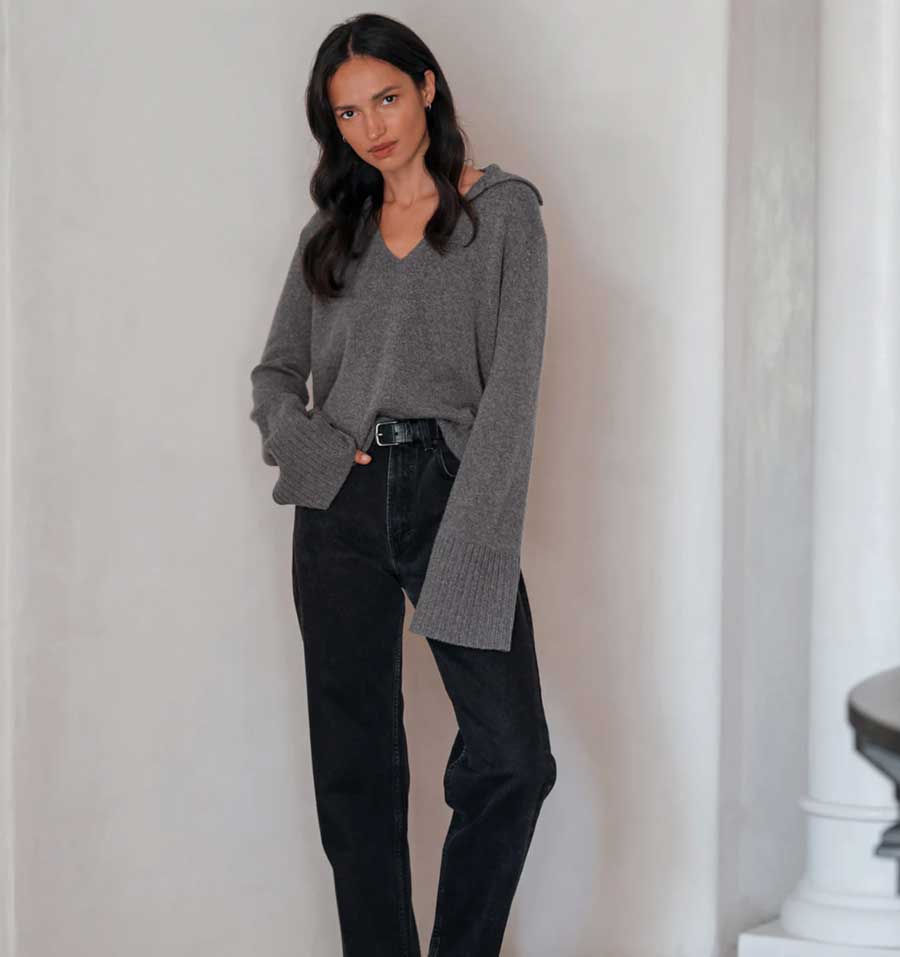 Available in 4 different colors, this sweater comes with a very authentic cut that makes it a glorious, comfy, and warm gift for that preppy chic friend.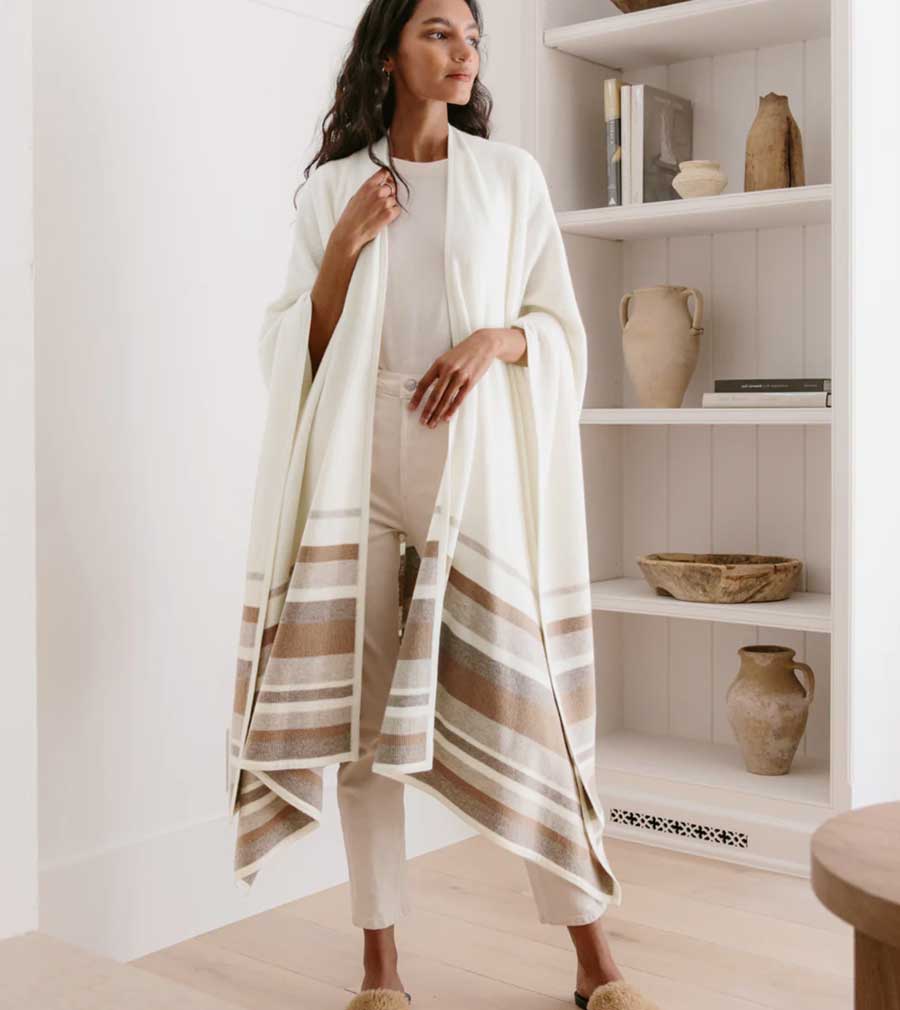 Made of 70% wool, and 30% ultra-fine cashmere, this blanket shawl is ideal for the chic and minimalist yet authentic woman. The poncho style evokes an adventurous explorer vibe that makes this stylish wearable blanket unique to my eyes.
Comfy Pajamas
---
There is nothing like a good pair of comfy pajamas and sleepwear. I don't know a woman on earth who wouldn't love to get a high-quality and super comfy set of warm pajamas.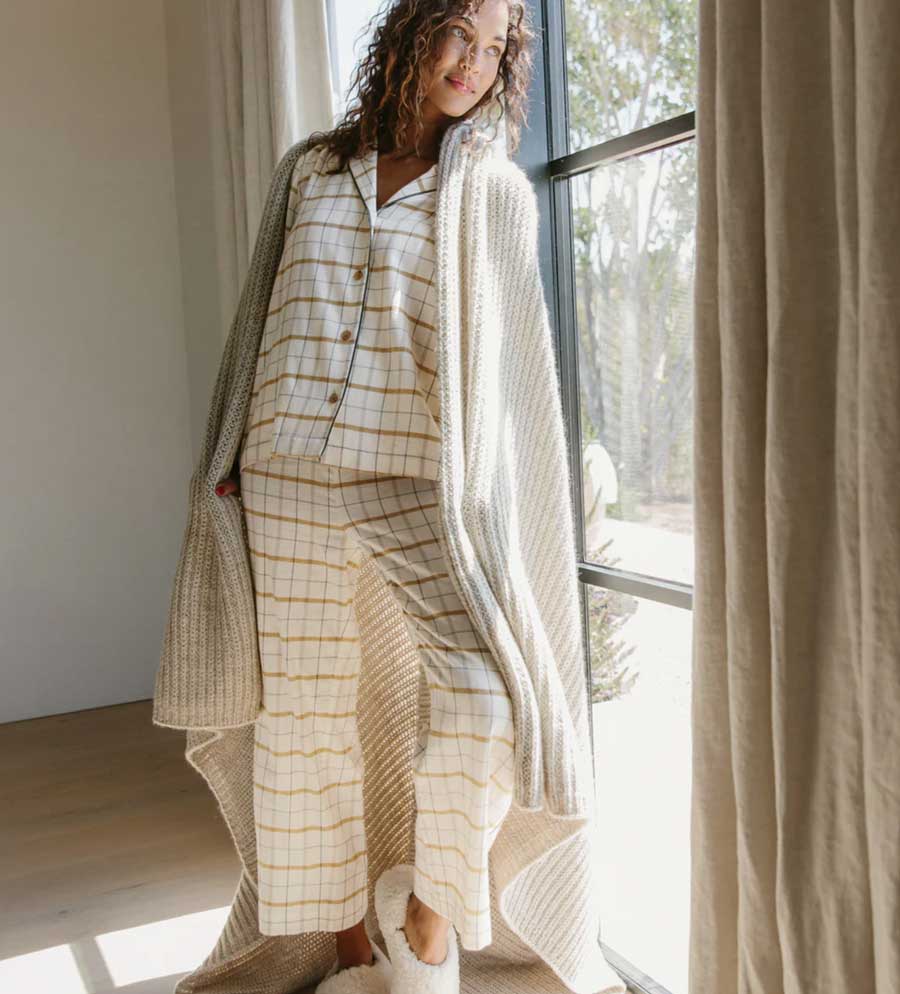 This Flannel Pajama set is sold separately (pants and blouse) There is a simple yet classy aesthetic to this set that made me immediately want to add it to this list.
---
Comfy and Warm Robes for Her
---
There are so many fabrics, sizes, and styles to stay cozy in a robe, but what isn't so easy is to know what type of robe suits the woman you want to gift. I must begin by saying that regardless of the length and texture, a robe is a warm and cozy gift that certainly will please anyone who values the feeling of being embraced and comforted by a soft robe after showering. Below I will break down different types of robes that will suit different types of women.
Fuzzy plush robes
The ultimate snug feeling, this type of robe is for that friend, mother, or girlfriend who loves affection and a hug. A Cancer or Taurus woman who, if she could, she would stay spooned with a loved one all the time, and who always melts inside a hug. Plush robes are ideal to gift to anyone who wants to get out of the shower and feel wrapped up in a blanket all day on cold winter days.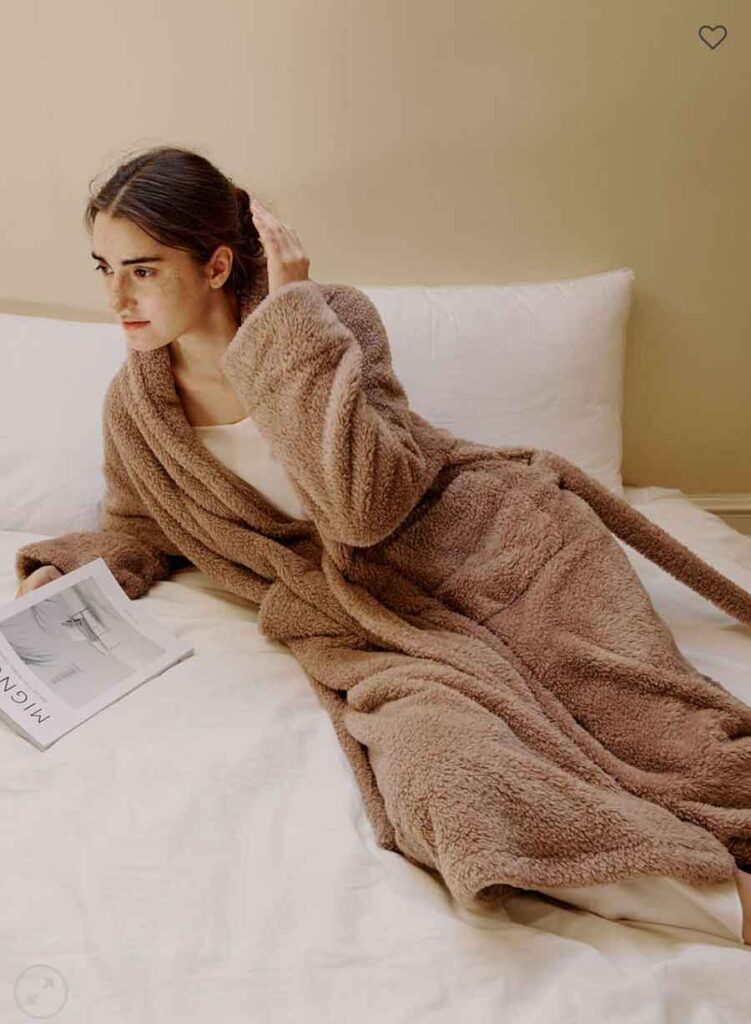 This cuddle warm Cozy Boucle Knitted Robe is a gift to help look and feel like a protective and cute mama bear on those cold days. A comfy, heavy, and luxurious bathrobe for her;
Waffle Robes
Also known as breathable robe, this is a cozy and warm gift, for those who like the comfort of a robe, but also like its practicality and lightness. A type of robe to wear when you get out of the shower in the fall, do some skincare, and change into pajamas later.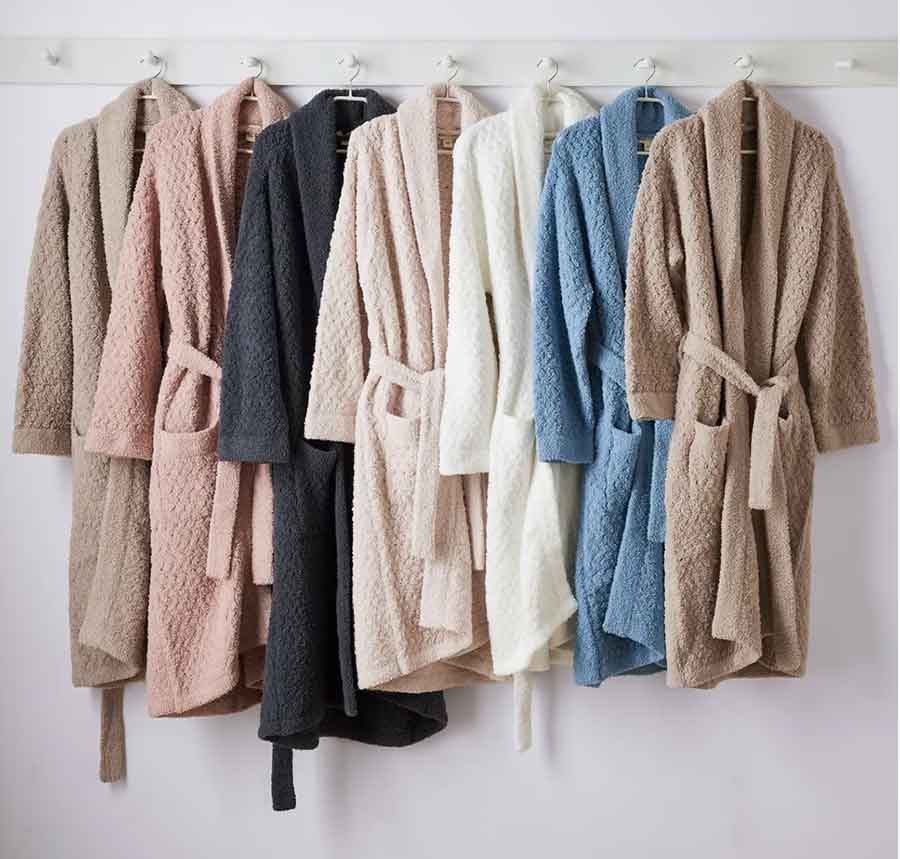 This amazing cozy Snug Waffle Robe from Sunday Citizen is a balanced mix of breathable waffle with snuggly and fuffle buttery soft feels. The soothing aesthetic evoked by the color palette and the fabric makes me want all of them!
---
Accessories
---
Many comfortable, useful accessories also evoke a feeling of coziness and end up, in most cases, being a more economical option.
Comfy socks
If the feet are cold, the whole body feels cold. Cute, fluffy, and comfy aesthetic socks are an especially practical and warm gift for her and look great in aesthetic pictures for Instagram.
These 100% cashmere over-knee stockings are not what I would call inexpensive, but their price is fair for those who are looking for a luxurious and impressive gift without breaking the bank.
Slippers
A good quality pair of slippers to wear only in the house is mandatory. A classic gift for Holidays that everyone enjoys.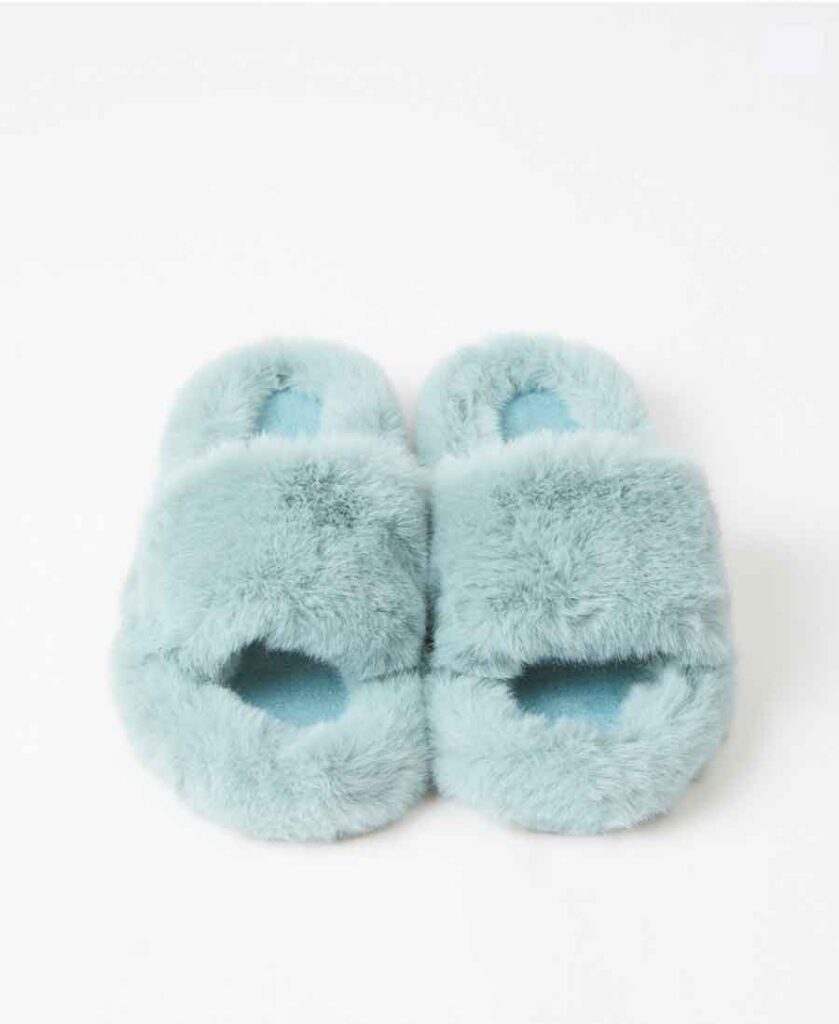 I love these cute plush open-toe slippers because they are affordable. The soothing effect of blue mixed with the smooth plush, made me think that a foot inside them would feel like chilling inside a fluffy cloud.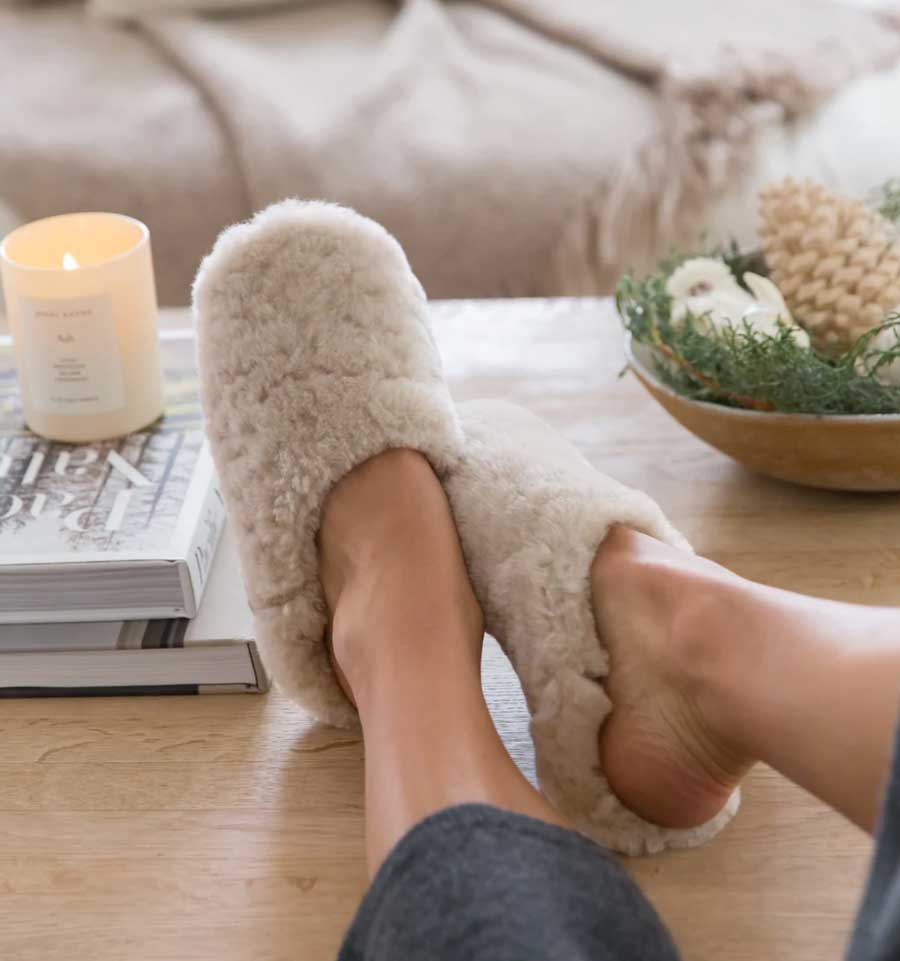 So, there are tons of slippers for sale online during the fall and winter seasons. I had to go through the best shops to find the ones that looked elevated when it comes to feeling comfort and warmth. The ones that, according to reviews, would make a woman feel like stepping on top-quality clouds. This Shearling Moroccan Slipper rating is superb, and definitely an excellent gift for any woman who values comfort.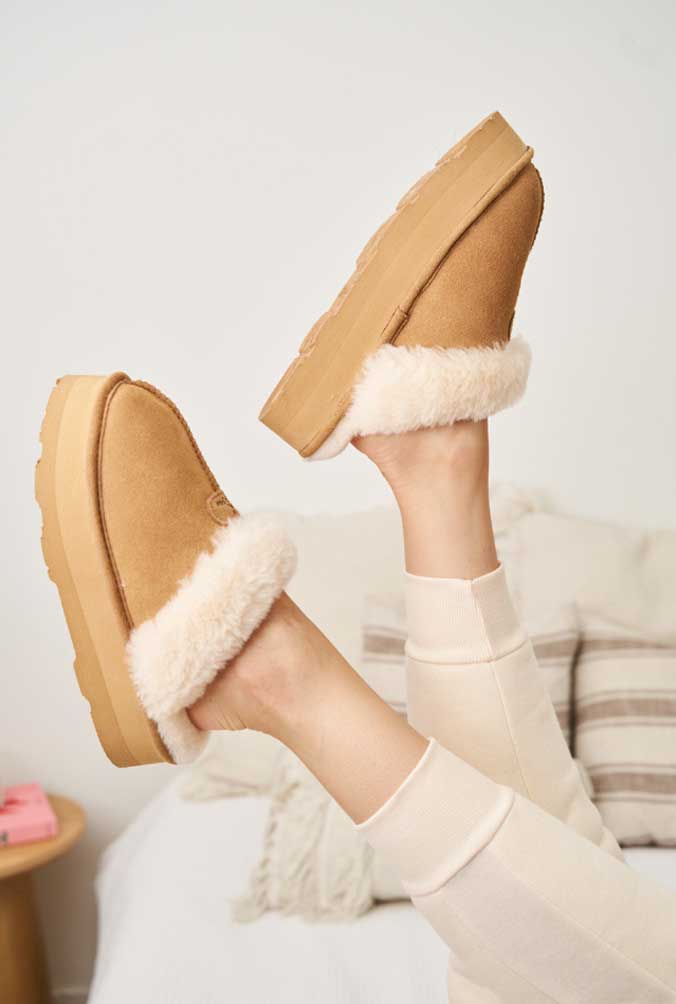 What about these Bear Paw slippers to match the bear feels of a fluffy and heavy bathrobe? These cool and comfy slippers have a stylish platform that really adds to the bear vibes of its aesthetics.
So, if you enjoyed this selection of cozy and warm gifts for her, here is a complete guide about the Comfy Aesthetic. This is a guide that breaks down everything about the visuals and elements that compose a cozy lifestyle.
I am a graphic designer and every post I write about aesthetics is based on scientific knowledge and studies about color and design's influence on our moods and behavior. I love the topic from the bottom of my heart!
If you like the idea of finding that truly matches someone's essence and lifestyle, just take a look at our aesthetic gift guides.