☾ Affiliate Disclosure: The Mood Guide celebrates women's moods and versatility. Even though we may earn a commission from some of your purchases, we encourage you to shop with the right intention. Focusing your energy on what you feel confident and comfortable in is empowering! ♥︎
---
Metallic boots are THE Baddie fashion trend for Fall 2023. Of course, everyone can wear it (even though my cottagecore, dark academia, hipster, granola, and indie girls would never), but metallic boots have the ultimate baddie aesthetic. They are bold, sexy, powerful, and full of personality. If I had to choose one pair of shoes to represent the Baddie Fall aesthetic, I'd go with the metallic boots in silver or gold. From a different perspective, take any outfit, like a minimalist all-black, for example, and accessorize it with a pair of silver boots and the baddie vibe will be there.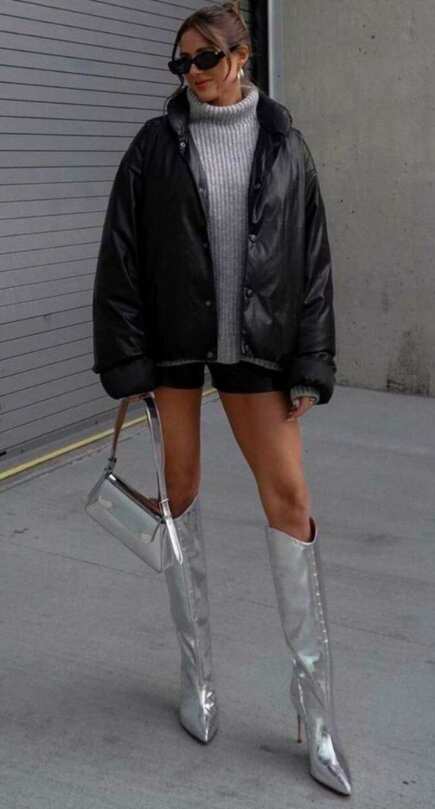 Even though metallic footwear has been around for a while, according to Glamour, Fall 2023 is THE season for head-to-toe metallic. So, for this post, we picked Baddie Fall outfits ideas from the runways and from fashionistas' streetwear wearing metallic boots. Ankle, knee-high, or over-the-knee, there's a perfect metallic boot to elevate a Baddie outfit for any occasion. On top of the inspo, we bring some of the most beautiful and trendy metallic boots that you can buy. I hope you have as much fun getting inspired as I did creating this content!
Why is this post for you?
Are you extremely sexy and feel comfortable showing skin? Even when you are comfy, sports, or elegant do you express power and sex appeal? Do you love luxury labels? You see, every fashion blog and magazine will bring the trends. And we love them, of course. However, we take the trend and show you how it can make sense for your aesthetic in real life. We went to Vogue, Glamour, WhoWhatWear, and every main fashion magazine and identified the Fall fashion trends that speak to the Baddie aesthetic. On top of that, and because we are specialists in aesthetics, this post shows how you can incorporate the runway generic trend into the Baddie aesthetics according to your reality.
And why do we do that? Because our purpose is to set women free of artificial rules and impulsive shopping.
Here at The Mood Guide, we encourage all forms of art, because we consider them genuine expressions of the soul. Therefore, we understand the importance of fashion as an artistic movement. However, the reason why we are so focused on aesthetics is because we believe they go beyond fashion trends. From our perspective, fashion trends are fun inspo, and it's our job to help you feel free to wear them as you see fit for yourself. Not only according to your body type but also your moment in life and your mood. If you are a hardcore fashionista, that's your mojo, go for it. But if you feel pressured to follow the trends or you can't afford a new wardrobe right now, know that there's nothing wrong with you. Aesthetics should set you free to be and live according to your authentic self, not diminish you to fit in any industry box.
Baddie Outfit Ideas With Metallic Boots For Fall
---
Over-the-Knee Metallic Boots
If metallic boots are the Baddie Fall accessory of the year, it's safe to say that over-the-knee boots are the Baddie accessory of the Universe. No matter what your aesthetic, your mood, or your vibe is. The moment you put yourself into a pair of over-the-knee boots, you are on fire. Therefore, metallic over-the-knee boots are as Baddie as they can get.
For the sexy powerful unapologetic aesthetic, pair them with dresses and skirts or tight pants. The Fall trend calls for oversized sweaters, jackets, or sweatshirt short dresses.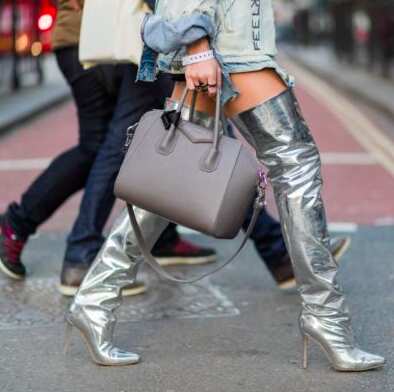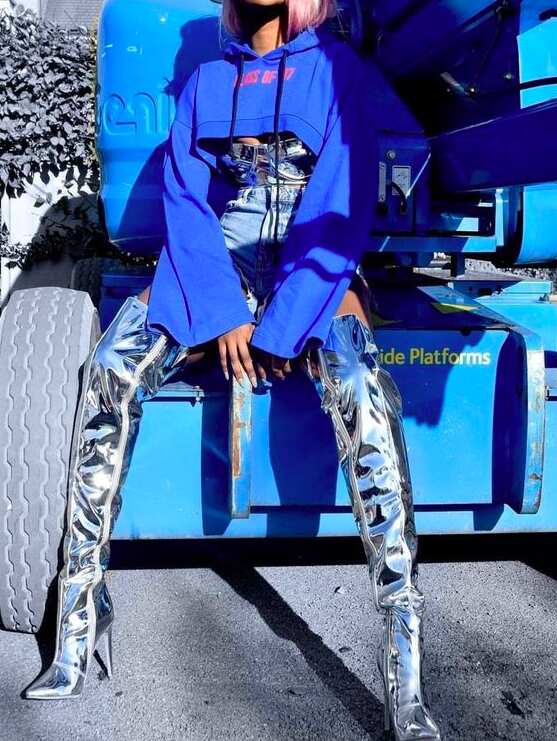 Shop the inspo
Knee-High Metallic Boots
From the streets of Paris Fashion Week to Milan's runway, silver knee-high boots are everywhere. From what I saw, they are best friends with skirts. If you want to be spot on the latest trends, pair them with denim skirts and denim jackets and you're going to be trending head-to-toe. Sweaters, jackets, and corsets complete the transitional look.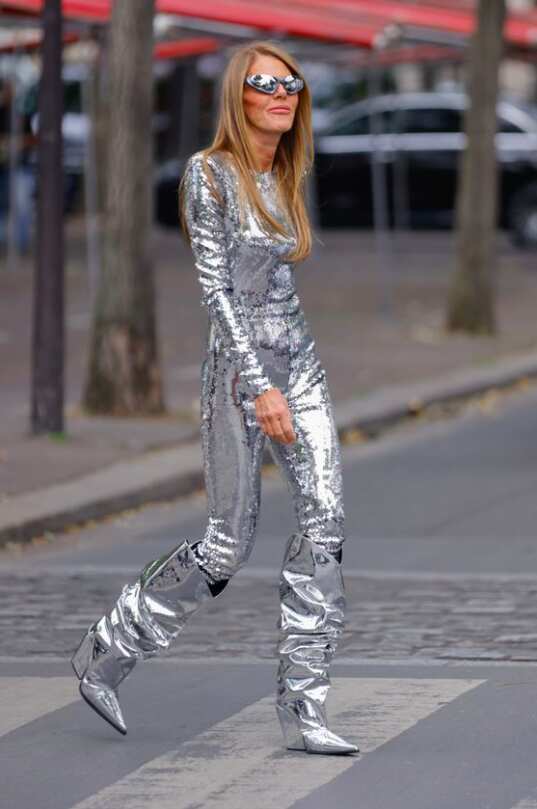 Shop the inspo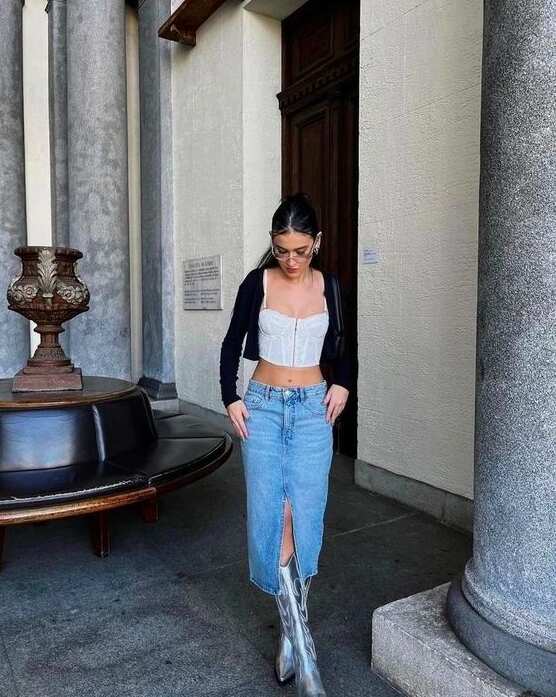 Metallic ankle-boots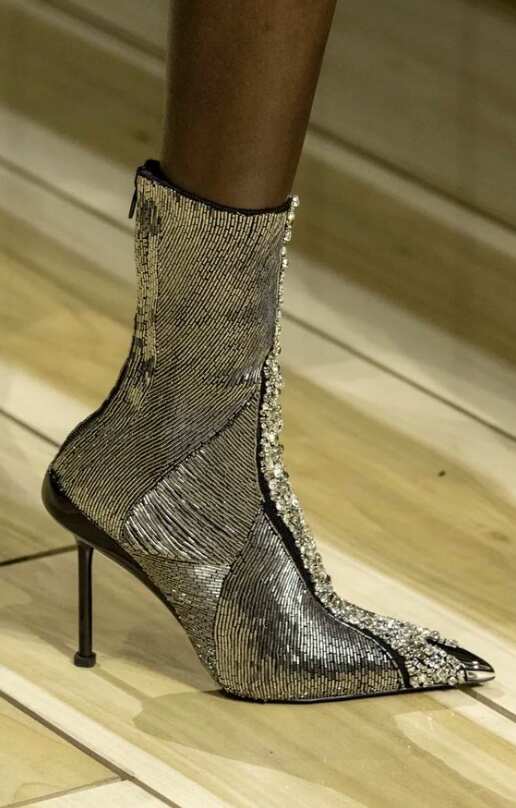 Shop the inspo
More Fall Outfits With Silver Boots
---
I selected some trendy and classic Fall outfits that don't have a Baddie aesthetic, but have a Baddie vibe due to the metallic boots. It's a great way to wear the metallic trend according to your own style.
At the Mood Guide, we believe it is so much easier to find the things we truly love when we look at an aesthetic image and feel that lifestyle. This is why we organize and curate content with aesthetic guides. Here you will find a lot of aesthetics explained, and if the baddie aesthetic is your thing, check out all our posts in the baddie aesthetic category. 👸🏽
I love metallic shoes. It's funny because I consider myself quite a low-profile person, but I love silver and gold sandals. They elevate any outfit immediately, so it's kind of a cheating-style trick for me. But for my Baddie girlies out there, a bold powerful pair of metallic boots is basically an essential, no matter what the trend is. After all, your personal aesthetic will always be more important than the current fashion trend. 😉
Stella