☾ Affiliate Disclosure: The Mood Guide celebrates women's moods and versatility. Even though we may earn a commission from some of your purchases, we encourage you to shop with the right intention. Focusing your energy on what you feel confident and comfortable in is empowering! ♥︎
---
There are hundreds, if not thousands of types of gold shoes on the market. However, just like any other metallic color, a pair of golden shoes will make or kill your look because they are everything but neutral. But golden adds a notch to the equation: you can't escape from associating it with luxury and opulence. Once you put on a pair of gold pumps or sandals, you send a clear message: you can look at me, I'm game! The wrong shiny pair will look cheap and will bring your outfit down. It's a fashion nightmare. Of course, there are a lot of cheaper gold shoes of good quality. But in this post, I'm focusing on designer gold shoes because they are the epitome of the luxurious aesthetic that I wanna evoke with this post. Rise and shine, queen!
---
Designer Gold Shoes
---
Bijoux High Heel Designer Gold Leather Sandals, Gianvito Rossi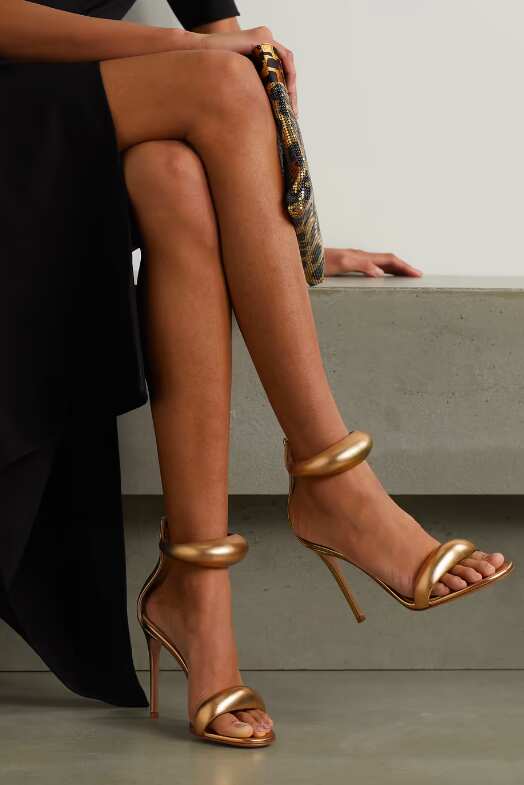 $925
Shop at
It is a sandal or jewelry? Gianvito Rossi designed one of the year's most coveted and copied sandals, the Bijoux. The bubble straps are chunky enough to make a statement and sophisticated enough to walk you to the chicest parties in town.
---
Gold Metallic Dad Star sneakers, Golden Goose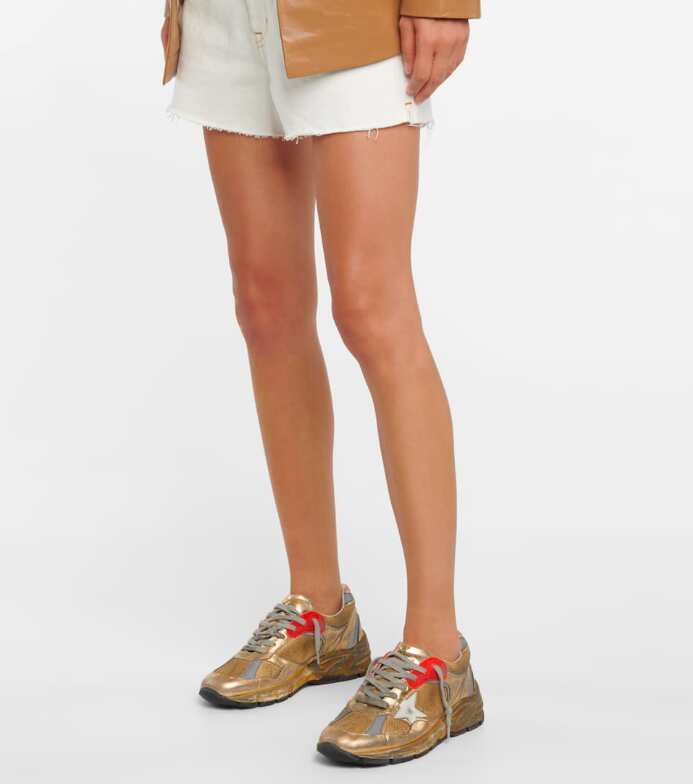 $625
Shop at
It's hard to beat the hype of Golden Goose sneakers among the fashionistas. But one is queen! This gold version of the iconic Dad Star is an instant outfit maker. You can wear it year-round and pair it with the old shorts you own or your best-tailored suit and you'll look stylish, trendy, and well dressed. Plus, above all, you'll be comfortable in smooth sneakers.
---
Blake Gold Liquid Metal Leather Wedge Knee-high Boots, Jimmy Choo
$1,695
Shop at
How come a minimalist like me gets obsessed with the most extra pair of gold boots I've ever seen? I guess we all have a powerful, sexy, and unapologetic side in us, just waiting for the right pair of boots to shine.
These Jimmy Choo boots are a heritage piece, the kind of shoes you wear when you're feeling like royalty. They are made in Italy out of metallic golden liquid leather and have the most sculptural wedge heel and pointed toes.
---
So Kate 120 Gold metallic lizard-effect leather pumps, Christian Louboutin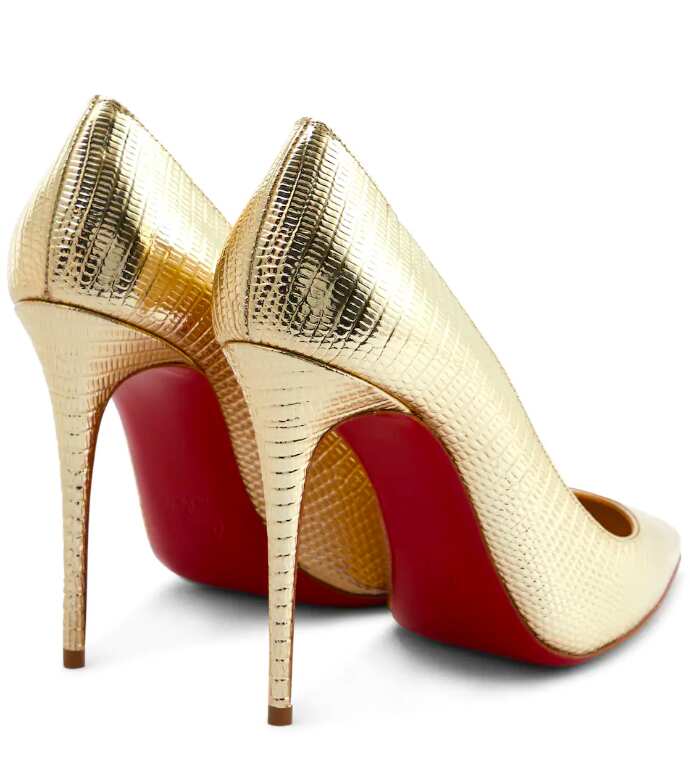 $825
Shop at
I don't think I can write a post on designer shoes without adding a Kate. Maybe it talks to my inner child and my Barbie's high heels pumps, but the truth is, these shoes imprint sexy and power. Besides my personal affection, pumps are classic, always in style no matter what. They are a great investment piece.
---
Fendi First metallic leather sandals With Gold Heels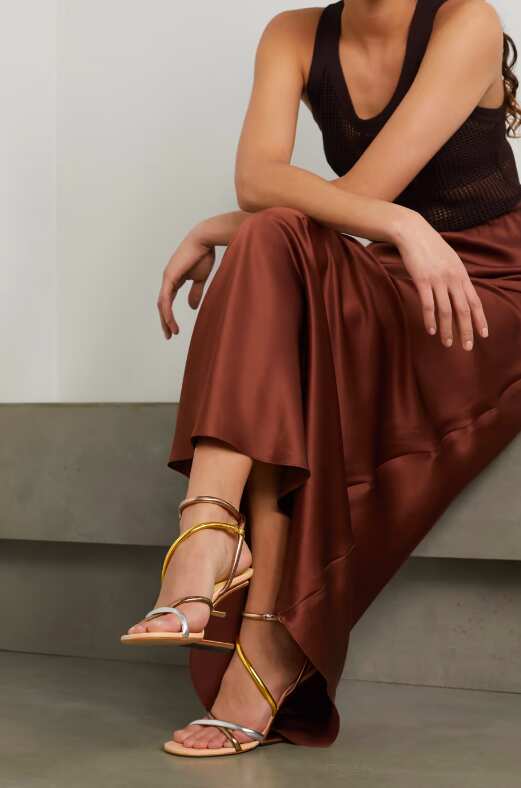 $1,490
Shop at
Gold sculptural heels are iconic among fashion designers. The Fendi First brings an inverted F to balance the handbag from the same collection.
---
Bijoux High Heel Designer Gold Leather Sandals, Gianvito Rossi
$235
Shop at
The slopes are gonna get warmer this year and it's not just because of Global Warming! I don't think you can find anything more extra and exuberant than these gold ski Moon boots! The shiny outside is made of water-resistant gold vinyl, the rubber soles are gripped, and the boots are insulated with warm and comfortable foam padding.
---
runaway gold Ballerina Leather Flats, Simone Rocha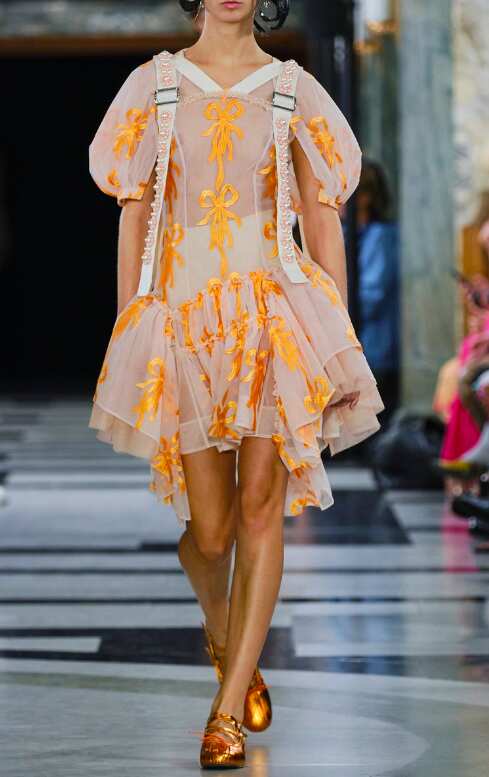 $730
Shop at
This stunning ballet flat is Simone Rocha's golden version for the trendy balletcore and the Y2K ballet flats comeback.
---