☾ Affiliate Disclosure: The Mood Guide celebrates women's moods and versatility. Even though we may earn a commission from some of your purchases, we encourage you to shop with the right intention. Focusing your energy on what you feel confident and comfortable in is empowering! ♥︎
---
I consider Fall the most fun season for fashion adventures. The weather is pleasant, not too cold, not too hot and we can play with so many pieces of clothes, from skirts to scarves, from boots to sneakers. And because there's no one-size-fits-all when it comes to authenticity, our fashion posts are very specific for each aesthetic. Are you living your Baddie era, embracing your female power, feeling confident in your own skin, and with your body whether it is sleek or curvy, channeling your sex appeal in a way that resonates with your desires? We picked the main trends from the runways and in this post, we show how they can translate into some Baddie outfit ideas for Fall 2023 to inspire you.
Why is this post for you?
Are you extremely sexy and feel comfortable showing skin? Even when you are comfy, sports, or elegant do you express power and sex appeal? Do you love luxury labels? You see, every fashion blog and magazine will bring the trends. And we love them, of course. We take that and show you how it can make sense for your aesthetic in real life. We went to Vogue, Glamour, and WhoWhatWear and identified the Fall fashion trends that speak to the Baddie aesthetic. On top of that, and because we are specialists in aesthetics, this post shows how you can incorporate the runway generic trend into the Baddie aesthetics according to your reality.
And why do we do that? Because our purpose is to set women free of artificial rules and impulsive shopping.
Here at The Mood Guide, we encourage all forms of art, because we consider them genuine expressions of the soul. Therefore, we understand the importance of fashion as an artistic movement. However, the reason why we are so focused on aesthetics is because we believe they go beyond fashion trends. From our perspective, fashion trends are fun inspo, and it's our job to help you feel free to wear them as you see fit for yourself. Not only according to your body type but also your moment in life and your mood. If you are a hardcore fashionista, that's your mojo, go for it. But if you feel pressured to follow the trends or you can't afford a new wardrobe right now, know that there's nothing wrong with you. Aesthetics should set you free to be and live according to your authentic self, not diminish you to fit in any industry box.
All Red Fall Femme Fatale Outfits
---
According to Glamour and Vogue, all red outfits are the monochromatic pick for Fall 2023. Red is the most femme fatale, sexy, empowering color in the female universe. Think about red lips, red nails, and red shoes. They have such a powerful aesthetic that some people feel intimidated by it. In some cultures and religions, women are shamed or even forbidden from wearing red accessories or clothes. In ancient times, women would gather under red tents for sisterhood feminine rituals following their natural period and moon cycles. No wonder some religions associate red with the devil, to hell. But that's a different conversation. 😉
Therefore, in my opinion, no other color represents the baddie spirit of female unapologetic authenticity and freedom of expression like red. And let's be honest, we can't pull an all-red outfit unless we are feeling fully confident. Once you step outside in all red, head to toe, you'll have all eyes on you.
Wear the all-red baddie aesthetic when you need to evoke your female power. More than the outfit, the Baddie aesthetic is about how confidently you show yourself to the World.
The Fall trend is to wear all-red from head to toe and you can, and should, adapt it to your level of comfort and style, whether it is comfy, ultra sexy, or more elegant. So here are our all-red fall outfit ideas so you can incorporate them into your own baddie aesthetics according to your moods and reality.
You Comfy Sportive Devil
The comfy and the sports trend started years ago and it shows no sign of going anywhere. It's all about sportswear: joggers, cropped sweatshirts, and tracksuits. They became a thing thanks to the Kardashians back in the Kanye era and we love it. Make it all red and you're ready to wear it in 2023.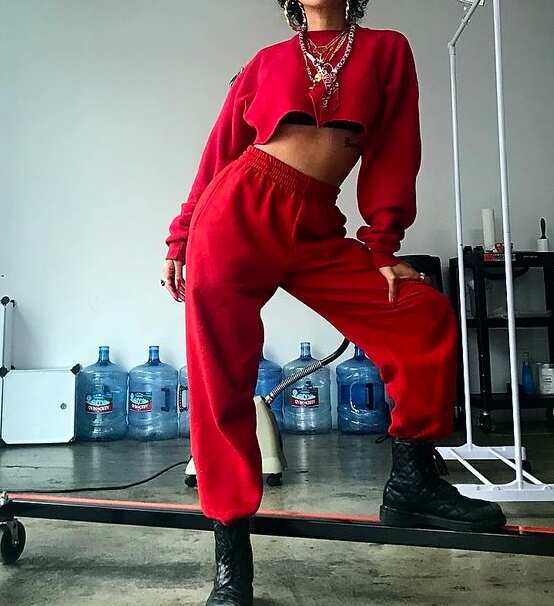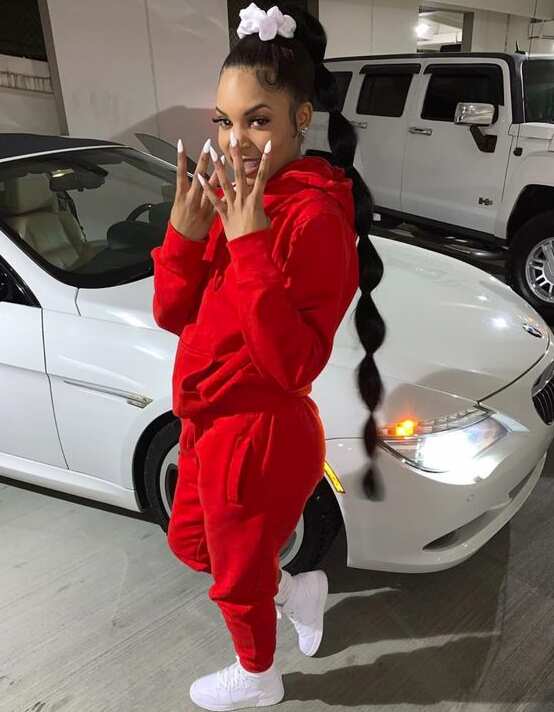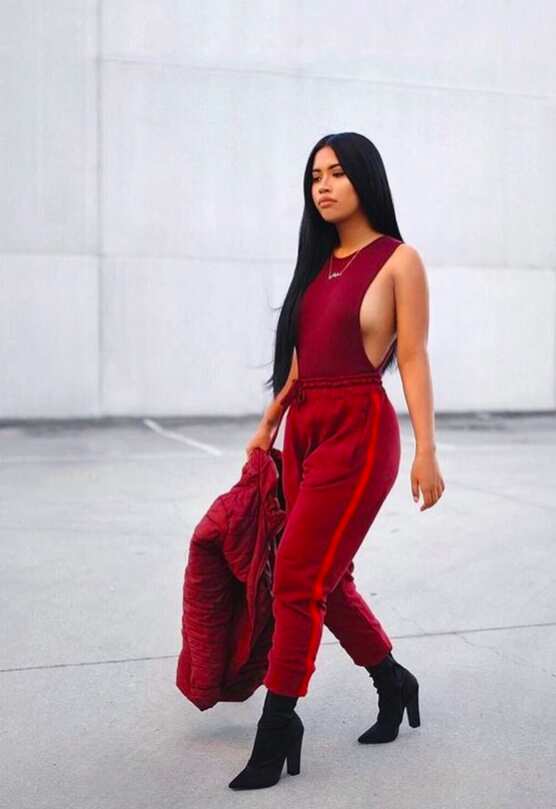 Shop the inspo
You Sexy Boss
When we think about sexy feminine clothing, dresses are the first to come to mind. In the baddie aesthetic, bodycon dresses are the number 1 choice, for obvious reasons. But they are not the only options. So here are some sensual, feminine, and bold alternatives to look sexy and powerful if you want to try new things this Fall.
First, have you ever thought of experimenting with different shapes of dresses? The all-red trend is perfect for it. The tight red boots and red dress are a perfect example of how you can pull an elegant look that is baddie as hell.
Here we can incorporate the lace and satin trends into the all-red Fall outfits and create the ultimate sultry look. And you can go as far as you feel comfortable in the scale between sexiness and elegance.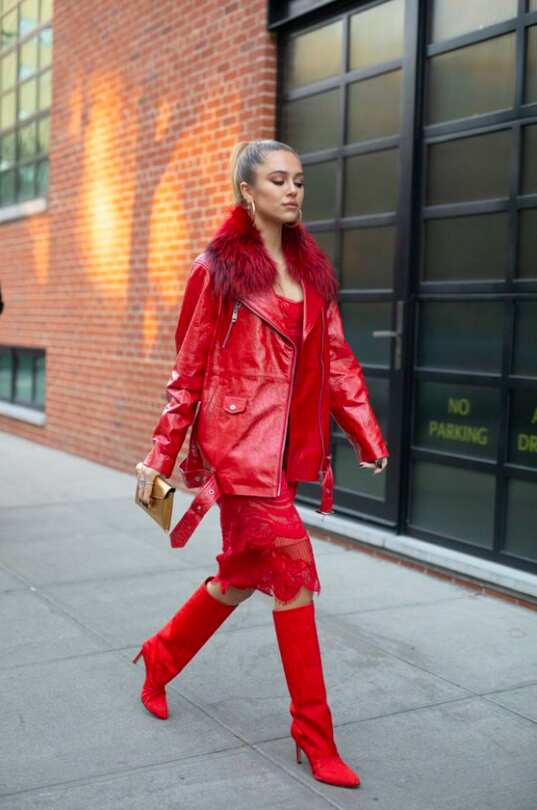 Shop the inspo
When it comes to red tailoring, is time to add some sexy lingerie, satin, lace, and cropped to the mix. These sexy fabrics and designs will create the Baddie aesthetic, otherwise, a red suit is only a red suit. Very powerful, yet classic with a slight baddie vibe.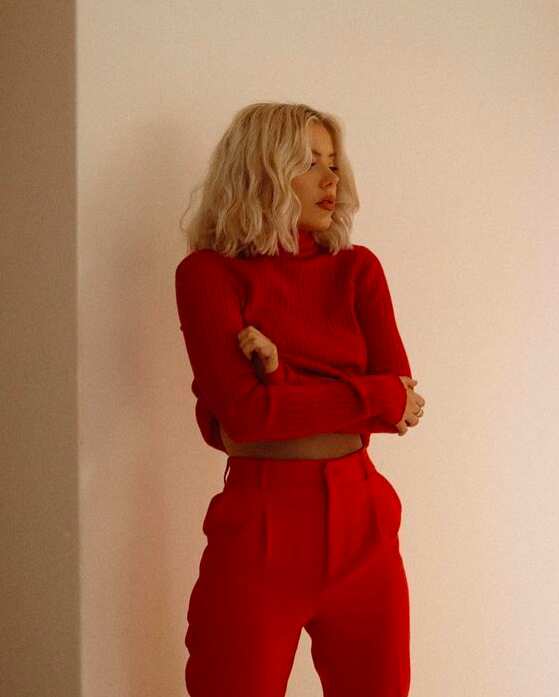 Shop the inspo
Denin On Denin Baddie Outfits
---
According to Vogue, Fall 2023 is the season to bring sexy back (if you know you know) and denin on denin is your one-way ticket back to Y2K. Denim on denim was in during spring, so you can reuse your pieces for transitional weather.
True be told, I didn't wear it then and I'm not wearing it now, but if you're going through your baddie street style era, this is your trend.
It's as easy as it gets: denim top + denim jacket + denim pants in any shape, length and fit that you feel comfortable and beautiful in.
Sexy Denin On Denin
This is for my girlies who love showing their curves and body shape (regardless of how curvy it is). If this is your vibe, go for denim corsets and pair them with your favorite denim trousers, skinny or baggy.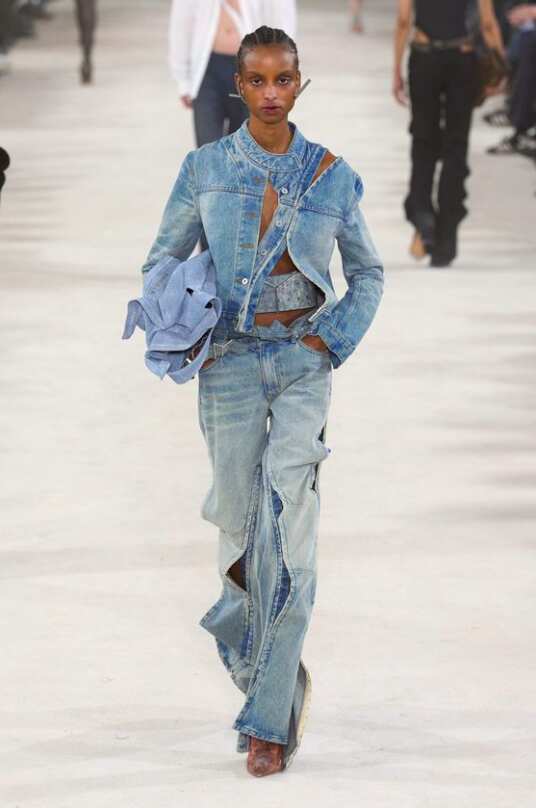 Shop the inspo
Comfy Bad Gal
Again, no secret here. Loose-fit pants + cropped jackets, and oversized jackets turned into short dresses, after all, it is Fall, y'all.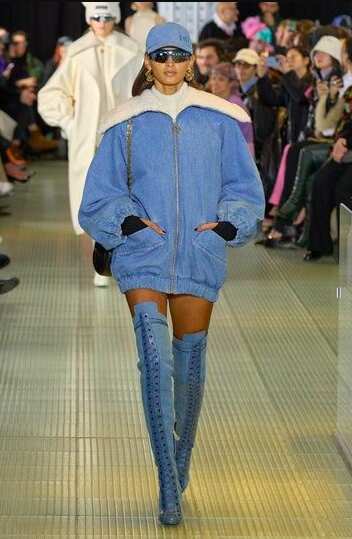 Shop the inspo
Of course, you can adapt many other Fall trends to the Baddie aesthetic in any way you see fit. I picked these because they scream Baddie vibes, therefore, chances are that a bad gal might have a lot of these pieces already. Please, if you are a die-hard baddie, let me know in the comments what you would have added or done differently in this post! I'd love to hear from you.
At the Mood Guide, we believe it is so much easier to find the things we truly love when we look at an aesthetic image and feel that lifestyle. This is why we organize and curate content with aesthetic guides. Here you will find a lot of aesthetics explained, and if the baddie aesthetic is your thing, check out all our posts in the baddie aesthetic category. 👸🏽
Stella