Finding decoration inspiration for special seasonal dates and holidays is one of my favorite things to do on the internet, thus, one of my favorite things to write about as well. Easter aesthetic when it comes to decorations is quite a way we te popular n was known for its pastel colors and springy florals.
But, just like in our series of aesthetic Christmas decorations (pink, black, blue, Scandinavian, white), the same happens with easter. After all, these days we love to reflect our own personalities in the way we decorate our homes.
---
🌷 Easter Moods & decor in this post by aesthetic:
---
So, of course, I will begin this post with the meanings and symbols of the traditional easter aesthetic and how you can use it for your decor.
🐰 I have already written a post of easter wallpaper ideas, also organize by aesthetics, so you can find the perfect easter aesthetic wallpaper that matches your mood
🌷 Related: The Best Easter Gifts For Toddlers, Adults, Teens & Babies
---
Traditional Easter Aesthetic & Decorations
---
A girly pastel aesthetic is the most popular way to create an easter feel. Below are some tips if you want to make a pastel-springy, sweet, and traditional easter aesthetic decoration.
Pastel colors: Easter is known for its pastel colors such as pale pinks, greens, blues, and yellows. Use these colors in your decor, clothing, or accessories to create a cheerful yet adorable Easter feel.
Easter eggs: Decorate your home with colorful pastel Easter eggs. You can use real eggs or plastic ones, and decorate them with paint, markers, or stickers.
Easter egg trees are super easy to create or buy and look super cute as a centerpiece,
Spreading little colorful eggs on glass jars or cute mugs is a super easy way to incorporate this aesthetic into the decoration with no fuss.
Hand-painted eggs with pastel colors and florals will take your easter aesthetic decorations to another level.
Bunnies and chicks: Easter is synonymous with bunnies and chicks, so incorporate them into your decor with plush toys, napkins, figurines, or prints.
When you pay attention to the details you don't even need much. Spring is also the perfect time for fresh flowers, so why not incorporate them into your Easter aesthetic? Daffodils, tulips, and hyacinths are all popular choices for Easter.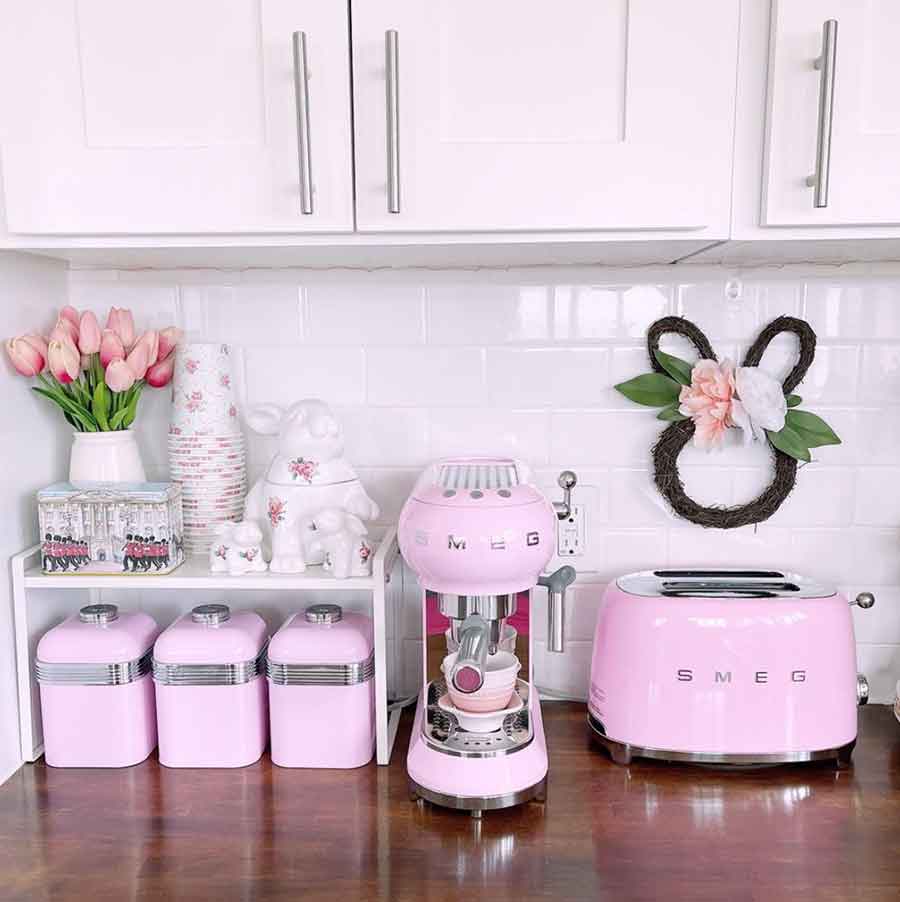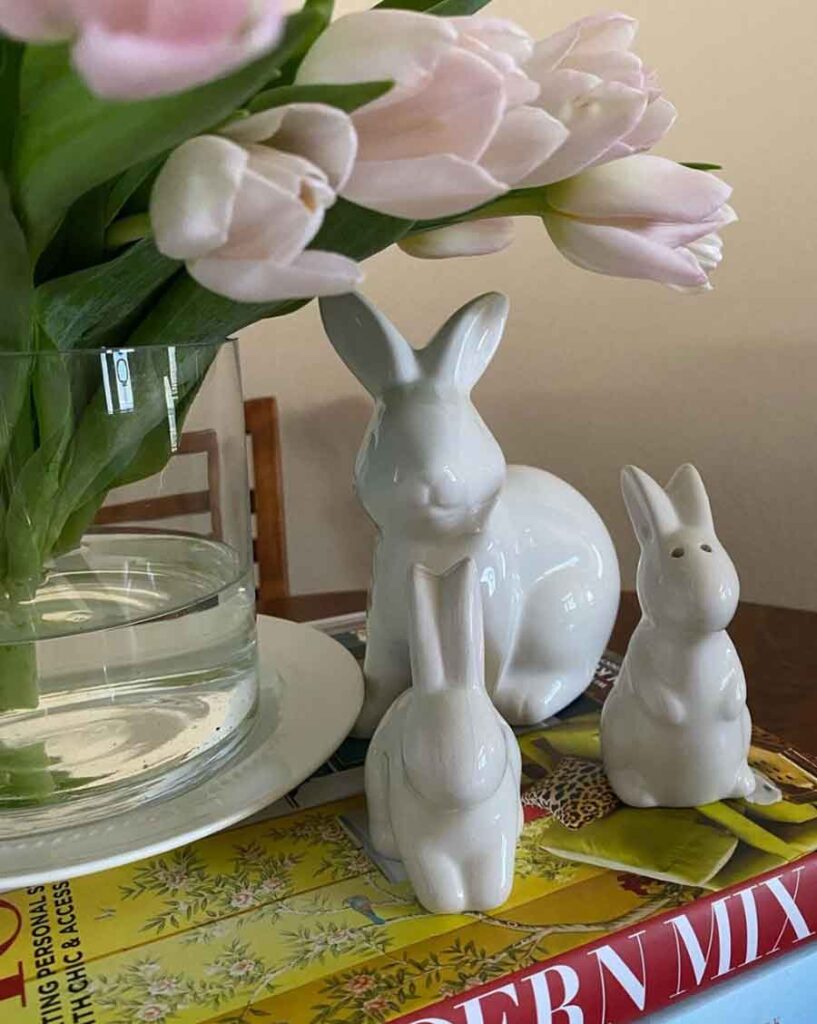 Springtime fabrics: Bring in springtime fabrics like cotton, linen, and light wool. Use these fabrics in your clothing or home decor. Gigham cotton napkins or linen pillowcases are popular picks.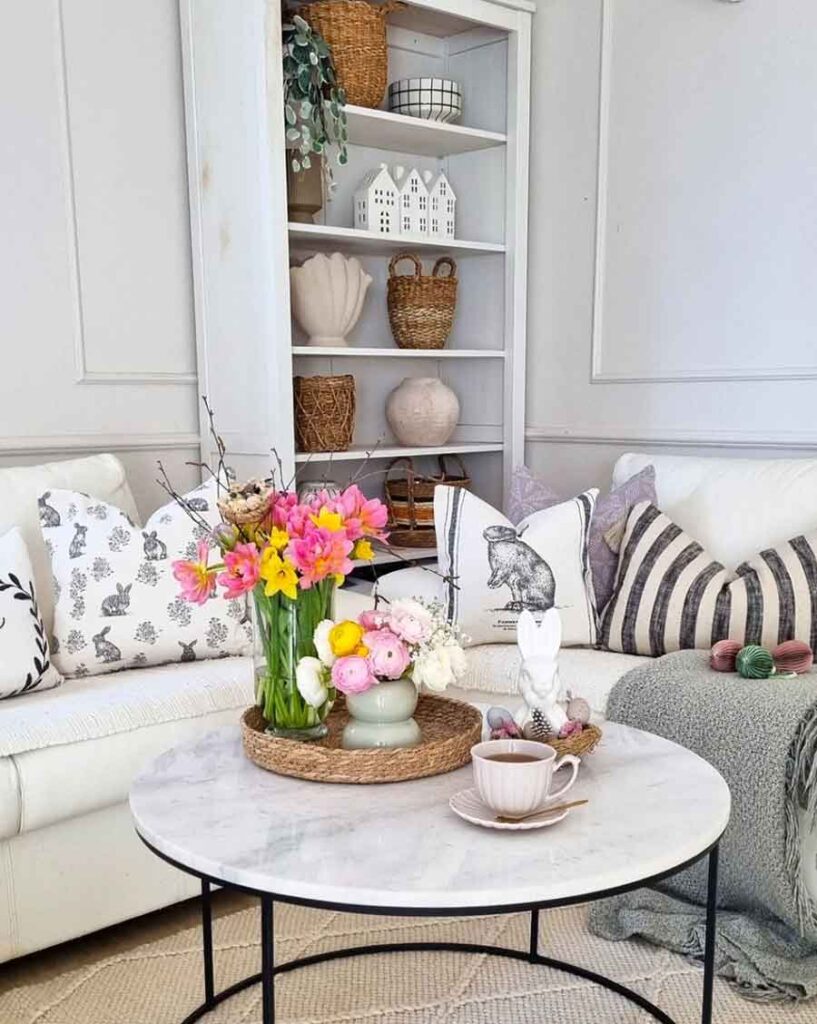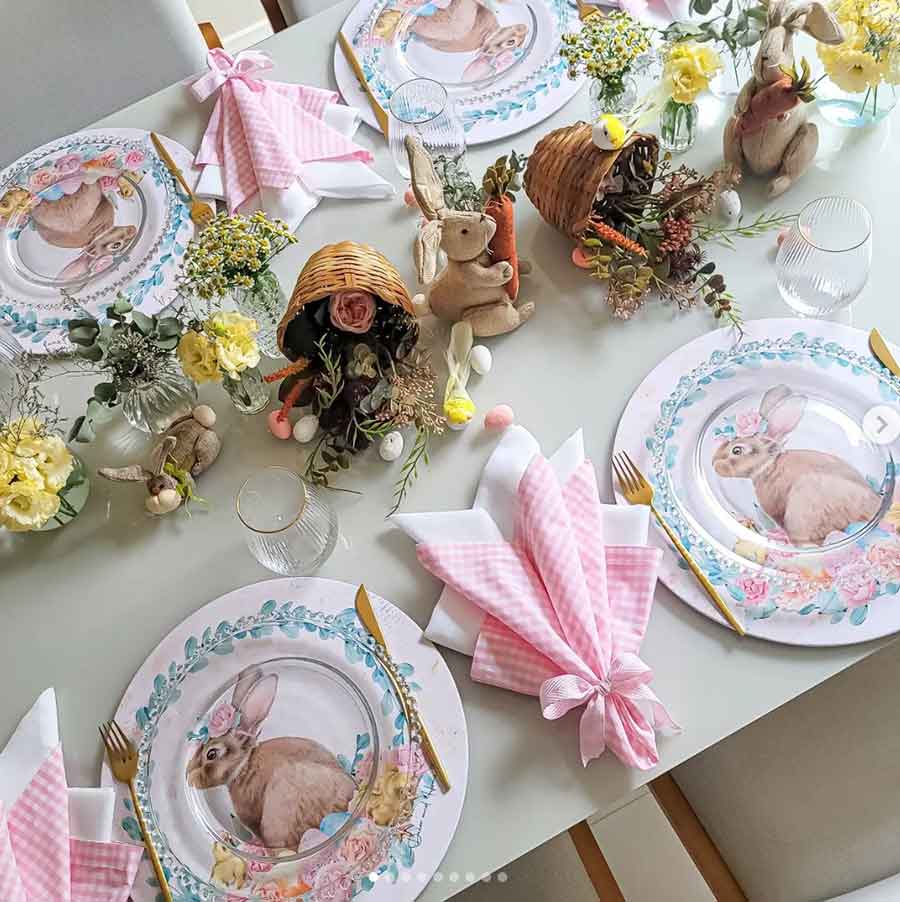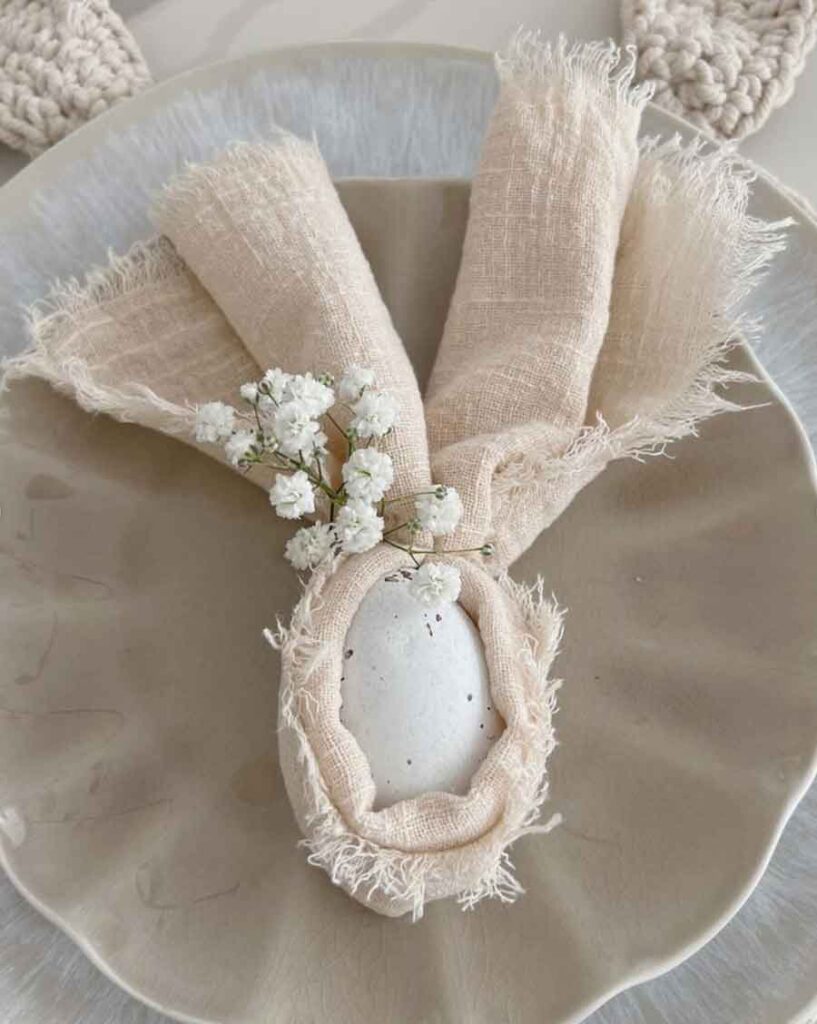 Easter basket: Create an Easter basket filled with treats and goodies. You can customize it with your favorite candies, toys, or small gifts. You can also just adorn your table with a stunning basket centerpiece.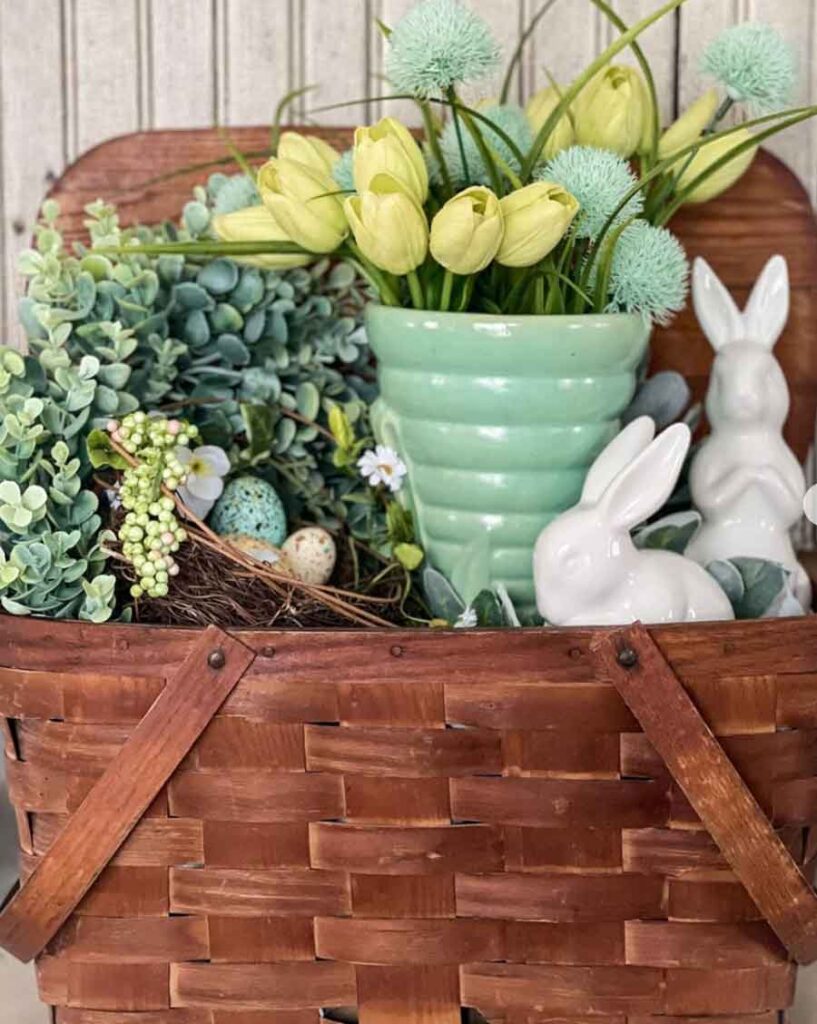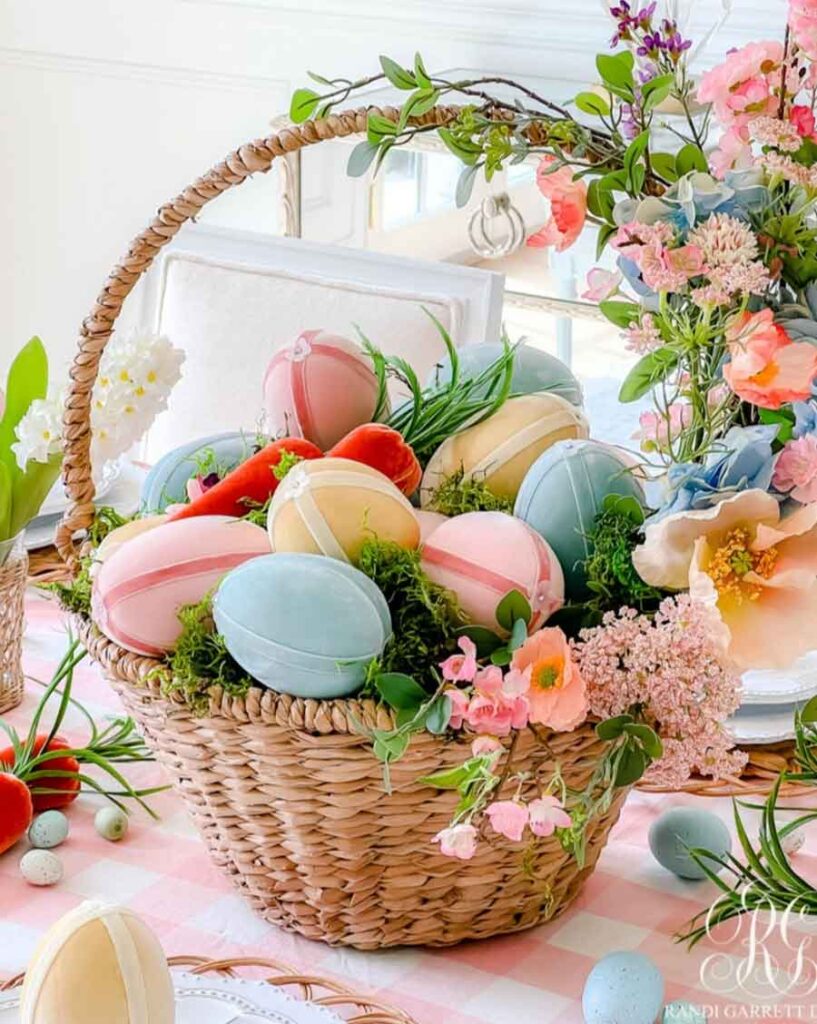 Springtime scents: Use scents like lavender, lemon, or fresh linen to create a springtime atmosphere in your home.
Easter wreaths: All the elements above, such as pastel flowers and cute eggs arranged on a wonderful and joyful wreath!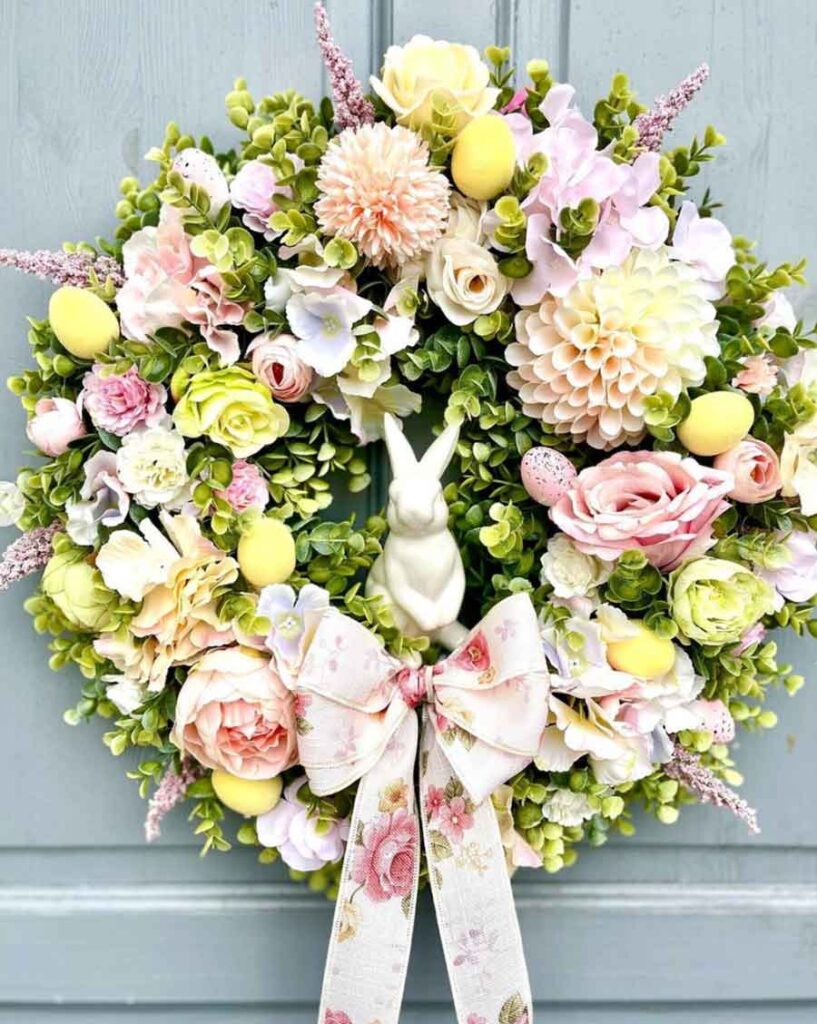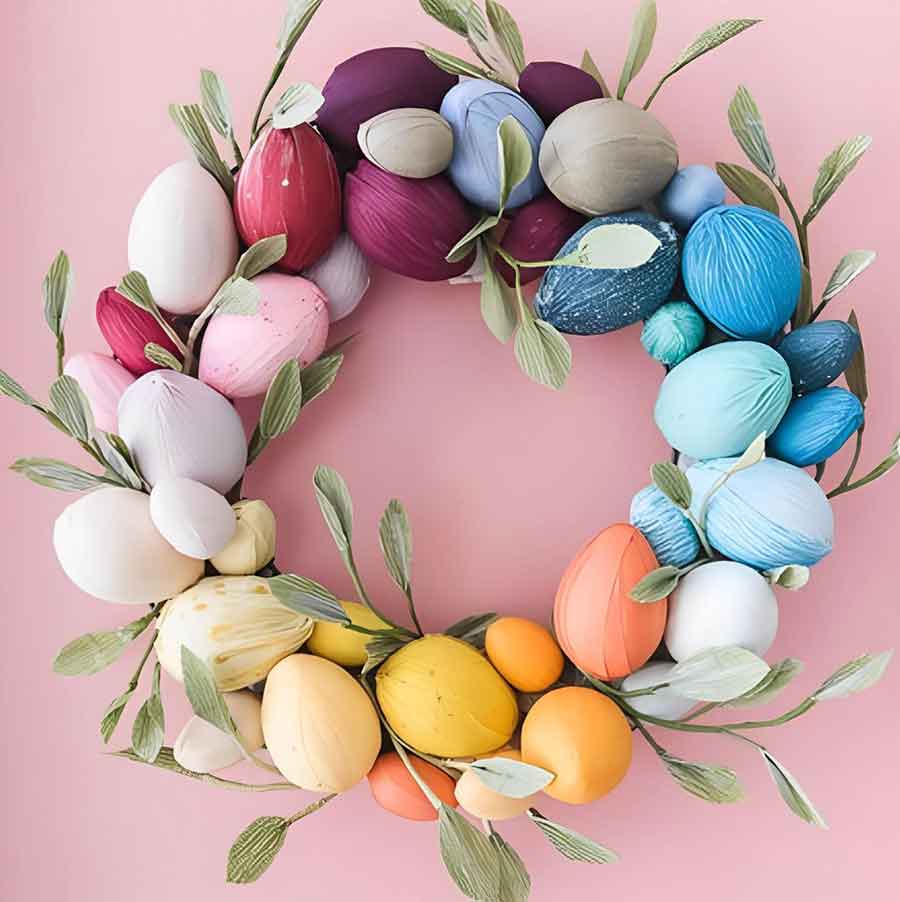 Pastel aesthetic Easter table: The table setting is probably one of the most exciting parts of the decoration. Here the same rule applies: Little bunnies, chicks, pastels and flowers everywhere will make your table look like a cheerful enchanted easter garden and a true celebration of the renovation of spirits evoked by easter by spring.
Floral centerpieces on pretty vases, soft color dishes, cute bunnies, and colorful pastel eggs in the details are the elements you will need for an eye-catching easter table aesthetic.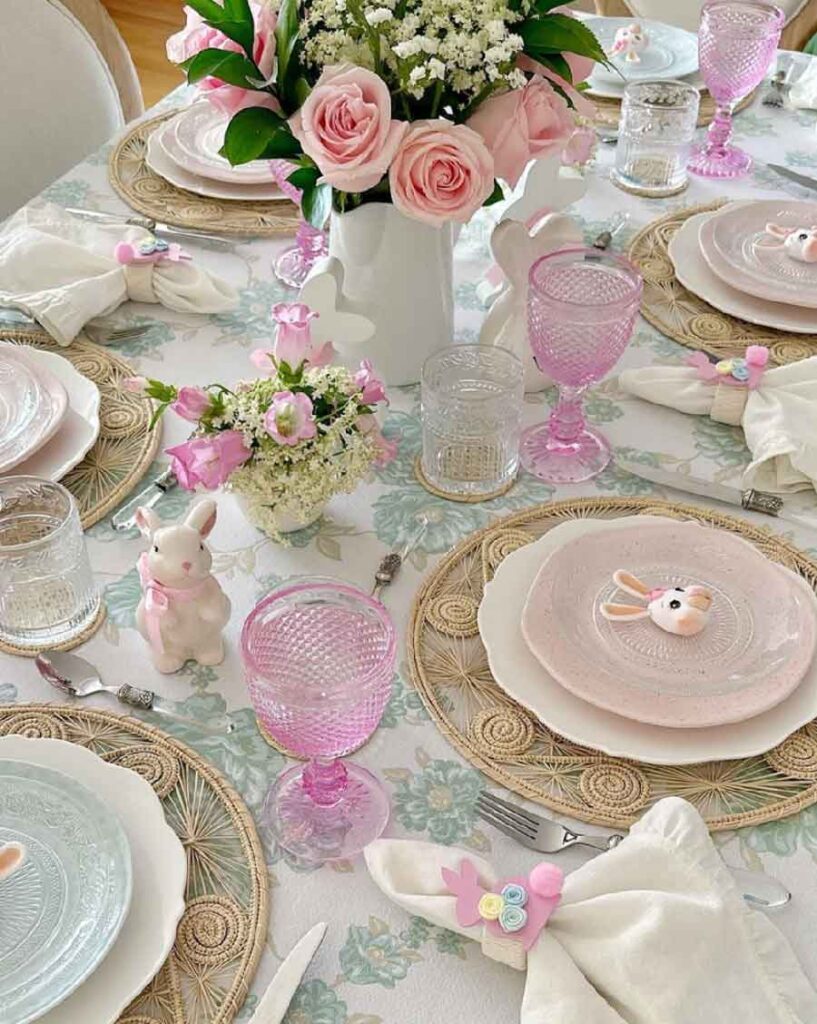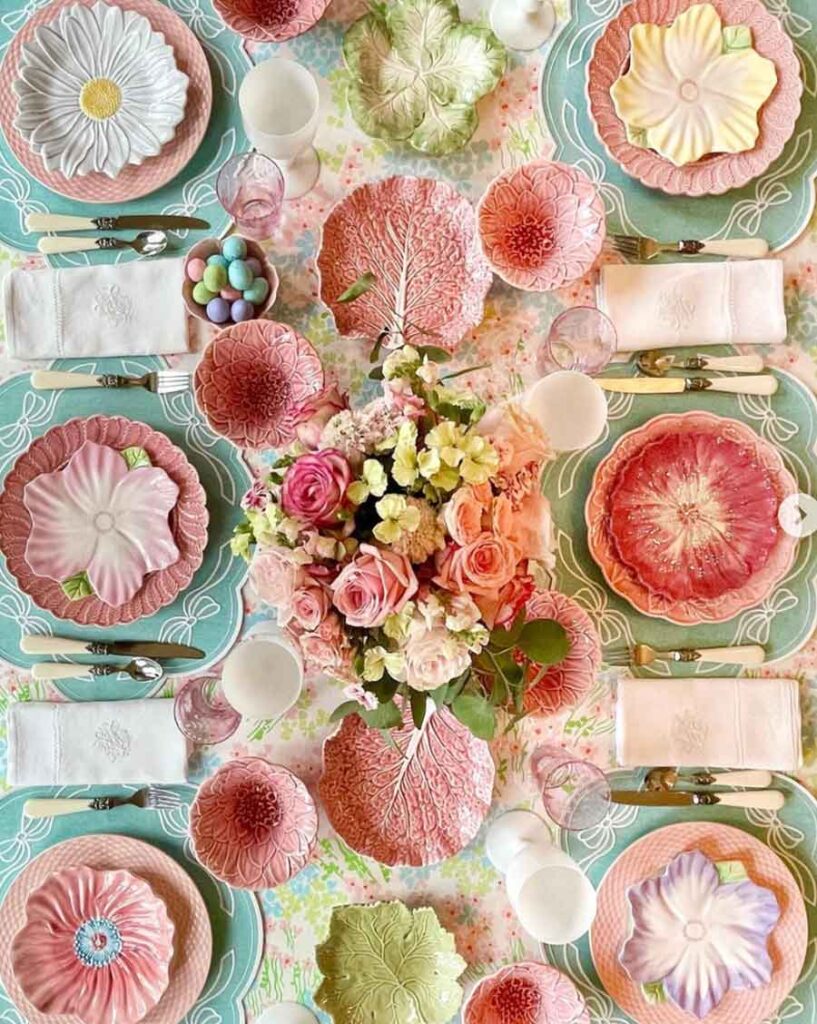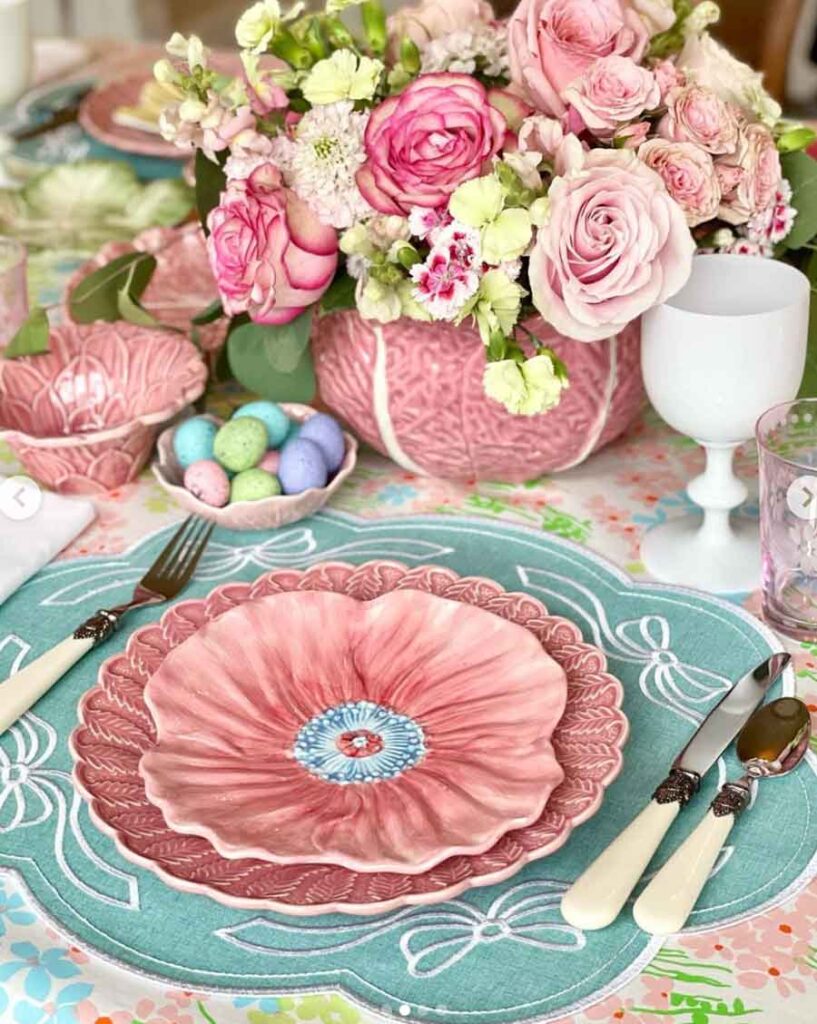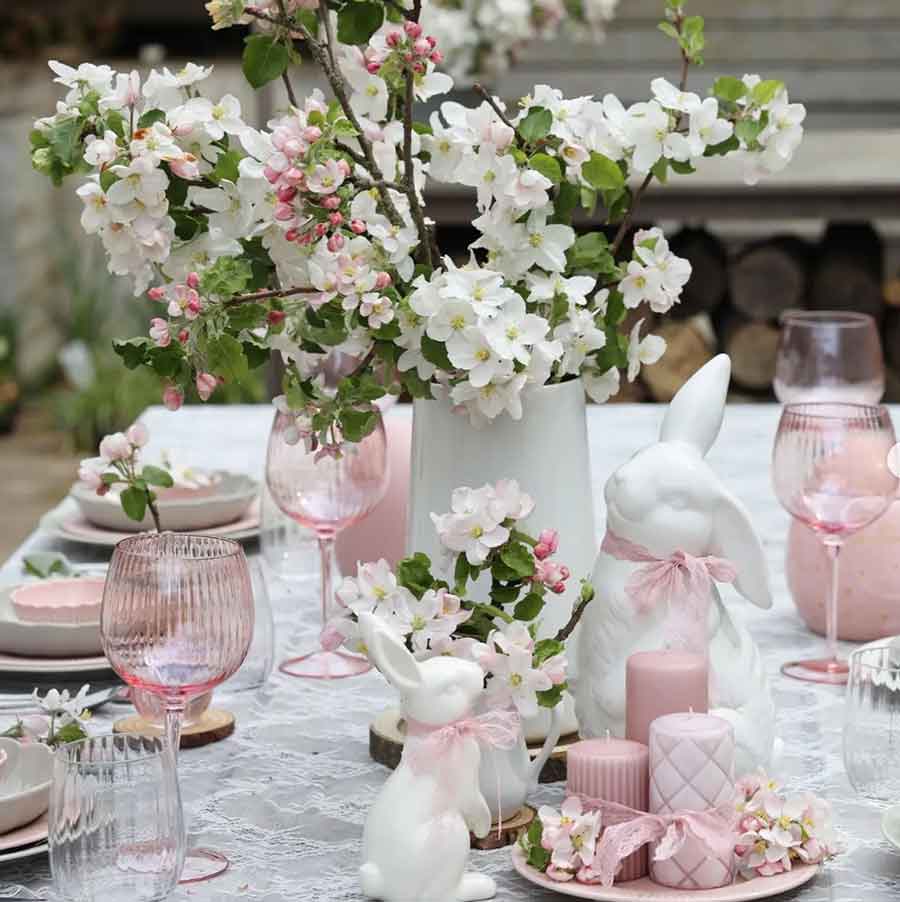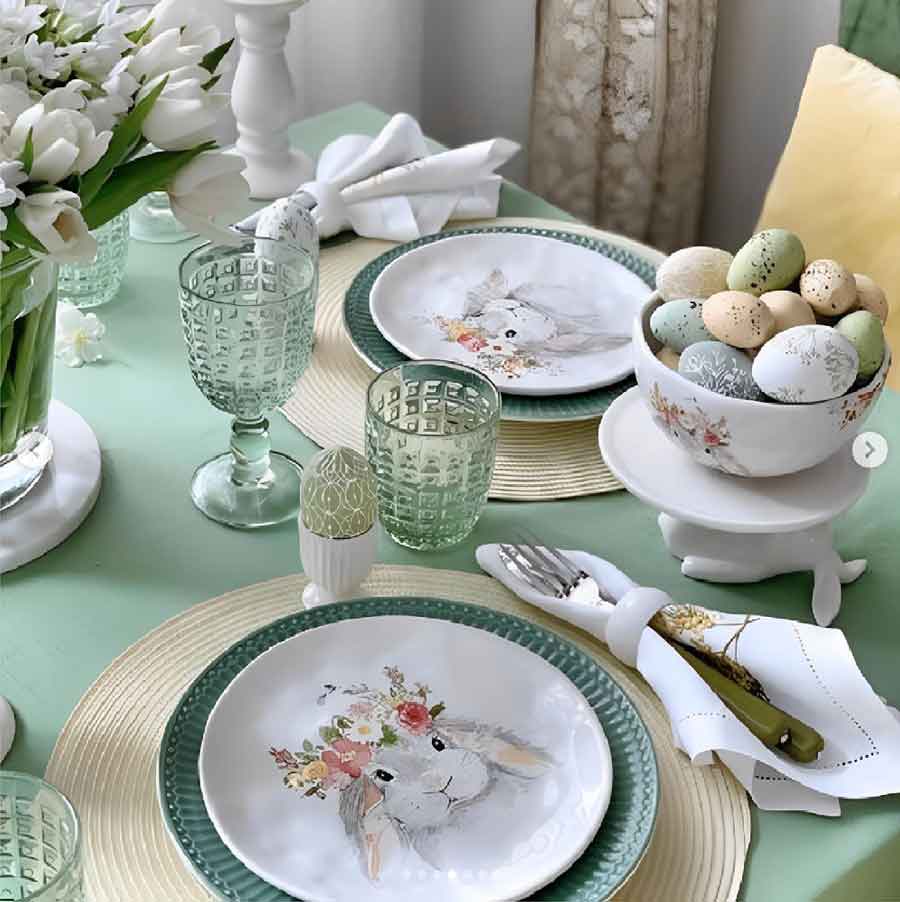 Details in the house, such as cute bunnies in every corner.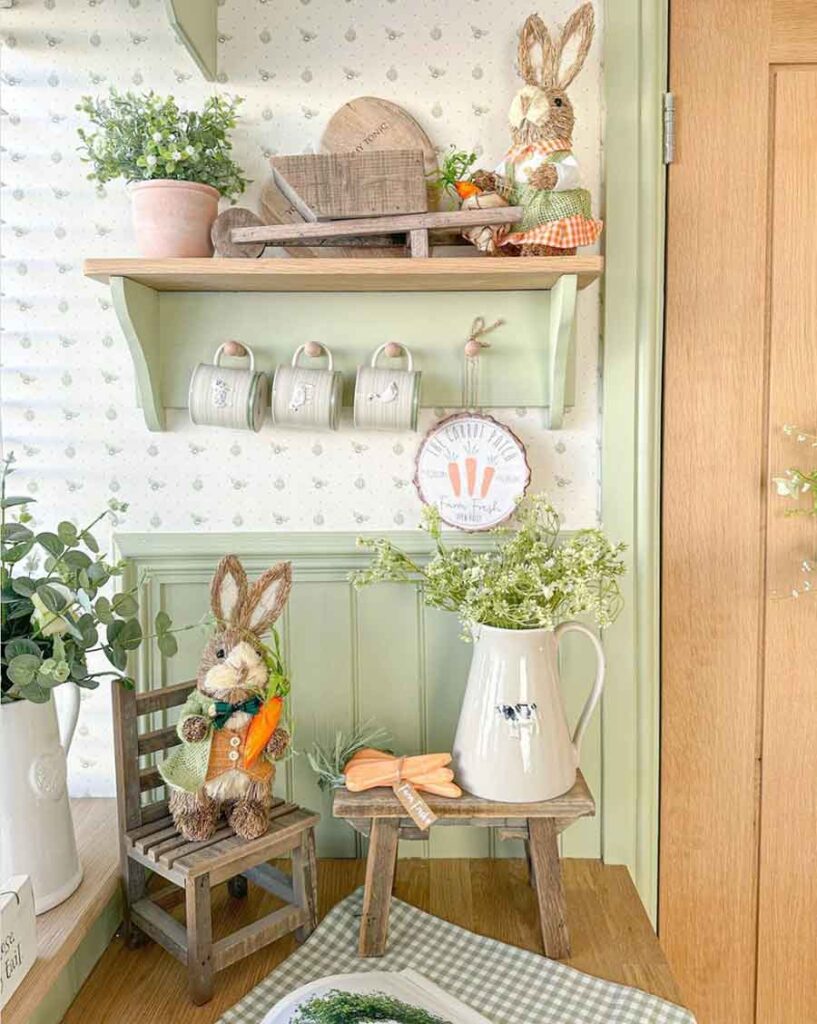 You don't have to limit the colors to pastels. After all, spring is about all the colors. Pastel shaes will evoke a more romantic an soothing feeling, but you can make it warmer as weel an still get a gorgeous vibe from it.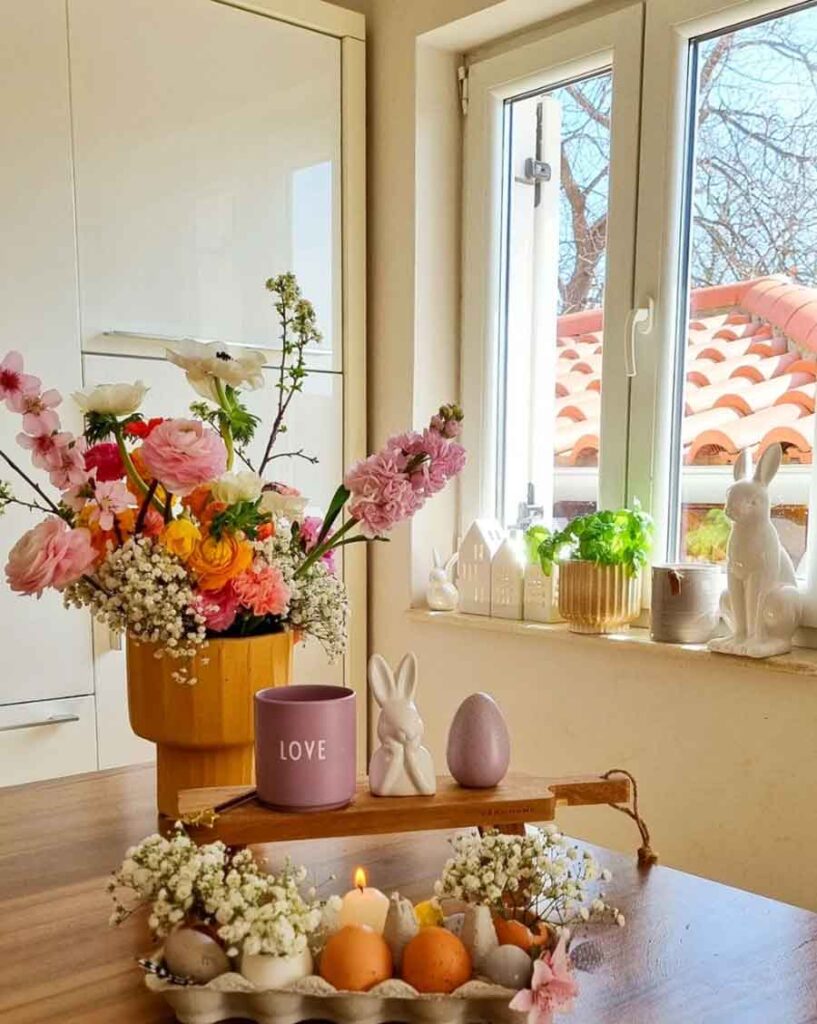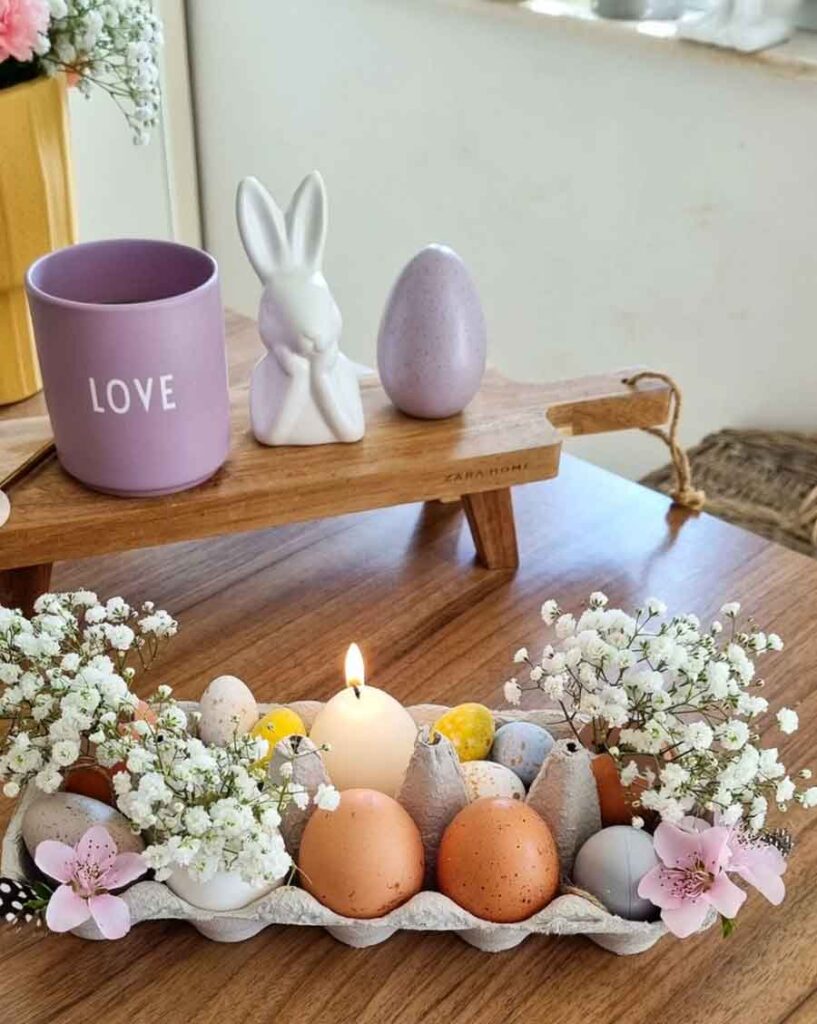 Minimal Modern Chic Easter Decorations
---
Although this super chic type of easter aesthetic is not mainstream, it has become every day more popular. This decoration is for the minimal chic woman, that urban person, with a sophisticated taste that lives by the mote that ¨less is more¨.
So, that lay who loves an all-black and-white palette for everything, including her minimal chic home decor will certainly prefer a minimalist
1- decorate your home with black and white eggs and bunnies. Little feathers and white plants are also nice and chic easter and spring references.
2- Set the table with minimalist dinnerware. Geometric round and square dishes, sophisticated black candleholders, and black linen napkins, when combined with little details such as black and white eggs and bunny ears shaped napkins make the perfect minimalist easter table. For an extra touch of luxury, replace wooden with golden details.
Create a centerpiece mixing minimalist wooden or black and white candle holders an natural elements for a nordic, Scandinavian easter feel.
Farmhouse rustic easter aesthetic decorations
---
If you are a simple person, who values natural, rustic things, maybe the traditional girly pastel or minimal chic decor is not the right aesthetics for your easter decorations. A cottage, natural, farmhouse vibe might be your thing. All you need here is a totally neutral palette and natural elements.
Wood bunnies, carrot stacks handmade with natural material, and natural white, beige, and green plants are key to evoking that rustic farmhouse vibes when it comes to a natural easter aesthetic.
Easter egg little trees also work fine for the natural eater aesthetic, but instead of pink pastel eggs, go with white and beige ones.
The aesthetics of these natural wreaths also evoke a slow neutral easter mood.
Again, my favorite, handpainted eggs, now with a natural style.
Vintage:
Vintage aesthetic easter tables are for the old royal souls who wish to evoke a slight victorian vibe to their springy joyful easter. Large floral vases, hand-craved eggs, silver dishes and a lot of ornaments for your table setting, to celebrate easter in vintage style.
Just like the other easter aesthetics, the handpainted eggs here now comes with a vintage look an feel.
---