What's The Meaning Of Ethereal?
Ethereal means: Extremely delicate and light in a way that seems too perfect for this world.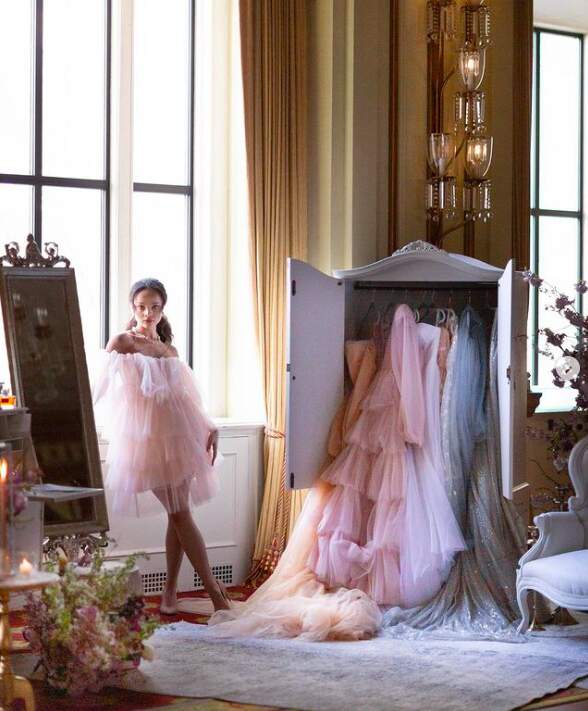 Taking by the dictionary definition of ethereal aesthetic, it's ultimately a romantic style for dreamers. The ethereal aesthetic draws a blurred line between reality and imagination. So, the idea is to make real life so perfect aesthetically that it will look like a fantasy. Do you often feel enchanted by the beautiful perfection of ballet? Do you wish you could escape to a fairytale enchanted garden? No wonder why ethereal weddings and wedding dresses are so popular among dainty brides. Weddings are a great occasion to make dreams come true. But we advocate for the power of finding your perfect aesthetic every day. So, here is a sensorial post with a lot of ethereal aesthetic inspiration. Hopefully, it will inspire you to add a touch of a dream to your life.
delicate; exquisite; dainty; elegant; graceful; beautiful; lovely; fragile; airy; diaphanous; tenuous.
Ethereal Aesthetic Wedding Dresses
Ethereal Aesthetic Wedding Photo Ideas
Ethereal weddings can go from boho chic to romantic, just make sure your design/decor team and photographer capture the essence of the fairytale you dream of.
Ethereal Aesthetic Dresses
Flowy fabrics, layers of tulle, hand-embroidered, pearls, lace, soft colors, delicate flowers, and all things dainty. The ethereal aesthetic dresses and outfits are romantic, extremely feminine, and look straight out of a fairytale. On the high-end design fashion, Elie Saab is the name to follow. For casual or formal use, Selkie is the ultimate ethereal label.
There are some aesthetics with an ethereal and delicate vibe like the fairycore, balletcore, royalcore, soft girl, angelcore, and lavender.