---
– Cottagecore Christmas IN THIS ARTICLE –
---
☾ Affiliate Disclosure: The Mood Guide celebrates women's moods and versatility. Even though we may earn a commission from some of your purchases, we encourage you to shop with the right intention. Focusing your energy on what you feel confident and comfortable in is empowering! ♥︎
---
Oh! When the magic of Christmas meets with the enchantment of the Cottagecore, we have pure bliss! The woodlands are covered in white snow, where the gnomes* and rabbits leave their playful footprints, letting us know they were around. It's time to ditch the picnic for a warm cup of tea by the fire; curl up in your favorite chair, under your soft blankie, and read the afternoon away sipping on hot cocoa. As for the aesthetic, it's time to wear your lovely homemade knits and enjoy yourself at the Village's ice rink; bring the mushrooms, the vegetable garden, the picnic, and all the whimsy of nature into your home.
* Only true believers can see the gnome's footprints! But be aware! If you're enlighted enough they may sneak into your home looking for coziness!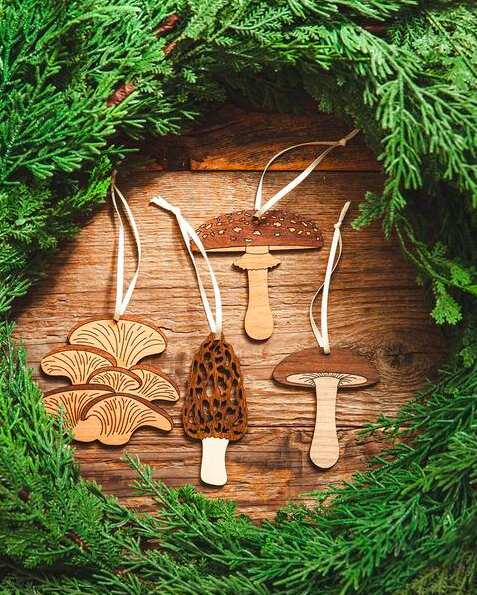 So, for this post, I selected the most enchanting Christmas ornaments and decorations that reflect the Cottagecore aesthetic and lifestyle. You'll find lovely villages, fluffy wild animals, magical ice rinks, a lot of mushroom ornaments, and all things cottagecore so you can create your magical nature wonderland. Happy holidays!
---
The Cottagecore Christmas Aesthetic: snow, mushrooms, gnomes, cute woodland animals, botanical, serene, English countryside, snow English gardens, light greens, light pink, red, browns, and earthy tones.
---
Enchanted forest and whimsical mushrooms…
Cozy life in the cottage…
The enchanting Christmas lights in the Village… ☃️