☾ Affiliate Disclosure: The Mood Guide celebrates women's moods and versatility. Even though we may earn a commission from some of your purchases, we encourage you to shop with the right intention. Focusing your energy on what you feel confident and comfortable in is empowering! ♥︎
---
I've been writing about pink Christmas since the first year of The Mood Guide. Our girly readers love it because, from an aesthetic point of view, it's so feminine and delicate. Also, pink Christmas decor is a major favorite among moms to create a magic Winter Wonderland in their little girl's bedrooms. I spent the whole morning browsing the internet to find the most aesthetic, unique, and cute pink Christmas wreaths for this post. So, here are the chosen ones. There's a little bit of everything, as usual, from mini to large pieces, affordable to luxurious, simple, and pre-lit. I hope you find what you're looking for!
Happy pink Holidays!
---
Mini Pastel Christmas Wreath
Wreath dimension: 3.75in
$22
Shop at
This tiny wreath is perfect for my girls living their kawaii, soft girl, or pastel aesthetic era. The pink bottle brush Christmas tree ties it all.
Mini wreaths are a great option for tabletop decoration. You can use them as place holders or simply spread them across the table to create a whimsical effect.
---
Pre-Lit Large Christmas Wreath With Rose Gold Baubles & Bow
Wreath Dimension: 28in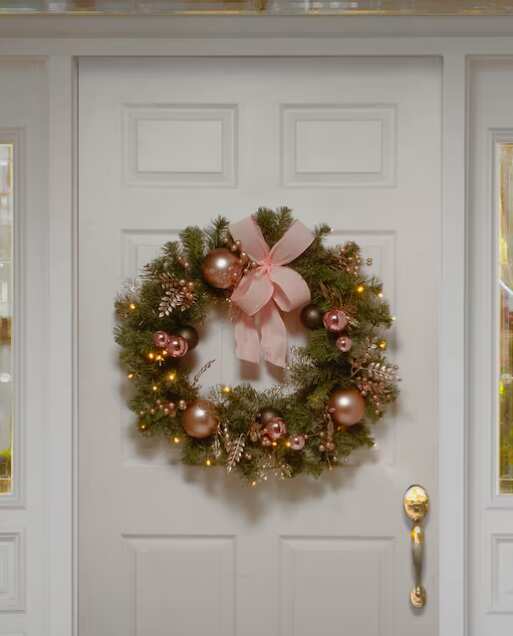 $107.74
Shop at
Rose gold is the elevated shade of pink, isn't it? No wonder this beautiful wreath combines sober greenery with an elegant pink bow and pre-lit lights.
---
Pink Fun Candy Christmas Wreath
Wreath dimension: 24in
$76.50
Shop at
If Weird Barbie had a pink Christmas wreath, this one would be it, don't you think?
I love the pink pampa grass covered in pastel candies and glittery Christmas figurines plus a bow. It's messy, all over the place, cute, and fun!
---
Did you find your favorite pink Christmas wreath?
Stella