☾ Affiliate Disclosure: The Mood Guide celebrates women's moods and versatility. Even though we may earn a commission from some of your purchases, we encourage you to shop with the right intention. Focusing your energy on what you feel confident and comfortable in is empowering! ♥︎
---
At first, summer clothes don't imprint an effortlessly chic aesthetic. Truth be told, when the thermometers get close to 90 degrees we are more focused on not melting than anything else. Fortunately, there are some inspiring influencers that keep a natural elegance under Paris and New York heat. And we have so much to learn from them, from the neutral palette with elegant touches of color, after all, it is summer, to the right choice of fabrics. Also, as much as we wish we could boat in Saint Tropez until the Fall hits, some of us are working in the city. So, in this post, you'll find 3 pillars to learn how to create chic summer outfits for different occasions, from the beach to the office, even if you don't own a single white shirt in your closet.
Chic summer outfits inspiration from the most talented and famous minimal-chic influencers on Instagram;
Breakdown of what they have in common to create *that* iconic chic aesthetic that grants them thousands and millions of followers;
Where to find pieces in the same mood and aesthetic so you can create your own outfits.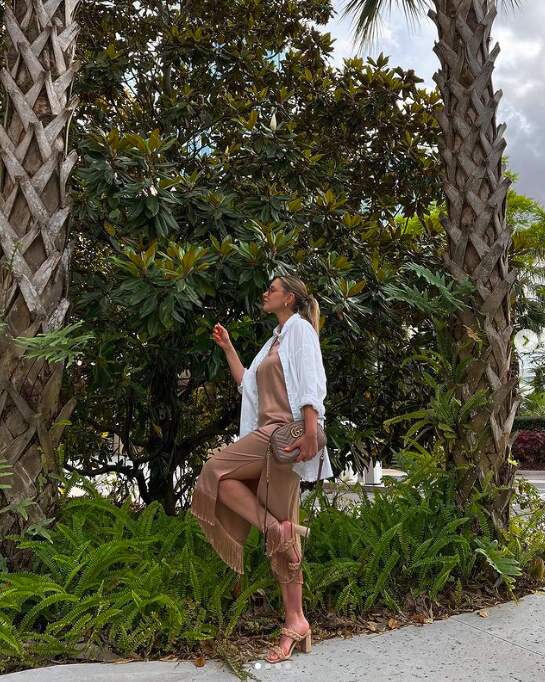 I spent around 50 hours (without counting years of previous research) writing this post so it can be a comprehensive guide for chic summer outfits. And because deep research is my job in order to create rich content, I've been learning a lot about the different aesthetics over the years. When it comes to naturally chic style, it's not exclusively about price and even less about displaying as many designer logos as you can. So, yes, this post has designer AND affordable references as well.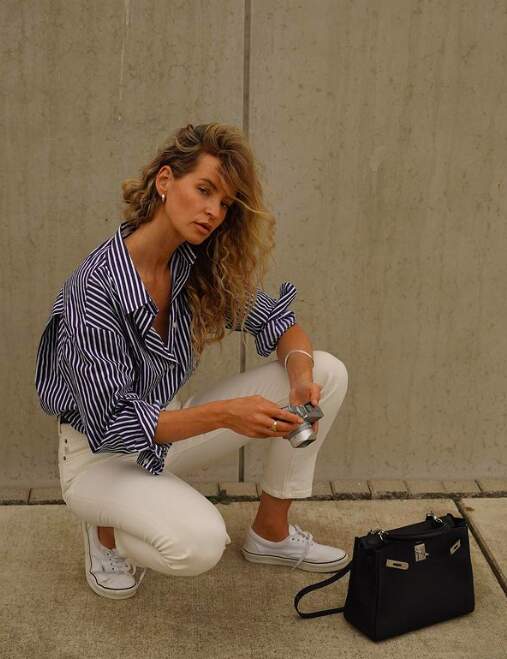 Once you get the grip on how to make things work, you're free to go within your budget. Of course, rich and sophisticated women wear design, but their focus is on the material and the quality. I observed that they are conscientious about not showing off logos in every piece they wear. Can you do it? Yes, it's a free country. But if you wanna portray a chic aesthetic you don't have to go broke to dress in labels from head to toe. The chicest women on Instagram balance it out really well, as you'll see in this post.
Shirts are a chic summer staple. You can wear them as a beach dress on top of your swimsuit, with shorts, pants, heels, or flats and you're halfway there. The rest is about the fitting, the color, and the fabric.
First, chic summer shirts have a relaxed fit. Not sloppy, relaxed fit. What makes the difference between one and the other? The right size according to how the piece was designed. If you want an oversized shirt, look for pieces that were designed to be oversized, instead of buying a tight fit 2 sizes bigger. Some people are talented enough to do that and look stunning, but I wouldn't dare. Good clothes are designed with intentions and respect for body shapes. So a fitted shirt was designed with that intent, to highlight boobs and waistline. A loose or oversized shirt was designed to not do that, so the shoulders seams, the length, and the fitting will be right for it.
About the color, sticking to the neutrals is hardly a miss. Do like @__joannagrace and go with an all-white outfit, pairing the button-up shirt with relaxed shorts. There's no better canvas for your designer beach bag! If you feel the need for some color or patterns, try to mix neutral colors, light white and cold blues, black and tan. As for the patterns, stripes in neutral color combinations are the safe way. If you can't live without yellow or orange, make sure the fitting and the fabric are impeccable.
And finally, I can't stress enough how the right fabric is as important for your summer outfit as it is for winter gear. The more natural the fabric, the better because it will keep you fresh and clean and will hold the shape after being cleaned often. Because sweat stains and odors are not chic, no matter how expensive is the outfit. In this case, linen is always the first choice. But 100% cotton, cotton + linen blend, rayon, and bamboo are just as good.
Outfits Ideas With White Shirts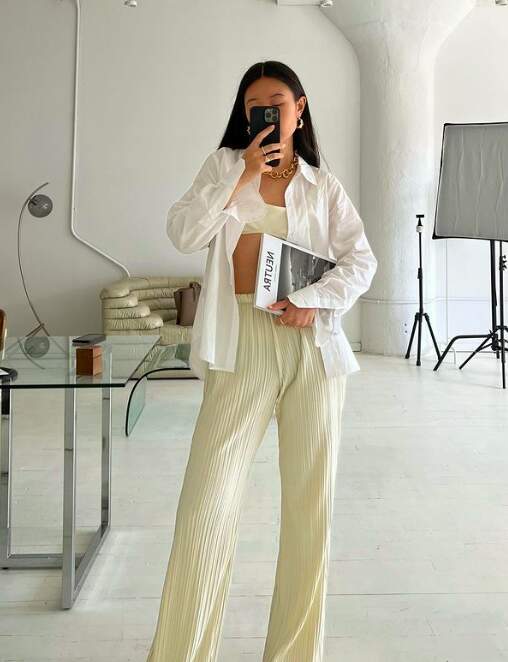 The possibilities of elegant summer outfits with a white shirt are close to endless. It depends on your mood and the occasion. If it's too hot, do like @zozoewitherspoon and pair it with white shirts and flats for a cool monochromatic look. If it's a work day, loose-fit cream trousers are the best match if you wanna stay in the same color pallet.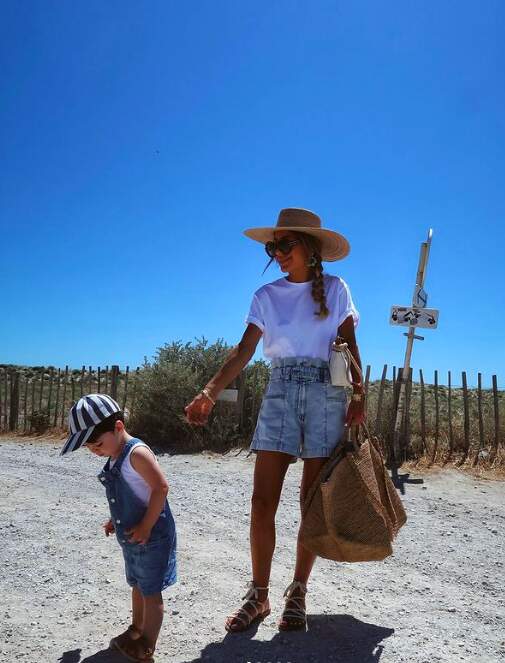 Loose fit and mom jeans shorts are the choices for the minimal chic Instagrammers this year. If you're in a modern mood, do it like the cool @estherjunelife. Pair your trendy 90s mom jeans shorts with a white t-shirt and make it extra chic with a large raffia beach bag and hat. For the days you're sending some chill vibes, go monochromatic in beige or white with linen or cotton shorts paired with button-up shirts, like @__joannagrace. The accessories can be the same for both looks: a raffia beach bag and neutral flats.
Dresses are the first piece that comes to mind when we think of summer clothes. However, very often they lean towards a very girly, sexy, or coastal grandma aesthetic. Of course, it's possible to look elegant wearing a mini dress, but it's tricker. Undoubtedly when it comes to modern and chic summer dresses, Instagram influencers prefer long and maxi dresses.
The extra length opens room to diversify on the fitting, the cleavage, and most times, because it's hot outside, go sleeveless without crossing the classy line. Neutral maxi dresses with a clean design are an instant elegant canvas that gives you room to play with the accessories according to your mood. Add extra sophistication points if you can go for high-quality fabrics such as organic cotton, linen, or silk.
I picked the most varied inspirations of chic summer outfits with long and maxi dresses in beige, white, black, and colorful. Yes, as much as the main pallete for the minimal chic aesthetic is neutral, summer is a colorful season and it's the best moment to add some color.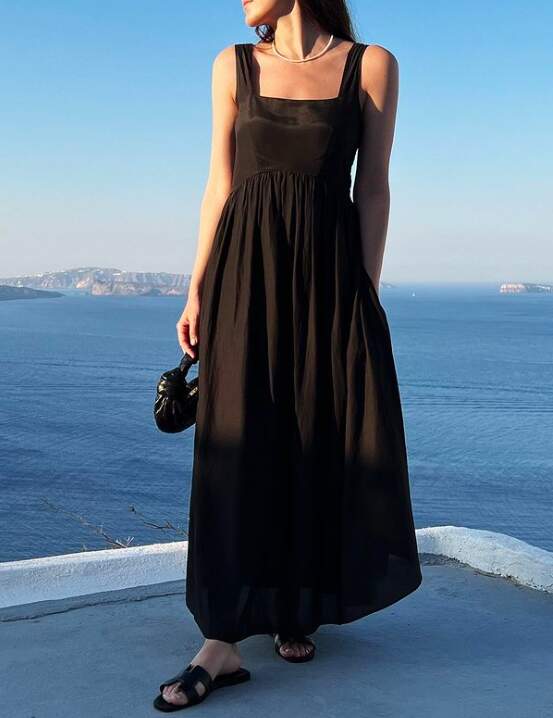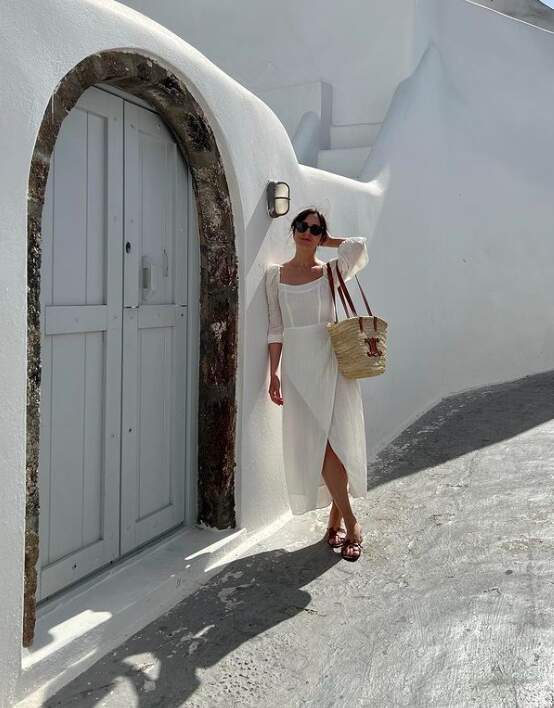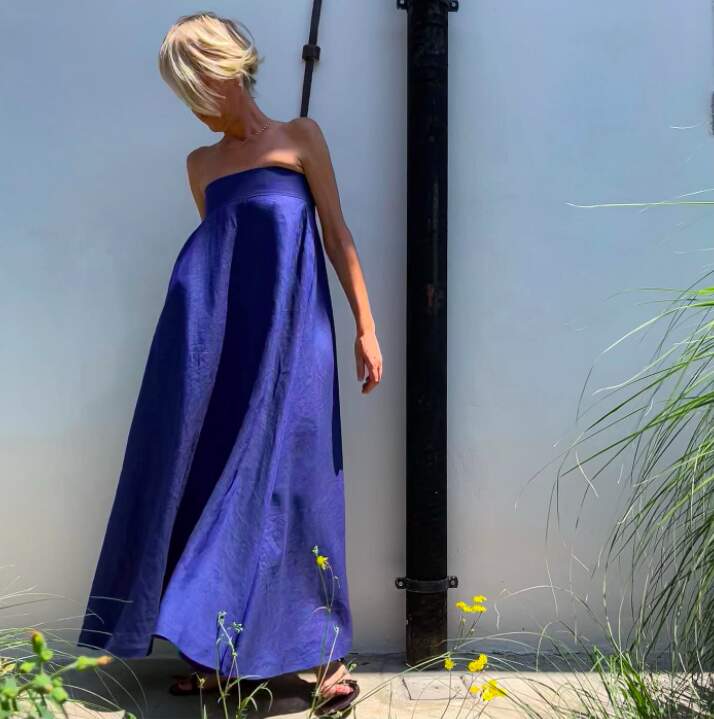 Chic is a wide concept but we can all agree that sweat stains, odor, unwanted wrinkles, and worn out (I'm sorry Balenciaga, your tennis is a fashionista and conceptual, but it's not chic) is not it.
For environmental and personal reasons, I'm a big advocate of high-quality long-lasting fabrics year-round. During higher temperatures season, we wear the bare minimum, so if you want to keep things classy, it's fundamental that the pieces have a great fitting. Good fabrics won't lose shape and they respond better to the design.
So, whenever you can, go for linen, rayon, organic cotton, and silk to create chic summer outfits. They will last longer and you'll be more comfortable under the heat.