☾ Affiliate Disclosure: The Mood Guide celebrates women's moods and versatility. Even though we may earn a commission from some of your purchases, we encourage you to shop with the right intention. Focusing your energy on what you feel confident and comfortable in is empowering! ♥︎
---
Not anymore! Lenox was part of this list but unfortunately, the brand closed its American factory in 2020. Therefore, Lenox bone china isn't made in the USA anymore. You may find old inventory, that was made in the USA, for sale, but even on Lenox's website there are imported pieces. So, because Lenox bone china dinnerware is NOT made in the USA anymore, we removed it of the list to avoid miss information!
No, Elama dinnerware is not made in the USA. Apparently, that's a million-dollar question, because there's no straightforward answer on Google. Even on Elama's website, there's no information about where their dinnerware is made. That's why a contacted the Elama team via their website and asked where Elama dinnerware was made. Is it made in the USA or in China? According to Elama customer service, their dinnerware is made in China.
---
Here is the shortcut list with the best brands of proud and safe American-made dinnerware collections and dinnerware organized by style. It's a comprehensive guide to dishes not made in China. All of them sell online and have stellar customer service! You can keep reading or click on your style of choice for detailed info, pictures of the plates, mugs, sets, the style they offer, materials, average price, and direct links to the best retailers to do your shopping.
---
America is the land of the free because of the brave. Also, the land of opportunities, where dreams come true because of all the hard-working small business owners and some companies that prioritize supporting the local economy over unlimited greedy profit. So, whatever your reason to choose dinnerware made in the USA, there is a lot at stake when shopping for anything American-made. And there are high-quality options for every budget and style. Modern dinnerware, rustic, pink, non-toxic, casual, lead-free, fine china, dinnerware sets without mugs, and so on.
For this list, I selected manufacturers that really have factories in the United States territory. I tell you where the factories are and narrow it down to which lines are made in the USA and which are not (not all Lenox is made in the USA, for example). Also, these American companies have amazing packaging and delivery. Really, they are customers' enchanters. Most reviews are love statements! So, honestly, you're better off if they deliver your delicate china at your door. All the companies listed here have the policy to replace anything damaged! And you won't have to deal with heavy boxes in and out of your trunk!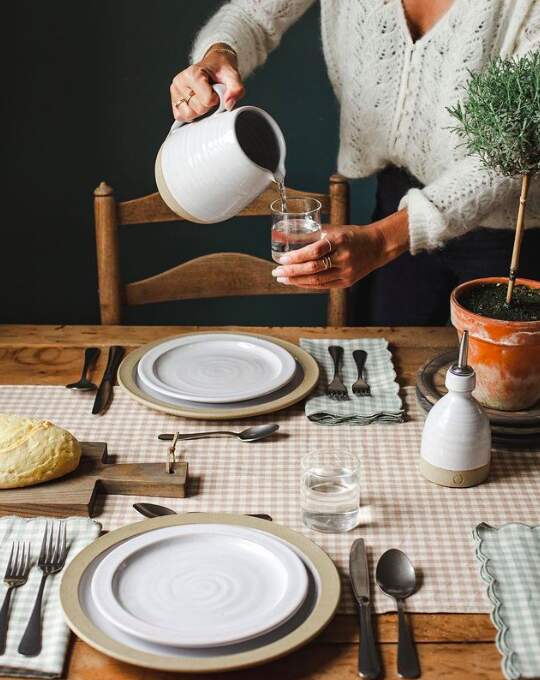 Therefore, here is a list of the best dinnerware made in the United States for every style and occasion, from fine china dinnerware sets for 8 people to patriotic USA mugs!
---
I read a lot of customers' reviews to make sure these companies meet excellent quality criteria. Here's what I considered:
Stellar delivery and packaging standards. China is breakable and you want to receive it in one piece. Fortunately, the dinnerware industry has great know-how on delivery. To be honest, it's safer to have them deliver it at your door than you carrying it in and off the trunk. I read only wonderful things about the American companies on this list. Also, most companies are committed to sustainability, which means less foam and unnecessary packaging.
Outstanding customer service. No matter how good and careful the packaging is, accidents happen. In that case, the company must be accountable for the liability. It's part of their business if they wanna sell online. Any company that doesn't do that, does not deserve customers' dollars. The companies in this list are definitely on the right side of the story.
Chipping resistance. If it is fine china or everyday mugs, we want it to look good and not melt away or have cracks after a few uses. Also, it's a health issue. Once a plate starts chipping, it will keep fading away and may even break in the dishwasher or the microwave. Of course, we are considering that the manufacturer's instructions will be followed correctly.
Durability. Dinnerware is meant to be used every day. Whatever care is recommended by the manufacturer, the ceramic must stand the test of time. I read reviews of people who have had some dinnerware from this list in great shape for over 20 years.
I believe it covers all bases of what we expect from great dinnerware made in the USA or anywhere. So it's only a matter of choosing what fits your budget and personal style.
Stella