☾ Affiliate Disclosure: The Mood Guide celebrates women's moods and versatility. Even though we may earn a commission from some of your purchases, we encourage you to shop with the right intention. Focusing your energy on what you feel confident and comfortable in is empowering! ♥︎
---
Being outdoors with kids of any age is one of the greatest gifts we can give them. Whether it's an epic camping adventure or playing in the backyard, the positive effects of sunlight and contact with grass and plants are already positive. So, just letting creativity roll is already wonderful. But, there are some wonderful summer outdoor toys and books that can encourage time out and make it easier for the adults to figure out ways to entertain the kids if they run out of ideas to entertain themselves. Also, they are great gifts for any occasion.
In the wise words of Maria Montessori: "There is no description, no image in any book that is capable of replacing the sight of real trees, and all the life to be found around them, in a real forest. Something emanates from those trees which speak to the soul, something no book, no museum is capable of giving." (From Childhood to Adolescence).
---
Wooden Waterways – Starter Family Set
Made from 100% sustainably-sourced timber
$149
Shop at
First, here is a magnificent non-toxic wood STEM toy to encourage fine motor skills and sensory play.
But the wooden waterway is just the beginning of the fun. We can never underestimate how creative the little ones are and everything they can create with this open-end toy. It's a bestseller!
---
Let's Play Outdoors!: Exploring Nature for Children – Book by Catherine Ard
$19.95
Shop at
Here is the editor's take on this wonderful book. "Let's Play Outdoors!: Exploring Nature for Children is for a new generation of environmentally conscious children, showing them how to interact with their surroundings in a meaningful way. The activities suggested inspire independent learning about animals, plants, and the weather, as well as how to look after the world."
---
Let the children be free; encourage them; let them run outside when it is raining; let them remove their shoes when they find a puddle of water; and, when the grass of the meadows is damp with dew, let them run on it and trample it with their bare feet; let them rest peacefully when a tree invites them to sleep beneath its shade; let them shout and laugh when the sun wakes them in the morning as it wakes every living creature that divides its day between waking and sleeping.

The Discovery of the Child. Maria Montessori.
My First Garden Starter Kit, Gardenuity
3 Years +
$98
Shop at
Growing our own food is a privilege so if kids have the opportunity to do it, they will carry it for life. The My First Garden kit is made in the US and comes with everything you and little green thumb in training need to plant, nurture, and harvest some veggies and herbs.
What I love about this kit is that it's a great starter even for adults with no experience! It comes with a detailed guideline and the right proportions of everything you'll need! It's a bestseller at The Tot!
Includes
4-6 well-rooted plant collection; 5-6 gallons of planting media (2 large coir tiles); Customized Foundation – compost; Reusable growing container for next season's crops – monogrammed Grow Bag "My First Garden"; Soil Primer; Triple Blend Plant Food; Customized Plant Nutrients; Spray Bottle; 30 Day Plant Feeding; Grow Pro membership with garden reminders and weather alerts; Exact proportions of everything you need for your container garden and nothing you don't; Two full-sized garden tools crafted of ash wood and stainless steel.
---
RHS Get Growing: A Family Guide to Gardening Inside and Out, by Holly Farrel
$23.99
Shop at
Growing a garden is a wonderful family activity that can pass on through generations. This sweet and comprehensive book will make it very easy to bring the kids together with a language that they will understand.
Here's the editor's take on what you'll find: "Learn about the plants and animals that make up the ecosystem of any garden; Plant seeds together with your children and watch as they grow; Carry out experiments – from making a wormery to mapping rain shadows; Make delicious recipes from your home-grown produce"
---
3D Pollinator Puzzle & Learning Kit Summer Outdoor Toys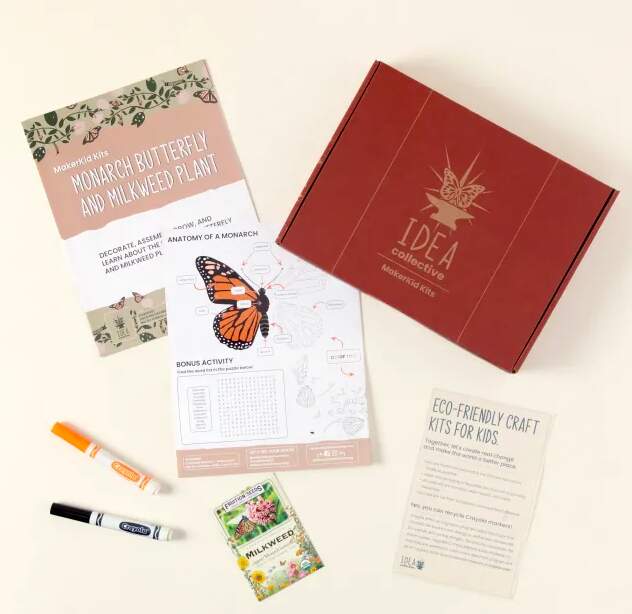 $50 each
Shop at
There's so much wisdom in nature's perfection that we can study forever and there will be things to learn. It's such a balanced ecosystem and the more we incorporate this knowledge into our lives, the more we grow. These adorable and fun kits will teach kids about the pollination process and include a 3D puzzle, booklet, markers, and even a seed packet to make things real and attract some real bees and butterflies!
Includes
Kits Include:
Bee:
– 1 Build-your-own bee puzzle (27 pieces)
– 1 Rudbeckia seed packet with instructions
– 2 Crayola markers
– 1 step-by-step instructional blueprint
– 1 educational activity booklet
Monarch Butterfly:
– 1 Build-your-own Monarch Butterfly puzzle (16 pieces)
– 1 Milkweed Seed packet with instructions
– 2 Crayola markers
– 1 step-by-step instructional blueprint
– 1 educational activity booklet
---
Eco Hut & Water Wheel
Made from sustainably-sourced timber
$199
Shop at
Not all dollhouses are built the same and here's proof! This interactive wood house has a removable wooden water tank, wooden channel, removable wooden mini water wheel, and mini wooden stairs.
It's captivating to play with water or without, to turn rocks into dolls and let the imagination flow. Once summer is over, just bring it indoors and continue the fun.
---