The Tot
---
– Non Toxic Toys For Baby IN THIS ARTICLE –
---
☾ Affiliate Disclosure: The Mood Guide celebrates women's moods and versatility. Even though we may earn a commission from some of your purchases, we encourage you to shop with the right intention. Focusing your energy on what you feel confident and comfortable in is empowering! ♥︎
---
Babies around 1 year old will put everything and anything in their mouths all day long. No wonder, some parents, aunties, grandmas, and dear friends worry about the toxic chemicals the little ones are exposed to. And there is so much going on around the 12th month! Some babies are walking, while other babies are crawling or climbing! By the time they reach the 1-year-old milestone, babies are eating full meals and can say a few words. Each baby develops their motor and learning skills at different paces, but regardless of that, they show more and more of its personality traces! So, in this post, you'll find a thorough selection of child-friendly toys for baby boys and girls from 6 to 18 months. Only good gifts and non-toxic toys for 1-year old, no matter what they are into!
And for non-toxic, gentle I mean water-based paints and dyes, low-VOC emissions, BPA/PVC-free plastic, no known harmful phthalates, non-toxic glues, and environmentally responsible wood according to current European and American standards. That way we can help parents who are trying to lower their kids' exposure to toxic chemicals or live a more natural life.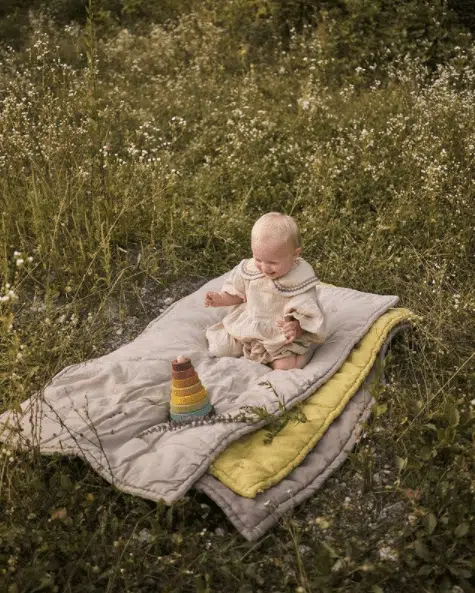 You'll notice that most nontoxic toys sold in the US are from European brands. Why? Because the European Union has more strict standards for toy safety. They understand that kids are prone to put anything in their mouths, therefore, should not be exposed to chemicals known to be toxic. The Scandinavian countries have even more specific and strict standards. You can read more details about which standards I take into consideration at the end of this post. Also, in general, non-toxic toys are more expensive than "regular" toys. Fortunately, American customers are becoming more demanding of child-friendly toys, therefore more companies will have to keep up. So in this post, you'll find non-toxic toys for 1-year-old girls and boys in every price range!
---
Educational Toys: Learning, Development, Montessori, Coordination, Motor Skills, Blocks, Puzzles For 1-Year-Olds
---
Sustainable & Non-Toxic standards considered for this post
Each country or economic bloc has its own standards for sustainability, safety, and toxicity. And because they can go from strict to almost nonexistent we are considering brands that market their products as compliant with at least one of the standards below.