@thisjoyfullifeofmine
☾ Affiliate Disclosure: The Mood Guide celebrates women's moods and versatility. Even though we may earn a commission from some of your purchases, we encourage you to shop with the right intention. Focusing your energy on what you feel confident and comfortable in is empowering! ♥︎
---
---
– The Best Yellow Rain Boots For Toddler IN THIS POST –
Lightweight Yellow Rain Boots For Toddlers – Handle It by Crocs, $35 | More info
Waterproof Rain Boots For Toddler With Wide Feet – Stomp by Kamik, $31 | More info
Toddler Waterproof Yellow Rain Boots With Handles – Splash by Kamik, $24 | More info
Original Kids First Classic Rain Boots in Yellow by Hunter, $58 | More info
Insulated Yellow Rain Boots For Toddlers by Stride Rite, $58 | More info
F.D.U.S.A. Firechief Rain Boot by Western Chief Kids, $35 | More info
---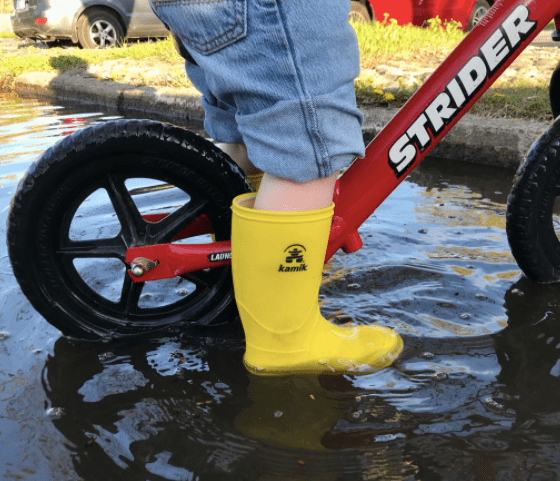 Comfy and quality rain boots are a major essential for kids who love to play outside year-round! Good wellies will protect your little one from stumps and booboos, and keep their feet dry on rainy days, during outdoor muddy play, morning visits to the pumpkin patch, and even some backyard snow (with proper socks!). Also, rubber rain boots are the most practical to put on and of. Turns out yellow is the most searched color for toddlers' rain boots. I'd guess that's because it's a fun and gender-neutral color, so both boys and girls can go on happy adventures with them (even though, for us, every color is genderless!). So this post has only the best yellow rain boots for toddlers. I made a thorough selection following the criteria I'd follow if I was buying wellies for Maya. Therefore, this list has only rain boots with excellent reviews from real-life moms about durability, comfort, tread quality, and keeping the water out!
You'll find also additional information like sizes available, the best stores where you can buy the boots online, and the retail price in each store. That way you can go straight to your fav, buy your cute yellow wellies, and move on to the next shop!
---
The Best Yellow Rain Boots For Toddlers
---
These Crocs rain boots have over 1000 reviews on Zappos and moms rave about them even on reviews about other boots. So what makes Crocs wellies so special? They are lightweight and comfy like Crocs, due to the Croslite foam cushioning, and protect the little feet from the water and rain.
---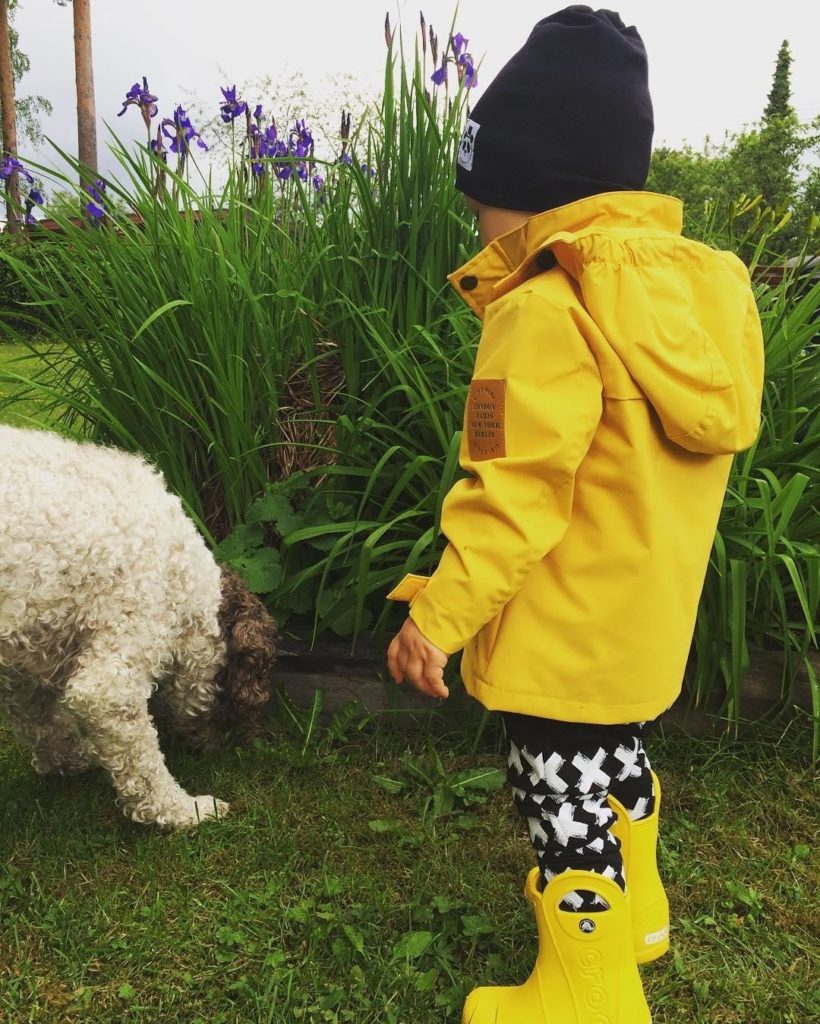 Stomp Toddler Waterproof Rain Boots by Kamik
Size: 5T – 12 | Snow friendly with proper winter socks❄️
Shop at
According to most reviews, these Kamik waterproof rubber boots are solid-made, very comfortable, durable, and with great tread soles. They have a removable felt insole, foam midsole, padded footbed, and polyester lining. So with the right winter socks, they may be warm enough to play in the backyard snow!
---
Original Kids First Classic Rain Boots in Yellow by Hunter
Size: 5T – 13 | Snow friendly with proper winter socks❄️
Shop at
Hunter is probably the most famous rain boot brand on the market. They are handmade from natural vulcanized rubber and fully lined in cotton, so they are comfy and durable.
They also have it with grab handles, glossy finish, and cute patterns in yellow.
---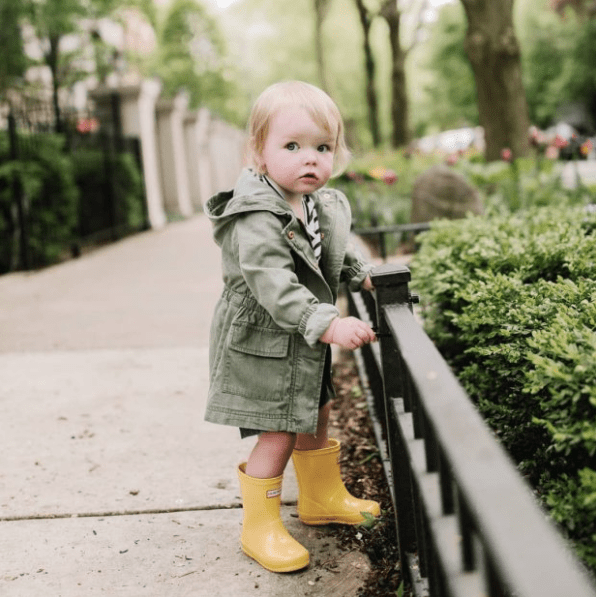 Insulated Yellow Rain Boots For Toddlers by Stride Rite
Size: 5T – 13 | Wide feet | Snow appropriate insulated liner ❄️
Shop at
If you live in a place with a lot of snow or spend vacations in wood cabins or just any snowy place, insulated rubber boots are very handy. They are easy to put on and of and for occasional trips to the backyard, when kids are in and out of the house. Also, they are way lighter than regular snow boots for toddlers, so the little ones can have extended playtime.
These insulated rubber Stride Rite boots are the best because the washable insulated liner is removable so you can use the boots year-round. Also, they are wide feet friendly, have quick-drying materials, and a high-traction outsole.
---
Technically these boots are black with yellow details, but they are so awesome that I couldn't leave them out. Also, I feel like it can come in handy for moms looking for yellow boots for Halloween costumes or the firefighter raincoat!
They have jersey lining, tractor rubber outsole, and, compared to the other rain boots on this list, they are heavier. Quality-wise, they are durable and such a fun gift for toddlers.
---
Are Rain Boots Good For First Walkers?
---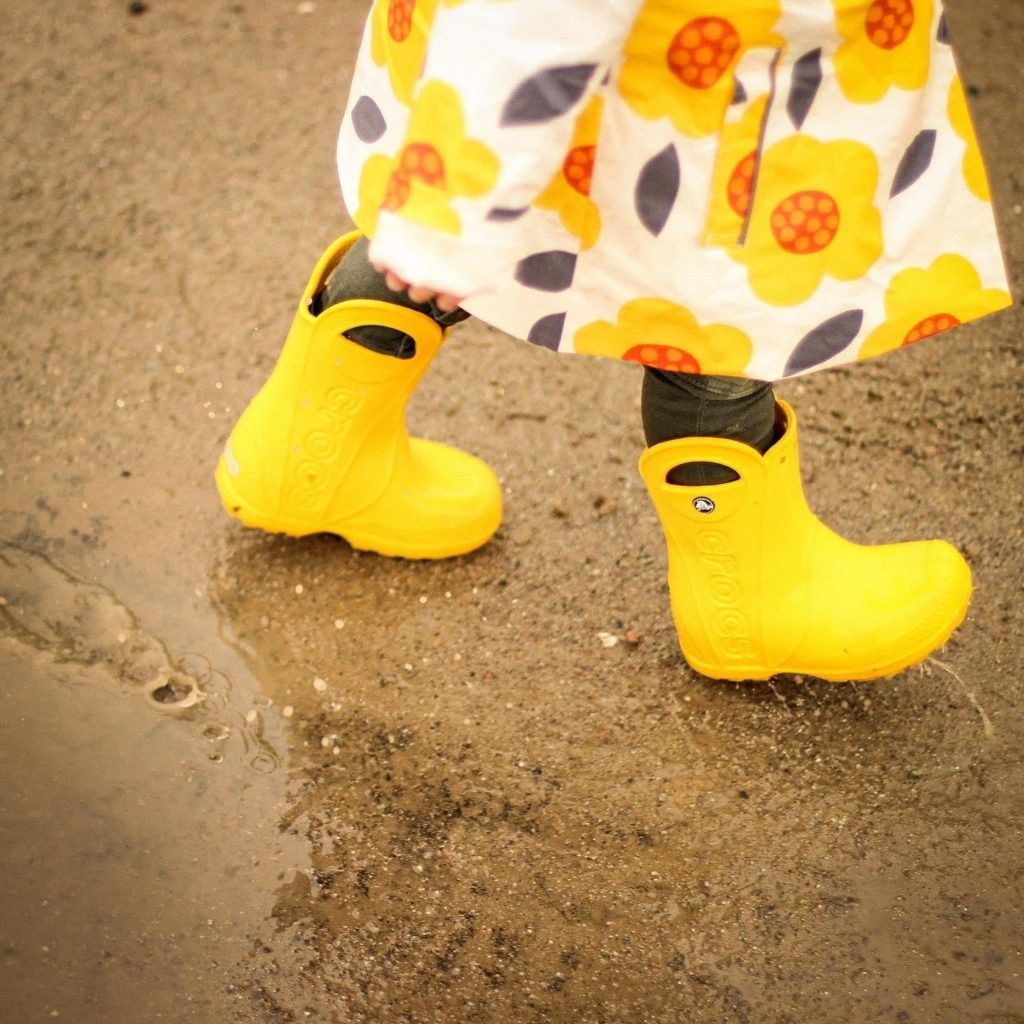 No. Rain boots are not appropriate for first-walkers. As soon as your baby can walk, he or she will see a puddle and feel the urge to jump on it! It's all part of their brain development, after all everything is a new experience for them! But until your little one is an experienced walker, rubber boots may limit their mobility. In that case, you may have to sacrifice an older pair of walker shoes or just let them go barefoot if it's not too cold. In any case, their feet may get a bit cold, so you wanna be careful with it!
Being outdoors is fantastic. There are countless benefits from letting a child play in the rain, jump on puddles, walk around the camp in the morning when the grass is still wet from the night mist… so many emotional memories are built.