These options for pink aesthetic wallpaper are the 3rd aesthetic wallpaper series we create here at The Mood Guide. We love to create aesthetic collages because they invoke feelings and moods! Probably this is why the words ¨aesthetic¨ and ¨mood¨ became so trendy on social media images for the past 3 years whenever someone wants to express their feelings. Images have that power, and the right images placed together will not only invoke moods but also tell a story.
If you are into a chic, sophisticated style, the wallpaper options below might be your thing:
Pink Aesthetic Wallpaper Collages
---
I created a little story and a persona for each pink aesthetic wallpaper collage below. I believe that stories are the best way to make us have revealing moments about who we truly are and about what we love. So, considering that The Mood Guide main goal is to help women buy stuff that represents their authentic selves, I tough it would be very interesting to make these wallpapers more than just wallpapers, but a visual story to make you find identification and then choose one phone wallpaper that resonates with your authentic self.
This collage story is about a girl who is all about the pink romantic cottagecore lifestyle: flowers in her hair, cute outfits, shabby chic home decor, and picnics are an extension of herself. Her name is Flora and her favorite activity is escaping into a good book in the garden, having a glass of rosé wine and trying all sorts of french cheese.
You can have access to all the products from this wallpaper on the links below:
1- Cottagecore Flats: The Best Stores To Buy Cottagecore Shoes & Inspire Dreams In Every Season
2-Cottagecore Book: Cottagecore Gift Ideas Inspired by Nature
3- Shabby Chic bedding – Shabby Chic Bedding: The Best Brands & Stores To Create The Most Beautiful Dreamy Bed
4- Hair flowers: All you need to live the Heavenly Angelcore Aesthetic
5- Basket Bag: The Most Unique Gifts for Girly Best Friend
6- Picnic Basket: Everything you Need to Set the Perfect Cottagecore Picnic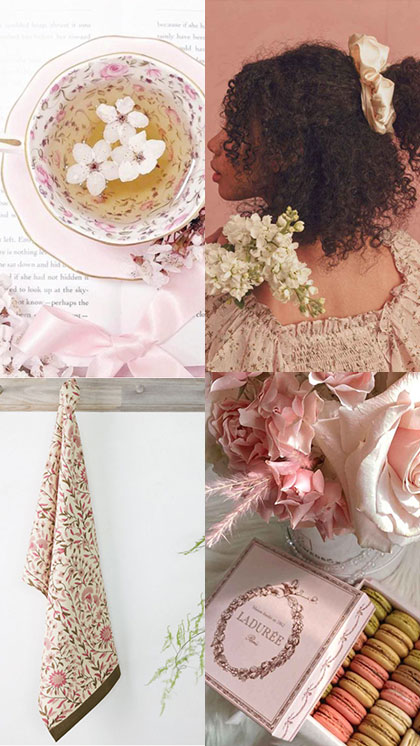 This wallpaper story is about a girl who loves a vintage pink aesthetic. Her name is Bridget and she created a Bridgerton inspired dream life for herself. Throwing tea parties is her favorite thing to do, LoveShackFancy is her absolute favorite brand and she feels happier during spring and summer.
Find these products and photos at:
1- Afternoon Tea Essentials to bring your Bridgerton obsession to life
2 – Girly Outfits Ideas for Every Season
3 – Floral Dish Towel: How To Beautifully Decorate Every Room With Shabby Chic Aesthetic
4 – Pink Aesthetic: the Ultimate Guide
This girl's name is Tomoyo, she is a cute kickass gamer and obsessed with soft pink anime aesthetic, kawaii aesthetic, and technology! People often say she looks like a doll, which she loves! She collects Hello Kitty stuff and Sakura Card Captors is her favorite anime.
Photo Sources:
1- @avengelira
2 – AirPods case: The Most Unique Gifts for Girly Best Friend
3 – Cat Mousepad: Pink Aesthetic: The Ultimate Guide To Live In A Pretty & Sweet Fantasy
4 – @chocolamews
Lucy is a homebody who loves chilling at her nest. Staying home watching Disney+, having hot cocoa, and on her pj's is priceless to her. She loves high-quality bedding and sleeps only on silk or linen pillowcases.
Products and photo sources:
1- Conceptual photo: Pinterest
2 – Silk pajamas set: Sleep in the Clouds in these Pink Silk Pajamas and Sleepwear
3 – Pink Neon aesthetic sign: Pinterest
4 – Sheepskin sleepers: Pink Fluffy Slippers To Feel Like Walking In Cotton Candy
5 – Silk Pillowcase: Best Pink Silk Sheets to Sleep like a Glamorous Vintage Hollywood Star
6- Pumpkin Mug: Pink Fall Decorations To Create The Coziest Pink Aesthetic In Your Home
Plain pink aesthetic wallpaper for Iphone
---
Whether you have an iPhone or Android, if you want to make a simple pink statement on your home screen or lock screen, you might find what you need below.
Hope you enjoyed it! If you love everything girly and pink just check out Romantic Aesthetic Mood Guides